Ready for one of the best road trips of your life? Head over to Nova Scotia! You'll be able to admire nature in all its splendour, including spectacular seascapes sculpted by water and wind.
You'll quickly understand why travellers from every corner of the globe come to this province bearing the slogan "Canada's Ocean Playground." It's a surfer's paradise (well, for those who aren't too scared of the cold), and yes, you can surf here year-round!

If you're more of a landlubber than a mermaid, you'll also find plenty to do, since there are countless trails! You can hike along paths that border the ocean and get your fill of salty air.
Here's a week-long itinerary to discover Nova Scotia as you cross Canada from Coast to Coast:
Peggy's Cove
Start your road trip on the Lighthouse Route and make a mandatory stop at Peggy's Cove, the most instagrammable bay in the area. This adorable lighthouse is definitely the centrepiece!
With its rocky capes, fishing boats and colourful houses, this magical village is sure to seduce you!
Halifax
Discover Halifax, Nova Scotia's charming capital and one of Canada's oldest cities. It's also the most populous city among the three maritime provinces!
Welcome to Atlantic Canada's metropolis!
What to Do in Halifax?
Don't worry about winding up bored in Halifax. Good weather, bad weather, there's always something to do, whether it's exploring what secrets the harbour holds or doing some museum hopping.
Halifax Waterfront Boardwalk 
One of the liveliest places in the city, the boardwalk, is where you need to be for people-watching! If you like walking, you'll be spoiled! The promenade along the water's edge is four kilometres long, making it one of the longest wooden boardwalks in the world! You'll discover cafés, bars, terraces, shops, food stands and trendy restaurants.
Halifax Citadel
Next stop: the imposing citadel perched on the hill overlooking the harbour. The Halifax Citadel was once a Victorian fortress. Viewed from above, it resembles a star. You can witness the firing of the cannon at noon — a daily tradition dating back to 1857! You'll see, it attracts crowds!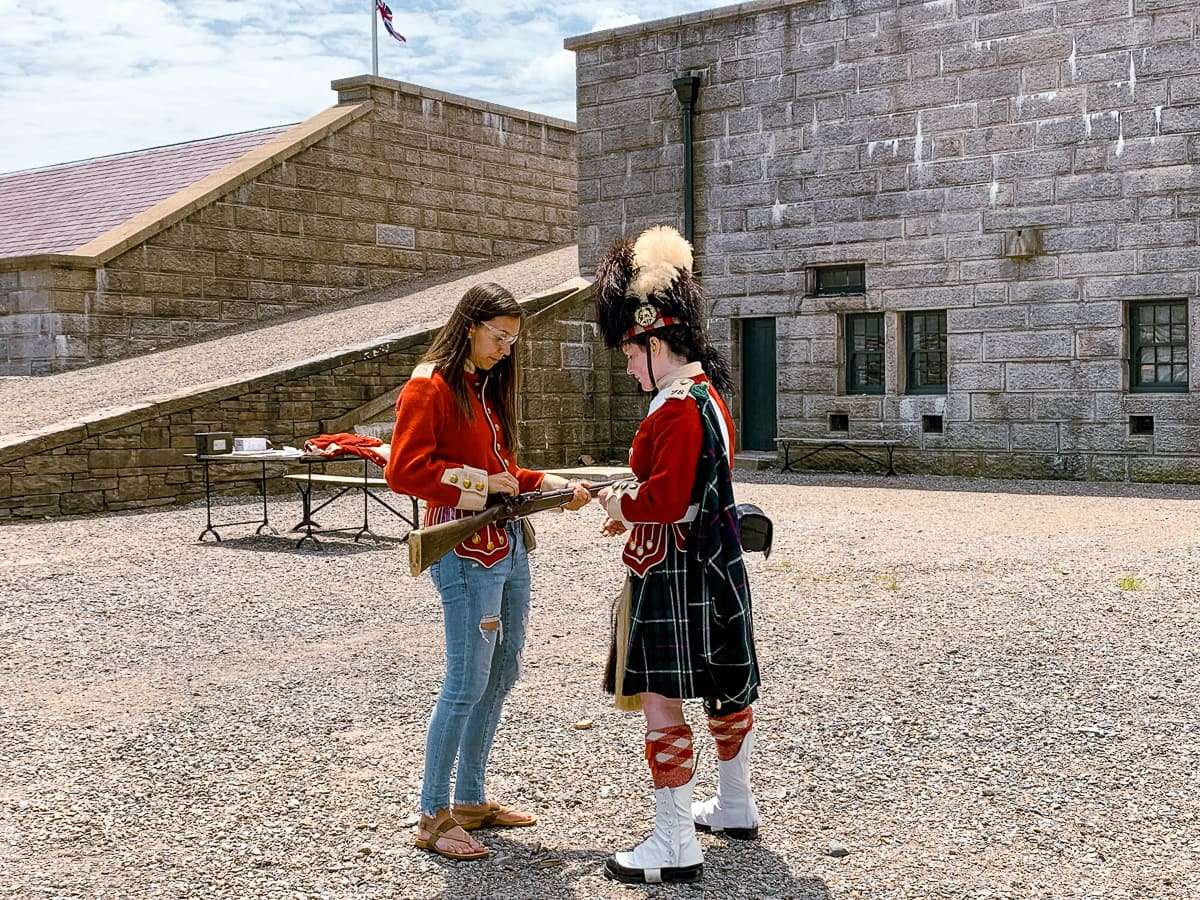 You can even take the experience further by firing three shots with an authentic Snider-Enfield rifle. How awesome it is to feel the power of a vintage rifle! Take part in the Ready! Aim! Fire! of Parks Canada.
Travel Tip: If you're going to visit several historic sites and national parks, get the Discovery Pass Card. It's an annual pass that gives you unlimited access to 80 locations across Canada. You'll save money by avoiding the entrance fee every time.
Live Music in Halifax
Halifax is also known for its music scene. Live performance venues abound, including Bearly's House of Blues & Ribs, home to some of Atlantic Canada's finest blues musicians. Enjoy a cold beer and let a blues concert carry you away! It's an experience everyone should live at least once!
Where to Sleep in Halifax?
You can crash right next to Bearly's House of Blues and Ribs at HI Halifax Heritage House, a friendly hostel in the city centre. You'll be in a historic neighbourhood just a few minutes on foot from the water's edge — the perfect place to explore the city your way, be it bar hopping or a museum tour!
Louisbourg Fortress
Hello Cape Breton Island — that's Royal Island for you history buffs. Take a real trip back in time to the immense Fortress of Louisbourg You'll be able to relive the days when France and England were battling over the New World.
The salty air and fog will give you goosebumps in this gigantic period village! It's just insane to think about the conditions soldiers had to endure back in the day — not to mention that this was a key site for the French and their Native American allies. Louisbourg's fall to the British Army in 1758 paved the way for the conquest of Quebec and the end of France's rule in North America. This is where it all happened! There are plenty of guided tours to experience the history. Find out more about the Fortress of Louisbourg National Historic Site!
Cape Breton Island (two nights)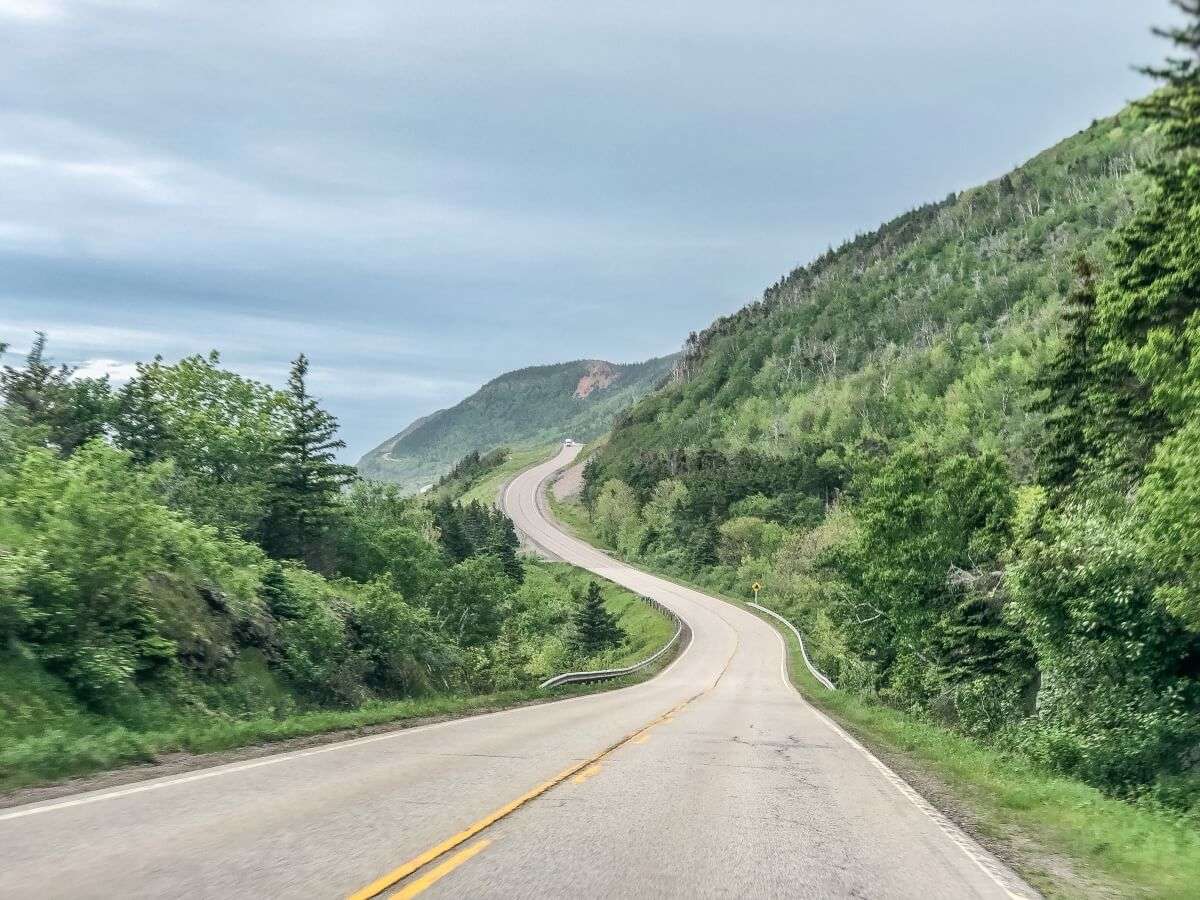 To discover a 300 km loop of panoramic ocean views, take the mythical Cabot Trail — one of the most spectacular roads in the world! Each part has a unique character. Walk along the cliffs to discover Cape Breton Highlands National Park.
What to Do in Cape Breton?
The Skyline Trail at Cape Breton Highlands National Park
If you're stretched for time, you have to at least take the famous sunset hike on the Skyline Trail just north of Chéticamp. You're going to be captivated by the splendour of the sunset reflecting off the ocean.
In addition to the sunset over the Gulf of St. Lawrence, you'll stroll through the heart of the boreal forest, home to many moose and species of birds, so keep an eye out!
Egypt Falls
Go off the beaten path and make your way to Egypt Falls. It's a short, fairly steep 20-minute downhill hike. If you arrive just after a rainfall, the waterfalls will be all the more breathtaking!
Where to Sleep in Cape Breton?
Plan a minimum of two days in Cape Breton — ideally even a week! There are endless places to discover and trails to explore. Stay at HI Cabot Trail in Pleasant Bay, the hostel that will be your base camp for local treks. The hostel's manager will be able to recommend you the best restaurants and activities in the area! In the evening, it's the cottage atmosphere that reigns, so grab a guitar, stretch out on a yoga mat or play a board game! You'll feel as though you're at the end of the world!
White Point
On the way to Cape Breton, before jumping on the ferry for Newfoundland, fork off the Cabot Trail to take a country road out to White Point. It's an incredible coastal hike not far from Neil's Harbour that you won't find on the park's tourist maps. You might very well think you're in Ireland or Scotland, but no — this is just Canada at its best!
Cape Breton's Secret Spots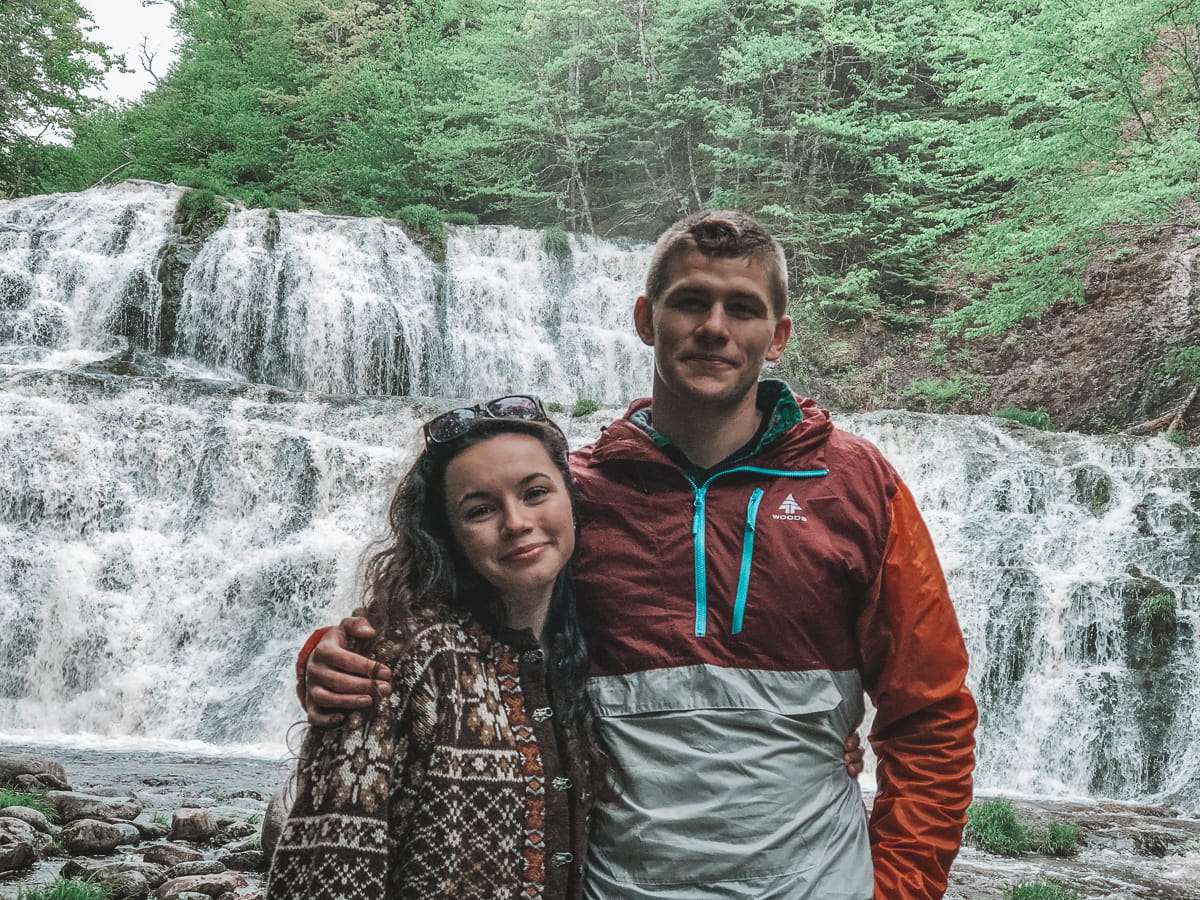 For the most instagrammables places in Cape Breton, follow the adventures of David and Skylar on Instagram. This adventuring couple will pass on their passion for Cape Breton, and you'll discover places off the beaten track along with them! We wanted to thank them for introducing us to Egypt Falls!
So, what are your favourites in Nova Scotia?
Check out our other destinations across Canada