Do you want to live an extraordinary adventure? Do you dream of an authentic road trip in the sun? Northwest Florida should be your next destination! I was able to experience the highlights of this region, which will soon grace new episodes of Wanderlust: Florida. Don't miss this exhilarating series airing on The Weather Network on February 20, 2022! Here you will discover a happy mix of paradisiacal beaches, delicious seafood, fascinating stories and surreal natural settings.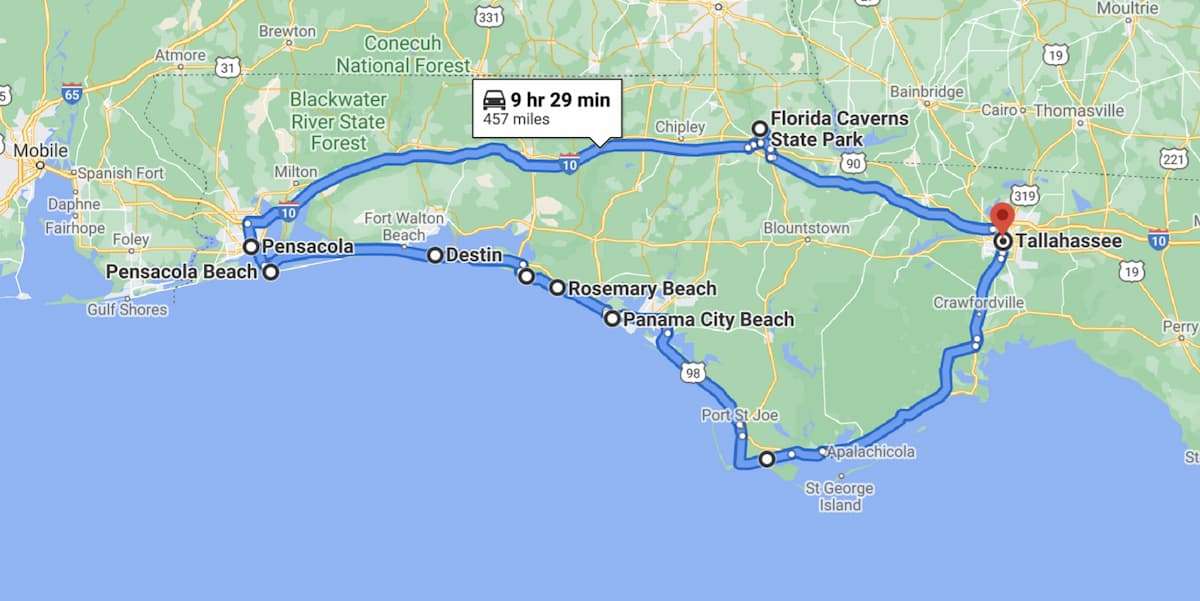 Here is a one-week itinerary (7 to 10 days) to discover these little-known and exotic places of Florida for yourself!
Tallahassee, the Capital of Florida
Start your road trip in Tallahassee! You can easily rent a car at Tallahassee International Airport. This surprising university town will dazzle you with its vibrant, academic, historical side and atypical nature. The metropolitan area is surrounded by "Canopy Trees," towering conifers that give this destination an incredible vibe! In addition to the many restaurants to try, your bucket list for discovering the Capital of Florida should include:
Zipline and Tree-to-Tree at the Tallahassee Museum
Soak up 19th-century heritage at the Florida State Capitol
Explore Railroad Square Art Park (artist studios and vintage shops)
You might also like: Do It Yourself: Explore Tallahassee in Northwest Florida
Panama City Beach
Departing from Tallahassee, take the scenic route that runs along the beaches of the Gulf of Mexico. Prepare to be dazzled by the whitest sand in the world! Once in Panama City Beach, you've set foot in THE adventure destination of Florida! Your list of activities should include the following must-sees:
Take an unforgettable helicopter ride
Explore Shell Island
Rent a Jet-Ski
Watch the dolphins
You will also like: Panama City Beach: The Florida Adventure Destination (That Will Give You the Best Kind of Adrenaline Rush)
Destin and the scenic route 30A
After Panama City Beach, continue west to Destin as you discover the small communities along the scenic route 30A. You will fall in love with each of these resorts. Take the time to soak up each place and admire the paradisiacal beaches of the Panhandle. You absolutely must make a stop at Rosemary Beach, which looks like a small village in the Mediterranean! Also, visit Seaside, a picture-perfect community featured in the famous hit movie The Truman Show! Don't forget to spend some time in Sandestin and Destin!
You will also like: This Scenic Drive Lets You Explore the Gulf of Mexico Coast on Your Own
Pensacola
When you arrive in Pensacola, you are at the gateway to West Florida! You will feel like you are travelling through time because Pensacola is the oldest settlement in America, founded by Spaniards in 1559. This city has a unique vibe. Explore the surroundings and don't forget to:
Explore Fort Pickens National Park
Visit the Historic Village of Pensacola and take a walk on Palafox Street
Discover Pensacola Beach (a young, relaxed, hip and alternative place)
Taste the oysters from the bay
You will also like: Pensacola: A Hidden Gem Destination in Florida With an Incredible Vibe
Florida Caverns State Park
Before returning to Tallahassee, stop by Florida Caverns State Park for some thrills! You will be able to explore the depths of an impressive underground world. Accompanied by a guide, you will admire these mysterious caves with stalactites and stalagmites. As you will see in the episodes Wanderlust: Florida, this is a breathtaking place!
You make also like: 10 Best Campervans to Rent in Miami for Your Tropical Florida Road Trip
Want more inspiration from off-the-beaten-track destinations in Florida?
Watch the second season of Wanderlust: Florida beginning February 20, 2022
This breathtaking four-part docuseries will blow your mind with stories of unique destinations in Northwest Florida narrated by the people who live there. Don't miss this new series on The Weather Network!
If you're planning a tropical Florida road trip, it's worth considering renting a campervan from Miami to enhance your adventure.
You can also plan your next trip via:
This article was originally written in French and adapted in English by Britney Claveau.