Do you need to get away from the city and be one with nature? Do you feel the need to disconnect while reconnecting with your senses? Good food and breathtaking scenery (with panoramic views) await. Discover the Laurentians with this must-do itinerary!
Most of the stay takes place in the Upper Laurentians, about three hours from Montreal. This sector of Quebec is the ideal place for a few days' getaway. If you live in Quebec, the Upper Laurentians are just far enough away to make you feel like you're on a trip.
Day 1: Back to basics
Nature chalet in the Montagne du Diable Regional Park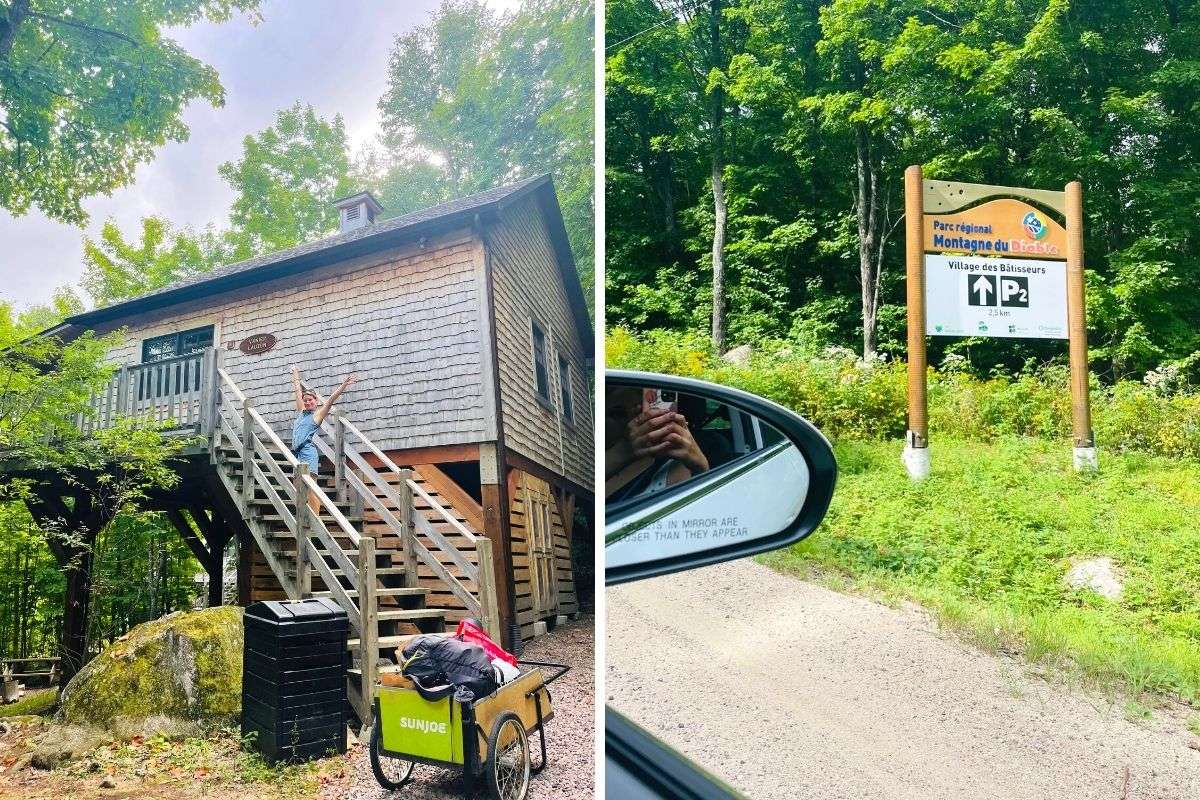 Directions: The Montagne du Diable Regional Park in Ferme-Neuve. Reserve in advance either a rustic cabin at the Village des Bâtisseurs or a Lean-to, which is a small open all-wood shelter on the shore of Lac Windigo (new to the park). Enjoy the route where you will already begin to feel the fresh air and see the many fir trees. You're already far from the city, and it feels so good!
On Route 117, take a break to shop. Help the locals by stopping at Le Caveau Bakery (Sainte-Agathe-des-Monts) to get delicious bread and some ready-to-eat homemade dishes, such as a smoked salmon lasagna (especially if it's not your style to cook while travelling). Also, go to the Small Onions Farmer's Market and Bistro (Mont-Tremblant) for Quebec fruits and vegetables. If you need anything else, you can stop at nearby grocery stores along the way (the last IGA on your route will be in Mont-Laurier).
We stayed at the Lauzon-Vanier nature chalet. Let yourself be seduced by this superb chalet on stilts where you will live an authentic experience in the trees. If you are looking to disconnect, you will appreciate the fact that there is no wifi in the house. This is exactly like the classic rustic wooden chalet from your imagination! Sleeping in this kind of place really provides the best of both worlds: you are sheltered from the elements, and you preserve the comforts of home while being one with nature. Located right in the middle of the forest, you can't ask for anything better!
It's the perfect place to take refuge with friends or with your better half. If you're not too keen on carrying your heavy bags, you'll be happy to know that sleds and carts are available to help you transport your luggage to your chalet from the parking lot. The chalets are newly equipped with a fridge, a cooktop, a water fountain and a small oven. You won't miss anything. There is also a BBQ on the balcony. It's totally in harmony with nature. Yes, the toilets are compostable. It's a different experience than one night at a hotel!
Cook yourself a good meal with your previously purchased groceries. Have an aperitif on your balcony, looking at the trees and listening to the wildlife. You can also sit on the rock in front of Lac de la Montagne (located a few metres from the chalet) to drink your microbrewery beer. Here you will feel your batteries start to recharge naturally. Take advantage of this moment. You have the time to "take time." Take a deep breath of fresh air because it's amazing to be here!
Once night falls, make a fire in "your yard" with the provided wood. Remember that you should never bring your own wood (it's bad for the ecosystem). I hope you brought marshmallows! This is the perfect end to a day in the Laurentians. A good night's sleep and another perfect day await!
Nomad tips: Be sure to bring your own bedding (sleeping bag and pillow). Don't forget to get groceries on the road because there won't be a grocery store near the Parc Régional de la Montagne du Diable (the closest is located in the town of Mont-Laurier). You'll also want to bring salt and pepper, condiments, spices, and rags since these won't be supplied at the cabin. Bring $1 coins because there is a charge to take a shower ($1 for 2 minutes). You will have access to a full kitchen and bathroom in the regional park's reception chalet.
Day 2: Outdoor day in the mountains
Hiking in the Regional Park
Get up early if you want the time to take full advantage of what the park has to offer. It's easier to wake up with your head in the trees. Enjoy your coffee on the veranda, and then have a good hearty lunch (you'll need your energy). Now get ready for your day outdoors. Don't forget your hiking shoes and swimsuit! This is where you realize that you are at the entrance to all the possible activities to do in the park: hiking, fatbiking, mountain biking, canoeing, paddle boarding and kayaking. If you are at the regional park in winter, you can go snowshoeing, Nordic ski touring, classic skiing and hok skiing (also called ski-snowshoeing).
The Devil's Mountain Regional Park is more than 100 km² of pure nature. First stop: the favorite hike: the Paroi de l'Aube. You'll soon see that the view is incredible. The round-trip trail is 11 km and should take you between 3 and a half and 5 and a half hours, depending on your pace. Paroi de l'Aube is categorized as an intermediate hike, but we are quite sure that it is suitable for all levels (even beginners looking for a challenge). The trail is quite easy and well marked. It's perfect if you want to move without exhausting yourself.
You will have the option of choosing the "summit challenge" or taking the easier route to the peak. If you want more, it is even possible to continue another few hundred metres from the summit to reach another peak, the Garde-feu. Located 750 m from sea level, you will see several lakes: the Montagne Noire, the Montagne Grise and even Mont-Tremblant. You will be overwhelmed by the view and the dragonflies flying around you (there were dozens and dozens of them). It's completely magical. We were surprised to find toilets at the top!
Alternative options: There are other hikes for all levels! If you want to do a more relaxed hike, you can choose the Windie, which goes around the Lac de la Montagne. It is 4 km long, quite nice and a good part of it is on wooden pontoons, meaning you will not do any climbing.
Nomadic tip: Download the Ondago app to get the park map before you leave. Even though the trails are well marked, it will prevent you from getting lost (like us, oops)! Don't forget to bring you some snacks, too, just in case.
Beach and SUP at the most "instagrammable" place
After having dinner at the chalet, go to the Lac et Chutes Windigo sector. You will spend the afternoon at Lake Windigo lounging on the magnificent beach. The view, with the mountains and the clear water, is sumptuous. Rent a boat (canoe, kayak or SUP) to take it easy (without sinking of course) until the sun sets. With your vessel of choice, you can stop at the various floating docks around the lake. This is THE spot for your IG photo of the summer. Besides, you don't need a filter when you have golden hour surrounded by mountains!
If the sun hasn't set yet, make a stop at the Windigo Falls located about 200 metres from the parking lot. They are truly magnificent. Climb the stairs to the small bridge to capture the whole thing with a photo. You will see people sliding on the rocks, but don't do it. It looks risky and is not safe at all! After a day full of activities in nature, you're probably exhausted and sun-kissed (hello red cheekbones)! "You're going to sleep like a baby tonight", as they say!
Nomad tip: To get to the Lake and Windigo Falls sector, be sure to enter "Windigo Falls" as your destination on Google Maps. This will take you to parking lot 3. The sector is well indicated by a large Regional Park sign. On your way, you will see signs for Windigo Village, but do not go there. It's a motocross road and made for those who have a 4×4 car. Even if the path is shorter, you will risk damaging your car, and you will have to turn back. If you see a road with a pile of rocks, you're in the wrong place!
Day 3: Throwback to Mont-Laurier
A little history, please!
After your second awakening in nature, add a bit of culture to your getaway by visiting the small town of Mont-Laurier. It's a stop you might not have thought of making in your lifetime. See the region in a whole new way by taking a walk on the Route des Belles-Histoires des Laurentides and the Route du Lièvre Rouge (Upper Laurentians). You can do part of Mont-Laurier on foot or by bike. Take the opportunity to stroll through the streets of the small downtown area, as several stops will allow you to learn about the history of the Laurentians (about forestry and agricultural development as well as tourism). In addition to seeing the heritage buildings, you can savour local products and appreciate local art. Among the historical activities to do, here are the ones we suggest:
Start by going for a short 1.5 km walk on the Mont-Laurier intergenerational trail behind the town hall. During your wildflower walk, make sure to stop at the "Grow to Nourish" garden, a great initiative to make vegetables more accessible to the local population.
History buffs will love the next destination: the 1937 power station and the Maison Alix-Bail (just next door). It sat unused for years and was revamped in the late 1980s. Take a photo in front of the cool vintage lettering.
We continue the historic visit in the direction of the heritage station of Mont-Laurier inaugurated in 1908. We learned that it is the last of a series of stations built by the Canadian Pacific. If you are a cyclist at heart, you may know that the "P'tit Train du Nord" cycle path passes by there. You can also stop and have a bite to eat at the Café de la Gare.
Pass by the cathedral of Mont-Laurier. It's quite a sight with its imposing bricks and is over 100 years old!
Make room for gluttony
Did this history trip make you hungry? End your tour of Mont-Laurier with the Fromagerie P'tit Train du Nord. Buy a big bag of cheese curds (AKA squish-squish cheese) that they serve in spades. It's so good! If you wish, you can continue your visit by stopping at different places, as there are enough stops for a whole day!
Tasting of little flights
After a morning of learning more about the city of Mont-Laurier and its history, can you admit that you're thirsty for a flight of beers? Head to the Microbrasserie du Lièvre to taste the beers brewed on-site. We like their philosophy of infusing the beers with local products and making almost everything from scratch. We recommend that you order the tasting tray (six or eight beers), and from there, you can choose the ones you want to drink.
If you love sour beers, don't miss L'Epêchement, a peach beer with 5% alcohol. Its acidity will tickle the inside of your cheeks and make you smile. La Gose des Champs, a sour beer with strawberries and rhubarb, is also delicious. We also fell in love with the Ginger Beer, a golden blonde with fresh ginger and spices. If you love ginger and want to taste something different, this is the choice for you! For lunch (or for supper, depending on your schedule), we recommend that you order the smoked trout salad as it is delicious and prepared in an on-site smokehouse.
If you still have some time, head back to Devil's Mountain Regional Park for the afternoon. If you didn't visit Windigo Falls yesterday, now is the time to go. Otherwise, take another hike or go back to bask on the beach because you never get tired of fine sand and warm water. If you have enough energy, you could go to Lake Walker, which is sublime. You can get there by Walker Lake trail, either on foot or by mountain bike. End the day with a good supper cooked at the chalet. Why not another campfire?
Day 4: The cream of the crop
For the love of sugar cookies
It's time to check out from your accommodations after lunch because, unfortunately, your long stay is almost over, but a beautiful day awaits you! Go to Miels d'Anicet in Ferme-Neuve. You will see that the splendid road to get there is an attraction in itself (and only 20 minutes away). Once you arrive on-site, the Miels d'Anicet is so picturesque that you will be transported to another world. The family business has been breeding queen bees for more than 20 years. They are so impressive to watch! You will taste high-quality wild honey and you may even have the chance to take a guided tour of the hives.
After passing through the buzzing areas, stop to shop at the boutique. It's always a good occasion to buy a souvenir from the Laurentians, and there's a large range of local products derived from honey. Thanks to these amazing products, you might have already heard of Miels d'Anicet! You'll be happy to know that the entire collection is available here.
Enjoying lunch at the adorable on-site canteen is a must in the Upper Laurentians. It is open from June to August. You will be seduced by the seasonal cuisine flavoured with honey. We recommend tasting the meads which include the "Blizz", similar to a dry white wine, the "Beezz rosé", sparkling with local raspberries, and the "Beezz de fun", made from linden honey. Charm yourself with the taste of honey, the floral notes and the well-balanced acidity of meads. All three are naturally made. If you're more into cocktails, you'll want to try the mojito made with their homemade vermouth or their gin and tonic based on white mead. Simple syrups are replaced by honey syrup.
Since we wanted to taste everything, we shared three starters: the tuna tataki, the fried vegetables from the garden (with homemade ranch sauce and honey-ginger sauce) and the melted brie in puff pastry. The corn acras were amazing! Each bite was a treat for the taste buds. The staff was efficient, ready to answer questions and promote the honey culture in Quebec.
End your honeyed experience with one of the mouth-watering desserts or an iced drink (full of honey!) and take one last look at the incredible scenery before hitting the road again.
Nomad tip: We recommend that you book weeks in advance because the place is very busy (now we understand why and we're still drooling thinking about it).
Take flight!
What better way to end your stay in the Laurentians than with a helicopter ride? Yes, yes, we are not kidding! If you want to take full advantage of the region and have a little extra in your budget, this is the activity you have to do on your way back!
It's time to make that long-cherished dream come true and tick a helicopter ride off your bucket list. Stop at Héli-Tremblant where you can fly over the Mont-Tremblant region and views its many lakes. Will you be able to spot the national park? When you're 3,000 feet in the air, the breathtaking view will create butterflies in your stomach! This will definitely take you out of your comfort zone!
You may be lucky enough to have Catherine as a pilot, a woman with an impressive career who happens to be a seasoned backpacker. If you take the 10-minute flight, you will enjoy panoramic views for 30 km. (You also have the option of flying for 20, 30 and 60 minutes, depending on your budget and your time.) Back on solid ground, you might still feel like you're in the clouds, and that's normal.


So what are you waiting for? It's time to set off for the Laurentians!

Thank you to Tourisme Laurentides for this wonderful adventure itinerary! For inspiration on your next getaway:
This article was originally published in French by Marie St-Yves and adapted in English by Britney Claveau.