Presented by
Have you ever wondered if you should buy hiking poles for your trips? If you're like me, you love to travel and be surrounded by mountains, but you're not a mountaineer (far from it).
The first time I made a summit attempt while travelling was at Mount Toubkal, the highest mountain in North Africa. It seemed like a good idea after a drunken dinner in Marrakesh with people I met at a CouchSurfing meetup. For the ascent as much as the descent, I was NOT at all prepared. I had my backpack, snacks and running shoes. Another traveller I met the day before was a newbie like me. We followed the wrong directions and did all the contraindications for elevation sickness (I didn't even know that existed). After two nights and three days of hiking, we were burnt out, but we had succeeded, without a guide, without a porter, without poles. For real, I've never had knee problems, so I didn't see how beneficial poles could be for me.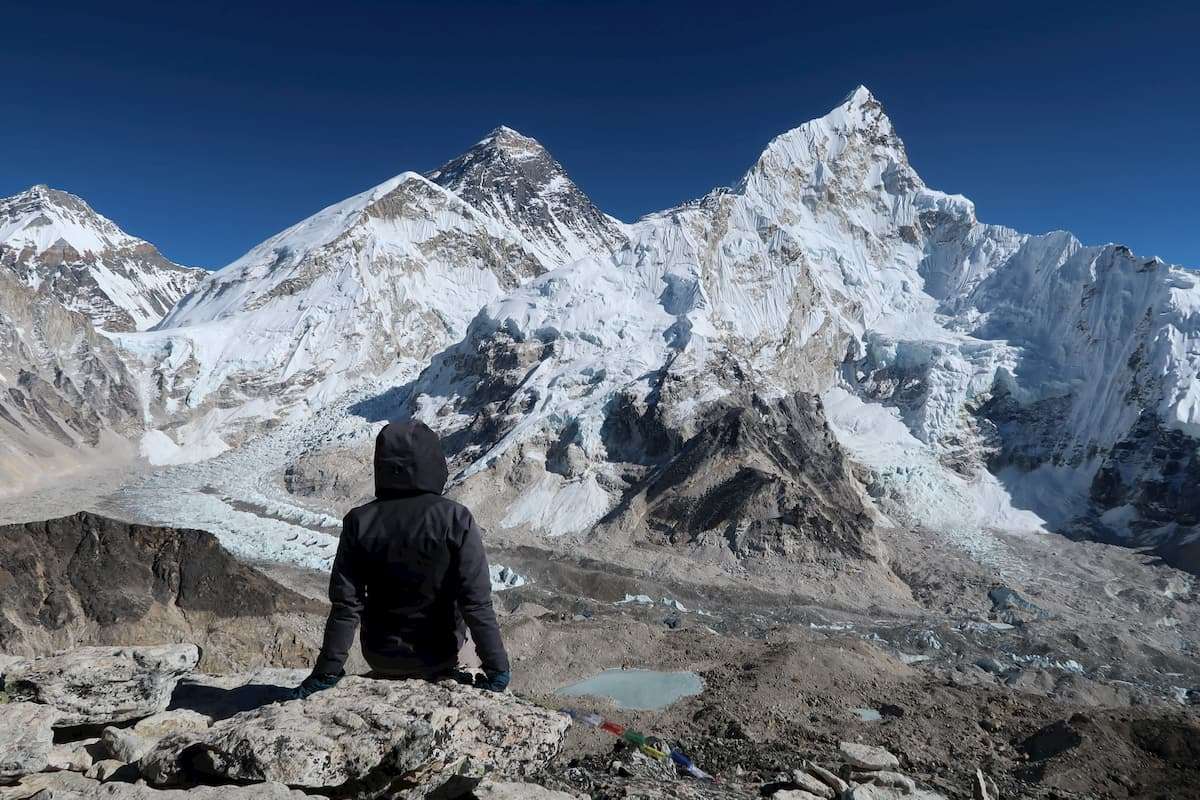 Later in my travels, I found myself in Nepal starting a 21-day trek to Everest Base Camp. Once again, without a guide, without a carrier, without poles. The first days were particularly demanding, with ascents and descents of 1000 metres per day—lots of "steps" to step over and lots of slippery ground to descend. Every evening, in our homestay, I put my legs up against the wall of my room for 7 minutes. I had seen that somewhere. Miraculously, I had no stiffness, no muscle soreness. The trip continues, and on the 8th day, suddenly, my knees give out.
I didn't really know what to do as there were 14 days of walking left. After arriving at Lukla, the next village, I bought some trekking poles, which were in fact simple ski poles. Even though I couldn't adjust them, walking with poles kept me going. They saved me! I can still hear my travel buddy telling me how weird I looked when I walked with poles compared to other trekkers.
You also risk finding it really awkward to start walking with trekking poles. There are techniques, but no one had explained them to me at the time.
Why use trekking poles
Ask any experienced hiker, and they'll tell you that they wish they had started using trekking poles earlier in life. They are THE base gear for trekking if you don't want to worry about your knees.
Trekking poles protect your joints. They help you keep your balance, avoid obstacles and even go faster. They also allow you to conserve your energy, be less tired and optimize your trekking technique.
Here is a little guide to help you choose the right trekking and hiking poles and how to use them:
How to choose trekking poles
What poles you need depends on what you want to do. There are really fit people (who have all my admiration) who do trail running with poles, so there are poles designed specifically for this type of activity. If you are more of an average hiker, you can look for trekking poles or versatile cross trail poles (which allow you to hike and brisk walk in the mountains).
Investing in durable, quality hiking poles is super important. You're going to put your weight on them, and your balance will depend on them, so you don't want to find yourself in an unfortunate situation on the edge of a ravine because one of your poles has broken. You want to make sure that you can trust your poles and that they become an extension of you.
Also, make sure your hiking poles are "micro," i.e. foldable, so you can easily pack them in your luggage for trips.
Remember that trekking poles must absolutely go in your checked luggage and not in your carry-on bag. If you forget, airport security may confiscate them.
How to use trekking poles
Adjust the height of your poles
Start by adjusting the size of your poles. The general idea is to have a 90-degree elbow angle on a flat surface. Here is how to determine the best pole size depending on your height:
Use your trekking pole straps the right way
Straps are what you use to secure your hiking poles. They relieve your forearms and hands, saving you from having to hold the pole only with your fingers, which would prove very tiring. In fact, there are two ways to hold them.
The first way is to reach your hand from the top of the loop down and grab the pole. This allows you to rest your wrist nicely and get a tight fit. But if you fall, the pole is very close to your wrist, which means you could hurt yourself. Keep this in mind if you use this technique.
The second way is to have a slightly larger strap, put it on from below and then come down to tighten the stick and the strap with your hand. This is a much safer technique because you can remove or throw away your pole if you start to fall. Unfortunately, it is less comfortable and doesn't support your hands and forearms as much.
Uses the Shark System for Cross Trail poles
LEKI Cross Trail poles use an innovative system that allows the poles to click and unclick into the Shark gloves.
For example, LEKI's Cross Trail FX Superlite Compact model combines a trail running grip with a trekking grip. It combines the speed of the Shark system with the support of an ergonomic support surface, which makes it ideal for fast walking in the mountains.
Downhill
To descend, you want to put the poles in front of you and use them as support. You also want to adjust the height of your poles to be longer to help stabilize you. You want to avoid having the poles between your legs, opting instead to put the poles on either side of you, not in your path.
Uphill
Your poles must be shorter for the ascent to help you climb, pull you or even push you. You can use them simultaneously or alternately.
When travelling in groups, watch out for other people's poles!
Personally, I'm not a fan of group treks. You're always waiting for the band, or worse, you're slowing them down—too many breaks or not enough breaks. I prefer to do things at my own pace and alone or with a trekking companion. You can easily plan treks on your own using apps like Maps.me (it's free) or AllTrails (there's a free and a paid version).
But with some experiences, like climbing Mount Kilimanjaro or observing the active Fuego volcano, you have no choice but to take a guide. And it's a lot cheaper to go with a group.
To give you an idea, you can join an organized trekking group in Guatemala for two days, one night with transport to the foot of the volcano, all meals included, guides, accommodation and entry permits to the national park, and pay only $85 CAD. Dirt cheap!
Sleeping on an active volcano is awe-inspiring and, for some, a terrifying experience. You're so close to the volcano that the ground shakes, and your cabin shakes every time it explodes. But the thing you should be most afraid of is other hikers' hiking poles!
The way back from this trek is covered with loose volcanic particles, so it's fun to go down in the sense that you can slide everywhere. But the people around you are also at risk of slipping and falling. Their trekking pole ends could end up dangerously close to you. Unfortunately, some people in groups do not respect sufficient distances. I am always disturbed when I see trekkers follow the guide in single file without realizing how many people could get injured if they all fall at the same time.
Always be sure to instruct others to keep their distance and maintain control of your poles if you fall. You know what they say; prevention is better than cure!
You won't be able to do without them
After you get used to walking with trekking poles, you won't want to get rid of them. You'll be less tired in your adventures and a whole lot faster, which will make you want to conquer even more mountains!
Shop trekking and cross trail poles at LEKI.ca
This article was written in collaboration with Britney Claveau.