Chances are you've probably heard of Tofino, a must-see spot on Vancouver Island, British Columbia. You hear a little less about the Sunshine Coast, which is worth visiting on your next trip to Vancouver. Now is the perfect time to get on the ferry and spend the weekend there!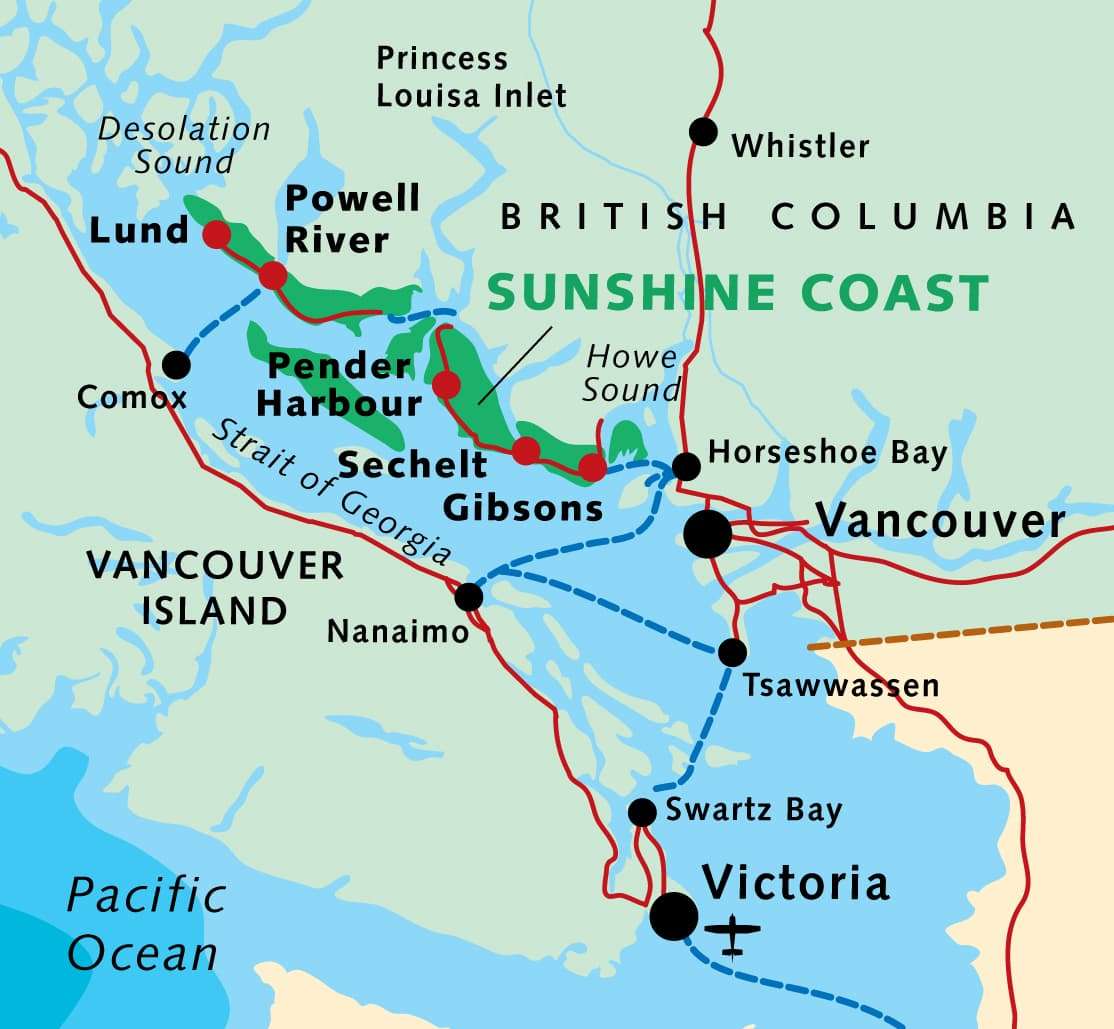 The backpacker's way is to think outside the box. This is exactly what you'll be doing on your way to the Sunshine Coast, where most travellers don't bother to stop. Just make sure not to confuse it with the Sunshine Coast in Australia!
You will appreciate its calm vibe where life is good, and the living is easy. It has that small village feel where the people are friendly and willing to lend a hand anytime. And you're so close to Vancouver. Here you'll enjoy a well-deserved break from the city, and most importantly, all you can smell is the sea!
How do you get there?
Take the ferry from Vancouver (Horseshoe Bay Ferry) to Langdale and disembark at Gibsons. Take advantage of the short 40-minute boat ride to appreciate the beauty of the landscape. You might fill your whole camera roll photos; the view is so good it should be illegal. If you've been to Tofino before, you'll love that his little cousin is super close. In comparison, to get to Tofino, it takes two hours by ferry and then a three-hour drive on a winding road.
Here are five things to do while visiting the Sunshine Coast:
Chill out on the beach. There are many beaches in the area, but a few deserve your attention: Bonniebrook Beach, Georgia Beach/Secret Beach, Pebbles Beach and Soames Beach.
Just before having a picnic by the water's edge, head to Gibsons' Public Market. Do some shopping before setting out again to explore.
For a fairly relaxed hike that won't take you all day, go for a walk in Soames Hill Park. You can leave your hiking boots at home! The ascent is gradual and grants you a breath-taking view of the Strait of Georgia, part of the Salish Sea.
Go for a walk to Smitty's Marina and see the magnificent small mountains views. Then, take the opportunity to eat fish & chips in one of the nearby restaurants.
Enjoy a good micro beer at Tapworks Brewing Company. Ask for a place on the patio: once again, the view is amazing!
There you are, you are finally ready to go to the Sunshine Coast, BC! What are you waiting for? Get on the ferry!
Where's your favourite place to visit by ferry in Canada?
This article was originally published in French and adapted in English by Britney Claveau.