Presented by
Are you feeling the call to invest in a new and improved carry-on? Maybe your old faithful backpack is weathered from travel, or the wheels of your suitcase are one more trip from rolling off into the sunset. Then the VAUDE Mundo Carry-On 38 is the new backpack you didn't know you were looking for.
Savvy travellers know that owning proper gear is the first step to a successful trip. This is especially true for backpackers or if you're trying to pack light.
As a person who tends to overpack for trips, I've been challenging myself lately to bring only carry-on luggage. I thought I needed a fancy carry-on suitcase with wheels and lots of compartments to keep me organized. Long story short, I ended up stuffing it to the seams anyway, and I needed two people to help me jam it into the overhead bin on the plane. Not fun.
Before you make the same embarrassing mistake I did, let me introduce you to a smaller and smarter solution: a backpack made for weekend trips and business travels!
If you're in the market for a lightweight, durable and functional carry-on that's eco-friendly and built to last, you've come to the right place.
After my overhead bin fiasco, I finally made the switch to a backpack for travel, and I couldn't be happier.
I recently took my new backpack on a 4-day trip to Costa Rica, and it was a dream! From the plane to the rental car and beyond, it was comfortable, easy to carry, and stylish, making me feel good about travelling.
When I had the opportunity to spend an extra-long weekend visiting a friend in Costa Rica, a small part of me panicked because I didn't want to pack my same old carry-on, the one that was a nightmare to cram onto the plane.
For a short 4-day trip in nature, checked baggage was not an option I wanted to try. Plus, a rollaway suitcase didn't exactly scream "bring me to the rainforest!"
I've been hearing a buzz from my travel friends about VAUDE backpacks, and being a huge fan of eco-responsible goods, I really wanted to test them out. As a perpetual over-packer, I needed a solution to limit my items while keeping them organized. The Vaude Mundo Carry-On 38 is exactly what I needed in my life.
I had so many compliments on my bag throughout my trip. My airport shuttle driver admired my ability to pack light (I was able to squeeze into the shuttle even though the luggage hold was full), and I think I might have influenced my seat buddy on the plane to buy one!
Style
When my VAUDE backpack arrived, the first thing I noticed was how stylish and well-made it was. I loved the sleek black minimalist look and the hidden top zipper (a major plus when you're travelling).
Portability
The VAUDE Mundo Carry-On 38 is small enough to slide under your cabin seat (if you pack super light) but big enough to hold all your essentials for a weekend away, including your laptop!
Sustainability
You wouldn't know it at first glance, but the backpack is made entirely from recycled PET water bottles! The bottles are melted down and made into high-quality yarn, then weaved into a pack that you wear on your back. I couldn't help but feel like a strong eco-warrior when I tried it on.
Another thing to note is some new backpacks have that distinct chemical smell. You know the items you buy from *cough* major online retailers *cough* that you have to banish to the garage to off-gas? Since Vaude avoids using gross PFCs in the waterproofing process, there's no lingering smell!
The VAUDE Mundo Carry-On 38 is made with good conscience and Mother Earth top of mind. It gave me peace to know the workers were paid fairly for their labour and the manufacturing process and materials were environmentally friendly and sustainable.
It's important to note that VAUDE has also achieved leader status as a FairWear Foundation member, the highest accolade.
Even though I felt bad about getting a backpack when I already had a carry-on suitcase (consumerism and such), my guilt was relieved when I saw the Green Shape tag.
Here are some of the features that won me over:
carry-on friendly (55 x 35 x 22 cm with an easy access pocket for your passport)
comfortable (comes with a softly padded back and stowable shoulder straps with a sternum strap)
tech-friendly (has a padded front organizer with sleeve for 15.6″ laptop)
easy to organize (has a separate main compartment and lots of mesh pockets)
versatile (wear it as a backpack or use the padded side handle to carry it like a bag)
The VAUDE Mundo Carry-On 38 has a volume of 38 litres and weighs 2.88 pounds when empty.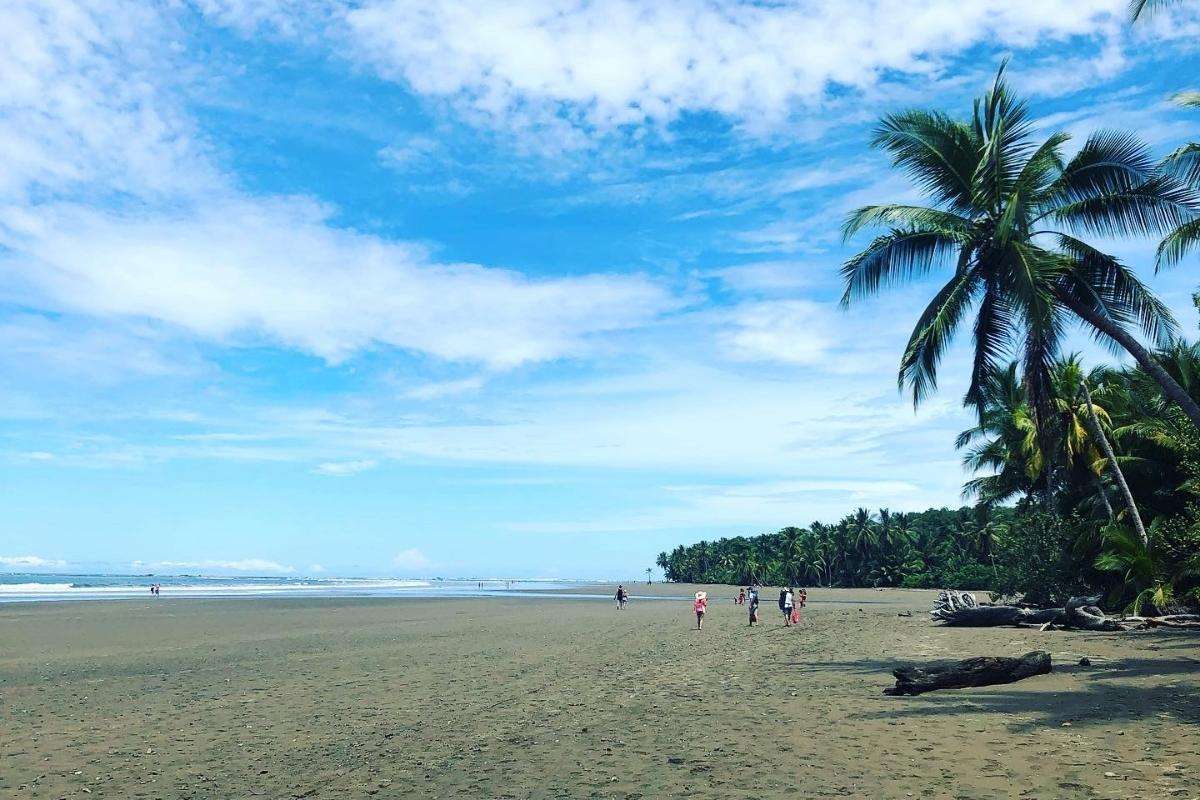 Costa Rica! Or pretty much anywhere else in the world. The VAUDE Mundo Carry-On 38 takes you from a plane to the mountain or a car to the sea.
You don't need to strain your back carrying a suitcase over cobblestones anymore. Its durable design guarantees that this backpack is going to last you trip after trip until you find someone to gift it to.
Weekend trips. Pack it with summery dresses, a good book, headphones and snacks for a Friday to Sunday at the beach!
Business trips. Say goodbye to your rollaway suitcase and set an excellent example for your team by using an eco-friendly bag instead. The padded compartment will ensure your laptop stays safe en route.
Short-term travel. You can get from A to B pretty quickly if you don't have to wait for your checked baggage to go around the carousel. Not only that, but you'll save money by travelling with carry-on only.
What are the best features of the VAUDE Mundo Carry-On 38?
It's safe to carry through the airport or in busy areas
A flap hides the top zipper, so you don't have to worry about unsavoury characters unzipping your bag.
It's comfortable
In the past, I've found most backpacks to be too large for my frame. This one has adjustable side straps and a sternum strap to keep it in place. The padded back ensures that none of your belongings will poke into you.
It's easy to pack
The backpack opens like a suitcase, so packing is a breeze. If you're into packing cubes like me, you can use them inside to organize your items even more.
It doesn't take up too much space
One of the things that I hate about suitcases is that you can only store them away upright and out of the way in your hotel room if they are empty. When you're on the go, it doesn't make sense to completely unpack, so you end up tripping all over your suitcase. With the backpack, I could store it nicely in the corner of the room and easily access my things when I needed them. Also, it was nice to have it beside me in the rental car, instead of in the trunk.
The backpack has a place at the side to hold a small water bottle, which is great, but the compartment could be larger with more expansion capacity to carry a bigger water bottle.
Get the VAUDE Mundo Carry-On 38 here
Why you can feel good about travelling with the VAUDE Mundo Carry-On 38
VAUDE is Europe's most sustainable outdoor supplier, and its goal is to create a balance between ecological, social and economic responsibility.
That's why their backpacks, bike bags, urban bags, and accessories are fairly made and eco-friendly, constructed under safe working conditions and entirely PFC-free! Other suppliers need PFCs (perfluorochemicals) to create waterproof products. (Yuck!) Vaude found an innovative way to ensure water impermeability without all the harmful chemicals polluting our earth and jeopardizing our health.
"Gentle on the planet. Fair for the people of the world. And functional for you.
That's what outdoor gear is all about."
90% of the textiles used in VAUDE products are bio-based, recycled or natural. The company surpassed their 2020 goal to make its entire collection 100% PFC-free. And they were the first outdoor company to be awarded the EMAS certification. You're doing your part for the earth by buying a VAUDE product that meets Green Shape standards.
What does it mean to buy a Green Shape product from Vaude?
Fed up with the lack of a universal model, VAUDE created its own rating system to evaluate the environmental friendliness of its products. Now their products and components (and their whole production cycle) meet the highest ecological standards, under constant review.
"VAUDE's Green Shape proves that sustainability and performance can live in perfect harmony."
When you invest in the Green Shape label, you're getting a functional, environmentally friendly and repairable product made from quality materials with expert craftsmanship. VAUDE ensures that its products are long-lasting and fixable in the event of a tear. VAUDE recommends that its bags and accessories live on for second-hand use, so your hand-me-downs will always be welcome down the road!
If you love the idea of an eco-friendly carry-on backpack, but aren't sure if this one fits your exact needs, be sure to check out VAUDE's other amazing products:
Thank you to VAUDE for not making me be that girl who can't stuff her suitcase into the overhead bin.
What's the first trip you'd take with the VAUDE Mundo Carry-On 38 eco-friendly backpack?