Presented by
When you travel long term, your backpack is your home. As a backpacker, the pack on your back means literally everything to you! It's the only part about travel that you have control of. The rest is unknown and ever-changing: new places, new adventures and new people.
I have travelled in 69 countries over the last 8 years, always with a backpack, so I know from experience what I really need.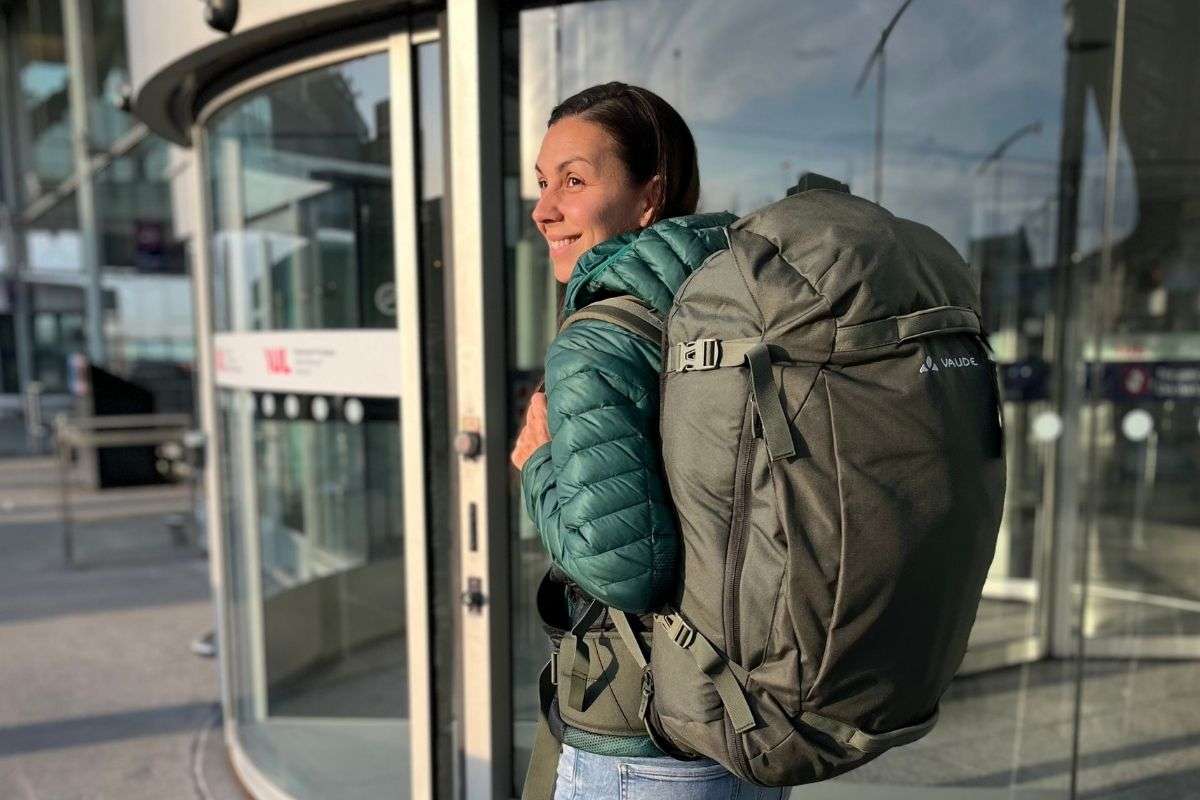 The VAUDE Mundo 50+ To Go Travel Backpack is amazing in terms of comfort, quality and green value. It's perfect for a 2-week trip or a year around the world!
A german brand with green values
If you need a large eco-friendly backpack for your next long-term trip, you are going to love this backpack.
The VAUDE Mundo 50+ To Go Travel Backpack is made for backpackers
I was happy to upgrade my trusty old backpack when I found out about VAUDE, a company that makes quality backpacks for globetrotters like me. Even though I have packing down to a science, I needed something spacious with practical compartments to keep all my items organized.
The more I travel, the more I realize the importance of limiting my carbon footprint on the earth. As an environmentally-conscious traveller, I want my gear to reflect my values. I love that VAUDE is a leader in eco-friendliness and was the first outdoor company to be awarded the EMAS certification. The VAUDE Mundo 50+ To Go Travel Backpack is made from recycled PET bottles spun into high-quality polyester. The outer fabric is covered in a water and stain-resistant finish that is free from earth-harming perfluorochemicals (PFCs). Well made and durable, I know it's going to last me more than a few trips.
i want what i wear to reflect my values as a traveller.
Why a 50-litre backpack is the ideal size for backpacking trips
The question I always get asked is, "what is the size of your backpack?" Let's make it clear, the bigger your backpack, the more you fill it. It's like a fish in a bowl; the bigger the bowl, the bigger the fish.
The mistake of any good amateur backpacker is to buy a backpack that is too big! For example, buying a 65-litre that expands an extra 10 litres, which gives you 75-litres of space to fill with things "in case you need it." On my first backpack trip, I almost broke my back just by lifting my backpack. I quickly realized that I would never use 90% of the stuff I brought and looked ridiculous trying to move it. We must remember that travelling with a backpack is supposed to give you more flexibility on the move compared to a suitcase.
Ideally, you want a backpack as small as possible and to bring only your most useful things. You can always buy items you miss along the way. In Asia or Latin America, I have already travelled for several months with a 35-litre. The smaller size is realistic and so practical in hot countries. You can easily carry it on the plane and walk for a long time with it. If you just need a backpack for running shoes, a rain jacket and a few bikinis to live the beach bum life, you're set.
To enjoy cities, beaches and mountains, a 50-litre backpack, like the Mundo 50+, is the sweet spot in terms of size. You can bring one or two chic outfits to party on the rooftop, as well as warmer clothes if you have the chance to climb mountains. Plus you will have room for beach clothes. You want to be ready for the unknown and be able to move around easily. If it's almost empty, you could try carrying it on the plane, but it normally goes in the hold.
How the VAUDE Mundo 50+ To Go Travel Backpack is better than the rest
Other backpacks can be cool, but the VAUDE Mundo 50+ To Go Travel Backpack is cool AND functional AND eco-friendly. It is stylish without being over the top. I'd reach for this backpack first no matter what my itinerary.
When you're travelling long-term, you need your bag to be comfortable, durable, easy to organize and safe from pickpockets. This backpack meets all these criteria and more.
The VAUDE Mundo 50+ To Go Travel Backpack has a padded hip belt (with a pocket for your passport, phone and wallet!) which takes the weight off your shoulders. It can easily be adjusted for a comfortable fit.
The backpack is designed to give you quick access to your gear in the main compartment. The zipper is concealed, so you don't have to worry about thieves breaking into your bag at the airport or on the go.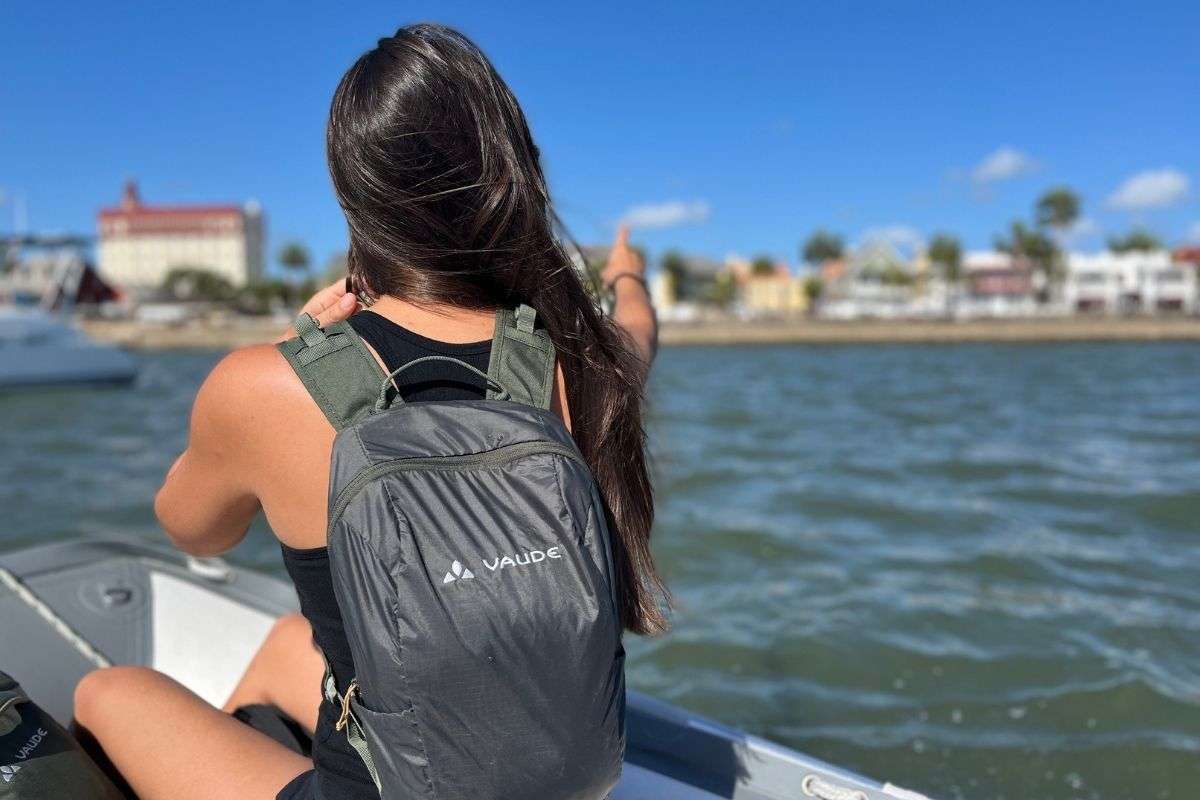 It also comes with a separate, lightweight and stowable daypack, so need to buy an extra bag. You can use the smaller pack for day trips or short excursions.
Discover the VAUDE Mundo 50+ To Go Travel Backpack here
The Features of the VAUDE Mundo 50+ To Go Travel Backpack
The VAUDE Mundo 50+ To Go Travel Backpack opens like traditional luggage, so you don't have to open the top to get everything out (like with a classic backpack). It's smart technology like this that won me over.
Here are some other great features:
large enough to hold all your essentials (65 x 35 x 29 cm)
comfortable (has a padded back and a fully adjustable Tergolight suspension system to shift the load to your hips and off your shoulders)
tech-friendly (has a padded front organizer with sleeve for 15.6″ laptop)
easy to organize (has a separate main compartment, 2 inner mesh pockets, a laptop compartment and an easy-access pocket for your passport)
economical (comes with a bonus detachable daypack)
easy to carry (has two padded handles at the front for easy lifting)
The VAUDE Mundo 50+ To Go Travel Backpack can carry a load of 33 – 48 lbs and weighs 4.6 lbs when empty.
Where can you take the VAUDE Mundo 50+ To Go Travel Backpack?
Anywhere! It's too big to be a carry-on, so you'll most likely use this backpack on a backpacking trip or as luggage for a longer vacation. The best news is that you can use it for years to come! VAUDE ensures that its products are long-lasting and fixable in the event of a tear. VAUDE recommends donating or gifting your backpack when you're done with it, so it can live a second life.
The VAUDE Mundo 50+ To Go Travel Backpack is best for:
Longer trips with a heavy load. Your back and shoulders will thank you!
Backpacking trips. I'll be packing this backpack for all my travels this year!
Camping trips. You will love the detachable daypack for hikes and the fact that the bag is water-resistant.
What I love most about the VAUDE Mundo 50+ To Go Travel Backpack
It's stylish without bringing too much attention
I look adventurous enough for Southeast Asia or Latin America yet chic enough for a Eurotrip. You can even condense the bag to look smaller with the side compression straps.
It's comfortable
The Tergolight suspension system means that there's a fully adjustable padded hip belt that takes the weight of the backpack off your shoulders. Make sure you adjust it well. I can't imagine having a backpack without this feature!
It has a smart design
The padded hip belt includes a small pocket where you can place your passport, phone and wallet. This way you don't have to remove your backpack to board the plane and you can pay for something while on the move.
It's easy to pack
It opens like luggage even though it's a backpack, so you don't have to open the top to get everything out (like a classic backpack.) You can unzip it like a suitcase and access what you need easily.
It keeps you organized
The many integrated compartments are perfect for someone disorganized like me. I can separate all my tops from my underwear and my swimwear. Plus, you have straps inside the backpack in the main compartment to hold your shoes and pants.
It's stealthy
You can cover the backpack bag straps if you want to check your bag on the plane. Simply zip the cover onto the backpack and make it look like a normal bag, so there's no risk of your backpack straps getting stuck on the luggage carrousel.
How the VAUDE Mundo 50+ To Go could be improved
It would be perfect if it had a spot to hold my water bottle.
Get the VAUDE Mundo 50+ To Go Travel Backpack here
You can travel green with the VAUDE Mundo 50+ To Go Travel Backpack
VAUDE is Europe's most sustainable outdoor supplier, and its goal is to create a balance between ecological, social and economic responsibility. That's why their backpacks, bike bags, urban bags, and accessories are fairly made and eco-friendly, constructed under safe working conditions and entirely PFC-free!
Gentle on the planet. Fair for the people of the world. And functional for you.
That's what outdoor gear is all about.
90% of the textiles used in VAUDE products are bio-based, recycled or natural. You're doing your part for the earth by buying a VAUDE product that meets Green Shape standards.
What does it mean to buy a Green Shape product from VAUDE?
Fed up with the lack of a universal model, VAUDE created its own rating system to evaluate the environmental friendliness of its products. Now their products and components (and their whole production cycle) meet the highest ecological standards, under constant review.
When you invest in the Green Shape label, you're getting a functional, environmentally friendly and repairable product made from quality materials with expert craftsmanship.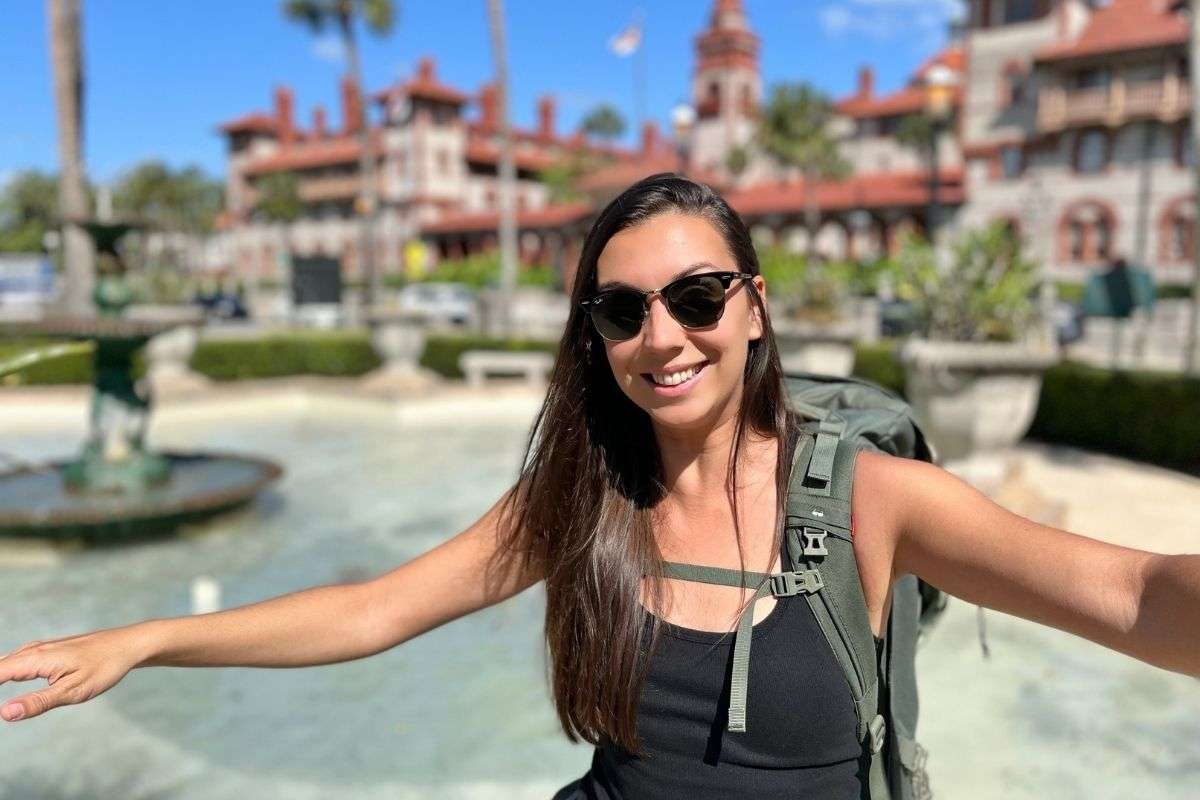 Do you travel with a 50-litre backpack?
Get the VAUDE Mundo 50+ To Go Travel Backpack here
If you have just discovered the VAUDE brand, you might also love these items: