Local tourism has increased during the pandemic (along with vanlife!), allowing us to discover new and beautiful parts of the country while not straying far from home. I'm one of those people who is terrified of boredom and getting stuck in a routine. So, I take every opportunity to try new activities and escape the monotonous daily life. Organizing weekend getaways is a real guilty pleasure for me. I would do it every week if I could!
In addition to being affordable and accessible, weekend staycations allow us to travel without asking our employers for time off work. In Quebec, we are fortunate to be surrounded by national parks, lakes and wide-open spaces. Living in an urban area, I sometimes need to get out of the city to get out in nature and inhale the fresh air. And why not take my partner with me? A romantic getaway is always welcome (especially in a pandemic context)!
Campervan Rental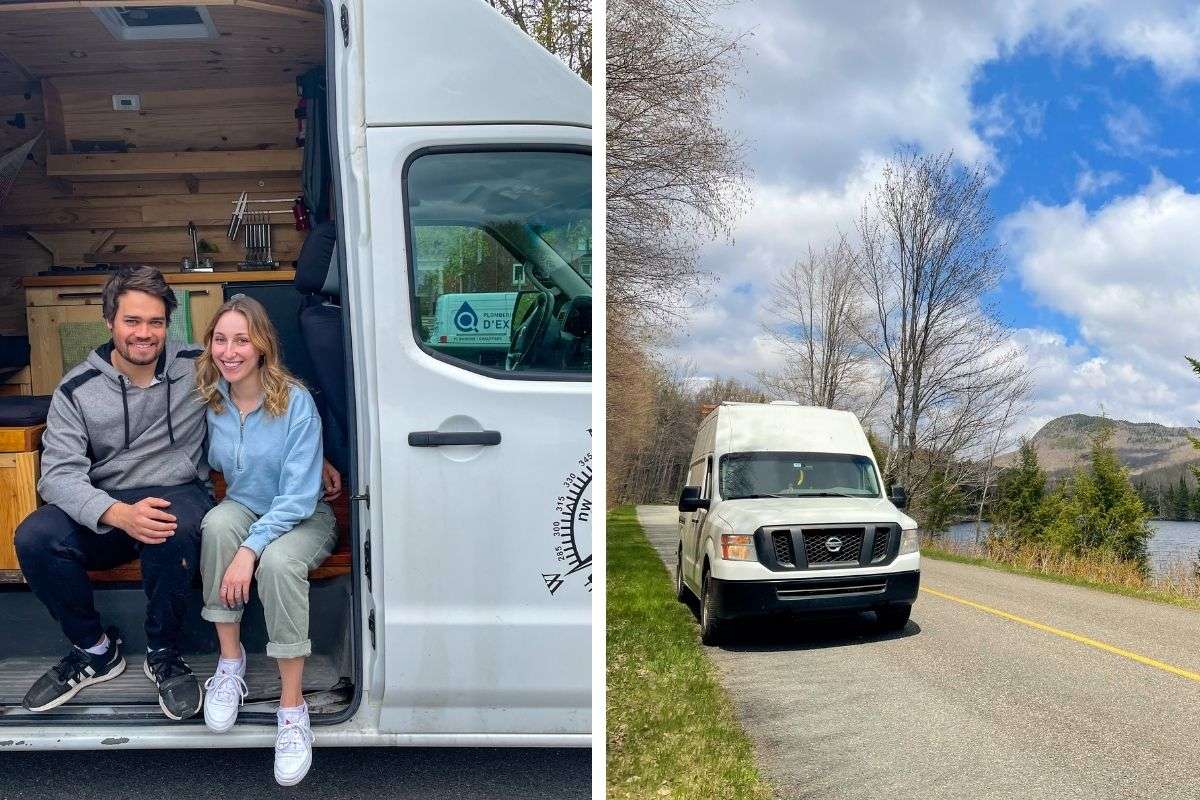 My boyfriend and I are always on the lookout to escape to new places. We had never experienced the so-called "vanlife," but this mode of travel has tempted me for a long time. Thanks to the free RVezy app, we quickly found an owner who could rent us their vehicle for the weekend. Given all the extra sanitary measures, it is also pleasant to stay in a bubble and not to depend on restaurants, toilets, or hotels on the road. The van allowed us to do everything!
The reservation process was very fast and straightforward. In less than 24 hours, we knew we had a campervan for a weekend (two nights for a total of $500, including taxes, insurance and roadside assistance in case of a problem.) Now we just had to decide where we were going with this lovely campervan.
The Vanlife Begins: Destination and Preparation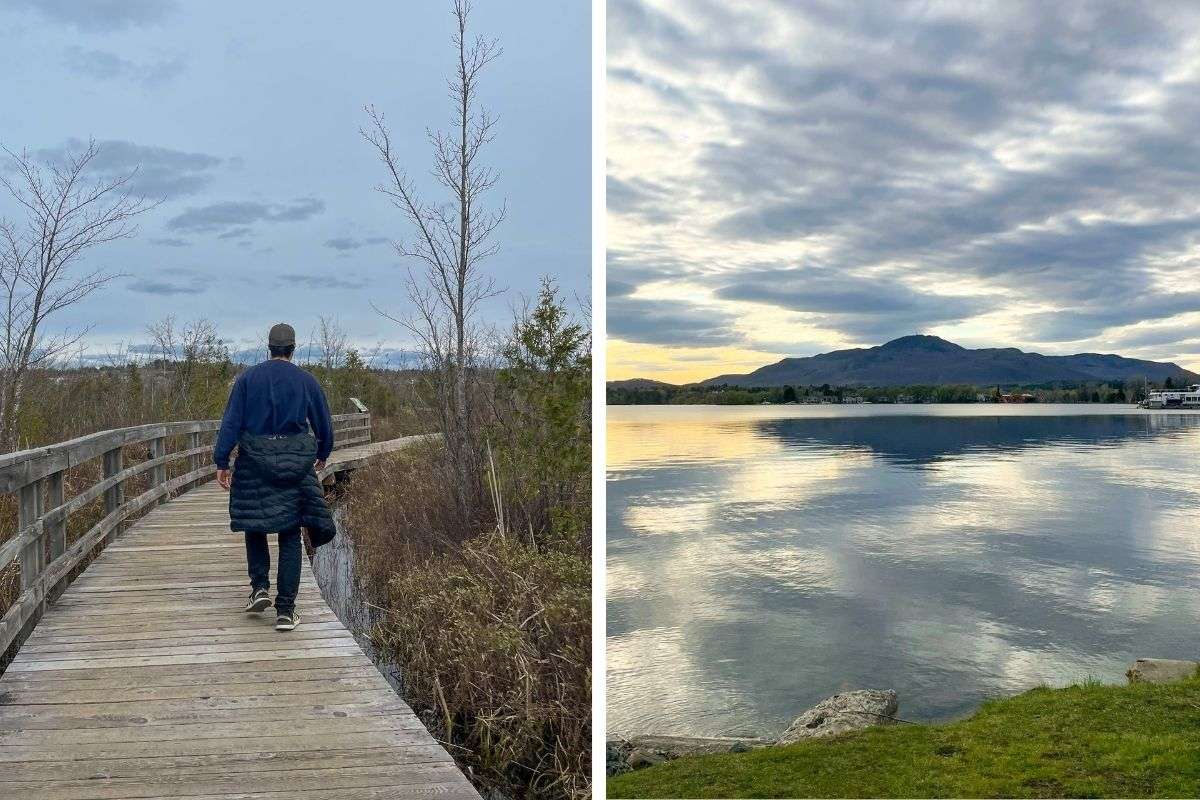 For our first RV driving experience, we opted for a destination less than 2 hours from Montreal. My boyfriend, who is very familiar with the North Shore, suggested we go around the South Shore for a change. The Eastern Townships and their large green spaces appealed to us most. Magog would be our destination.
The second step was to find a campsite that accepted RVs. However, we had an issue in terms of our booking dates. It was very early in the season, and as a result, few campsites were open. Thanks to the Camping Quebec site, we narrowed down our choice by filtering by dates and our destination. The Domaine Parc-Estrie campsite was the lucky winner of our presence.
Activities
A few days before the getaway, I went on Google Maps to look at the activities available near Magog. The Mont-Orford National Park seemed like a must for a hike. We also had to book our tickets in advance on the Sépaq website. Then, being two lovers of cider and cheese, we saw that the Abbey of Saint-Benoît-du-Lac was not too far away (the church is closed due to COVID-19, but the shop is accessible). The Marais de la Rivière aux Cerises (Cherry River Marsh) looked like a spot for a pleasant romantic stroll. If time was on our side, I was interested in going to Le Cep d'Argent vineyard and the lavender fields of Bleu Lavande, although the flowers would not yet be in bloom by early May.
Vanlife Camping
With this solid list of activities, our only task was to buy food and pack our bags before departure. On departure day, we picked up the van from its owner, Marc-André. After a test drive and document signing, we were ready to head in the direction of Magog. The driver had to be over 25, so my boyfriend drove. He found driving the RV very natural and easy. After 1 hour and 40 minutes on the road, we arrived in Magog. We made a short stop at Pointe-Merry Park in the heart of the small town before heading to Domaine Parc-Estrie campsite 10 minutes away.
I will warn you right away; our experience was more of a gathering of vans than a campsite. There wasn't a lot of nature or privacy between the grounds. We were only staying there to sleep two nights in the RV, so it was fine. A picnic table and space to make campfires were all we got and all we needed. On the first evening, we ate our dinner while listening to a symphony of croaking frogs before roasting marshmallows on the fire. What was practical about the van was that we didn't have to pitch a tent. We had everything we needed to cook thanks to the kitchenette equipped with two burners, a sink and a mini-fridge.
Abbey of Saint-Benoît-du-Lac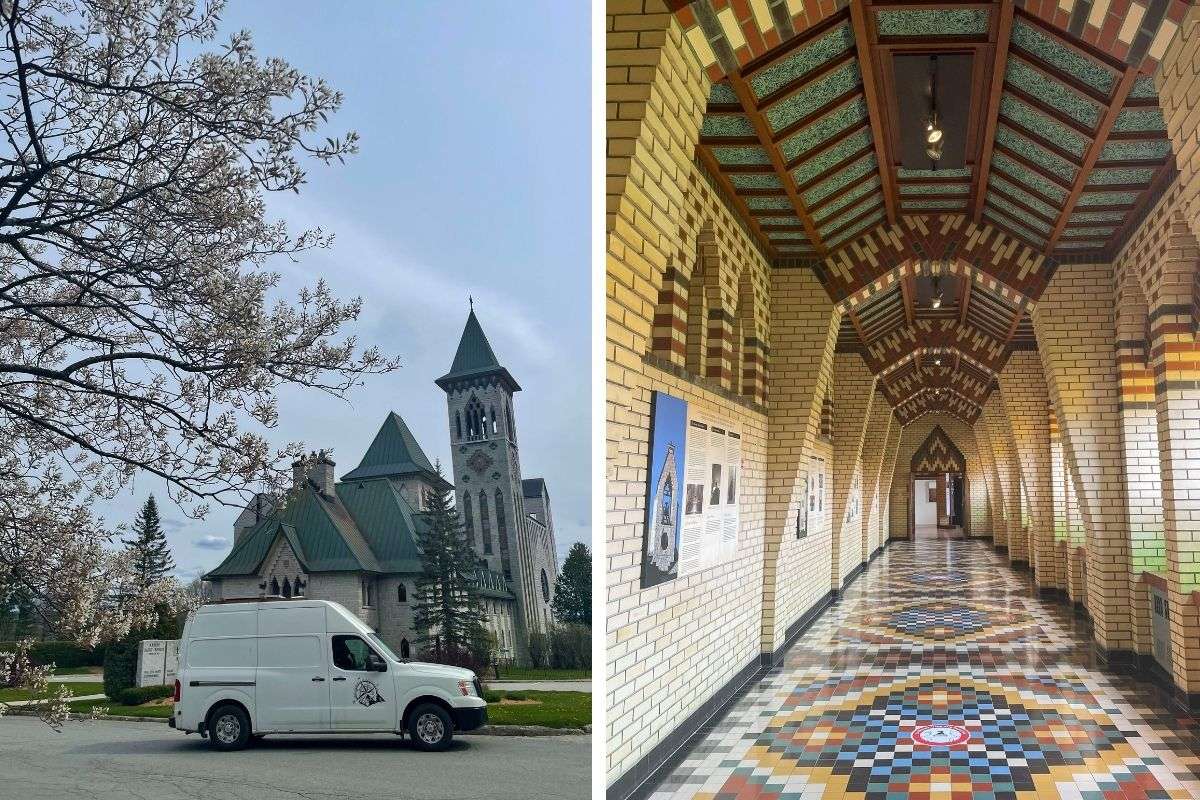 On Saturday morning, we took it slow, treating ourselves to a leisurely lunch and cups of hot tea after a chilly 4 degrees Celsius night at the "camp." Around noon, we left for the Abbey of Saint-Benoît-du-Lac, which was a 25-minute journey. Once there, we admired the architecture of the place and stocked up on cider and cheese. We found the picnic area to be quite charming. The campervan was not very big, so we could drive around and park it just as easily as a regular car.
The Cherry River Marsh
Afterwards, we took the road back to the Marais de la Rivière aux Cerises, which took us 20 minutes. There was a charge for parking ($2.50 per hour or $5 for the day), but trail access is free. The Marais is 1.2 km of trails on stilts and 3.2 km of gravel trails with picnic areas and benches for observing flora and fauna. We saw turtles! The walk was pleasant, and there were not many people around. We then returned to the Domaine to prepare our supper before sunset and drink cider by the fire.
Mont-Orford National Park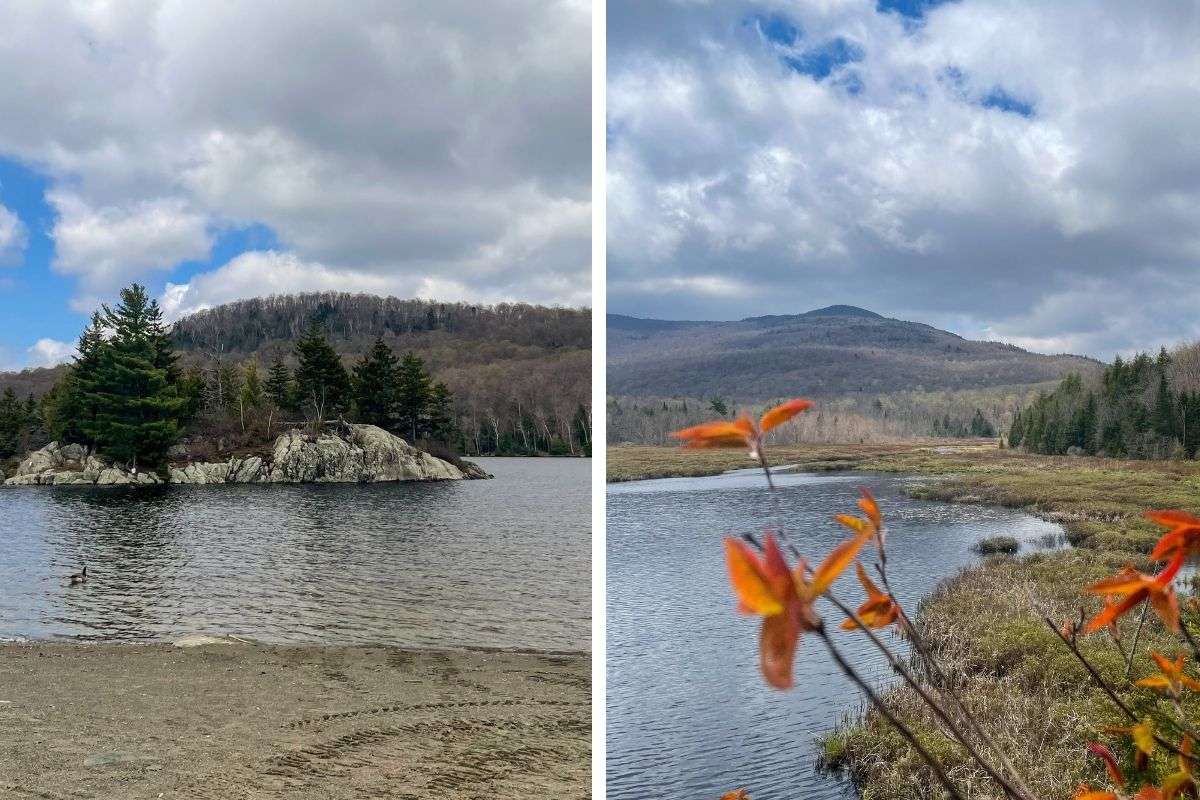 On Sunday morning, we bought our tickets ($18 for two adults) to Mont-Orford National Park. Our route options were limited because not all of the hiking trails were open this early in the season. The 3.5 km trail that we took was called "Étang Fer-de-lance," the starting point at the Le Bonnallie Service Center. After a 1 hour and 15 minute walk which took us through a magnificent lookout, we took advantage of the beach before hitting the road again.
Weekend Return
We were in a time crunch to return to Montreal that afternoon; otherwise, we would have enjoyed a tasting at the Cep d'Argent vineyard. We even thought about stopping at the Granby Zoo on the way back, but we would have needed to purchase tickets in advance (and there were none left). Overall, we found that Magog was the perfect destination that allowed us to get out of the city for a couple's vacation without driving too much. And I got to experience a little bit of the vanlife. Next time we will bring our bikes, go camping more in nature and wait a little longer in the season for warmer weather. It was still a fantastic getaway, and our first vanlife experience was definitely one for the books. We are already dreaming of our next RV vacation (which will be further and longer, I hope)!
Are you planning a vanlife getaway? Where will you go?
If you want to rent the same van we had, it's here.
Renting a campervan/RV according to your city in Quebec:
Renting a campervan/RV according to your city in Ontario:
This article was originally published in French and adapted in English by Britney Claveau.