Are you dreaming of unique Ontario campsites and cabins for your summer getaway? Is your soul calling for a place to reflect and relax away from the crowds? A place where you can disconnect and recharge by a shimmering lake or under a canopy of forest leaves?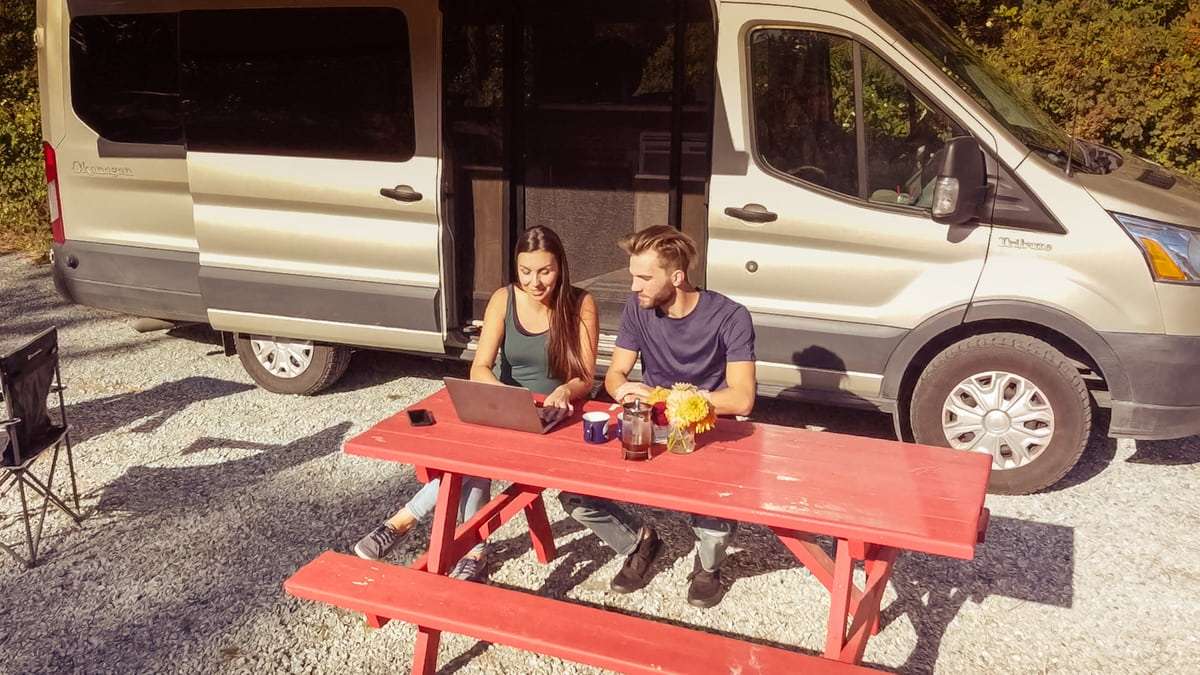 Presented by
It's time to ditch traditional campsite booking and try something new!
Let us introduce you to Canada's best-kept secret: Hipcamp. Hipcamp, which you can visit via their app or website, allows you to find unique private properties across Canada and especially great places in Ontario. You will have access to amazing locations not yet discovered by tourists. The way it works is you rent directly from private landowners. These owners are passionate about their properties and thrive on hosting happy campers. Renters can leave reviews and post pictures from their stay. Honestly, it's like the Airbnb of the outdoors.
If you're finding it increasingly hard to book a cottage or a campsite at a Provincial Park, look no further than Hipcamp. Many campers say that after discovering Hipcamp, they'll never go back to their old camping ways!
Use the code NOMAD10 for $10 off your first booking!
Here's a list of unique (and available!) campsites and cabins to rent right now. You'll want to book your dates before they sell out!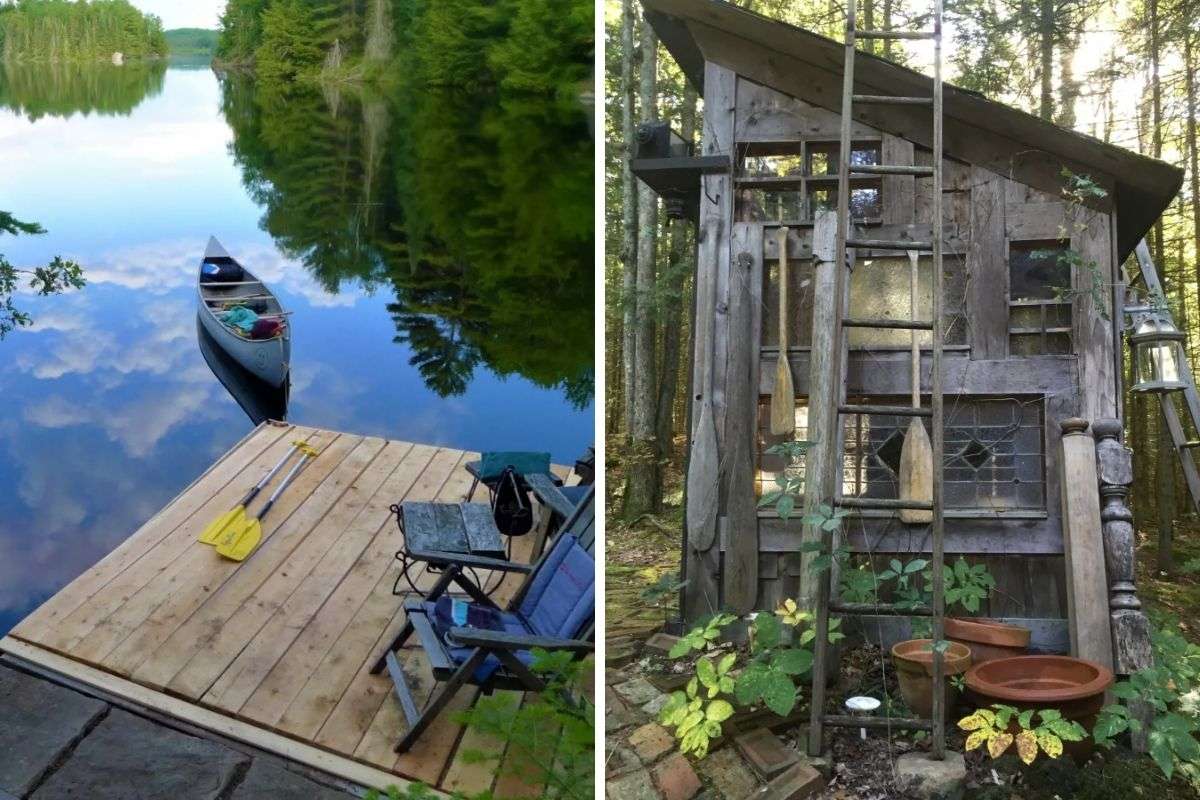 This well-loved cozy cottage on a quiet lake will make your summer dreams come true! It's a place for swimming, hiking, sailing, fishing, napping and finding creative inspiration. Canoe-accessible only, you'll feel cocooned by the lake in this tranquil spot with 20 sprawling acres of forest to explore. Don't forget to bring wood for campfire sing-a-longs!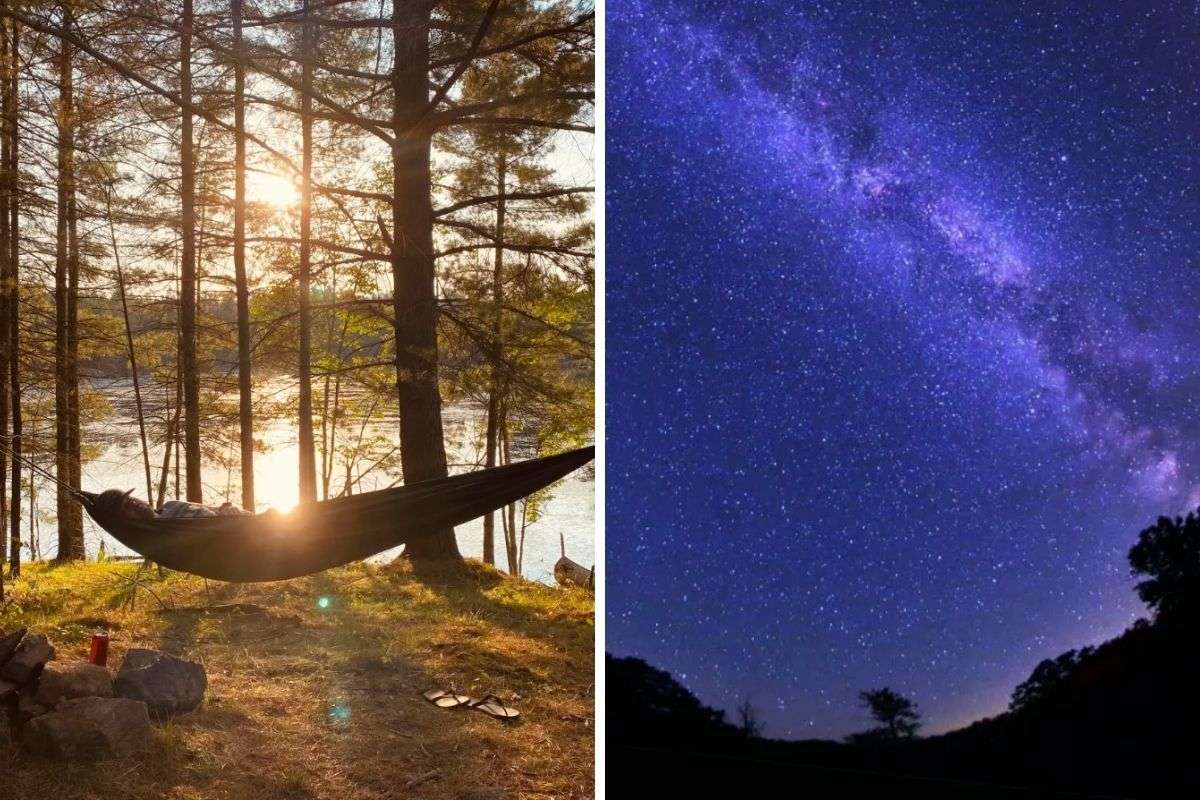 Just 3 hours from Toronto and 50 minutes from Kingston, this lakeside country campsite is 55 acres of heaven on earth. It's hosted by a father, daughter duo as a way to teach her about business and forest conservation. The site features a firepit, rocket stove, tent pad, outhouse, woodpile and hanger to keep your food away from bears. Enjoy your front-row seat for wildlife watching and staring at the stars! The site is located in a "dark zone"; perfect for catching a glimpse of the milky way.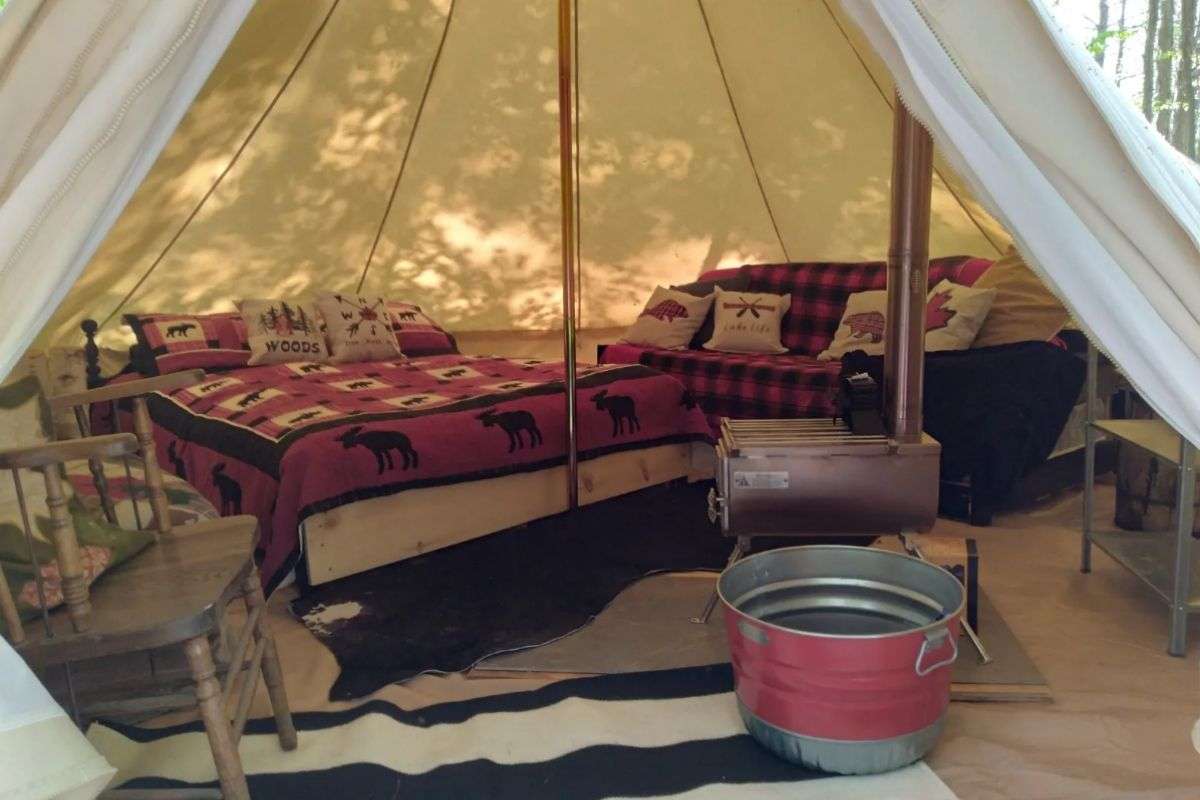 Leave your linens and equipment at home and stay hassle-free at a glamping tent in the middle of a sugar bush forest! Here you'll be able to stargaze in the comfort of a fireside hammock on clear nights and tour the owner's hobby farm by day. Enjoy "countryside quiet" while still having access to small-town amenities and attractions nearby. The tent comes fully stocked with cooking and eating necessities and even board games.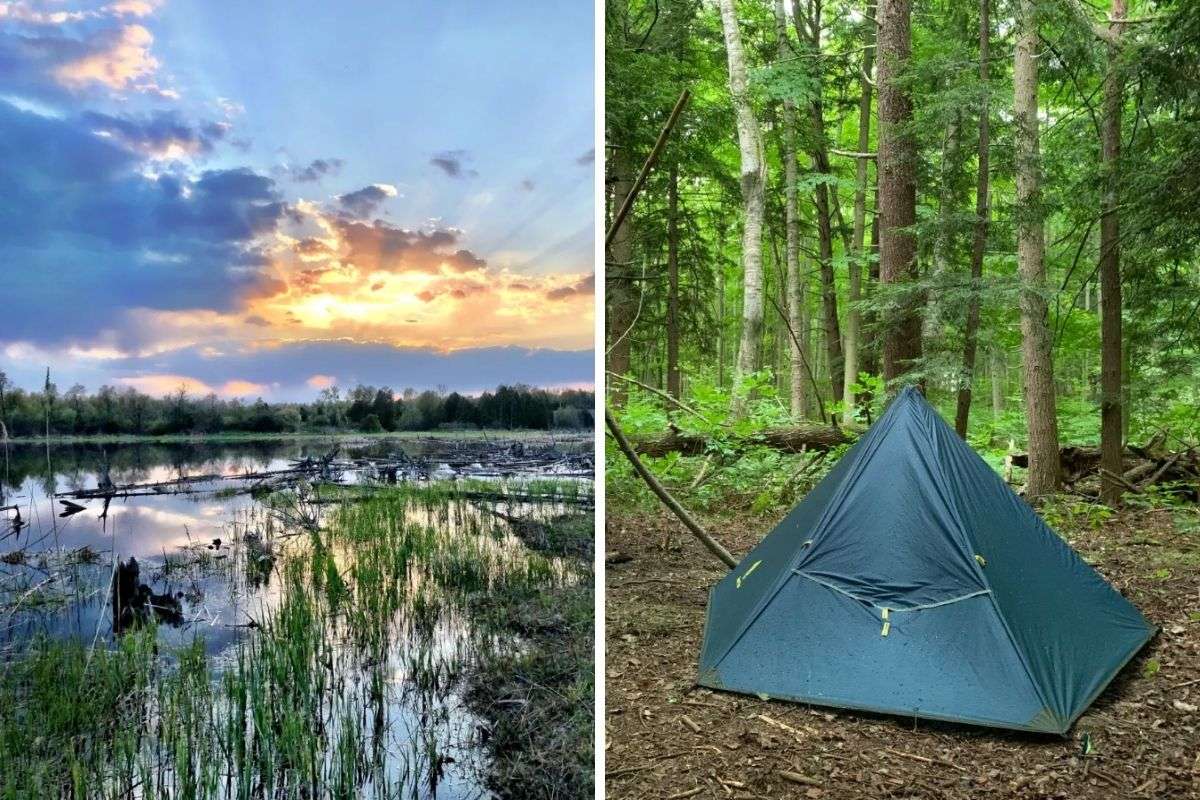 Nature lovers can frolic to their heart's content on this gorgeous 137-acre property with groomed campsites. The landowners welcome average or experienced campers with basic camping knowledge but want a more private experience. The sites can accommodate up to 10 people, so this is the perfect place to celebrate the summer with family and friends.
Treat yourself to a tiny bunkie cabin stay on an off-grid, biodynamic and biodiverse farm. The cabin is self-sustaining with solar power. You'll be surrounded by 50 kilometres of trails near the historic town of Alexandria. Boredom is out of the question here! You can rent e-bikes, use a nearby pool and showers for an extra fee and try some delicious organic honey.
For a real backcountry camping experience with incredible waterfront views, you will want to check out Raven's Point in Tryfan Forest. Pitch your tent and enjoy 800 acres of solitude and over a mile of private and pristine shoreline. The forest campsite includes a dock, firepit and a picnic table. You can have your supplies boated in or groceries delivered for a small fee.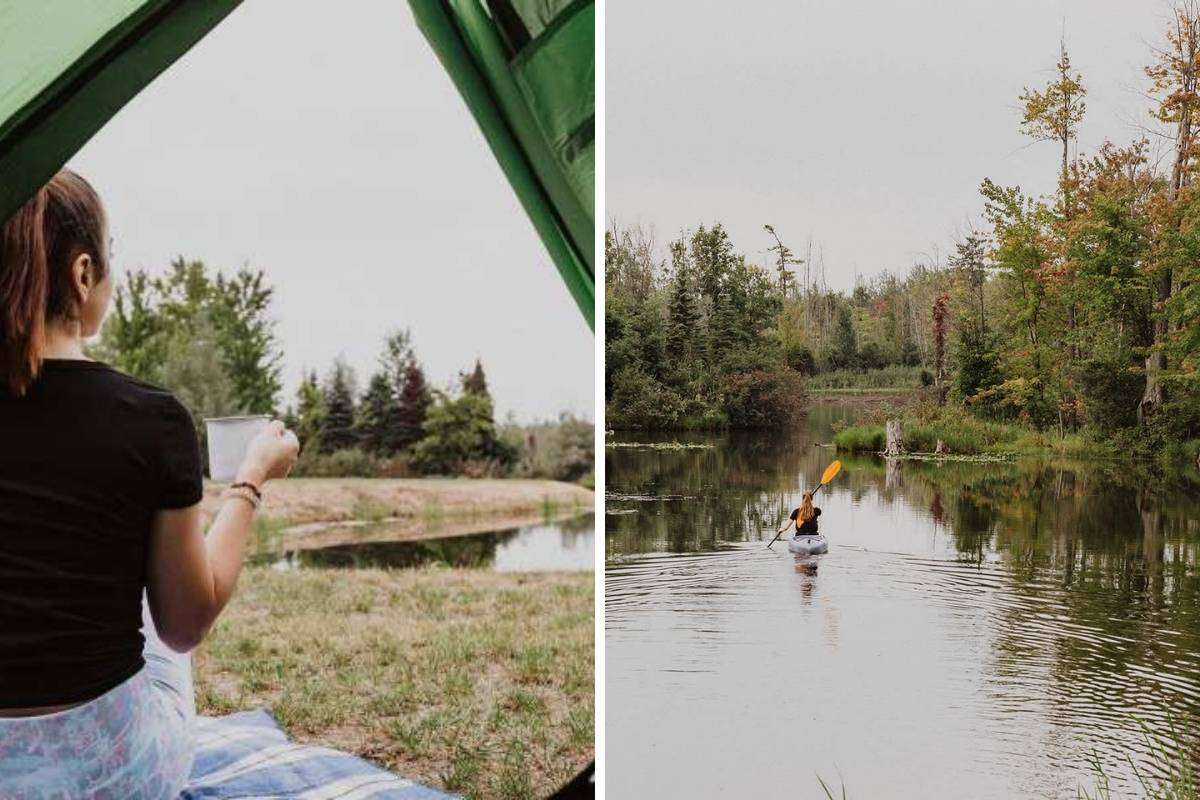 Say goodbye to city car horn sounds and hello to the chirp of crickets. Kick up your feet and relax or fish on a picturesque property with a large private pond (with catch and release fishing). The campsite has a picnic table, fire pit, space for your RV, as well as electricity and water hookups. Feel free to hike the trails, visit the beehives and enjoy the farm-fresh eggs. Your first bag of firewood is free!
Just a 10-minute drive from the town of Rosseau, this newly-built secluded log cabin takes you away to a place where reading, yoga and relaxation call your name. The two-story bunkie has a double bed and two sets of bunk beds, making it a perfect getaway spot for families. Make sure to try out the aerial mats in the trees!
Settle into the beautiful rolling hills of farm country in this quaint private cabin far from urban sprawl. Take a hike or a bike through the pastures and collect eggs from free-range chickens, which you can then cook on your open fire pit. If you love using homemade soaps in an outdoor tub or knitting using yarn from local sheep, this is the place for you!
Come stay at an RV-friendly campsite in the heart of cottage country! This groomed 1-acre forest lot has a fire pit and an outhouse and is within walking distance of a public beach. It's only a 10-minute drive from the town of Minden. Don't forget to taste two monster scoops of Kawartha Dairy ice cream while you're there!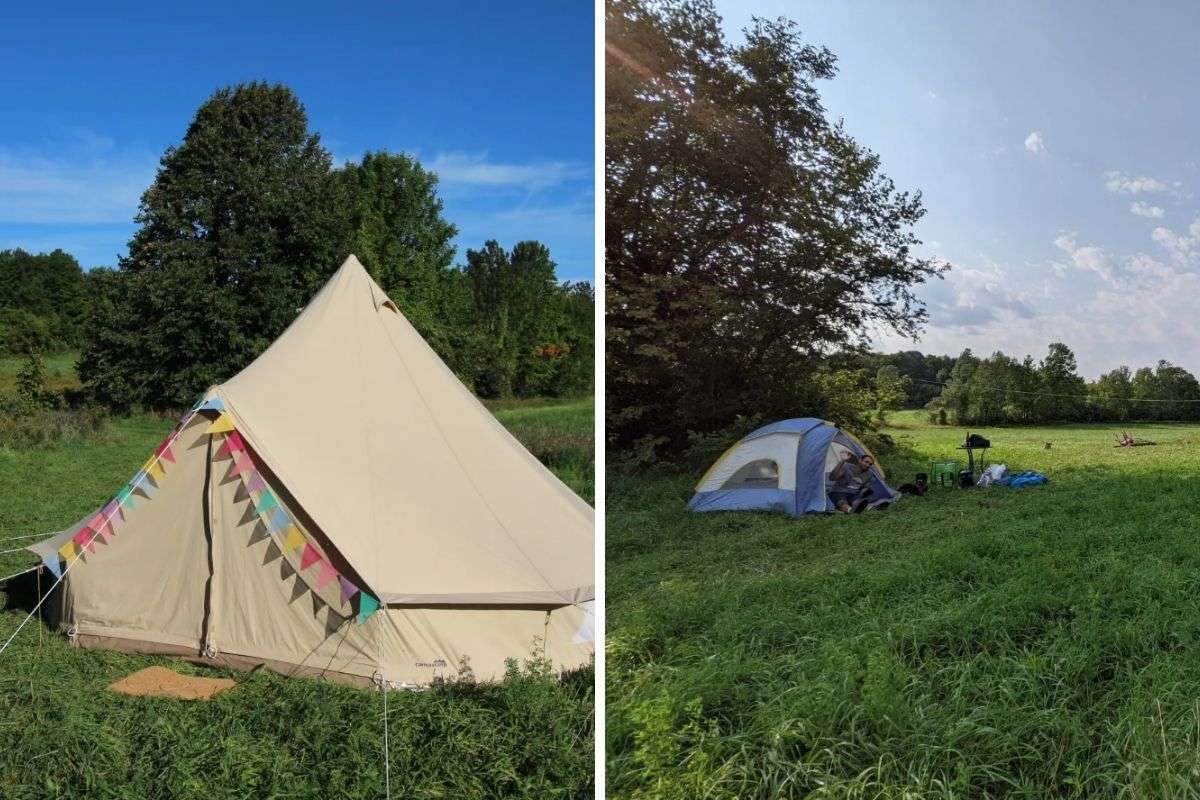 Just minutes from gorgeous Georgian Beach and Meaford, this large private hayfield is the perfect place to unwind in total solitude. The campsite features unlimited views of the on-site pond and a complementary ecological farm tour with seasonal tastings. Active and horticulturally curious guests will love the peace and quiet and organic fruits. Remember to bring your rubber boots!
If you love nature and horses, you're in luck! On the banks of the Oak Ridges Moraine, you can find this nature-friendly secluded cabin with your favourite farm friends. Sleep in a cute and comfy cabin for four and be greeted by horses in the morning. There's a mini BBQ, porta-potty, fire pit, picnic bench and Muskoka chairs on site.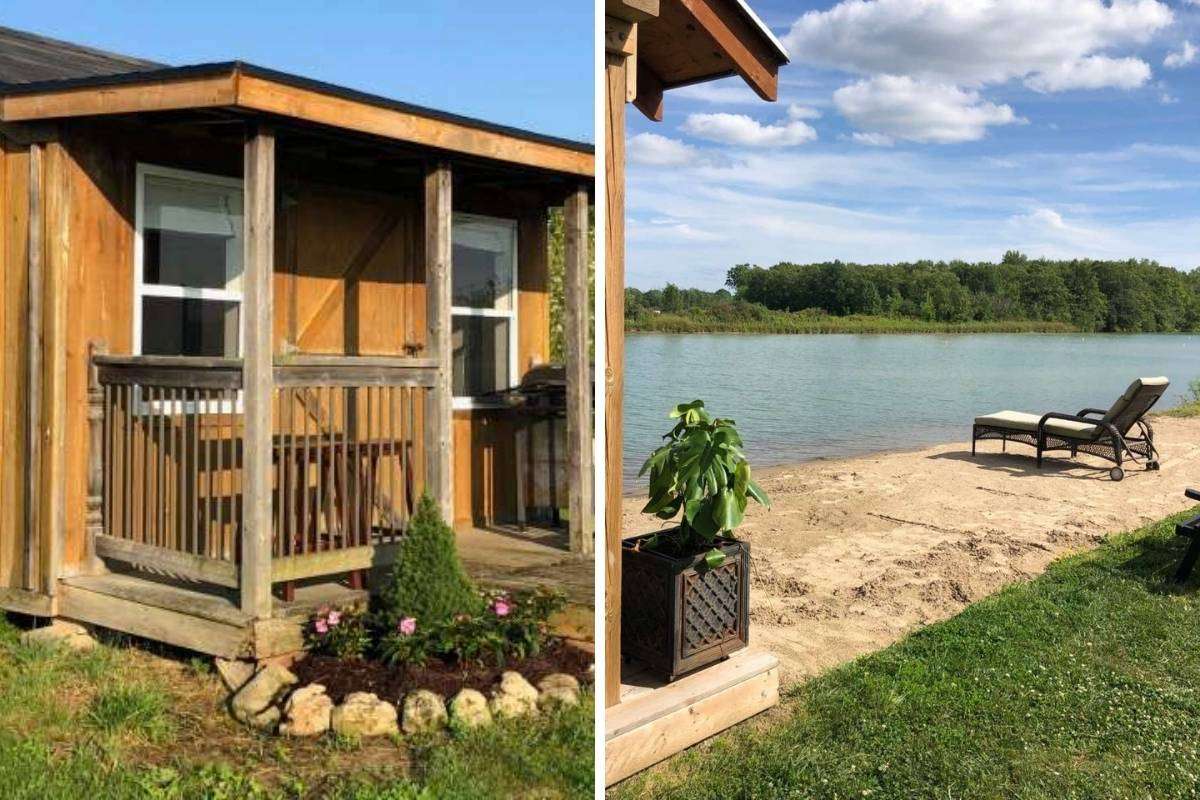 This idyllic cabin getaway gives you access to lush greenery, prime fishing spots and amazing on-site activities like swimming, paddling, hiking and more! Pack a picnic lunch and enjoy it on the dock or explore the nearby beaches. You can also take lessons in watersports here for an extra cost.
Imagine 270 acres of mixed forest and marshland all to yourself! That's what you'll get with this 10×10 log cabin in the woods. Get a deep sleep on a premium mattress before exploring the beauty of the Canadian Shield. There's a solar power pack to charge your electronics if you need to plug in. Otherwise, this tranquil spot is just what the doctor ordered to achieve peace and serenity.
Here's your opportunity to experience an authentic Kawartha Lakes cottage weekend without breaking the bank. This small log cabin on Sturgeon Lake has incredible views and a large dock area for lounging in the sun. WIFI is included and bikes are available to rent for an extra fee. As a bonus, there's a boat launch right beside the property.
Dreams really do come true! If you can see yourself lounging on the dock or roasting marshmallows by the fire at one of these locations, we highly recommend that you check out the Hipcamp website and book your dream spot before it sells out.
Use the code NOMAD10 for $10 off your first booking!
And if you have some flexibility in your schedule, consider booking weeknight stays to take advantage of their fantastic discounts on their unique Ontario campsites and cabins.
Shop and compare on Hipcamp today to find the best unique Ontario campsites and cabins for your summer 2022 getaway.
This article was written in collaboration with Emilie Robichaud.