Presented by
On a scale of 1 to 10, how much do you love to ski and snowboard? If you said 10, chances are you already know about British Columbia's world-class ski mountains. If you're new to skiing, or you're just digging the ski bum vibes (preferably from the chalet), you'll love Canada's westernmost province for virtually everything else: the food, the culture, the wildlife, the mountains!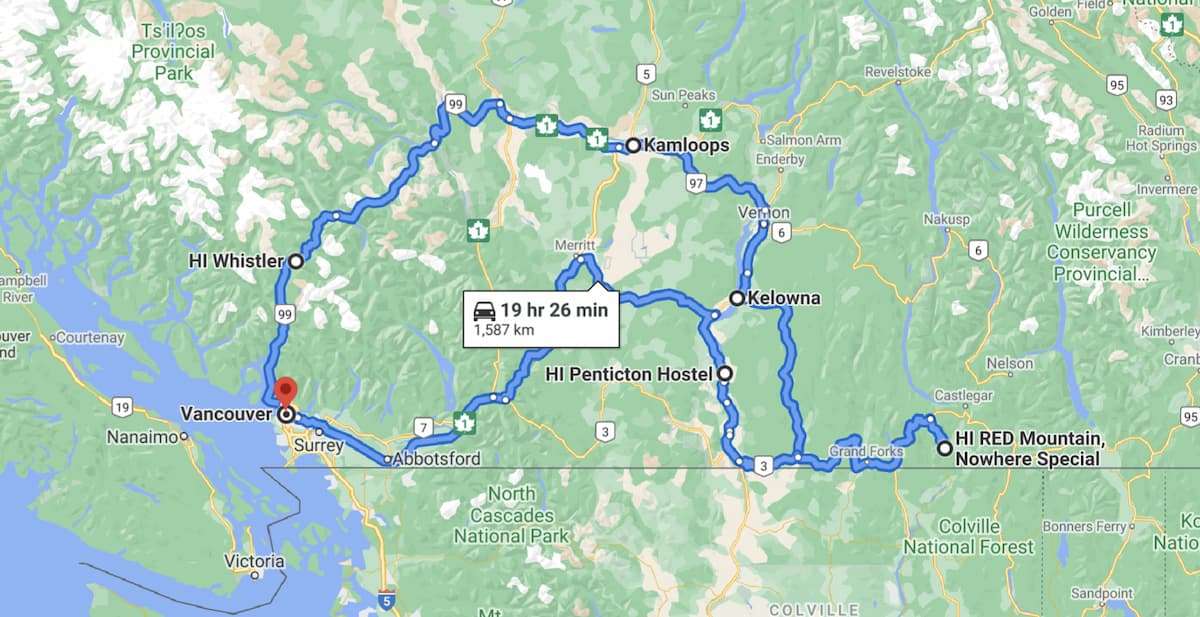 B.C. is a backpacker's paradise, especially in winter when its frosty landscape becomes your playground.
It's the kind of place where the journey is as beautiful as the destination.
Hello, mountain goats on snow-capped mountains. Pack your long johns, and let's go!
The 10-Day Ultimate Backpacker's Itinerary in British Columbia
Transportation
After you arrive in beautiful B.C., the next step is to rent a car. We found Turo to be the cheapest option at the moment, as the cost of rental vehicles has increased during the pandemic.
Nomadic tip: Make sure to rent a vehicle with 4-wheel drive and winter tires. Road conditions can be unpredictable in winter, especially in British Columbia.
Accommodations
There are many hotels, resorts, and rentals available in British Columbia, from basic to luxury stays, appealing to all sorts of budgets. We recommend staying at HI hostel accommodations in Whistler, Penticton and Rossland. If you sign up as an HI member, you'll get discounts at all their 61 hostels across Canada. You can use the money you save to splurge on activities!
Nomadic tip: For extra cost savings, cook most of your meals at the hostel. You can also ask the hostel for tips on where to go and where to buy groceries.
1. Pick up your car in Vancouver, British Columbia (1 night)
If you haven't already been, here's your opportunity to explore the most populous city in British Columbia. Vancouver can be an expensive place to stay, especially as a backpacker, but there are so many free (or almost free) activities to enjoy. Take a walk through Stanley Park, check out Granville Island, discover the Vancouver Art Gallery or do some good old-fashioned people-watching.
Nomadic tip: Make sure to stop at one of the Sea to Sky Highway viewpoints. The highway between Vancouver and Whistler will take your breath away!
2. Whistler, British Columbia (3 nights)
You'll arrive right in time at Whistler Blackcomb Ski Resort to see the pros out on the hills skiing black diamonds like it's nothing. With more than 200 trails, 36 lifts, and a top vertical drop of 1609 metres, this ski resort is Canada's largest (and arguably best). And you don't have to be a skier or snowboarder to enjoy Whistler! Asides from amazing skiing, there are many backpacker-friendly winter activities ready to explore.
What to do when you're not skiing in Whistler
Give your goggles a rest and see all that the Whistler area has to offer besides iconic skiing. Spoiler alert: There's no shortage of exercise or fresh air!
Where to grab apres-ski in Whistler?
Where to sleep in Whistler?
We can't recommend HI Whistler in the Olympic Village enough! This hostel has everything you need and more: a modern feel with sweeping views of the mountains, several lounges, a large kitchen, a pool table and an onsite café with healthy food options. And it's only 15 minutes from the slopes!
Nomadic tip: When you leave Whistler, take Highway 99 through Pemberton to Lillooet. On this road, you can make an unforgettable stop at Seton Lake. The turquoise water of the lake and the view of the fjord will give you chills.
3. Okanagan Valley, British Columbia (3 nights)
The Okanagan Valley is best known for its fertile soil and award-winning local wines. Did you know it's also a winter wonderland for backpackers and sports enthusiasts?
Everyone knows the best place to ski in the Okanagan Valley is Big White Ski Resort. Only an hour from Kelowna, the resort has 119 designated trails, 16 lifts and a summit of 2139 metres, the highest in the valley!
What to do when you're not skiing at Big White
Whether you love wine or not, you will fall head over heels for the Okanagan Valley. Make the most of your car rental and enjoy the breathtaking scenery (and wine) around Kelowna, Naramata and Penticton.
Where to grab a bite to eat or a beer in the Okanagan Valley
Where to sleep in the Okanagan Valley
Rest your head at HI Penticton in the heart of the Okanagan Valley. Let's just say there are three breweries within walking distance. While you're there with a car, take advantage of the gorgeous views around Lake Okanagan and Skaha Lake.
Fun fact: Did you know that Penticton is home to one of Canada's biggest secondhand book stores? Bibliophiles, you might need to extend your stay!
4. Rossland, British Columbia (2 nights)
Rossland, a former gold mining town, is located in the Kootenay Rockies. It's basically the adventure capital of B.C. with an endless array of skiing and leisure sports to do in all seasons. The most well-known destination is Red Mountain Ski Resort, which was called "The Last Great, Unspoiled Resort" by Ski Can. With 119 trails and a 7km run, you'll be in ski and snowboarding heaven.
What to do when you're not skiing at Red Mountain
Where to eat and drink in Rossland
Where to sleep in Rossland
If you want to immerse yourself in the mountain culture, you have to stay at HI Red Mountain, Nowhere Special. It's literally a 2-minute walk from the chairlift at Red Mountain. You'll fit right in with their fun, adventurous community and enjoy great conversations around the outdoor firepits. Bonus: You'll get discounted lift tickets when you stay here!
5. Return to Vancouver, British Columbia
Time to drop off that rental car and reminisce about your adventures in Canada's westernmost province. We bet you want to live there now, or at least visit again! If you can't wait to go back (next time, during the summer months), check out our sister article: Backpacking Canada: 10 Days in British Columbia in Summer!
This article was written in collaboration with Britney Claveau.
Where are some of your favourite winter destinations in British Columbia?