Did you know that you become twice as Canadian when you drive across Canada? You don't get an award or anything (even though you should!), but your true patriot love will shine so bright you'll practically glow red and white and smell like maple syrup.
A road trip really is the best way to discover all the hidden gems of our great country. You'll get a boots-on-the-ground sense of what each province is about, from British Columbia all the way to Newfoundland. And contrary to popular belief, travelling in Canada doesn't have to be expensive. It can actually be affordable if you plan it right.
If you've ever dreamed of exploring Canada from coast to coast, now is the perfect time to go! Forget about customs and travel insurance and foreign exchange. Leave your passport at home and embark on a road trip through your homeland, the true north strong and free. It's never been easier to go on a backpacking adventure!
What are you waiting for? Let's go!
Time to rent a car (if you don't already have one with you) and start taking in the beautiful scenery of British Columbia. Make sure to dip your toes into the Pacific Ocean at Tofino, the surf capital of Canada, first. You'll get instant New Zealand and California vibes. Then make your way to Vancouver.
You don't have to leave the mountains behind to experience city life here. In Vancouver, the Rockies are in constant view. After a walk around Stanley Park, venture up to Whistler to try out being a ski bum. Cap off your B.C. trip with a visit to the Okanagan Valley for a tipsy tour through the vineyards.
View the full BC itinerary here. 
Alberta is so much more than pipelines and pumps! Although the oil industry brings in a lot of revenue for the province, it is rather the sparkling emerald lakes and wildlife that steal the show. You'll love the fresh air feel of driving windows down through the mountains.
Start your trip in Jasper, a must-see spot for adventurers. You'll be amazed by the ancient glaciers that line the Icefields Parkway en route. As you make your way to the village of Banff, make sure to leave early to catch a glimpse of multiple popular turquoise lakes. There is a reason why they are so busy: They are each bluer and prettier than the next. Finish your loop of Alberta with a drive through the cosmopolitan city of Calgary, or sneak in some cardio with a bike ride.
View the full Alberta itinerary here. 
Saskatchewan is so much more than long stretches of wheat fields. It's the heart of Canada where the air is pure, the people are welcoming, and the sunsets take your breath away. The prairies are often seen as an uninspiring pit stop; however, this little-known province is steeped with history and worth a detour.
Once you get there, allow yourself to be awestruck by how far across the horizon you can see. Then schedule stops in Saskatoon, Lumsden and Regina. There's no shortage of national and provincial parks along the way. If you don't fall in love with the landscapes, you'll definitely fall in love with the food.
View the full Saskatchewan itinerary here.
Manitoba was placed on the Best in Travel list by the Lonely Planet, and we can see why! The province promises abundant wildlife, beautiful lakes, and one of the best vantage points to view the northern lights. With so many things to do in a multicultural setting, you'll feel welcome and never be bored.
Plan a trip to Inglis to learn more about the ins and outs of farming. Then, head to Riding Mountain National Park for a dreamy horseback ride. Finally, unleash your inner foodie in Winnipeg, where you will discover the creations of many local artisans and taste amazing small-batch beers.
View the full Manitoba itinerary here.
If you thought you were done with the prairies, think again. It's now time to drive through "Long-tario," a province so big the water seems to change colour depending on where you are, as if by magic. Make the most of your lengthy excursion by admiring the lakes and rivers along the way to gastronomical cities like Toronto and Ottawa.
The Bruce Peninsula is a must-stop if you want to feel like you're in the Caribbean. With tropical turquoise water and sandy beaches, you'll almost forget that you're in Canada. The Thousand Islands National Park along the St. Lawrence River is also worth a day trip, especially if you can squeeze in a wine tour.
View the full Ontario itinerary here. 
If you've been looking for an opportunity to practice your French skills, here is the place! Once you cross the border into the Belle Province, you'll feel like you're in a different country. Celebrate with a trip to Montreal for a taste of fashion, art and culture. Then continue to beautiful Rivière-du-Loup, stopping in Quebec City for a deeper look into Canada's past.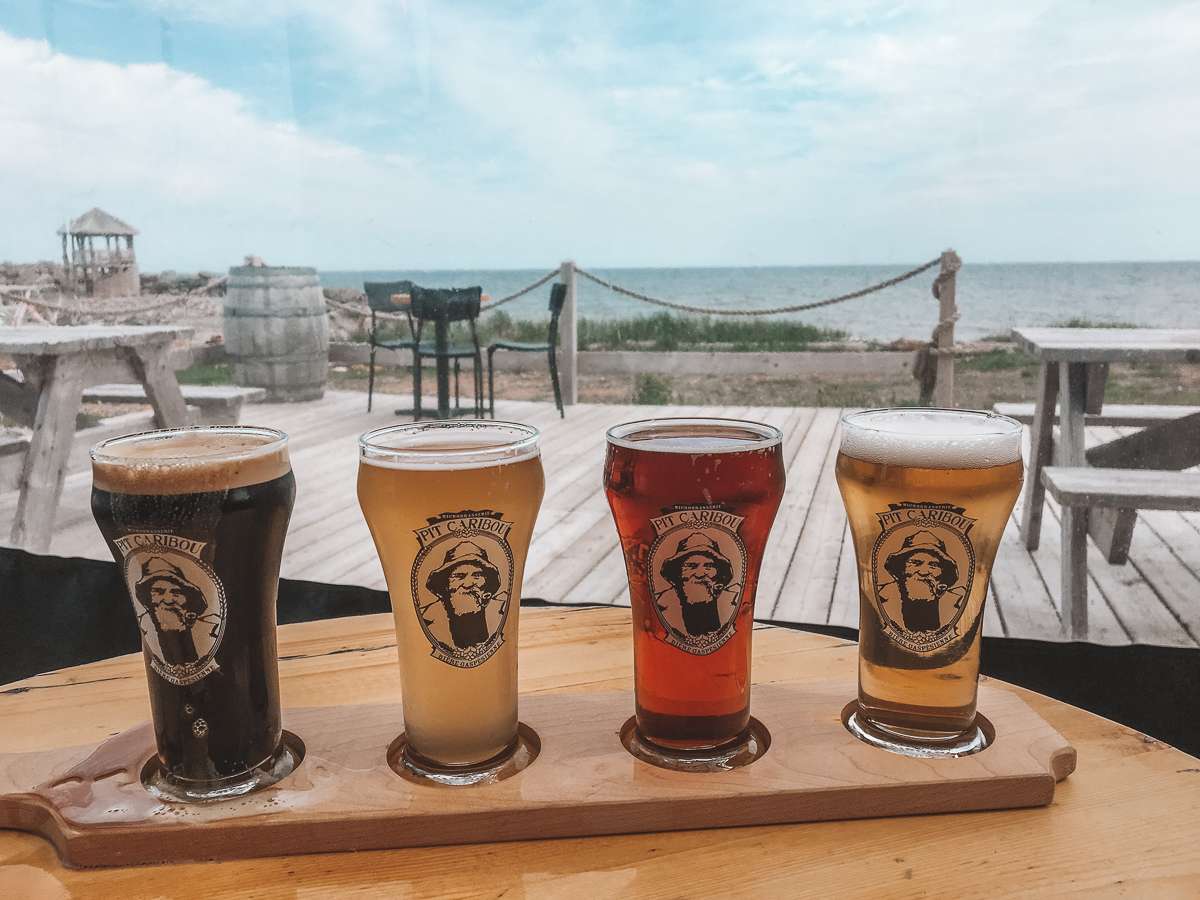 Be sure to visit Gaspésie, a charming place in the Maritimes. For the best experience, start with Sainte-Anne-des-Monts, then go to L'Anse-au-Griffon and end your trip in Percé. Don't leave the region without tasting a little flight at the Pit Caribou microbrewery.
View the full Quebec itinerary here.
We can sum up a backpacking trip to New Brunswick in three words: beach, sea and lobster! Throw in a natural world wonder, and your trip is complete. If you're a beach bum and an adventurer at heart, this is the place for you.
First stop: Kouchibouguac National Park. You deserve a rest on a white sand beach while you listen to the waves of the warm Atlantic. Your next destination will be the town of Shediac to taste the best lobster rolls in the east. And, of course, it wouldn't be a successful trip to New Brunswick without seeing the iconic rock formations at Fundy National Park and Hopewell Rocks. Lastly, check out the vibrant university city of Moncton.
View the full New Brunswick itinerary here.
Even though PEI is the smallest province in Canada, it has so much to offer. It is a prime destination for beach vacations, exceptional seafood dining experiences and scenic coastal walks. You'll quickly know why all the lighthouse staff want to work here.
Charlottetown is where you want to head first if you're a food fanatic. Then, full and happy, take a quick trip to Red Sand Shore, where you can relax upon the magnificent red sand beaches. If you're a Lucy Maud Montgomery fan, be sure to visit Green Gables Heritage Place in Cavendish. Finally, walk the red sandstone cliffs overlooking the ocean at Prince Edward Island National Park.
View the full Prince Edward Island itinerary here.
A road trip through Nova Scotia may prove to be your most memorable drive yet. Here the beauty and power of nature are on full display, evidenced by the unapologetic towering cliffs jutting out into the Atlantic. With a slogan like Canada's Ocean Playground, you know what to expect: a fun locale that attracts visitors from all over the world.
Speaking of fun, did you know that you can surf all year round in Nova Scotia? If you prefer to stay dry, know that there are an endless amount of trails to hike, most worthy of a postcard picture. Don't miss out on the most Instagrammable hike at Peggy's Cove. If you're feeling tired of driving, the Cabot Trail is sure to wake you up. It's a world-famous highway with picturesque views. End your trip with a visit to Halifax, the oldest city in Canada. 
View the full Nova Scotia itinerary here.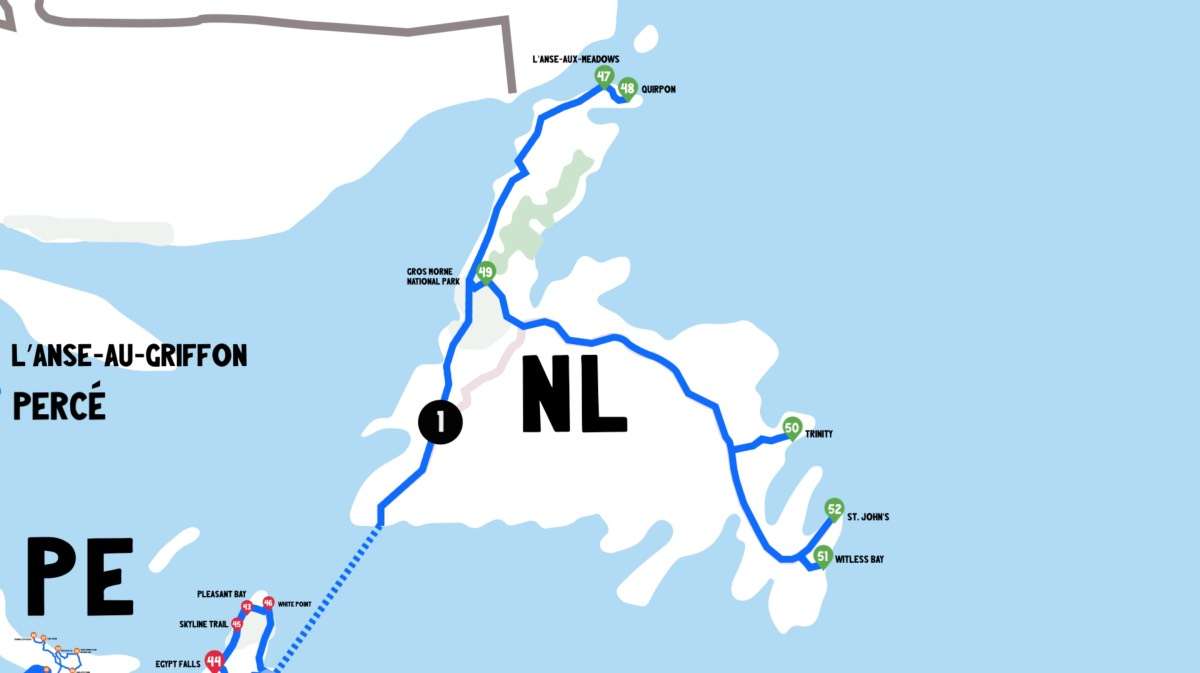 You're almost at the end of your trip, but it's not over yet! The mythical province of Newfoundland awaits. It's the last stop on your west to east trip across Canada, and if you get your timing right, you just might discover icebergs when you arrive.
Your Newfoundland to-do list consists of driving the Viking Trail, climbing to the top of a fjord, and going whale watching. Complete your tour of the countryside with a visit to the great city of St. John's. You will be surprised to find that this small port town is actually the party capital of Canada. What better way to end your trip than to live it up with the friendly locals?
View the full Newfoundland itinerary here. 
All you need is 60 days, a car, your backpack, and this guide! (And a few loonies and toonies, of course.) You, too, can cross Canada from coast to coast! Can you imagine the stories you could tell after a road trip like this?
Out of all the places, where are you most excited to visit in Canada?
This article was originally published in French and adapted in English by Britney Claveau.