Presented by
When you plan a backpacking trip, the famous question of whether or not to bring trekking boots certainly comes to mind. The age-old dilemma between bringing your trusty old running shoes or investing in trekking boots. On the one hand, hiking boots take up a lot of space in your bag, but on the other hand, you don't want to be the backpacker in white Converse sneakers climbing a volcano.
To make your shopping experience easier, we demystify the types of hiking boots available to buy.
There are four categories, for beginners to more experienced trekkers, from the most versatile to the most specific:
In general, the heaviness of your trekking footwear should be proportional to that of your backpack.
The heavier the weight on your shoulders, the heavier your shoes or boots will need to be.
Don't make the beginner's mistake of buying cumbersome boots for nothing; they will make you tired quickly.
All-terrain shoes or boots (for walks in the forest)
This all-terrain model is the choice for you if you are looking for something versatile and don't plan to stride far from the beaten trail. This kind of footwear is ideal for outdoor activities like walking, speed hiking, short hikes in the forest and bike tours. These are lightweight shoes for well-groomed trails. They are made for beginners or more advanced individuals with strong and well-conditioned muscles and do not require additional support. Your backpack needs to be light, and you can walk for only a few hours. These shoes will give you a feeling of comfort and flexibility. The soles will protect you from roots and stones. They will be comfortable from their first try, so there's no need to "break them in" given their flexibility.
Discover the LOWA All Terrain Sport models
Multifunctional boots (for stabilized trails)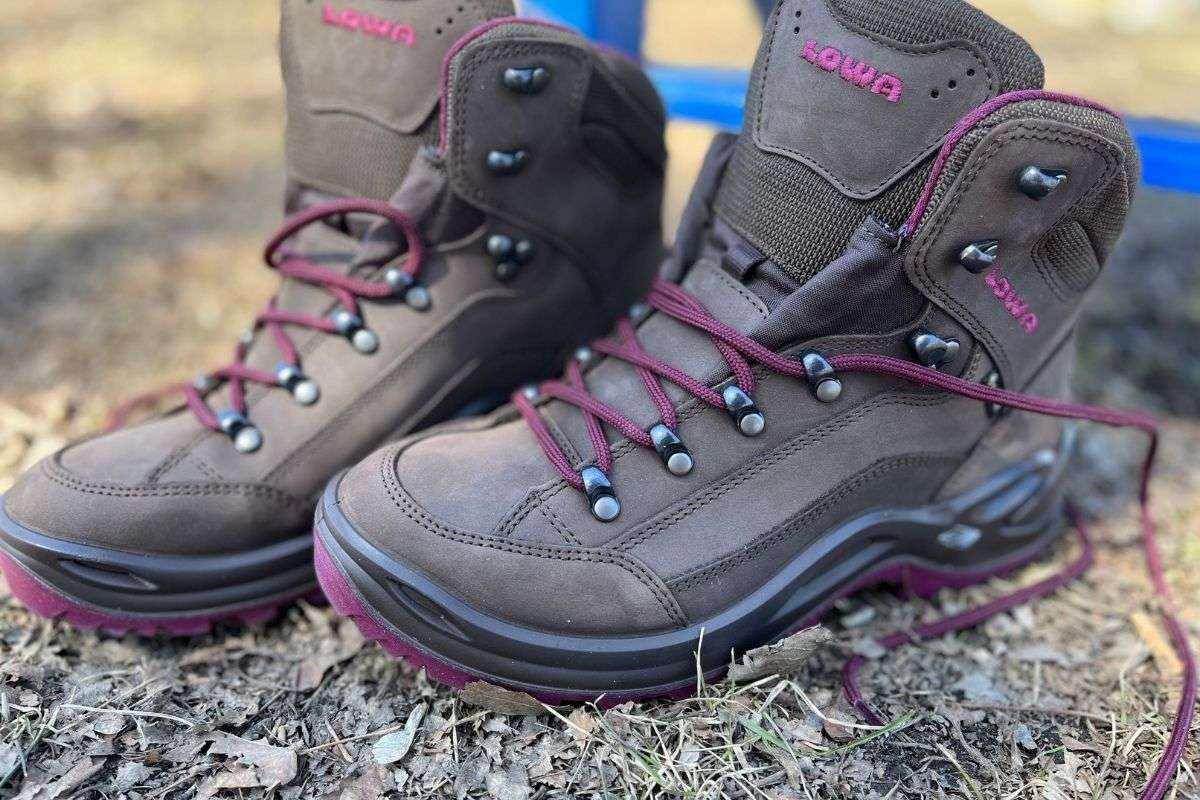 This walking boot is similar to the hiking shoe but has a higher fit, giving you more ankle support. We're looking at you if you have shaky ankles. Multifunctional boots are a good option if you are a beginner or intermediate hiker but need more support. Keep in mind that walking boots are heavier than hiking shoes, so your backpack should be heavier too. The treks you choose can also be a little more difficult, without going too far off the beaten track.
The LOWA Renegade boot is a universal icon, celebrating its 25th anniversary this year. This acclaimed model might be what you need for your adventures. Basically, multifunctional boots are perfect for everyday life as well as medium-altitude hikes on stabilized trails.
Check out the All Terrain Classic multifunctional boot models
Boots for long-distance treks
If you plan on doing multi-day treks from Kilimanjaro to Everest Base Camp, you're going to need a boot for long distances. You want the kind of footwear that gives you more support than just a walking boot. You want the guarantee that your shoe can withstand bad weather and terrain like mud, water and snow. You also want to be able to install crampons to your boots if needed. Hiking boots like these are very durable. They are sturdy, and it will take a few days before they are "broken in." Take them out of the box a few times before your hike so you don't need to turn around.
If you prefer a lower cut, you can also opt for the LOWA Explorer II GTX LO Ws trekking shoe. Personally, this is my favourite model.
Shop boots for multi-day hikes
The class apart: the mountaineering boot
The mountaineering boot is not suitable for ordinary mortals. You must have expedition experience. This type of boot will allow you to face extreme conditions. The mountaineering boot is tall and stiff. With a boot of this calibre, you can install crampons, of course. These boots are waterproof and well-insulated. To give you an idea, the Alpine Expert GTX Ws model from Lowa is suitable for expeditions up to 8,000 metres and more.
See the mountaineering models here
How to choose the right size for your trekking boots?
Keep in mind that whatever model you choose, it should be comfortable from day one. If not, it may not be the right shoe for you. Obviously, the more robust boots (for longer rides) require a period of easing to break them in. We, therefore, recommend that you wear the boots for short distances sometime before your excursion. You can start by going to the convenience store or the grocery store, slowly increasing the distance and duration of your trips.
Here are some things to consider when trying on your trekking boots or shoes:
You can take out the sole of the shoe, put it on the ground in front of you and place your foot into the sole to see if the size is correct.
During the fitting, wear your hiking socks and orthopedic insoles (if needed).
It's best to do the fitting in the afternoon when your feet are naturally more swollen.
Try and walk with both left and right shoes at the same time: one foot is often stronger than the other.
Once home, go up and down the stairs with the shoes on. When you go up, your foot should not lift more than 1/2 cm in the shoe. If your foot moves a lot, the shoe is probably too big. When you go down, the toes should not touch the tip of the shoe. If they do, the shoe may be too small.
If you can't get to the store, measure your foot in centimetres. This will help you choose the right size using the online size guide.
If you order the shoes online, read the reviews. Maybe other buyers can guide you in choosing the correct size.
Find your dream boot on Lowa.ca
This article was written in collaboration with Britney Claveau.