Even if you've been to Florida before, you probably did not realize that there are over 900 turquoise freshwater springs sitting deep within the forest out in the middle of this beautiful state.
The term spring refers to a place where groundwater flowing from an aquifer rises and reaches the surface. The water is usually very clear and very refreshing, with a constant temperature of 22 degrees that is maintained throughout the day, making it very pleasant to swim in. On average, more than eight billion gallons of water flow out of Florida's springs every day.
So, if you're looking for a place where you can relax and enjoy nature, here are five of the most beautiful springs that you can visit in Florida.
1. Rainbow Springs State Park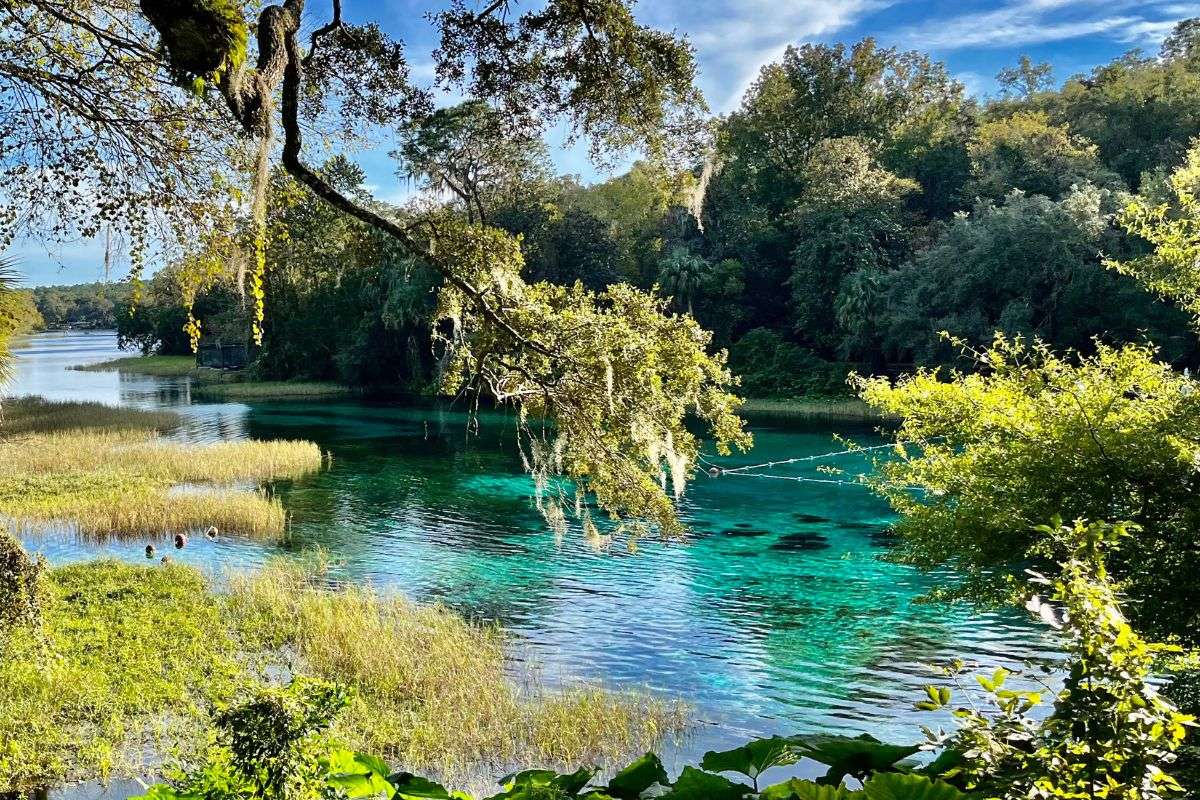 This beautiful provincial park is located near Dunnellon, about 1.5 hours northwest of Orlando. You will be blown away by the beauty of the sapphire blue colour of this hot spring.
Nomad tip: Make sure you bring your bathing suit! There is a designated swimming area that you will want to take advantage of during your visit.
By swimming in this lush spring, you're recreating a tradition that goes back centuries to a time when indigenous people frequented this breathtaking spot. Kayaks and paddle boards are also good ways to explore the river. Walking trails are also available around the spring, so there are many ways for you to explore and enjoy the spring.
A nice thing about this activity is that it is very affordable; parking is free, and the entrance fee to Rainbow Springs State Park is only $2/adults.
2. Silver Springs State Park
The Silver Springs Provincial Park can be found near the town of Ocala and is known for its turquoise waters and clear crystal clear water.Since the 1870s, glass-bottom boats have allowed visitors to view the underwater life of this spectacular spring.
Admission to Silver Springs State Park is $2 per person. You may also opt for a 30-minute boat tour, which is $13 per person.
Nomad Tip: After visiting the spring, explore the Ocala National Forest, where you can see lots of animals like alligators, coyotes, white-tailed deer, bobcats, and the highest concentration of wild black bears in Florida! Many people are unaware that there is a subspecies of the Black Bear known as the Florida Black Bear (Ursus americanus floridanus).
3. Devil's Den Prehistoric Spring
Take a road trip two hours north of Tampa to Devil's Den Prehistoric Spring for an unforgettable experience! On cool mornings, steam rises from this underground spring, which is why it has been nicknamed the "Devil's Den."
Nomad tip: If you go to the spring early in the morning, you will be able to get a great picture without the crowds. You can camp on-site, which allows you to enter the den as soon as it opens.
Admission to the prehistoric Devil's Den is $15 per person. If you plan on diving, the price is $20 per person and includes all the equipment.
4. Crystal River National Wildlife Refuge
Aside from its gorgeous blue waters, the Crystal River Sanctuary is the only national refuge dedicated to protecting the natural habitat of Florida manatees.
The park's admission fee is $7.50 per person. While strolling along the park's trails, you will be able to see many curious manatees, the herbivorous marine mammals that live in the area.
Nomad tip: Take a picture of the site map when you get there. There are several locations where a trolley will pick you up. For the most turquoise water, go to the Three Sisters Springs (Pretty Sister, Big Sister and Little Sister). To see the most manatees, head to Magnolia Spring, an area less crowded with tourists and teeming with marine life.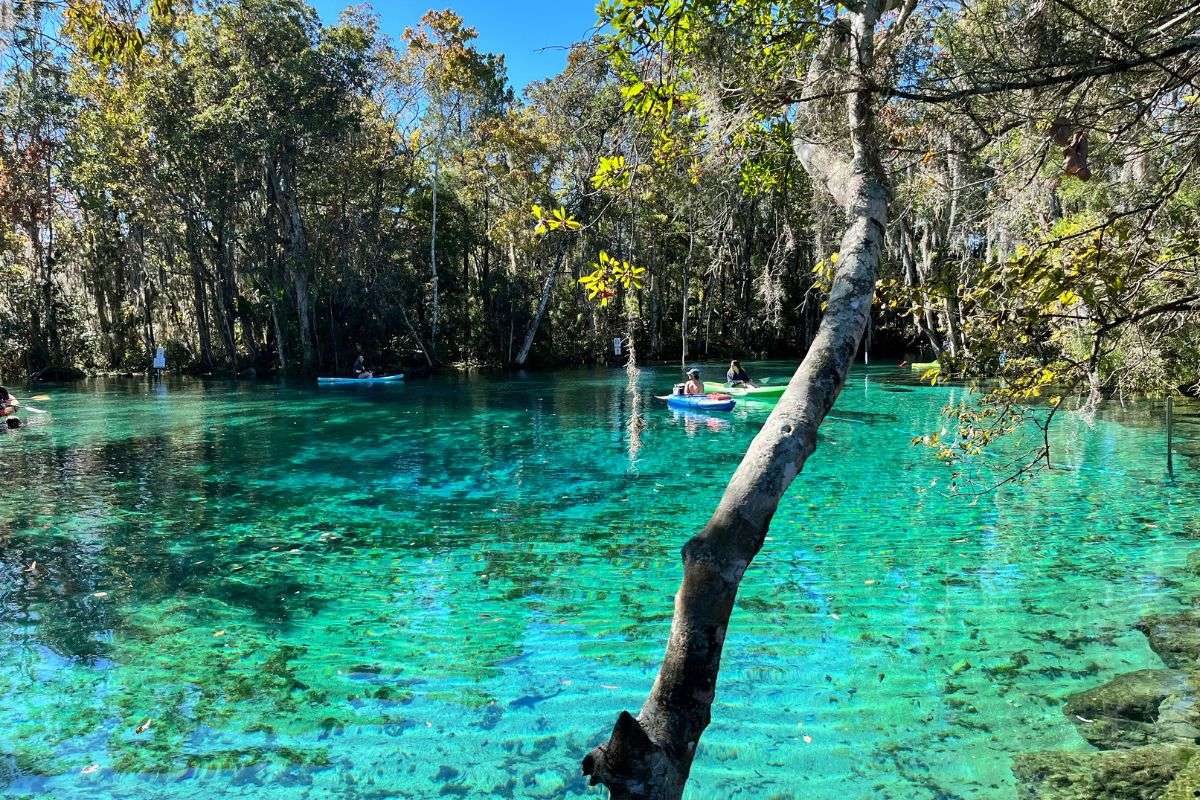 There's even an eco-friendly option where you can swim with the manatees in Crystal River for $60. The best time to swim with manatees is between November and April.
5. Kelly Park Rock Spring
Kelly Park Rock Spring is a perfect place to explore for a day just 40 minutes from Orlando. Known for its crystal clear waters, Kelly Park offers visitors the opportunity to view the spring and even take a dip in its waters if they wish.
Nomad tip: Take advantage of the weekdays for a less crowded experience!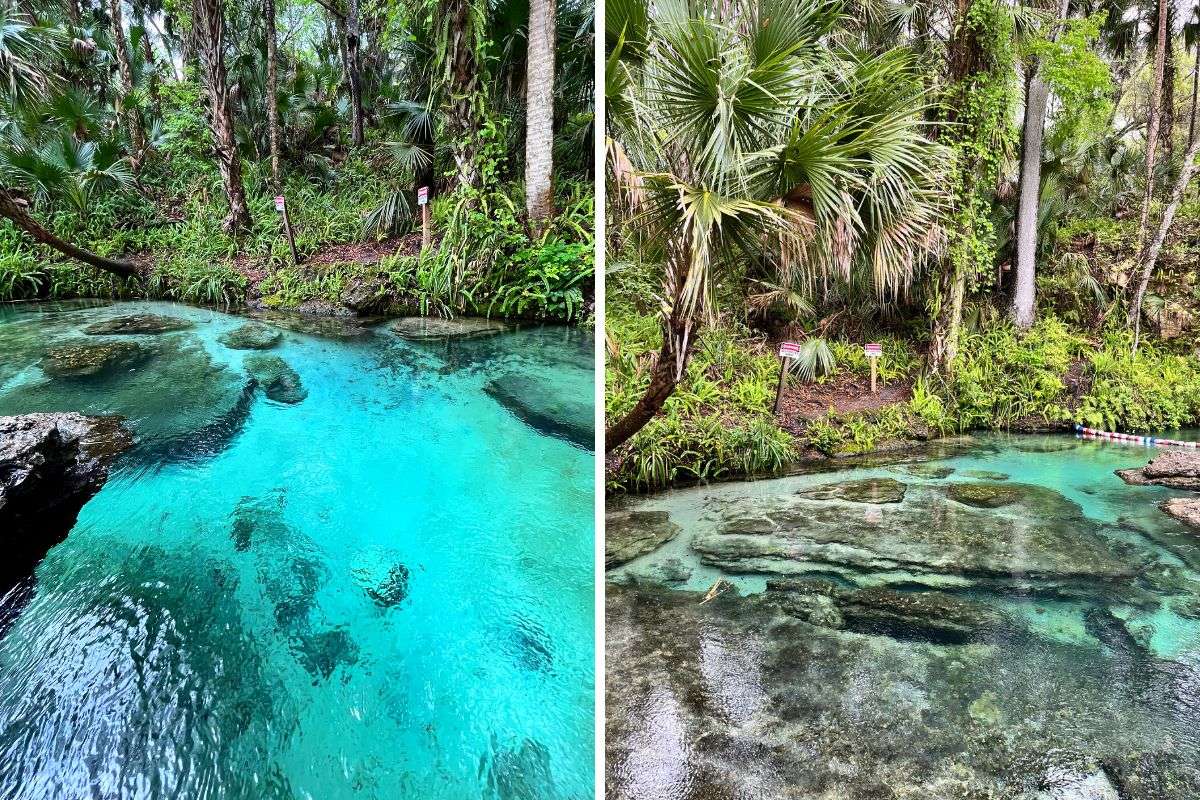 A car with two passengers can enter the park for only $3, which makes it a very affordable activity. The Emerald River is also a great place to go tubing. You can even rent a tube for $7 a day if you don't want to bring your own.
With the beautiful photos of your trips to these five unique US springs, you will be the envy of all your friends and family!
And remember, before heading off to Florida, make sure to get travel insurance!
Discuss travel insurance options for Florida with soNomad
If you have questions, let us know! We'll refer you to the right person!
Nomad Junkies' founders are proud to be ambassadors for soNomad and on a mission to reduce travel insurance costs for all!