Picture flowerboxes on windowsills, fresh laundry on the line and winding dirt roads through the lush green countryside. Now imagine diplomats, blacked-out Escalades and forever vapour trails across the sky. I bet you didn't think all this was possible in one place! You can experience all of this on a Switzerland road trip. The land of many small cities is where you should go!
Why You Should Go on a Switzerland Road Trip
Did you know that Zurich is the largest city in Switzerland with a population of only 341 730 people? It's no surprise that Switzerland makes for the most wonderful road trip destination. You can experience the whole country within days, and you don't need to deal with big city traffic.
The pastoral scenery in Switzerland will whisk you back to a simpler time. The snow-capped mountains and crystal blue lakes will make you want to twirl like Julie Andrews through the hills. If you need an adrenaline rush, driving switchback through the Alps is just what the doctor ordered. Yes, it's expensive to travel to Switzerland, but it's doable if you prioritize where to spend your money (even if that means avoiding the shops and eating drug store snacks for breakfast). When we planned our Euro Trip honeymoon, I knew that a Switzerland road trip needed to be on the list!
See: Euro Road Trip: The Best Stops in Germany (Plus a Little Adrenaline-Inducing Detour
My husband loves to drive, and I love sipping lattes and calling all the stops, so a road trip honeymoon made the most sense. We had spreadsheets upon spreadsheets mapping out our itinerary, our expected gas mileage and where to stop to eat. Hotels and Airbnbs were booked in advance. The plan was to drive for at least 5 hours each day (2100km in total) and hit up the well-known cities of Munich, Nurburg, Heidelburg, Geneva, Bern and Lucerne. This gave us ample opportunity to check out quaint little towns along the way.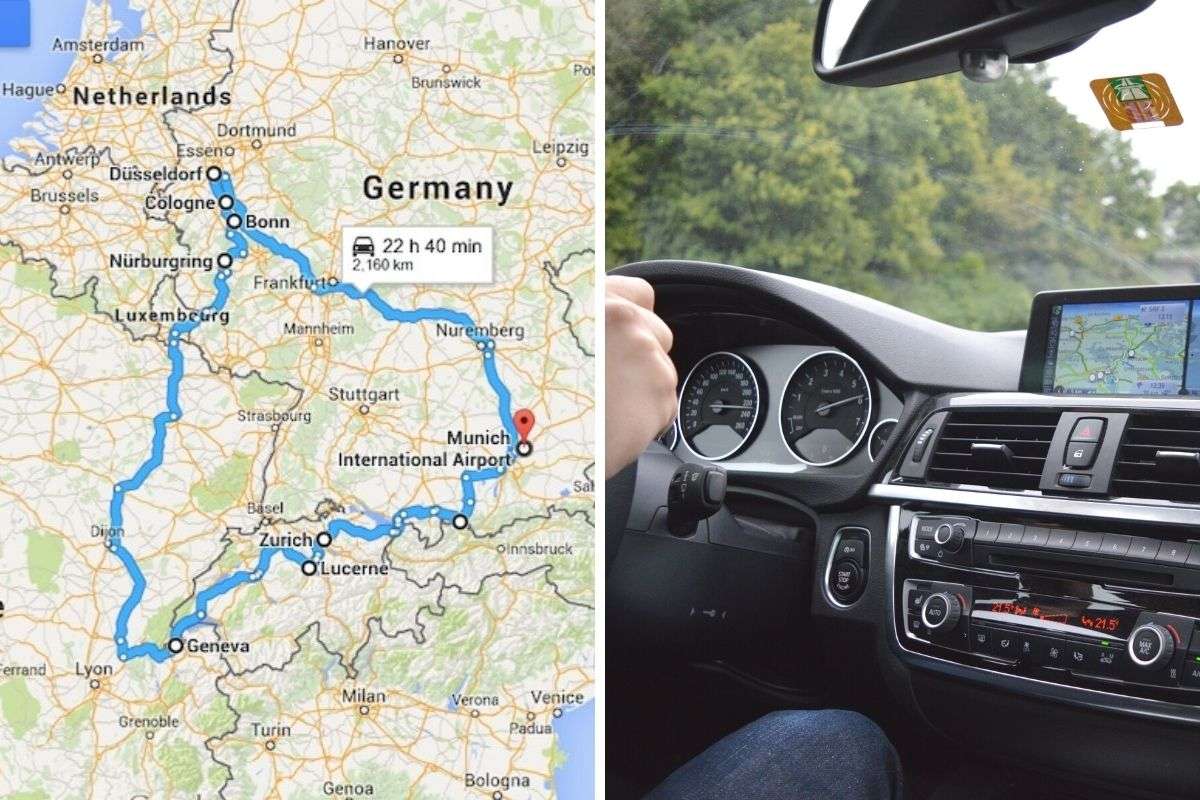 Even if you pre-planned your stops, you want to leave plenty of wiggle room for detours and spontaneous must-sees. You never know what crumpled castle will catch your eye. I can't recommend a custom road trip like this enough!
Driving tip: Switzerland has thousands of speed cameras ready to doll out fines if you don't obey the speed limits. The limits can sometimes change, so keep an eye out for road signs.
What You'll Need for a Road Trip Abroad
A comfortable rental vehicle with unlimited mileage
An International Driver's License (you don't need one to drive in Switzerland, but you will if you plan to visit other countries, like Austria or Poland)
A Vignette Toll Sticker (only if you venture across the border to Austria)
Travel Health Insurance (SafetyWing travel insurance now includes coverage for COVID-19)
A mobile data plan
An international GPS device or a rental vehicle with GPS
It was much cheaper to drop off a rental car in the same place you picked it up. Generally, the larger the city, the better the rate. We flew directly from Toronto to Munich, spending six days driving around Germany and Switzerland and then cycling back to Munich to catch a flight to Rome.
Here are some of the cities that enchanted us:
Bern, Switzerland
After a magical time exploring castles and eating Schnitzel in Germany, it was time to start our Switzerland road trip. We made our way to Bern, the capital of Switzerland. The Old City of Bern, located on a hill by the Aare River, is a UNESCO World Heritage Site. It has kept much of its 12th century Medieval characteristics and preserved many important religious and secular structures constructed since.
The view was beautiful from where we parked, and it only got better as we walked into the village centre. Of course, the first thing we noticed was all the bear symbolism. Bears are the official animal of Bern. There's even a bear pit in the centre of town with live brown bears roaming around! Unfortunately, the bears were away on a zoo tour during our stay.
Because so many businesses shut down early on Mondays, we didn't have much to do other than walk and take in the architecture. We explored one of the largest covered shopping promenades in Europe and took pictures under the Zytglogge clock. If we had more time, I would have loved to see Alberta Einstein's home where he developed the Theory of Relativity or visited the Historical Museum of Bern. A big part of me wanted to hop on the Gurterbahn funicular at Peak Bern (mostly for its fun name) but also for the promise of year-round tobogganing.
Our short visit was sweet, ending with gelato, but we found it left much to the imagination. If we had been there earlier in the summer or for more time, we could have witnessed (or joined) people floating down the River Aere, gone to see the famous bear park, and explored the many museums.
Versoix, Switzerland
Versoix is a sleepy little lakeside town on the outskirts of Geneva. We arrived there just before sunset. Most people speak French in this region of Switzerland, and the currency used is the Swiss Franc, which we quickly discovered had the most expensive conversion rate to the Canadian dollar. Hello, $12 Starbucks lattes! Our hotel overlooked Lake Geneva and was known to host diplomats from all over the world. Its popularity stems from being on the number one flight path for all incoming air traffic to Geneva. A plane either lands or takes off every five minutes. Literally. Every. Five. Minutes. The in-house restaurant was even called "O'Five," named after the famous flight path. If you like plane spotting, you will love this locale. 
All the restaurants within walking distance were closed for the evening, a common theme in Europe during the workweek. The only form of life on the streets after 7 pm was a delicious-smelling Swiss chocolate factory. Sadly, it was closed to the public. Even the grocery store was closed. So, we were forced back to our hotel to pay $128 Canadian for two hamburgers with fries because we were starving. No drinks. Just tap water. We couldn't hold a grudge as they were extremely gourmet.
This is one of the times we told ourselves we were on our honeymoon and threw caution to the wind with the budget. The next morning we took a trip to a nearby grocery store to stock up on a day's worth of snacks. And wine. And treats. Very essential.
Geneva, Switzerland
We fell in love with Lake Geneva before we ventured into Geneva by car. Here we got to see one of the world's tallest water fountains, shooting water to the height of 140 metres. Has anyone read Frankenstein? Can't you feel the narrative by looking at this picture? I thought so, especially on this dreary day. Our first stop in Geneva was to visit the UN headquarters. We only had a few short hours to explore the city, so we did not tour the interior. I am happy to announce that there is no shortage of nature around the streets of Geneva. We were surprised to find a meadow of sheep directly across from the UN Headquarters. The Swiss have a very eco-friendly way of mowing the grass.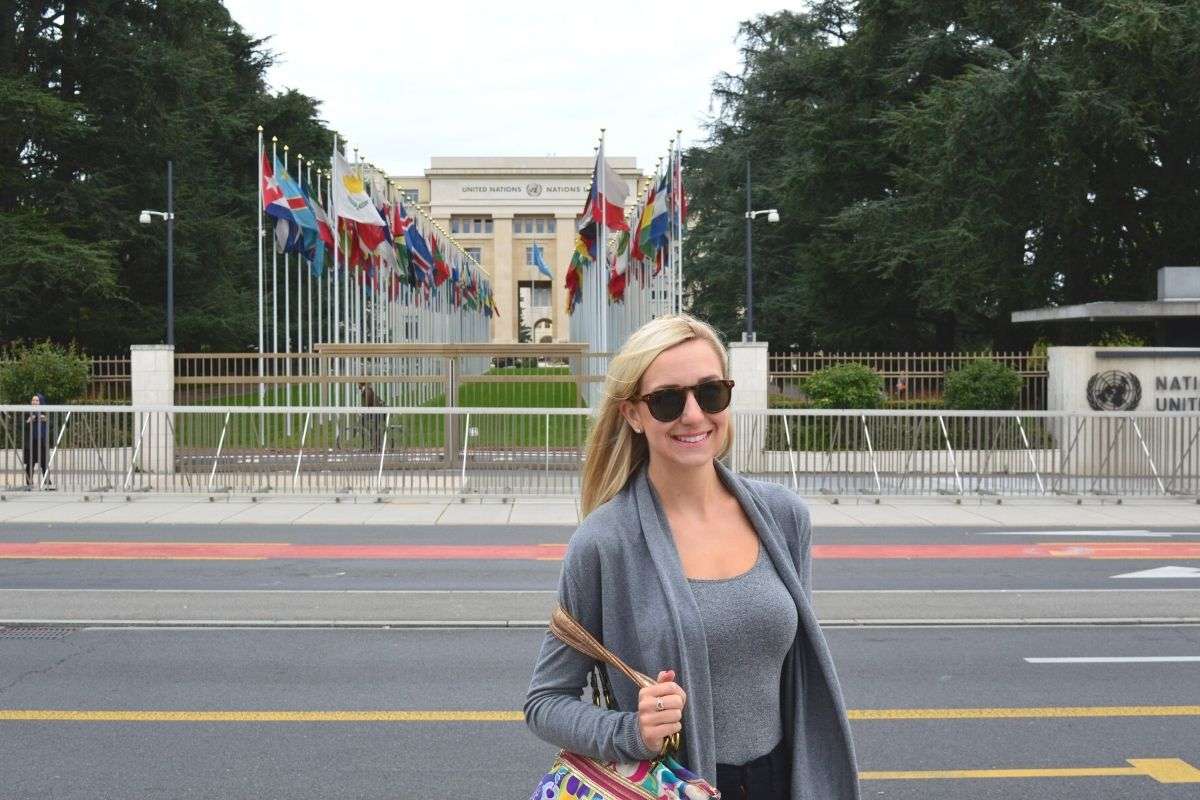 We did a lot of window shopping and exploring on foot while I savoured one of the most expensive chai tea lattes of my life. The city gave off a busy vibe; everyone seemed like they were either in a meeting, on a work lunch, or on their way to somewhere important. We couldn't keep track of all the different languages we heard.
There were designer stores on every corner, and I fell in love with more shoes than I could count or afford. We looked up real estate prices just for fun and were blown away at the costs, although all the Bentleys should have been a clue. It was cool to see the floating kiddie pool, designed for swimming summer lessons. Geneva is home to the Red Cross, as well as many other international organizations.
Lauterbrunnen, Switzerland
While en route, our friends suggested that we stop in Lauterbrunnen on our way to Lucerne. We had never heard of the place. It was a hidden gem! It's a ski and extreme sports village up in the mountains, a beautiful spot for adventurists and tourists alike. Our drive up to the village was pretty exhilarating, to say the least. There are 1300 tunnels in Switzerland, many blasted through the rock and positioned dangerously close to the hillside.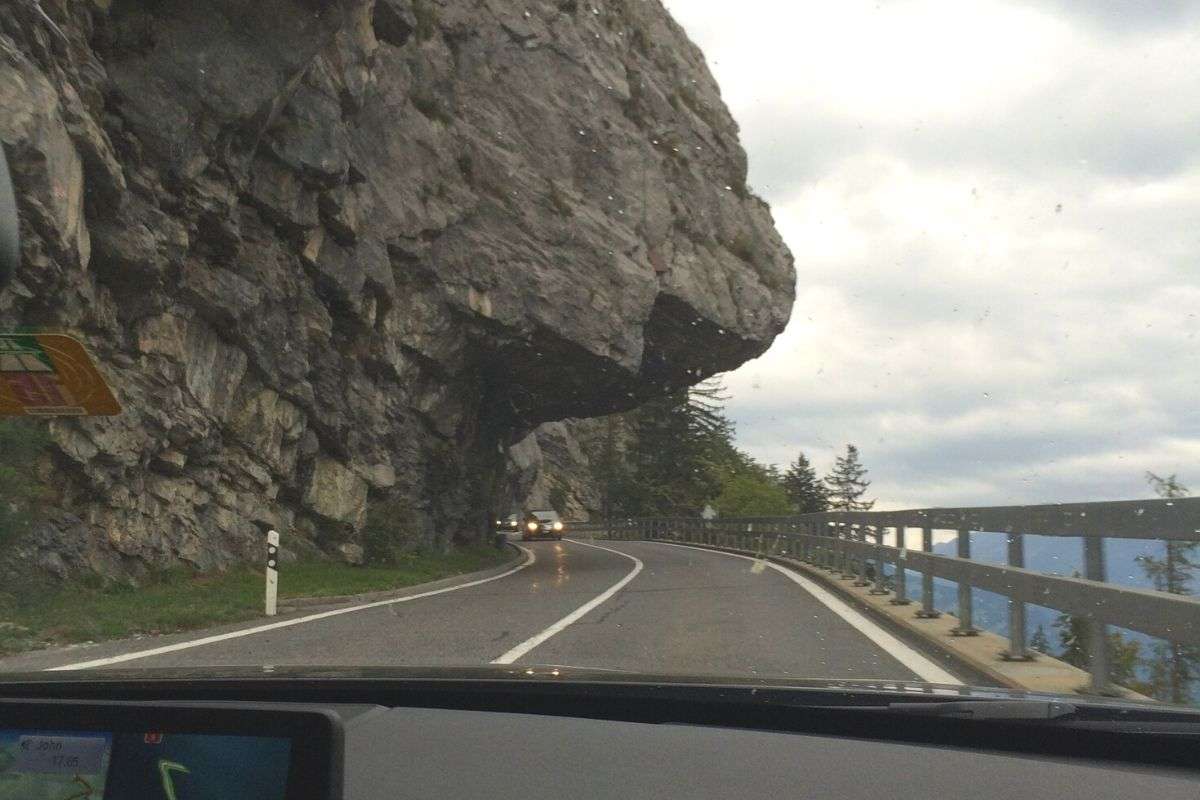 We corkscrewed up and around several large mountains, through more than 30 tunnels, and past crystal-clear lakes. I hyperventilated a little when looking out the passenger window and seeing nothing but straight drops below. 
We saw base-jumpers and wing-suit flyers in action and marvelled at waterfalls coming down off of the cliffs. We wanted to take a gondola ride up to the mountain's apex; however, it was too cloudy of a day. Can you tell it rained a lot on our trip? We instead swung on swingsets and had tea in a cafe.
Definitely stay the night in Lauterbrunnen if you can. I imagine the people staying there would have the most interesting stories to tell! We were totally out of place in our everyday clothes: almost everyone else was wearing hiking boots, backpacks, windbreakers, or all three. Don't be like us; do your research in advance and take full advantage of this wonderful place! My favourite part of the town saw all the flowerbeds on the windowsills. It didn't matter what kind of structure it was. Cheerful red blooms adorned all the homes, shops, and hotels as far as the eye could see. So pretty!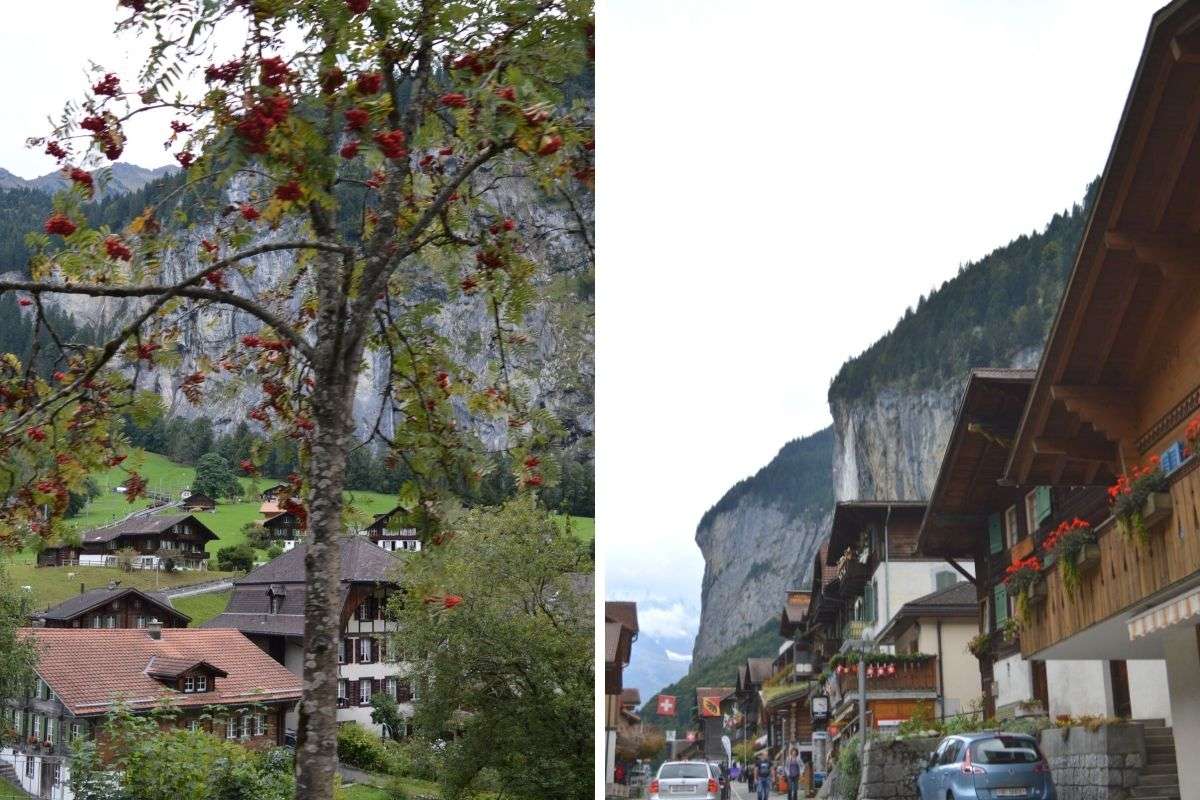 The locals were very accommodating to English-speaking visitors. And there was plenty of beer and cheese to go around!
Lucerne, Switzerland
After experiencing some fresh mountain air, we were ready to venture back into the city. We arrived at our hotel in Lucerne around dinnertime and decided to go to a cheap, highly-rated dive bar for dinner. Fried potatoes and onions and tomatoes with cheese sauce… I couldn't resist! My husband ordered Schnitzel, but he didn't get to eat it. We only had our Canadian credit cards and enough cash for one meal, so the waiter sent his plate back to the kitchen. Oops! Here's a tip: Make sure to carry enough cash for emergencies.
We slept soundly in our twin-size beds at Hotel Felmis and then hit the road back to Germany in the morning. Our Switzerland road trip has been one of my most treasured vacations, and now I can say that I have driven in a foreign country!
Would you go on a European road trip? Where would you go?