Presented by
If you've ever wondered what a first "big" sailing adventure looks like, you might be inspired by my journey on the East Coast of the United States, from Florida to Salem, Massachusetts.
12 DAYS, 1000 NAUTICAL MILES, 2-PERSON CREW!
Sailing is the type of sport that draws many people in, but it's essential to know where to start. Last year, I went on a short 3-day trip from Boston to New York, and as much as I loved it, I found it TOUGH! I didn't have the proper knowledge or gear for the journey, so I froze the entire time and often ended up soaked from head to toe.
This time around, I completed my ASA 101 certification, an absolute game changer. I strongly recommend that you take sailing lessons before taking sail. You can read about choosing the right sailing school here. Be sure to also gear up for all types of weather conditions.
If you plan on sailing at sea, here is a list of sailing gear you should get before you go.
From North to South or South to North
Generally, on the East Coast of the United States, sailboats typically head towards the south in the Fall and back towards the North in the spring and summer (to New England or Eastern Canada).
Sailboats that remain in the water tend to want to avoid the hurricane season and so decide to stay in regions with better weather.
Departure from St. Augustine, Florida
Many travellers use St. Augustine as a beautiful stopover location in Florida, but as we had been staying there for six months already, it became our departure spot. With summer on the way, the oppressive Florida heat pushed us northward. My boyfriend, a captain, is used to doing this route once or twice a year.
St. Augustine is worth having on your bucket list. It's a lovely town in the north of Florida that will surely charm you. It has long-standing history and marinas that are always full of life. Take advantage of its fantastic nightlife by hitting up a few student bars or some of the old town taverns.
ABOARD CORDELIA, A 38-FOOT TARTAN SAILBOAT
We passed the large waves caused by the current and the opposing wind at the exit of the St. Augustine Inlet and were out at sea in less than an hour, thanks to the city's proximity to the ocean.
Large waves have always made it challenging to navigate through this inlet. Since the discovery of America, many ships have failed to enter the nation's oldest port.
Hoisting the mainsail was quite the manoeuvre on our type of sailboat. One crew member had to make their way to the mast, which is no easy task in such conditions
72 Hours at Sea to Cape Fear
After an eventful start to our adventure, the next 72 hours were filled with warm days, sunshine and peaceful vibes. We hardly crossed paths with any other boats along our route to Georgia.
WE FEEL WELL AT SEA, FAR FROM THE MAINLAND, WITHOUT SIGNALS ON OUR CELL PHONES
Coping With the Constant Oscillation of the Sea
The first part of the journey was challenging and became a big learning moment for me. The constant swell and movement of the waves forced me to wear my PFD (Personal Flotation Device) at all times over my Salt Navigator Jacket. I attached myself to the boat with the tether when night fell, or we slept.
Cooking and Eating at Sea
Being at sea is a little bit like moving your entire home from one spot to the next, including the kitchen! The only difference is that your kitchen is smaller than a closet, sways forwards and backwards, and you often cook at a 25-degree angle.
New Sailor's Tip: boil your eggs and pasta ahead of time. As much as possible, you'll want to avoid boiling water when you're out at sea (to reduce the risk of burns). I found that heating food in a pan is much easier and safer than boiling water in a pot.
Working the Night Shift
Sailing the coasts on the high seas requires constant watch, day or night. The goal is to stay on course, trim the sails if necessary, and avoid collisions.
Full disclosure from a novice like me: being on my own to navigate the sailboat in the middle of the night is scary! It can get much colder when it's dark, so I always have my favourite sailing overalls, the Sailing Bib Salt Coastal.
There are calm and quiet nights, and then there are other nights when the sea is wild, and the wind is intense.
Not all boats are visible on your radar, so it's essential to keep an eye out for lights that belong to other ships to avoid a collision.
If you spot a boat, you must figure out which direction it's going in, predict its trajectory, readjust your path, and communicate as needed. The ultimate goal here is to avoid any form of collision.
New Sailor's Tip: Use an "egg timer" as an alarm (to make sure your cellphone battery does not drain). Set it for 20 minutes, and you will be sure not to fall asleep during your shift.
If you're a two people crew like us, you will be responsible for 12 hours each. Such great responsibility can be very demanding, especially during the night shift. Depending on what you have worked out with your crewmate, you can expect to take over every 4, 6 or 8 hours.
New Sailor's Tip: Download Netflix series ahead of time as you will likely not have service at sea.
It's a good idea to have something that will keep you awake and entertained. I enjoy reading but tend to fall asleep, especially in the dark.
You must also pay attention to the radio, as other boats may communicate with you to coordinate a passing.
Try to Relax and Sleep
You will not have much free time if your crew is only two people.
I thought I would have a lot of free time on my hands, but between keeping watch, cooking, bathing with a washcloth, and trying to sleep when the sea is finally calmer, it's not quite the case. It's crucial to utilize your time efficiently and get enough rest before your next shift.
Showering
Bathing is not a soothing ritual at sea. Our shower consists of an orange plastic container that we must pump. We tend to use a lot of baby wipes. Luckily, I brought some natural odour-resistant clothing like the Helly Hansen LIFA® ACTIVE Solen Hoodie.
Slowly but Surely
We move forward at speeds ranging between 5 and 7 knots downwind. The wind is light and not very constant.
4 Days on the Intracoastal Waterway (ICW)
Before Cape Fear, the weather forecast predicted unbearable sea conditions, forcing us to take the ICW.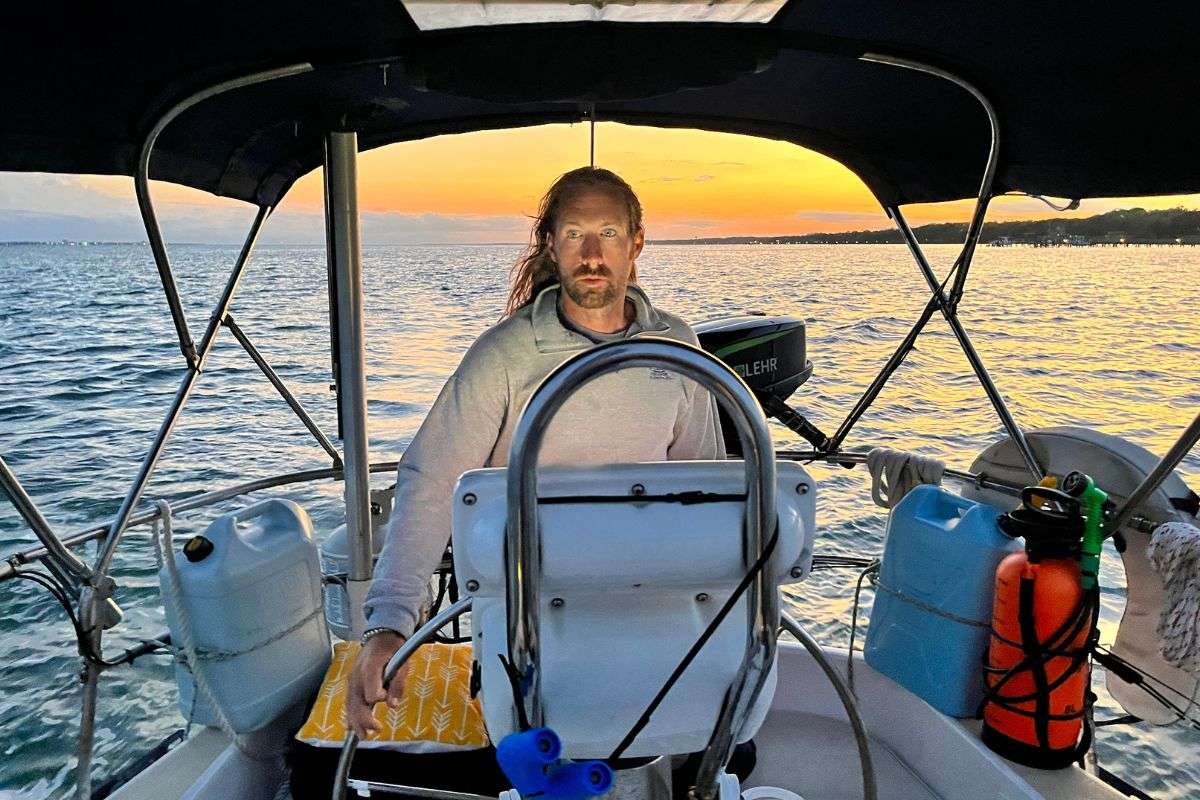 What is the ICW?
If you spend a lot of time with sailors, you will often hear this acronym. It refers to a 4,800 km inland waterway along the Atlantic and Gulf coasts of the United States.
It's like a continuation of rivers and canals, forming a protected interior passage that allows you to avoid the dangers of sailing at sea.
The Difference Between Travelling at Sea Versus the ICW:
There is no swell! Well, no constant swell, at least.
The swell of the Atlantic is intense. Every couple of minutes, the boat rocks from left to right, over and over and over again. It isn't the soothing kind of rocking either; quite the opposite, in fact.
On the flip side, the ICW has no swells other than when a boat bigger than yours passes you. You should expect several ships to be bigger than yours on a sailboat, but the passing swells are only temporary.
Easier to Cook
Everything is flat on the ICW, so cooking is much easier than when you are angled at sea.
Easier to Sleep
You will sleep like a baby on the ICW without the constant waves of the open sea, whether you are anchored, docked at the marina, or attached to a mooring.
The Opening and Passage of Bridges and Locks
There will be all sorts of bridges and locks that open in a wide variety of ways. Some open automatically every half hour, whereas others will only open on demand. It can keep you very busy at times!
Discovering the Little Marinas and Villages
This long and sometimes winding path of the ICW will take you to some remote locations that you otherwise may have never encountered.
North and South Carolina will welcome you with the customary friendly "southern" charm!
Our fave find: Belhaven Marina in North Carolina! The website does not do this place justice; it is truly magical. Everything is perfectly decorated with style and a touch of love. Belhaven Marina has received many awards since its recent opening, and it is truly a model marina.
The staff there is so friendly (they even gave us a ride to and from the grocery store!). You can do your laundry for free and get fresh towels with your showers. The bathrooms make it feel like you are walking into a nautical museum. There is a patio and games; you can even order wine, beer, or cigars!
Stopover in Norfolk, Virginia (Chesapeake Bay)
You're going to feel excited about reaching Norfolk in Virginia. This waterfront city is home to Naval Station Norfolk, a major naval base on the Chesapeake Bay.
It's awe-inspiring to see these massive warships before your eyes. The classic activity for travellers is to go to the Nauticus, THE maritime museum with a massive warship from the Second World War.
You can rent an electric scooter to explore the waterfront and head downtown to try some of the many restaurants. Don't forget to try the giant pizzas!
Now is the time to take advantage of the facilities to take a nice long shower before getting decked out and hitting up Waterside District – The Harbor Club. If you're wearing the Thalia Esra summer dress by Helly Hansen, you'll surely get a ton of compliments.
Nomad Tip: Always pack at least one "going out" outfit that makes you feel a little more put together. When I was backpacking, I had this cute little dress made of a material that doesn't wrinkle tucked away in my things. That way, I was ready for adventure but also prepared to hit up that rooftop party in style.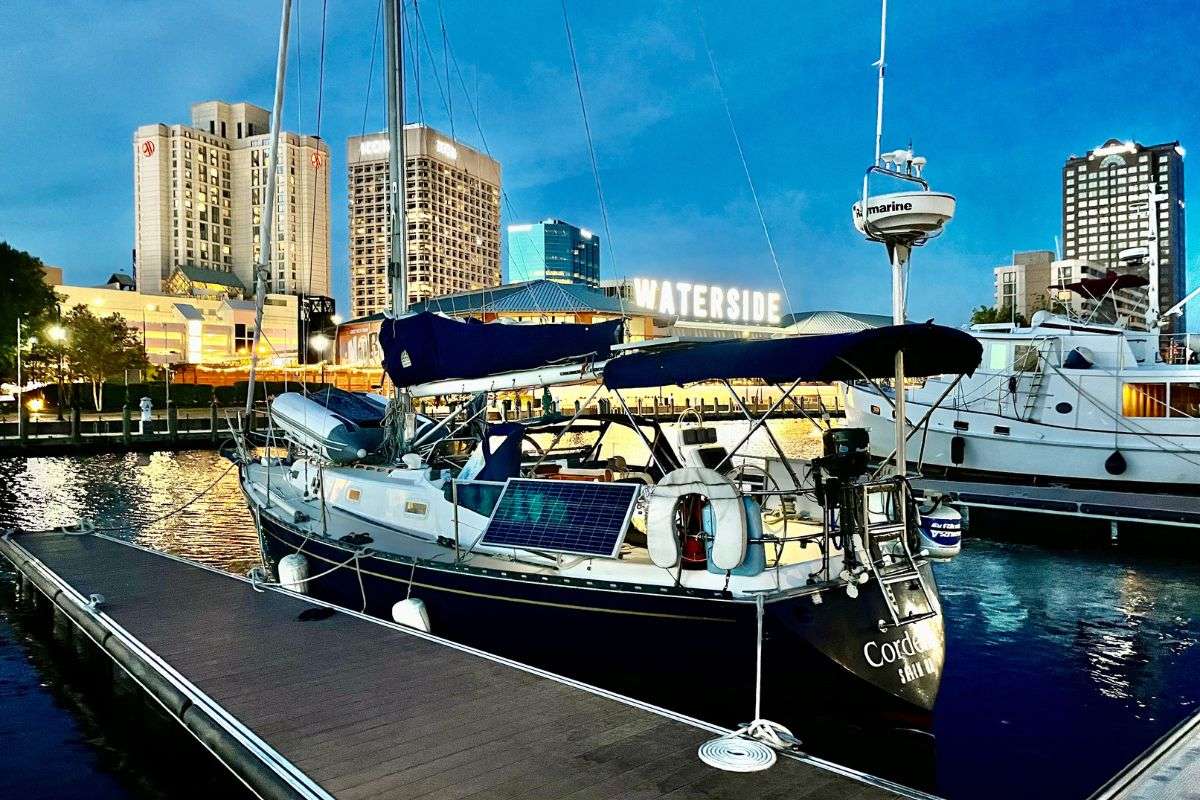 Norfolk is also a good spot to grab an Uber and head to the grocery store to stock up on fresh food.
Another 72 Hours at Sea to Cape Cod
Now that you've reenergized, it's time to head back to sea! This time, at least I knew what to expect, and I made sure to pre-cook my food to make things easier!
We were so lucky to see dolphins every day. They played around our sailboat and made these moments feel so joyful and memorable. It is always a great pleasure to see these marine animals around us, and they seem to push us to go faster.
This time, the wind wasn't very strong, and we had to go into "motor-sailing" mode, when you have a motor running along with one or two sails.
Our first night was calm, and we made the most of it by gazing out at an unforgettable night sky filled with stars. The second night came back in revenge and hit us with large waves, downwind with high risks of accidental "jibe." The captain was at the helm almost all night. Our last night was more stable as we headed to Onset, Massachusetts.
Cape Cod Canal to Salem, Massachusetts
After spending the night buoyed at the marina, we are ready to zip down the Cape Cod Canal! The current is so strong that we are hitting 10 knots, double what we are used to sailing.
We have a new obstacle ahead of us: lobster cages are like a minefield! I love lobster and would bend over backwards for a lobster roll, but it's quite the challenge on a sailboat during this time of year.
You'll want to avoid passing over the wire of a cage. When the rain and fog set in, we put on our sailing rain boots and felt like we were in a videogame, navigating through the thousands of lobster cage buoys!
We see Boston on our port side and finally make our way to Salem, our final destination for this adventure!
After 1000 nautical miles and a record time of 12 days, we are satisfied with our performance!
Discover our series on learning to sail and travelling by sailboat