Are you an RV owner who wants to make money renting your RV? There could never be a more perfect time than right now. Across Canada and the US, people are looking for fun ways to travel safely and autonomously, wherever their hearts desire. The open road is calling, and here's your opportunity to capitalize on owning your RV!
Over the last 10 months, we've made over $16,000 by renting out our RV through RVezy and Outdoorsy.
Today, we're going to review and compare the most trusted rental companies. And we'll tell you what one we like best.
Here's how these services work:
RVezy and Outdoorsy are both peer-to-peer platforms

connecting RV owners and RV renters.

They're basically the Airbnb of RVs.

You make money by renting out your RV to people looking to experience the RV lifestyle.

You get to make your own rental schedule suitable to your needs.

All you need to do is take pictures, write a description, and set your availability and rates.
These services do everything for you:
They provide insurance coverage.

You have access to thousands of verified renters.

They offer roadside assistance for your renter in case something happens.

And so much more!
So, please don't keep your RV sitting in your driveway when you can earn money when you are not using it!
Outdoorsy Overview
One of the biggest peer-to-peer RV rental platforms in the US is Outdoorsy. With over 25,000 listings, they have a wide selection of RV options for every budget. Their services have now expanded to Canada.
It's worth mentioning that Outdoorsy has a larger network and more RVs, meaning that if you live in less populated areas, you might get more booking requests through their platform.
RVezy Overview
RVezy was launched in 2017 and is Canada's top-rated RV rental platform with best-in-class customer support and insurance protection. It offers a variety of RV rental options with over 10,000 listings.
It's no surprise that with tons of positive reviews and lower service fees, it's giving its main competitor, Outdoorsy, a run for its money.
What Do RVezy and Outdoorsy Have in Common?
From our experience, RVezy and Outdoorsy have a similar sign-up process and renter screenings.
Sign-Up Process
Listing our RV on both platforms was really easy, quick and straightforward. Overall, both sites feature a user-friendly interface, and it's a quick process to list your RV. It's free to list your RV on Outdoorsy and Rvezy.
Renter Screening Process
Both Rvezy and Outdoorsy screen each RV renter using important requirements such as:
The renter must be over the age of 25.

They should possess a valid driver's license.

They must have a clean insurance profile.
RV Owner Tip: If you list your RV on both RVezy and Outdoorsy, make sure to block the rental dates on both platforms, so you don't double-book your RV.
What Are the Differences Between RVezy and Outdoorsy?
#1: Insurance
This is the most important factor when you rent out your RV. Basically, RVezy and Outdoorsy offer equivalent insurance coverage.
The main difference is that Outdoorsy owners are responsible for handling their own insurance claims. This can result in major issues and extended periods of lost income. This is very different from the ease offered by RVezy. RVezy has an in-house insurance claims team.
With the in-house claim service, renting your RV through RVezy gives you more peace of mind.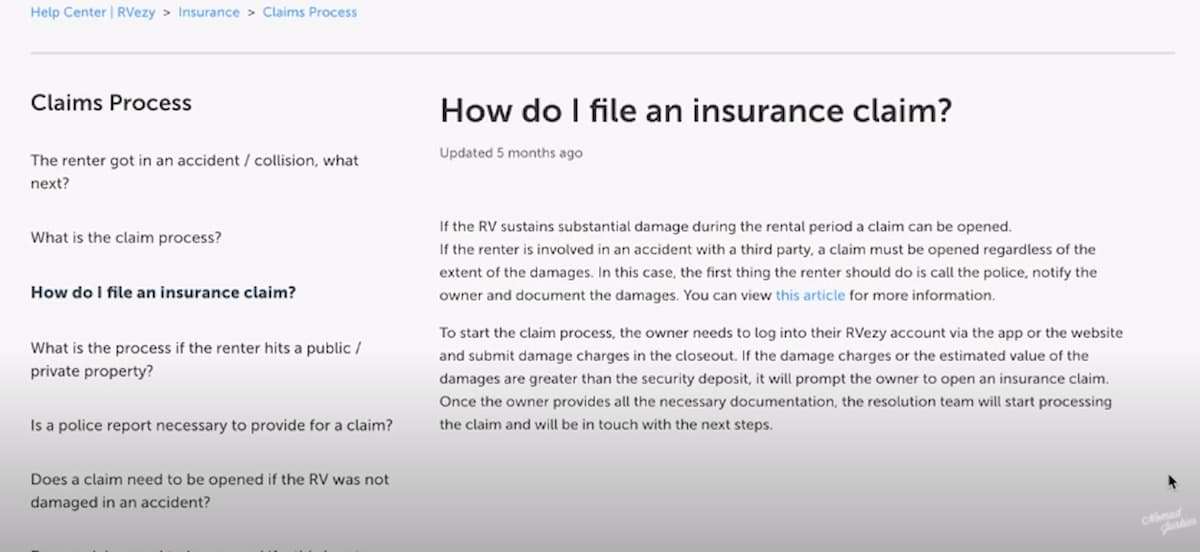 #2: Service Fees
On Outdoorsy, the owner service fee for vehicle bookings ranges between 20% and 25% of the booking's subtotal. It's not easy to find out what the REAL service fee is. The Outdoorsy fee comes with a note stating: A renter's total is different than the cost displayed above because of insurance and fees.
With RVezy, there are no gimmicks or complicated math. You keep 80% of your rental income (20% goes towards the owner's service fee). RVezy is a better option with this feature as the information is transparent and clear.
#3: Payment
In terms of payment, Outdoorsy is better as you get 100% of the payout quickly in one shot. Outdoorsy holds the funds for 24 hours after the RV is picked up, then releases them into your account.
With RVezy, owners are paid the first 50% of the payout within 24 hours after the rental start date. The second 50% is released when the RV is returned, and the closeout process has been completed.
It's not a big deal, but we sometimes had to message our renters to follow up and make sure they review us quickly to release the last payment of a rental.
In terms of payment methods, Outdoorsy is quicker and more efficient.
#4: Website & App
We personally prefer our experience with the RVezy website and app compared to Outdoorsy. The overall feel of the RVezy website creates an enjoyable, pleasant and user-friendly experience, whereas Outdoorsy feels more dry and impersonal.
In our opinion, the departure and return checklists are way easier to follow and more clear on RVezy than Outdoorsy. With RVezy, it's simple to go over the RV rental checklist with the renters as you can talk touch on all the essentials as you go down the list.
So RVezy wins on the website and app front.
#5: Communication with Renters
Trust is a key factor as you will be renting something worth thousands of dollars. RVezy provides a trustworthy environment, with a web environment similar to Facebook Messenger with pictures of the renters. On RVezy, the messages were always more personal. For example, the renters must tell us about their upcoming trip, so their first message was really polite and friendly.
From our personal experience on Outdoorsy, we did not like receiving abrupt and very straightforward, almost to the point of being rude, messages like: "Can I rent this now?" This didn't make us super willing to rent to strangers.
We trust the renter requests coming from RVezy than from Outdoorsy.
#6: Booking Requests and Income
Let's be honest. The main reason why we decided to rent our RV was to make money from it.
We received almost the same amount of booking requests on both platforms, but with RVezy, we got considerably more booking requests converted into rentals than Outdoorsy.
At the end of our first summer, we made $12,500 with RVezy and only $3,500 with Outdoorsy.
The numbers speak for themselves:
With Outdoorsy, the average rental was $686. And the average number of nights per booking was 5 nights.

With RVezy, the average rental was $1402, and the average number of nights per booking was 10 nights.
It takes the same amount of energy and time to clean the camper for 5 nights or 10 nights, so we prefer renting with RVezy in terms of income per rental.
#7: Customer Service
We were able to reach out to both RVezy and Outdoorsy over the phone quickly without issues. They both have Facebook groups where the owners can connect.
However, we have to say that RVezy really wins the award for best-in-class customer service. Not long after listing our RV, we got a call from an Owner Success Agent onboarding us and answering our questions.
We felt supported and more confident about renting our RV to strangers through RVezy.
So what rental platform do we prefer: RVezy or Outdoorsy?
RVezy is the better rental platform based on its customer service, insurance claims process, and renter quality.
Make money listing your RV with RVezy here!
Outdoorsy is not a bad option either. We liked that they release the full payment to your account only 1 day after your RV leaves your driveway.
Earn over $50,000 per year with Outdoorsy, sign up right here!
For us, RVezy takes the cake, but it might be worthwhile to list on both platforms if you're looking to squeeze every dollar out of your RV!
For more information, be sure to check out our RVezy owner review.
Renting our RV was the best idea to make extra money and cover the maintenance costs of our RV. What are your summer RV plans?