Québec, also known as La Belle Province, is the largest of the 10 Canadian provinces at a staggering 1.5 million km2. Since Québec is where we call home, we've had a chance to explore many of its different regions over the years. For that reason, it's tempting to fall back into a routine and spend our time home reconnecting with friends and family at home; however, who said you can't be a tourist in your own province? We love the idea of (re)discovering Québec from a different perspective. Sometimes, you don't have to travel far; beauty lies right in your own backyard.
On this trip, as we keep moving east, we decide to follow the St. Lawrence River from Montréal all the way along the Gaspésie Peninsula. It will be a good starting point for our subsequent Maritimes adventure.
On a coast to coast Canada road trip, here is the perfect itinerary to discover the province of Québec and all it has to offer.
1st Stop: Montréal, Québec
Although we travel all over the world, we must admit that Montréal will always have a special place in our heart. As a traveller, it's important to go back to your roots and explore your hometown from the eyes of a tourist. Going to the top of Mount-Royal might seem cliché for a Montrealer, but it still gets you the best view of the city.
One of the first things we do whenever we come back home from travelling is eating a big fat poutine! There's an eternal debate as to who makes the best poutine, but in our opinion, La Banquise is a Montréal classic.
As you explore the Plateau Mont-Royal neighbourhood, get your sugar fix at Le Blueboy Ice Cream. Surrounded by a retro tropical décor, you can choose your preferred flavour of ice cream or frozen yogurt and add your own toppings and sauce!
Where to stay in Montréal?
Auberge Saintlo Montreal is in the heart of downtown, and with free daily tours and activities, you won't ever be bored. Check out their in-house bar and gather a crew for a night on-the-town that you might not remember!
Get 10% off on your stay with promo code NOMADJUNKIES
2nd Stop: Québec City
Québec City is the oldest city in Canada. Whether you are a foodie or a history buff, the "Capitale-Nationale" has something for everyone! You'll be charmed by its quaint shops, cobblestone streets, and historical buildings of the oldest part of the city.
A visit to the Frontenac Castle is inevitable—it might be the most photographed hotel in the world, it's still quite a sight to behold! But this is not any kind of visit. Allow yourself to go back in time 400 years to discover the remains of Château St-Louis under the Dufferin Terrace.
There are so many ways to make the most of summer in our beautiful province! Make your way to Baie de Beauport, the #1 place for summer vibes. It's an oasis in the heart of Québec and a nice beach to chill at on a sunny day.
Where to stay in Québec City?
HI Québec, Auberge Internationale de Québec lies right in the heart of the old city. It's also one of the biggest hostels in Canada: it covers a whole block. They also offer a free breakfast that will keep you fuelled up for your day of exploration.
3rd Stop: Rivière-du-Loup, Québec
We hit the road again and follow Route 132 with a short detour in the delightful village of Saint-Jean-Port-Joli. We can't help but stop at La Bigorne, a unique antique shop that hosts all kinds of unusual finds. Rivière-du-Loup is calling us as we continue towards the lower St. Laurence region for the night.
Where to stay in Rivière-du-Loup?
The HI Rivière-du-Loup, Auberge Internationale de Rivière-du-Loup is a historic house which instantly hugs you with the feeling of home. Make use of the fully functional kitchen by buying fresh seafood at the local market. You'll save a lot there compared to eating out at restaurants.
Steps away from the hostel, you can visit the Parc des Chutes. It's the perfect place for a morning run, but also to stretch your legs before getting back in the car for the drive to Gaspésie.
4th Stop: Sainte-Anne-des-Monts, Québec
The Gaspésie Peninsula might seem like a detour to your destination during a road trip across Canada, but it's a region you won't want to skip. You'll be enchanted by the heavenly sea breeze, colourful fishing villages and of course, fresh seafood! The landscape will leave you speechless. It's no surprise Gaspésie is a favourite among Quebecers.
Parc National de la Gaspésie
Ste-Anne-des-Monts is a good base camp to start exploring Gaspésie. There are tons of activities for outdoor enthusiasts. Only 45 minutes away from the coast, you'll reach the Parc National de la Gaspésie with multiple trails to discover. The change in scenery is quite drastic as you travel from beaches along the St. Lawrence River to snowy mountains in the park (even in June!).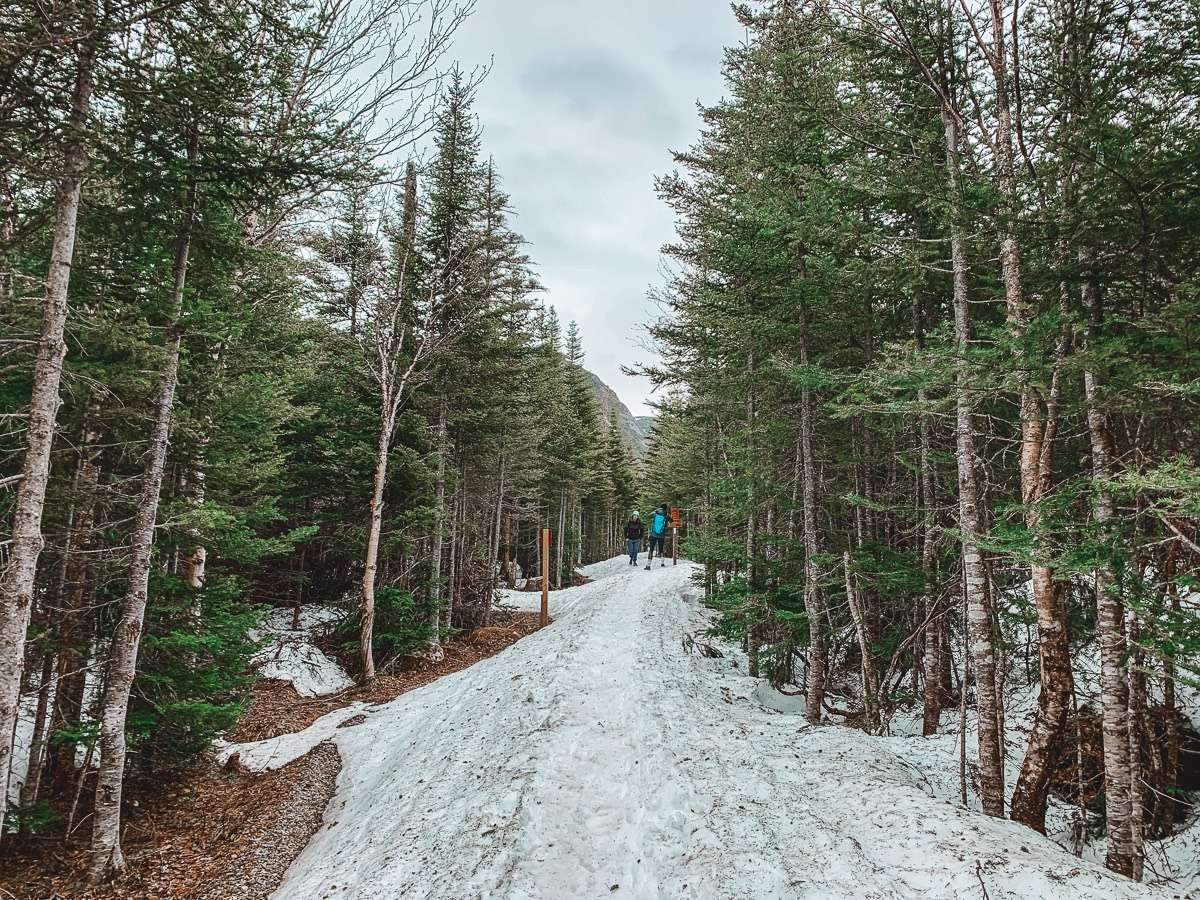 There is much biodiversity in the national park, including plants unique to the alpine tundra and over 150 species of birds. After crossing half the country, we finally got to spot a moose in the wild! Fun fact: Here you'll find the highest density of moose in North America as well as the largest population of caribou south of the St. Lawrence River.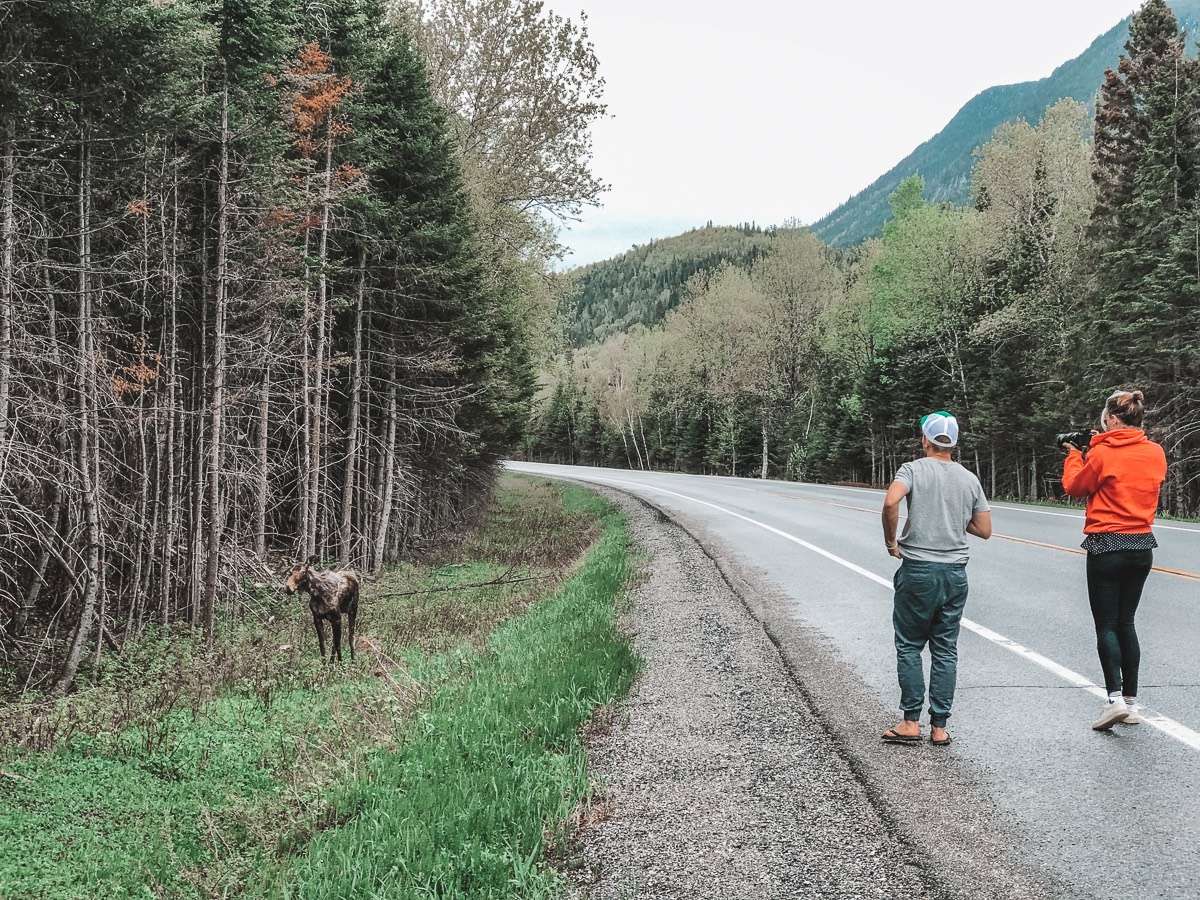 Travel tip: There's over 140 km of trails to explore, but we recommend the trek to the Lac des Américains. It's a short 2.6 km loop that will give you a beautiful overview of the surroundings. There's not much elevation gain, so you'll reach the lake in less than one hour.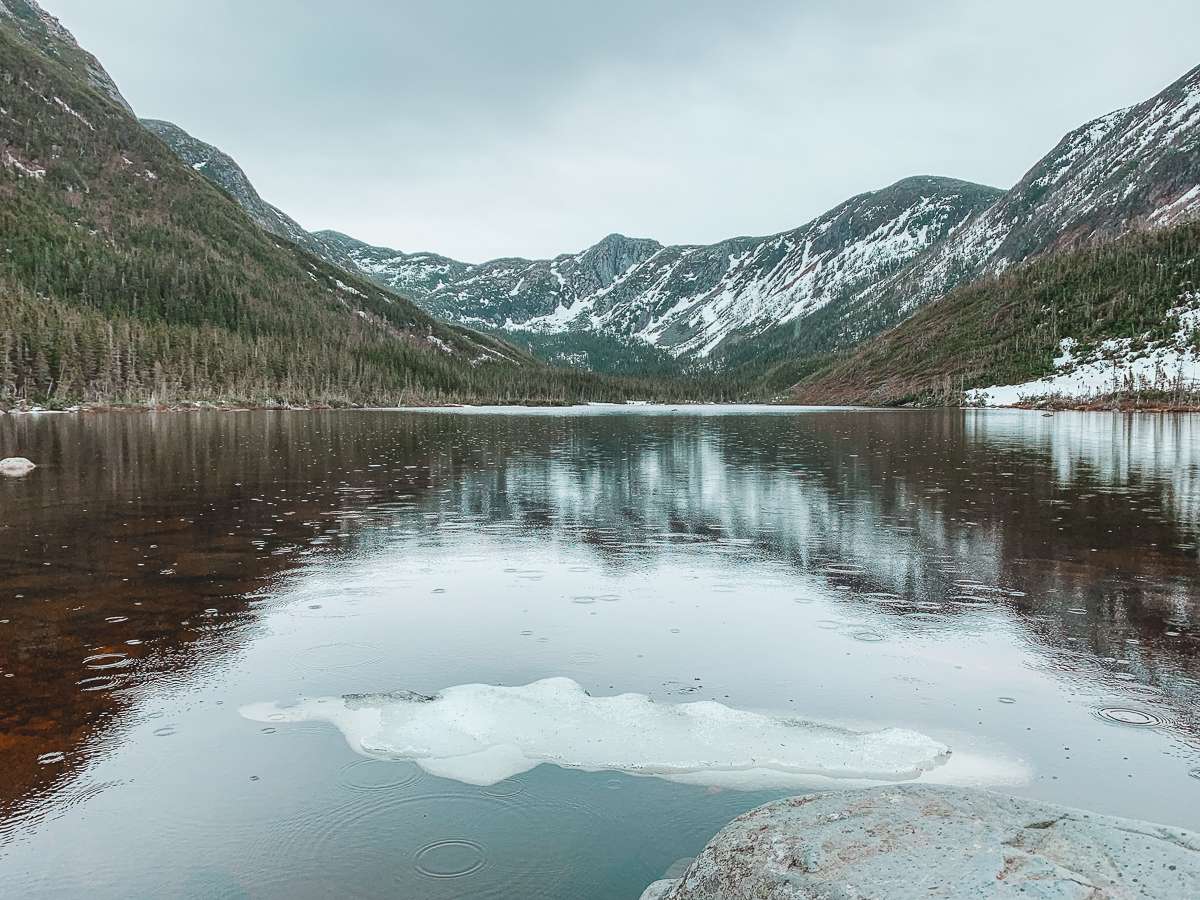 Canyoning
Looking a little dose of adrenaline? Sign up for a canyoning experience that you won't forget with Eskamer Aventure. At the top of the falls, put on your wetsuits, strap on your harnesses, and put your James Bond skills to the test as you repel down a 30 m waterfall. It's by far the best activity we've participated in since we started travelling across Canada.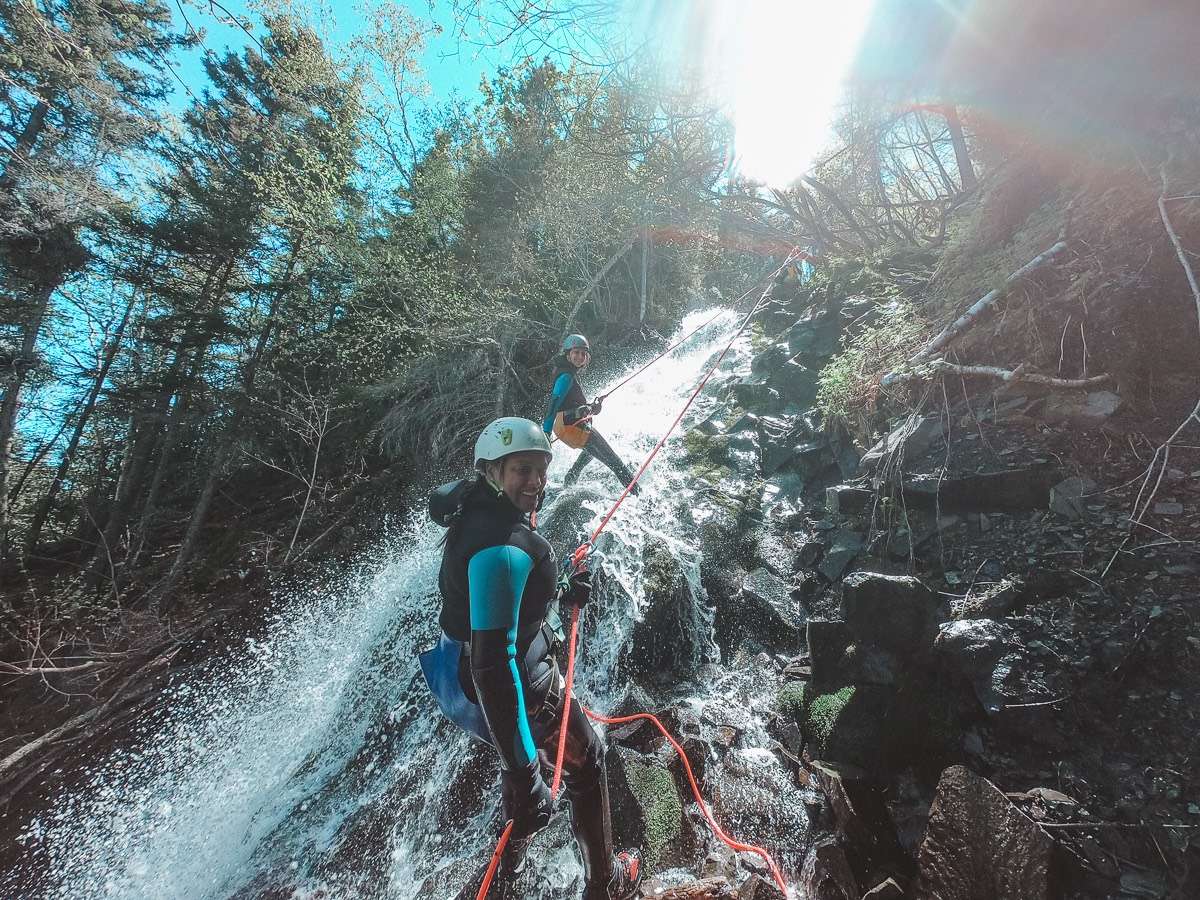 Where to sleep in Sainte-Anne-des-Monts?
You've probably heard about the Sea Shack Hostel—the #1 party hostel in Canada! We wanted to check if the rumours were true and experience it for ourselves. When we arrive, we discover a colourful village with cute little shacks right on the beach.
HI Ste-Anne-des-Monts, Sea Shack might be famous for its party vibe; however, there is so much more to do beyond partying. It's located on one of the most beautiful beaches in Québec, so it's the perfect spot for whale watching. It's one of the rare places in Canada where you can watch the sun rise and set from the same spot. Don't worry, chances are you'll still be awake to catch the first rays of the sun.
Last Stop: L'Anse-au-Griffon, Québec
At the tip of the Gaspé Peninsula, you'll reach the small village of L'Anse-au-Griffon. It's a great starting point for adventures in the Forillon National Park.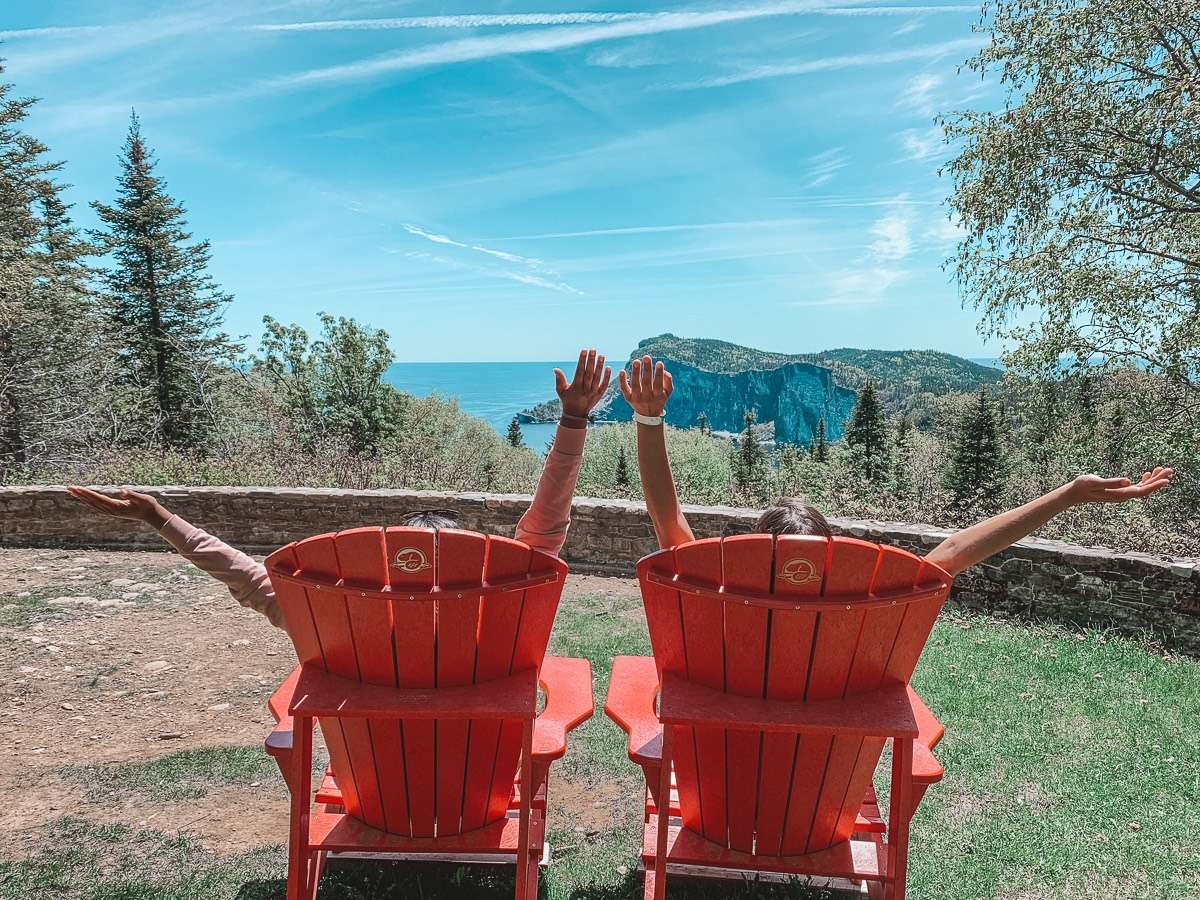 Trekking
Forillon National Park is one of four national parks in Gaspésie, covering 244 km2. Make your way to the spectacular beach at Cap-Bon-Ami, flanked by towering cliffs straight at the water's edge. Climb to the top of the trail to reach the End of the World Belvedere for a 360-degree view of the surroundings. You'll be able to witness a whirlwind of sea birds flying alongside the cliffs.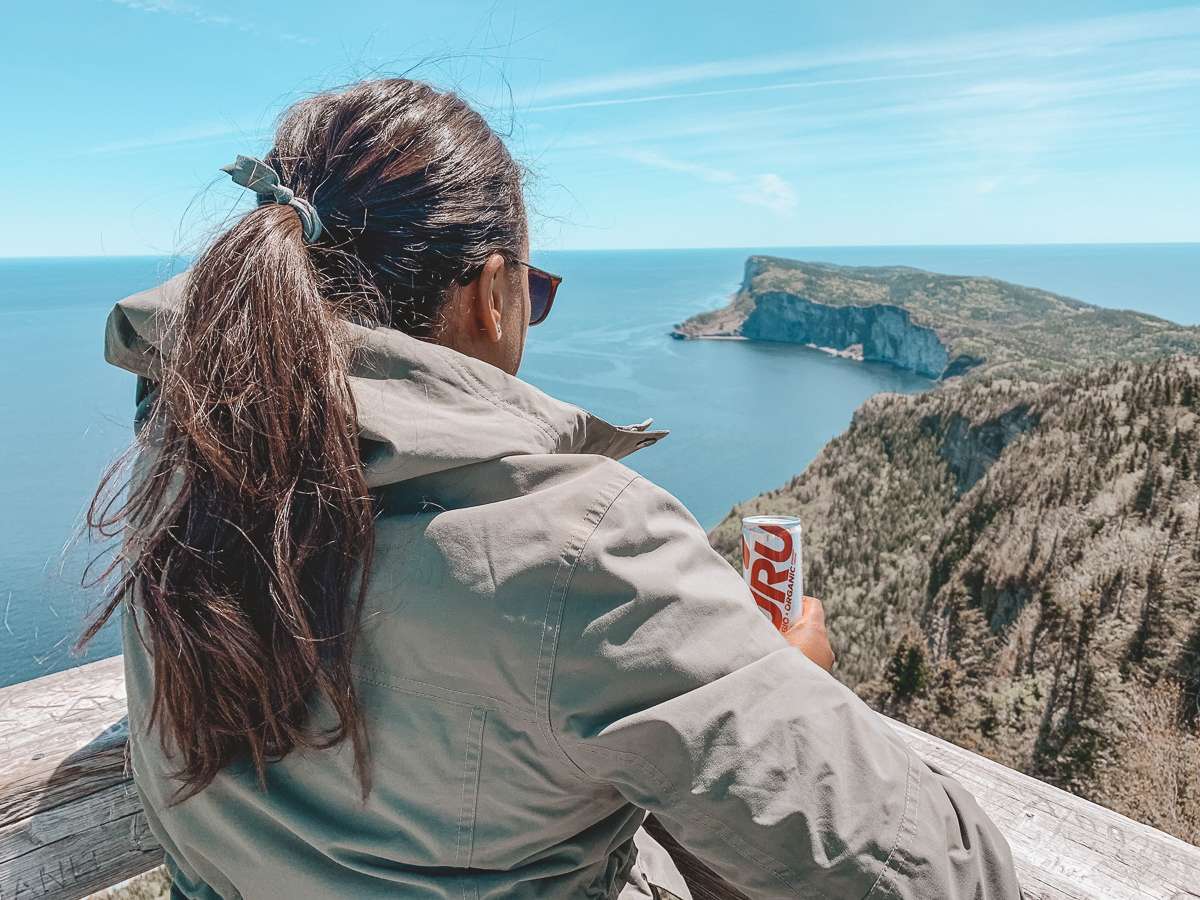 Travel Tip: Pack a picnic and hit the road to explore the South Area of Forillon National Park. Stop at Penouille Beach—a sandy spot that's the perfect place to work on your tan, wade in the shallow water, or even kitesurf.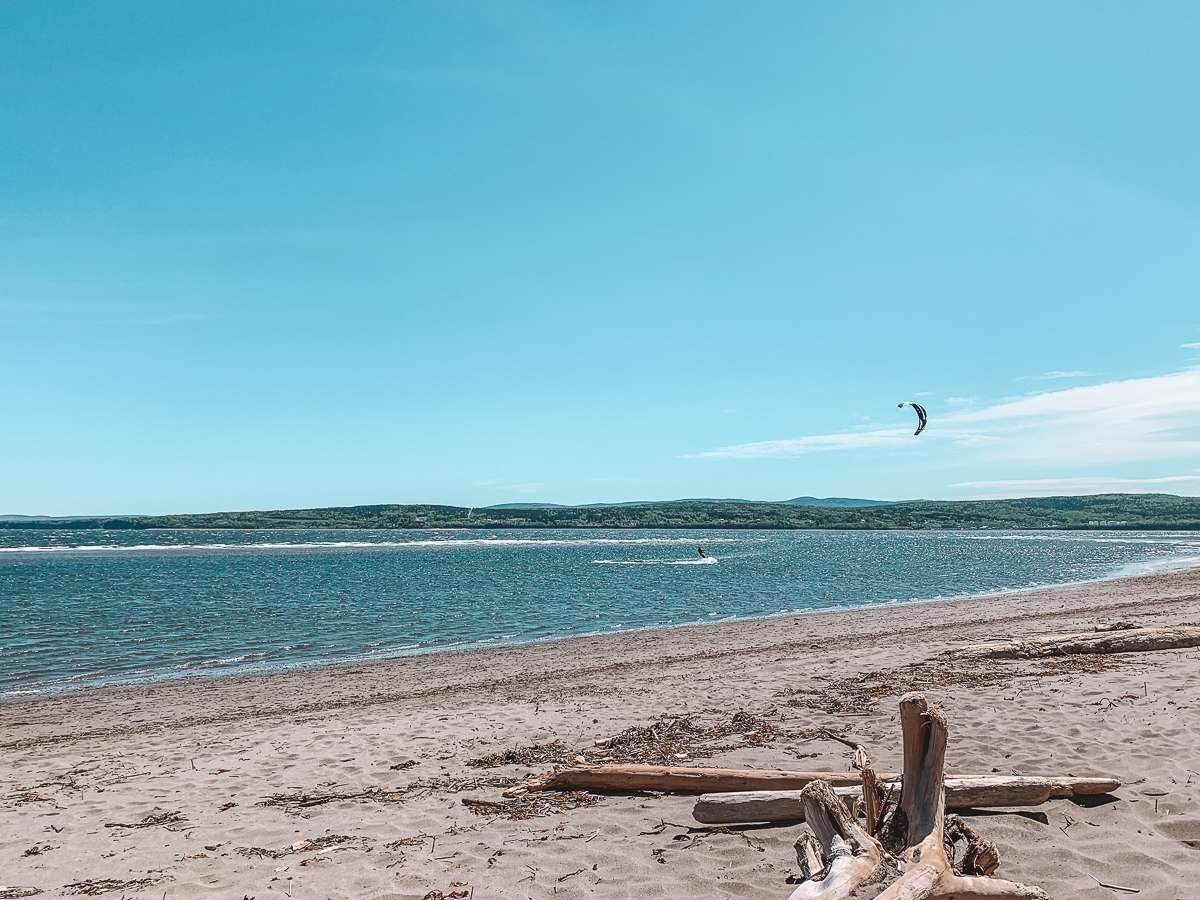 Kayaking
End your day with a bang by joining a sunset kayak trip in the Bay of Gaspé with Cap Aventure. You'll leave from the Cap-aux-Os Beach and paddle up to a nearby seal colony. It's an unforgettable experience to observe grey seals up close and personal! You'll be in awe! If you're lucky, curious seals might even swim metres away from you.
Where to stay in L'Anse-au-Griffon?
For an experience in nature, stay at the HI L'Anse-au-Griffon, Griffon Aventure. It has a stunning view of the St. Lawrence River, and there's a Zen vibe about it that really allows you to disconnect from the outside world. It's a great place to relax in Gaspésie. You'll love the comfort of their cute little chalets, but they also have an in-house bar in case you feel like getting the party started.
Bonus Stop: Percé, Québec
A tour of Gaspésie is incomplete without a stop in Percé. Let's face it, the Percé Rock is the region's icon!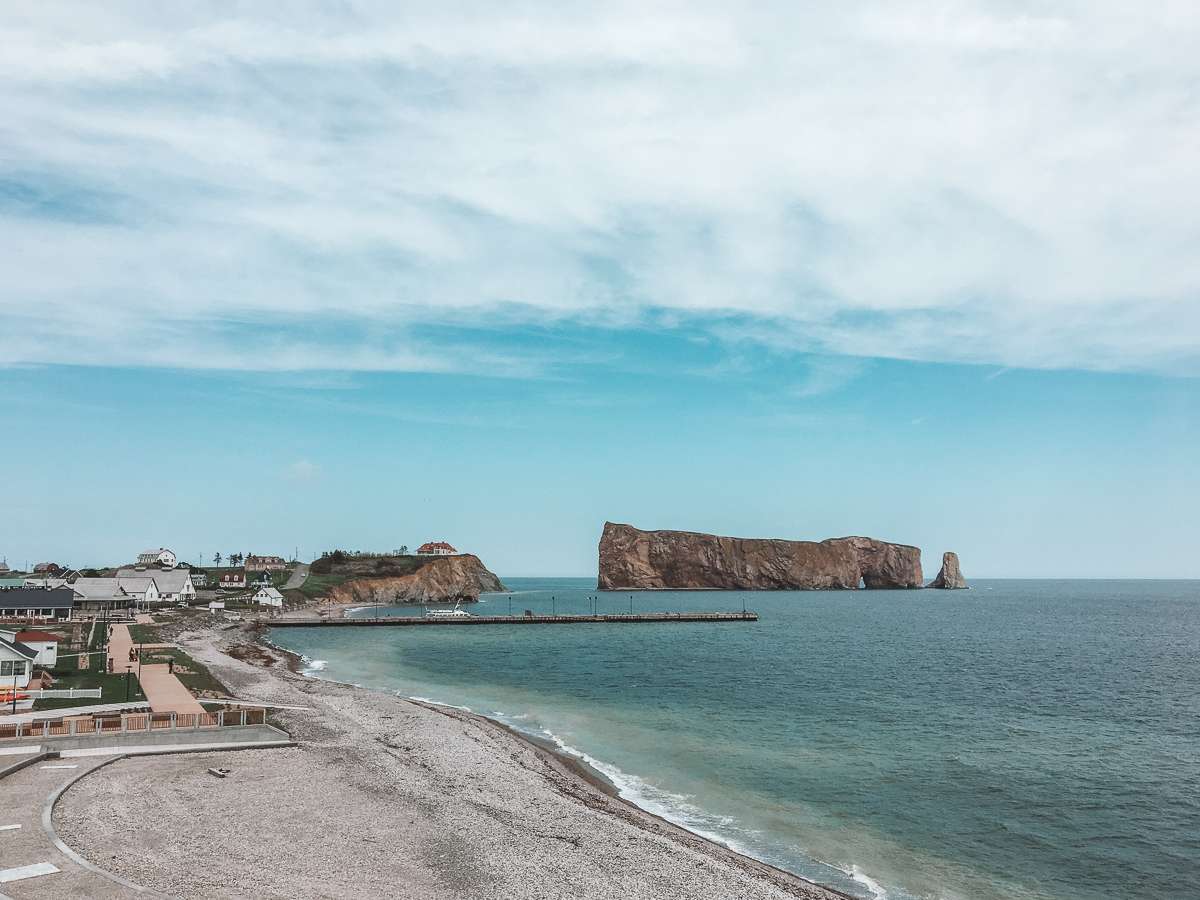 The best place for a panoramic view of the Percé Rock is at Géoparc of Percé. It has a suspended glass platform that's perched on a cliff at an altitude of 200 metres, so you'd better not be afraid of heights! A short 45-minute hike will take you to the top for unobstructed views of the Percé Rock and Bonaventure Island.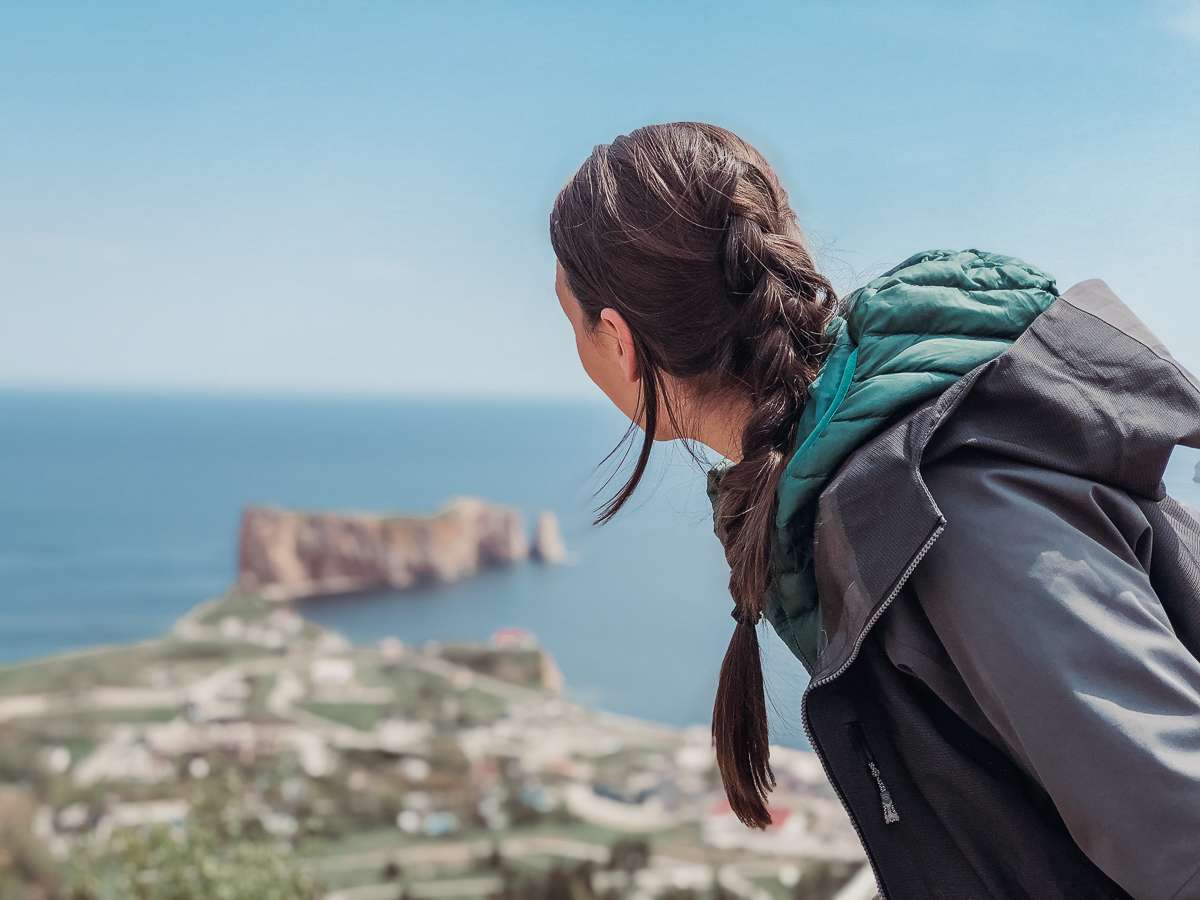 Travel tip: Before moving on to the Maritime provinces, stop for a gourmet lunch of local delicacies at Le Comptoir de Monsieur Emilie. End your Gaspésie tour at L'Anse-à-Beaufils where you can crack open a cold one at Pit Caribou microbrewery.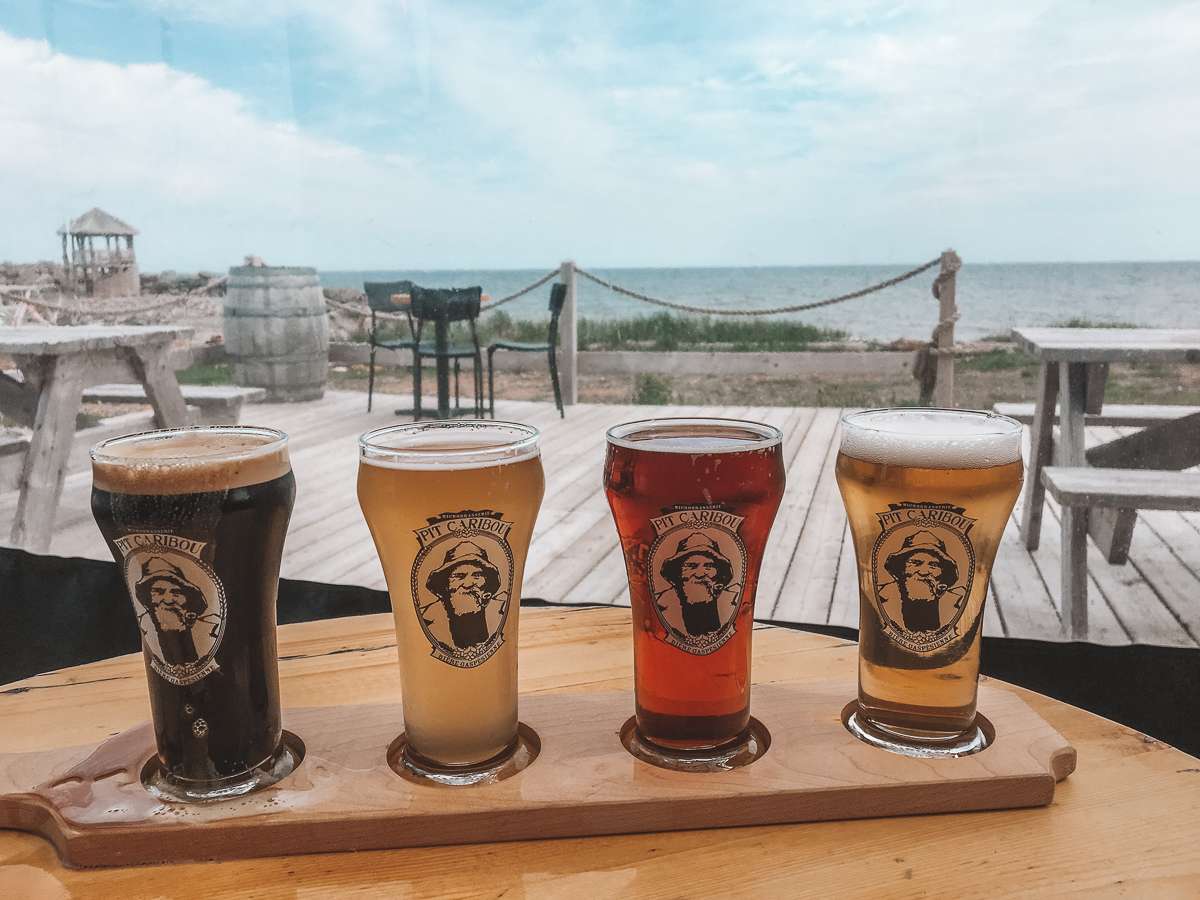 What are your favourite spots in Québec? What should we add to our itinerary next time we find ourselves back at home?
Check out our other destinations across Canada