Prince Edward Island may be the smallest province in Canada, but that doesn't mean there's nothing to do there. As a matter of fact, it's the destination of choice for beach holidays, exceptional seafood culinary experiences, and scenic coastal drives.
Fun fact: Every place in Prince Edward Island (PEI) is less than 16 km from the sea! Is this not the ultimate getaway for professional beach bums like us? With more than 90 beaches and 60 lighthouses throughout the province, our mission is to explore as many as possible during our short stay in PEI.
Here's how to make the most of your time in PEI as you cross the country from coast to coast.
How to get around Prince Edward Island?
You will better appreciate all that the island has to offer if you have access to a car. The province is dotted with quaint villages, lovely beaches and seafood shacks to keep you active for your entire stay. With only three days in PEI, we suggest you stick to the Central Coastal Drive to pack in as many adventures as you can!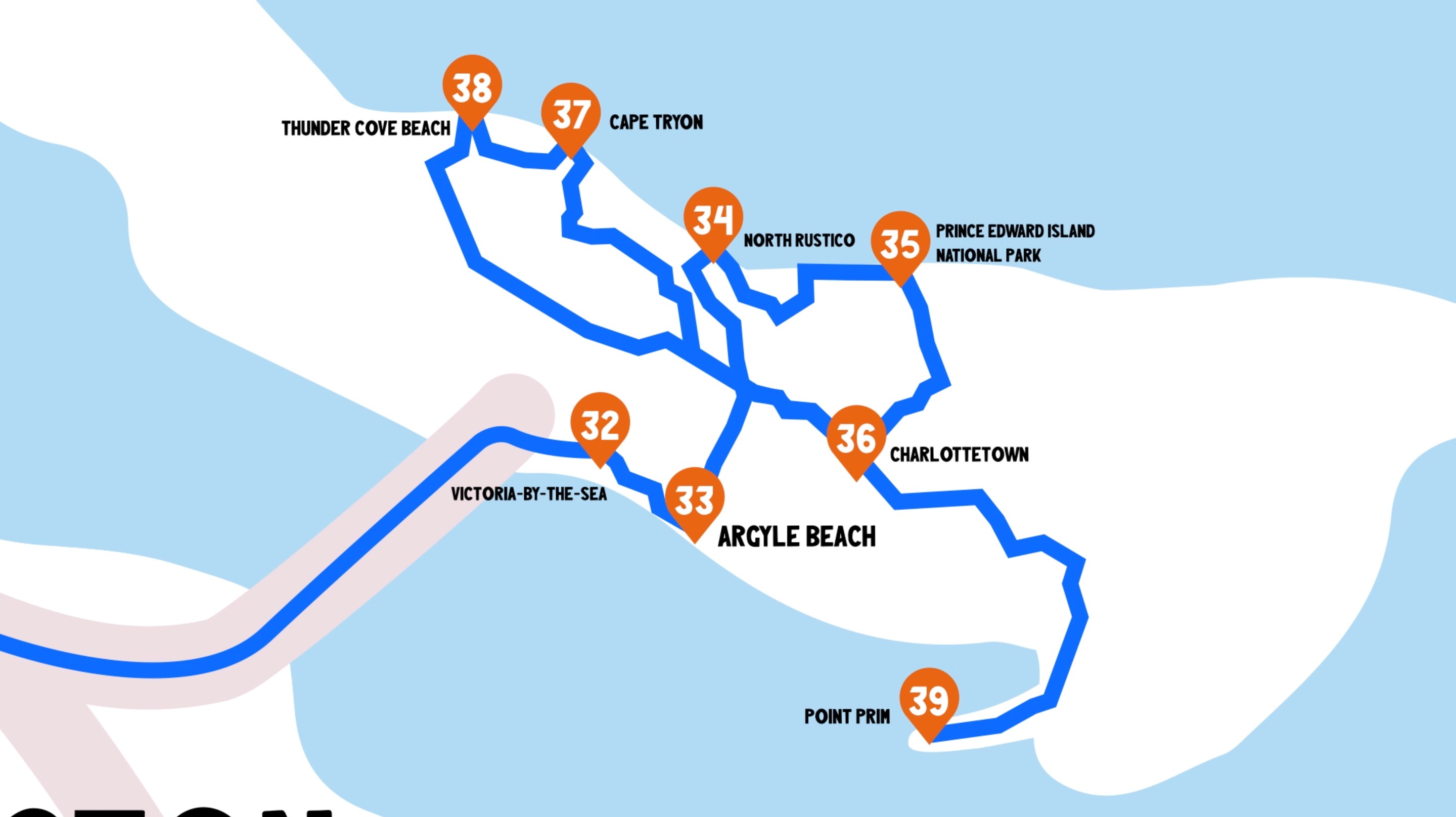 Travel tip: Reaching Prince Edward Island won't cost you a dime. But watch out: when you're ready to leave the island—either via the Confederation Bridge (a 13 km bridge connecting Prince Edward Island with New Brunswick) or on a ferry to Nova Scotia—you'll need to pay. The cheapest way is to take the ferry to enter the island and pay the bridge toll as you leave, saving about 40%!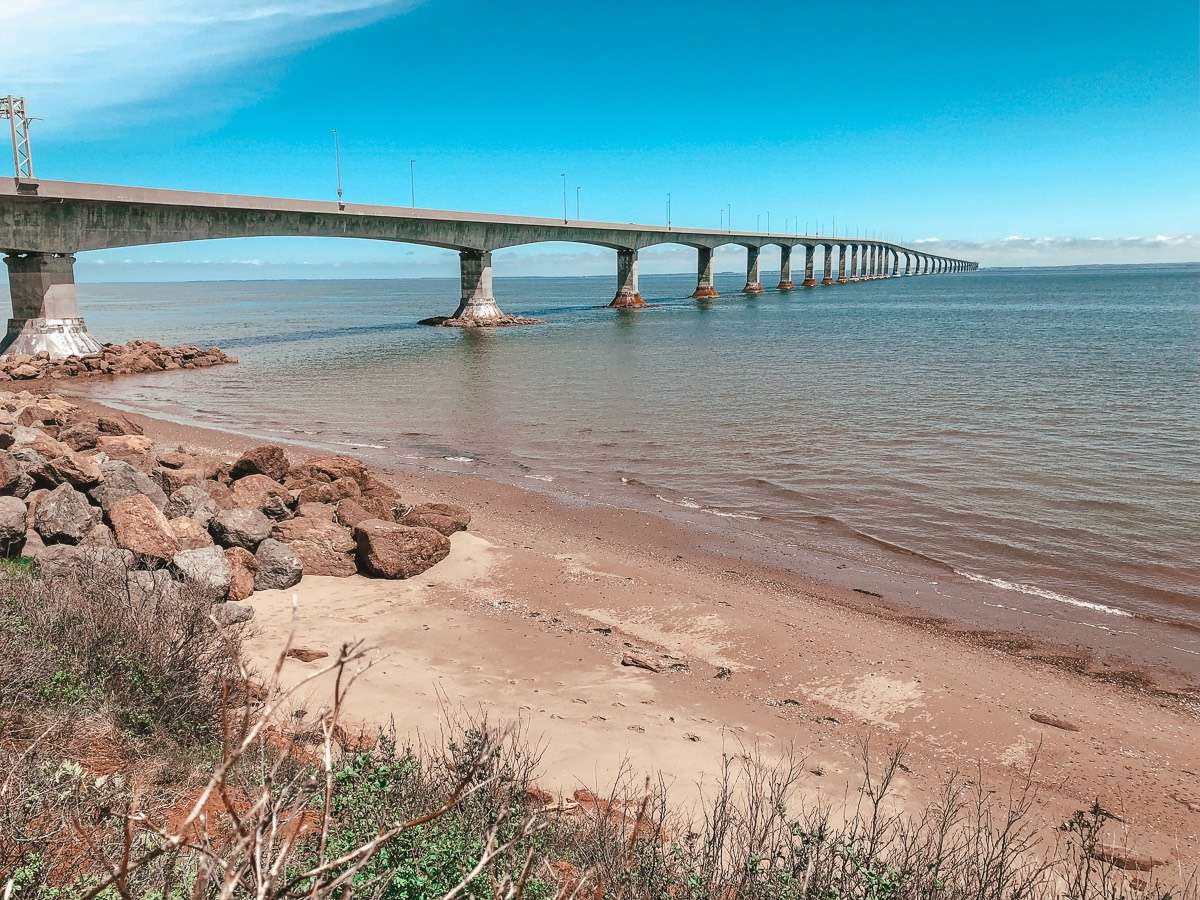 Where to stay in Prince Edward Island?
Stay at HI Charlottetown Backpackers Inn, conveniently located just a short walk from the downtown core. Don't miss out on the delicious banana bread offered at breakfast; it's made with love by the hostel staff. The hostel also has a banging recreation room in the garage adjacent to the main building with a massive collection of records and a pool table.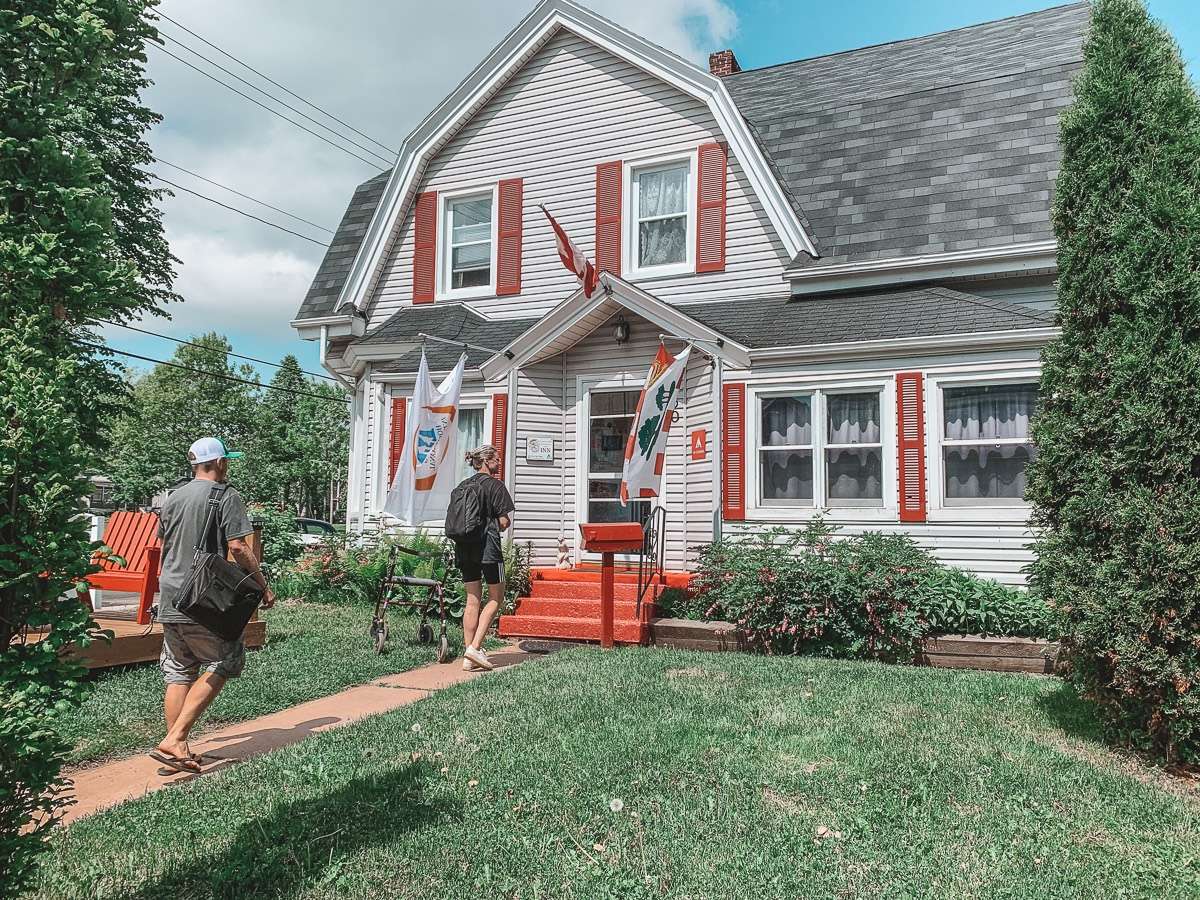 Money-saving tip: Buy fresh seafood at Water Prince Corner Shop to prepare a cheap homemade seafood meal in the shared kitchen of the hostel. For a mussel dinner (with free potatoes the hostel has available for guests), it costs only $2.50 per person!
What to do in Prince Edward Island?
1. Charlottetown, Prince Edward Island
Now that you're off the mainland, it's time to relax and enjoy the island vibe of PEI. With a population of 35,000, Charlottetown is the capital of the province and the largest city on the Island. It is also the birthplace of the Canadian Confederation. It's where Canada officially became a country more than 150 years ago. Charlottetown is a busy spot for tourists, especially in the summertime when cruise ships descend upon its harbour and the city becomes buzzing with excitement.
Grab a morning coffee at The KettleBlack or Receiver Coffee for the boost of energy you'll need to keep you going all day. There are so many sights to see in and on the outskirts of Charlottetown. Watch the sunset at Salt & Sol Restaurant PEI with a nice cocktail by the water and then head downtown to Victoria Row for dinner at some of the best food joints in the city.
2. Red Sands Shore, Prince Edward Island
The bright red soil is the first thing that catches your eye as you arrive in PEI from the Confederation Bridge, one of the longest bridges in the world. A short drive away, you'll reach Victoria-by-the-Sea, a picturesque fishing village which provides the perfect setting for lunch. Stroll around the charming village centre and peek into some of the antique shops, art galleries, and artisans' stores, including Island Chocolates Factory. For an Instagrammable lighthouse shot, check out Palmer Range Light, which is also right in Victoria.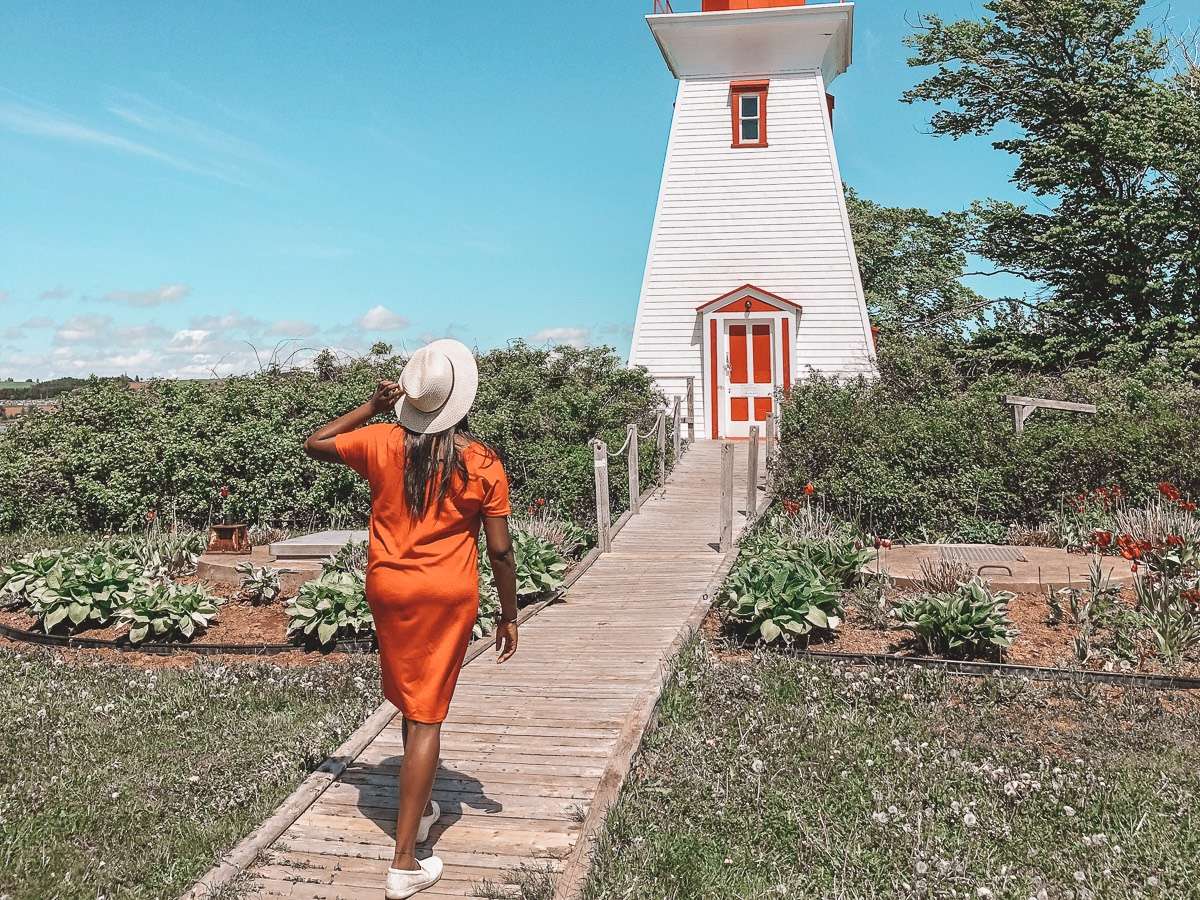 At the end of the pier and boasting the best views in the town, you'll find Beachcombers on the Wharf, a seafood restaurant offering a mouth-watering local specialty: clam dinner.
Red sand beaches are very common in the area and are beautiful to see. Go south of the island into Argyle Shore Provincial Park for the best experience. Plan your visit at low tide when you can explore the shallow tide pools on the beach—they stretch more than fifty metres out! The reflection of the water on red sand is mesmerizing. If clam digging is on your bucket list, this is a popular spot for it.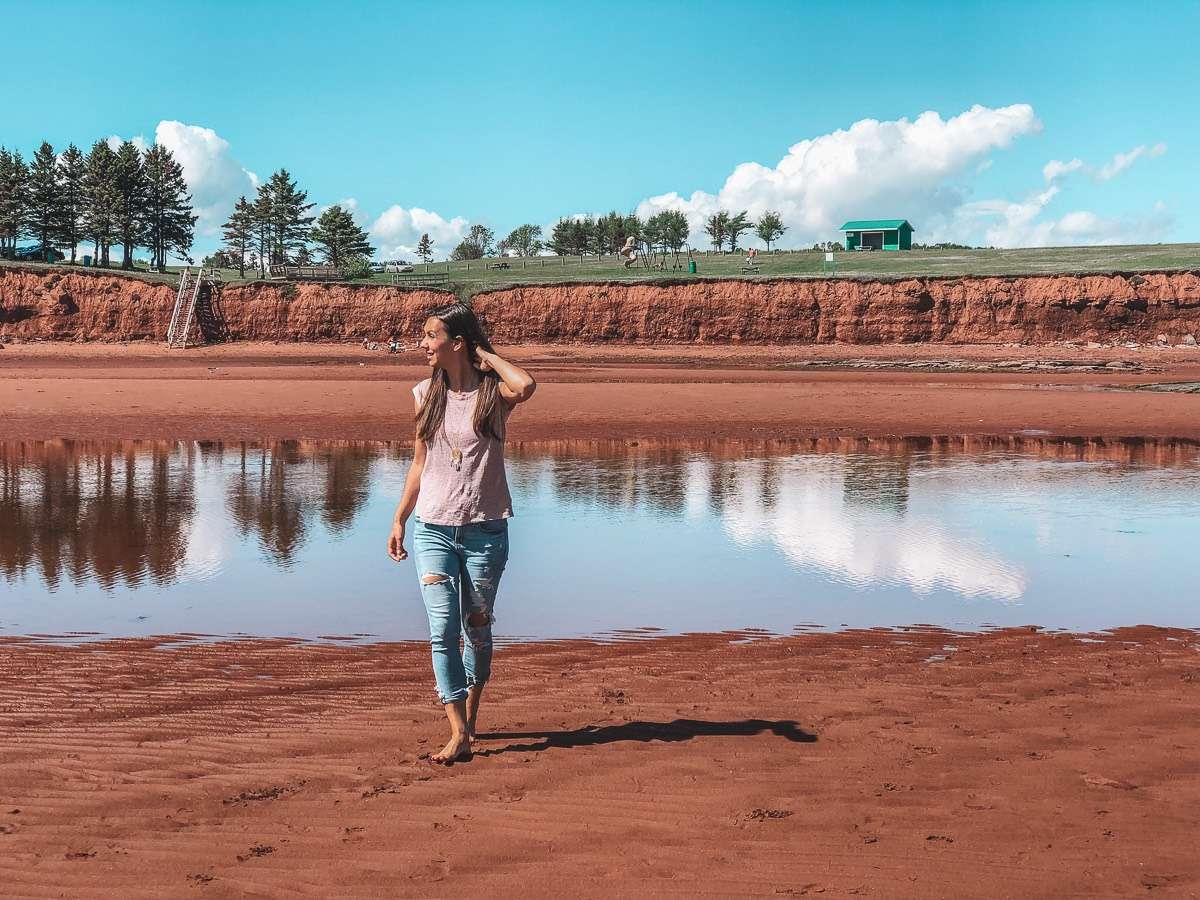 3. Prince Edward Island National Park
Covehead Harbour
On the northern coast of the island, you can't miss Covehead Harbour. It's another small, colourful, and very photogenic fishing village. Make the inevitable stop at Covehead Harbour Lighthouse for a quick photo op, then head to Richard's Fresh Seafood: an institution in the region.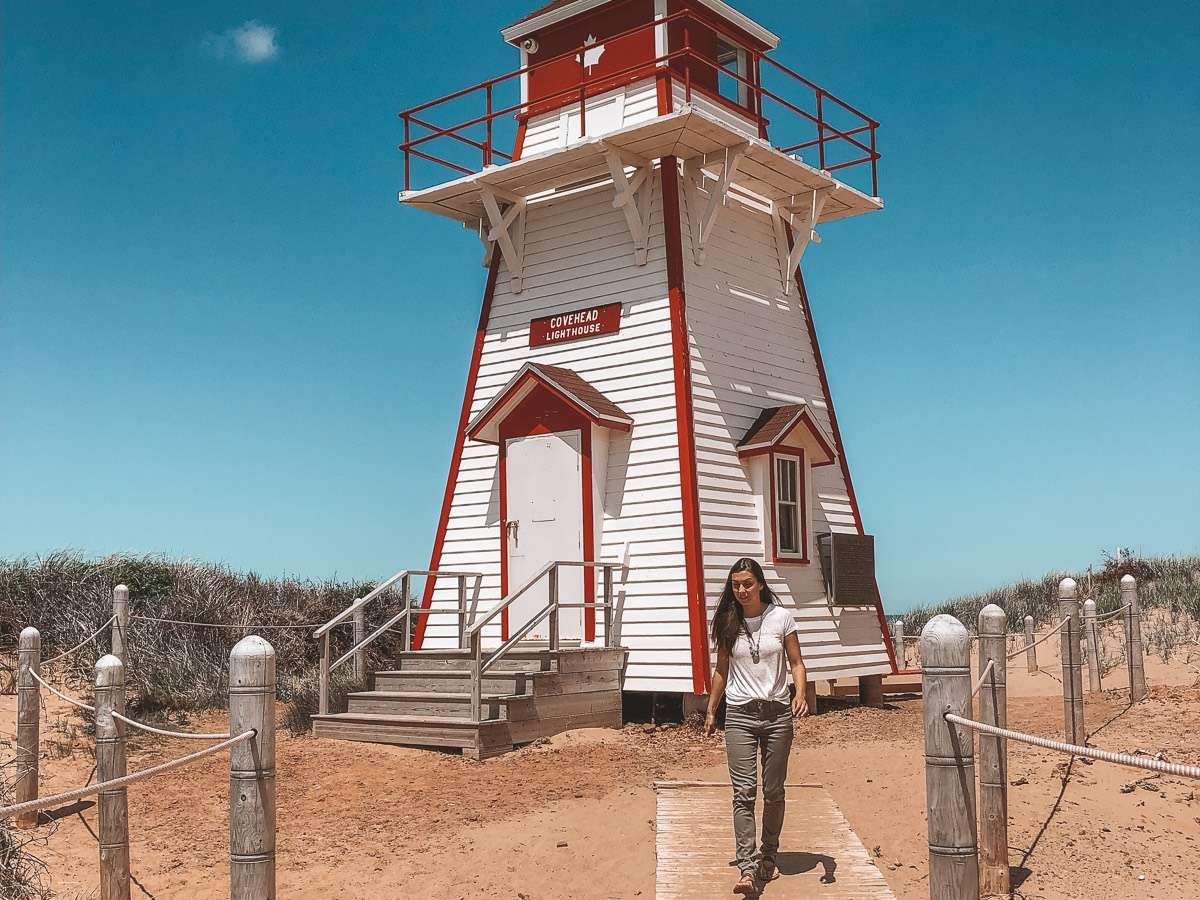 Richard's Seafood
The line at Richard's might be long… Despite the wait, as soon as your food arrives, you'll realize that the wait is so incredibly worth it. Islanders have it right; this is by far the best place for "lobster roll" and "fish & chips" on the East Coast.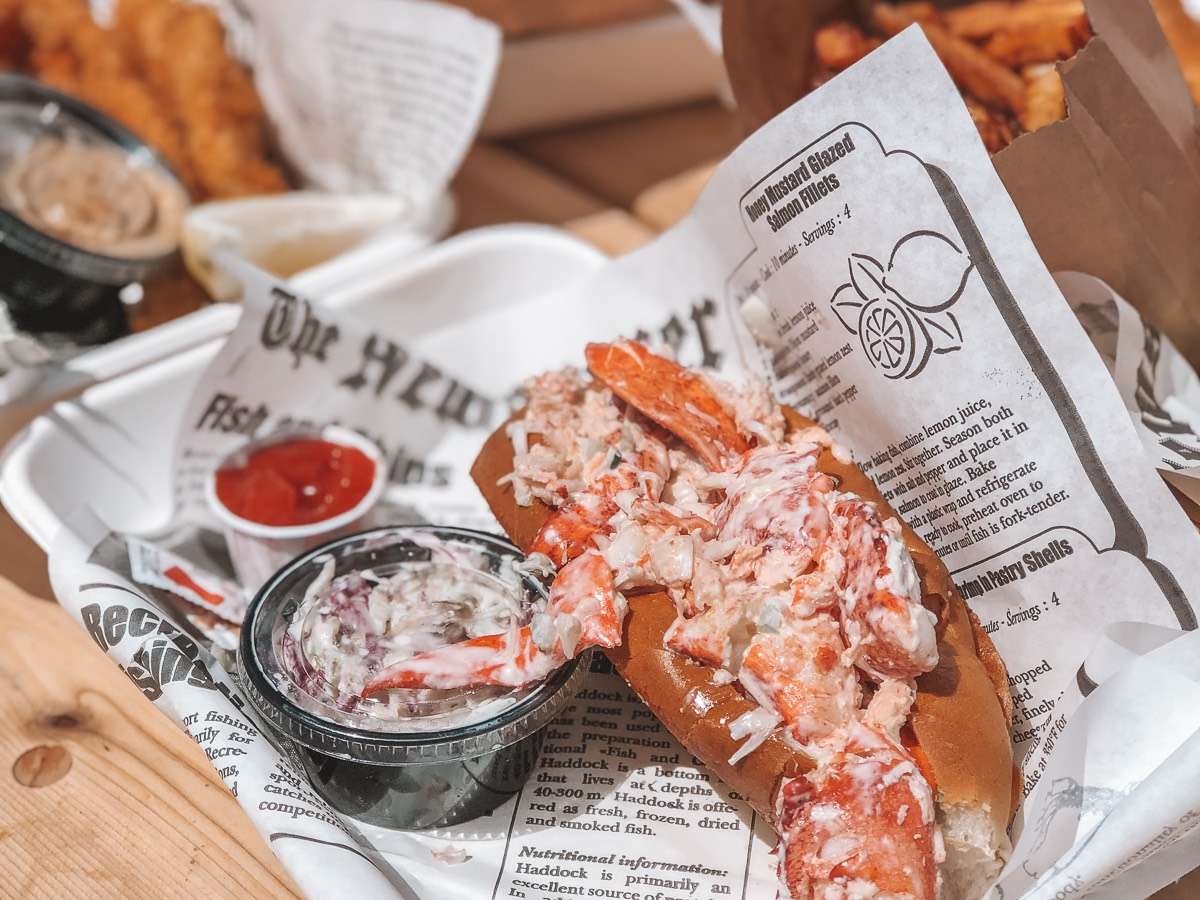 Brackley Beach
Make your way to Brackley Beach, one of the largest and most popular sandy beaches on the island due to its proximity to Charlottetown. Ask any local, and it's almost certain that they'll put Brackley Beach at the top of their list for a beach escape. If you have the chance, catch the sun's last rays as you walk through the sand. Cotton candy skies are guaranteed!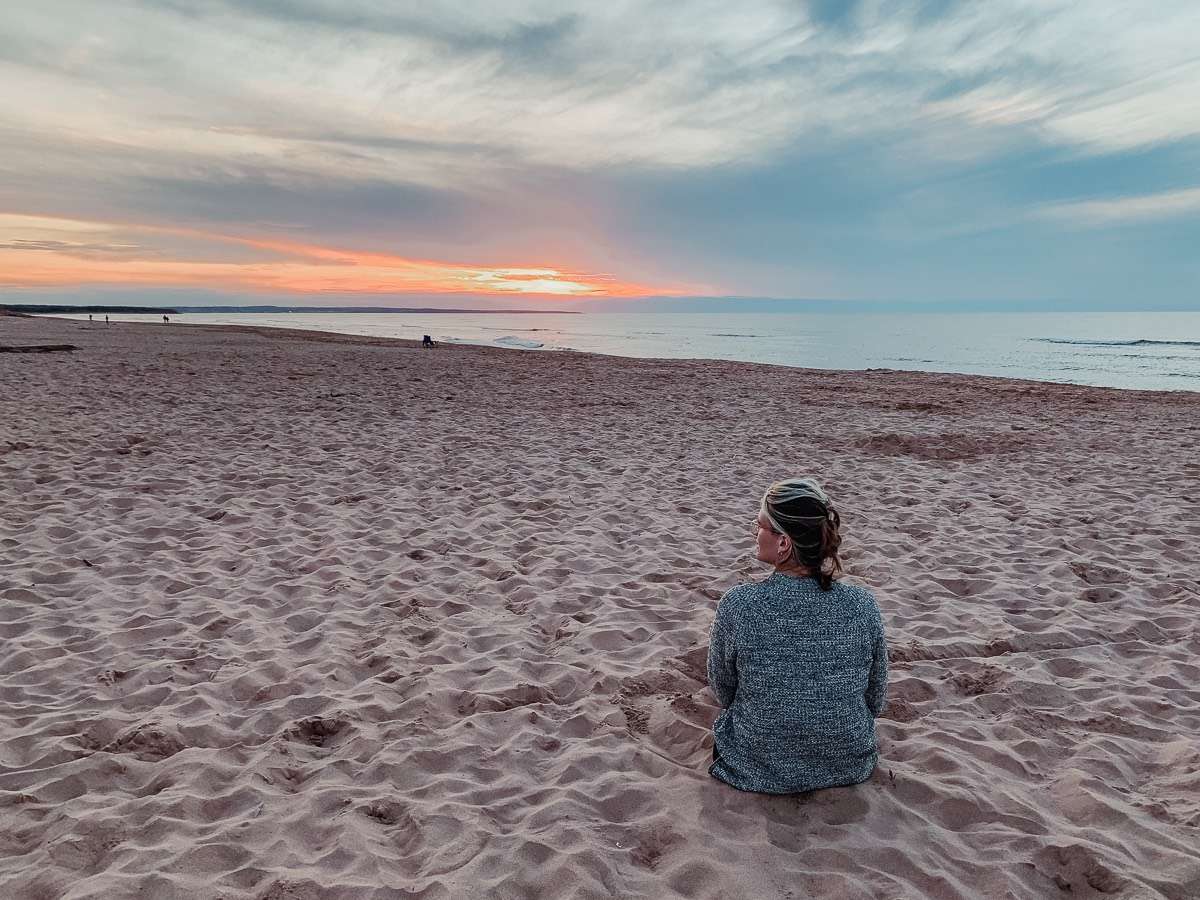 North Rustico
Since it's impossible to visit the Maritimes without stuffing yourself with seafood, you should head to North Rustico, a small fishing village. Unabashed foodies will want to spoil themselves at Blue Mussels Café, a restaurant nestled in a bay overlooking a glowing sunset. Although we promote the whole "budget travel" thing, it's always nice to splurge on a fancy meal and treat yourself every now and then! Remember, it's all about the 80/20 rule!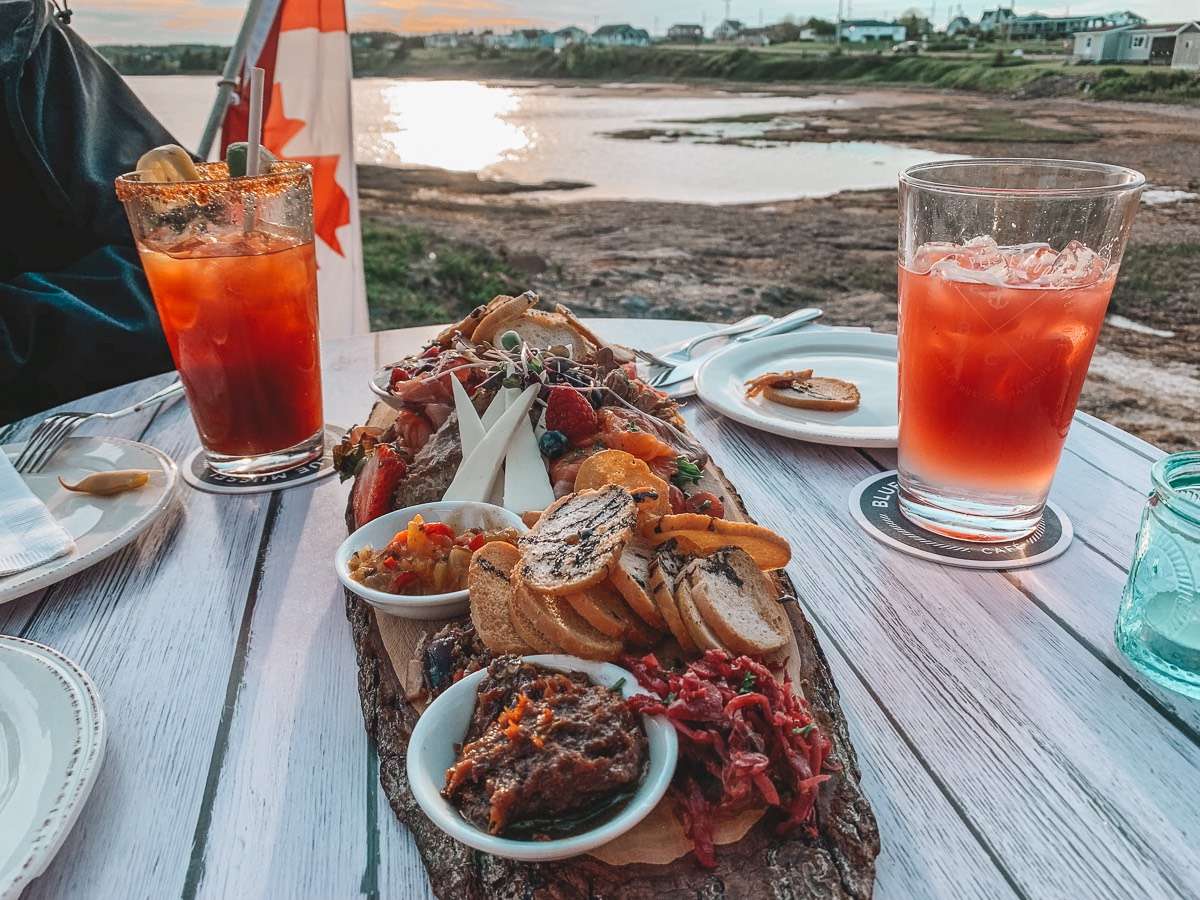 Green Gables Heritage Place
Prince Edward Island owes some of its fame to the iconic Anne. The island has become a magnet for tourists from around the globe thanks to the imaginary world created by Lucy Maud Montgomery. To relive some of Anne of Green Gables' adventures, visit Green Gables Heritage Place in Cavendish.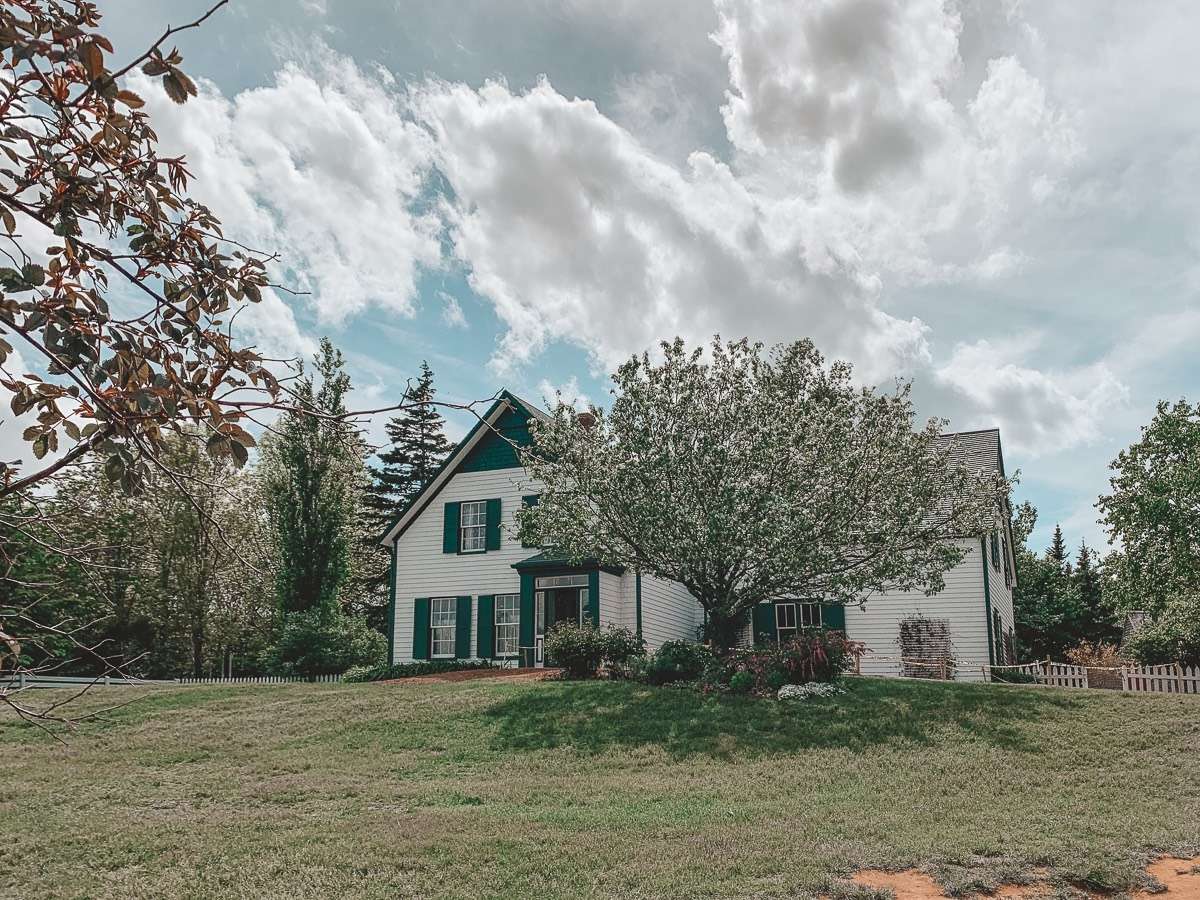 Cavendish Beach
With a coastline of more than 1,100 km and 90 beaches, it's difficult to choose just one to stop at. Tropical beaches have nothing on Cavendish Beach. With rolling dunes and white powdery sand that squishes between your toes, it will be hard to leave after a day of beach chilling.
Whether or not you're in the MOOd for ice cream, you can't visit Prince Edward Island without having a scoop (or two!) of Cows, an ice-cream company with a worldwide reputation that originates from PEI. While in Cavendish, where the first Cows shop was opened, make a pit stop that you won't regret.
Travel tip: In case you didn't already, get a Discovery Pass from Parks Canada to gain access to all of the national parks and national historic sites around Canada for a whole year, including Prince Edward Island National Park.
4. Green Gables Shore, Prince Edward Island
In Prince Edward Island, you must be ready to adapt to changing weather. One minute the sky is blue and a minute later, the landscape is smothered with thick fog! This explains why the island is dotted with so many lighthouses! One of the most picturesque lighthouses stands at the end of a dirt road by the Green Gables Shore. Cape Tryon Lighthouse is a sight to see on the edge of the island's iconic red cliffs.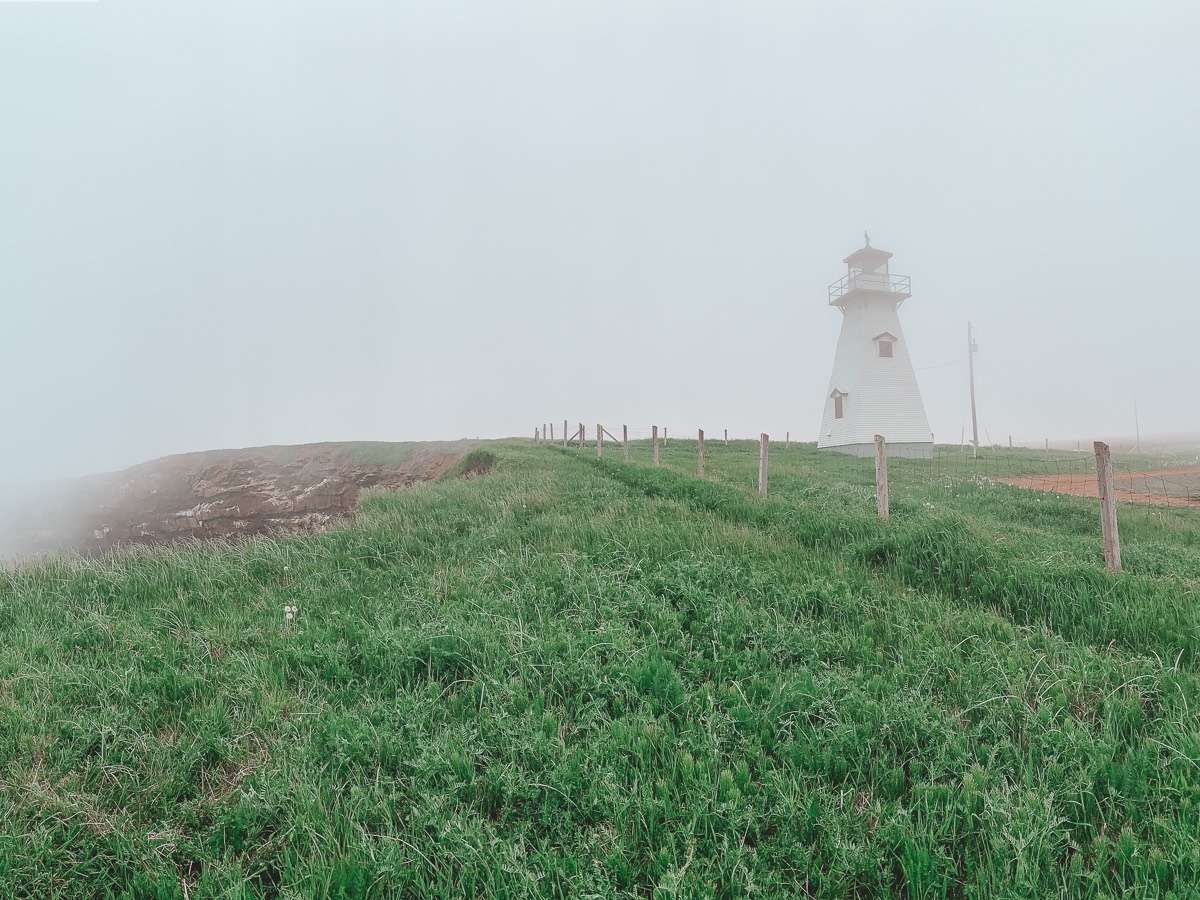 Make your way to Thunder Cove Beach, a local favourite and one of the island's best-kept secrets. The beach is lined with intriguing red sandstone cliffs, but the main attraction is "Teacup Rock." Endless waves eroded this geological formation, giving it the form of—you guessed it—a giant red teacup. If you visit the beach at low tide, you can easily walk here.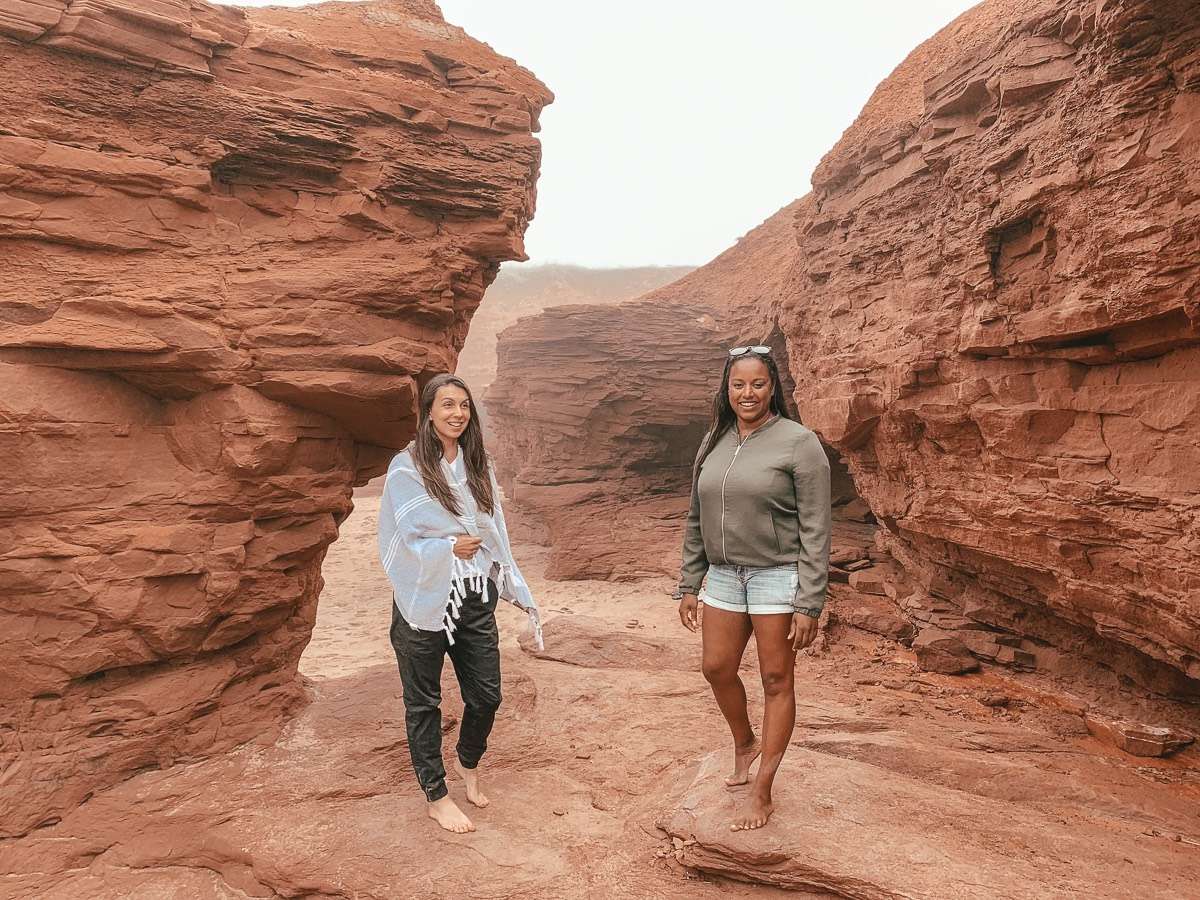 The vibe of the island will be missed as we take the ferry back to the mainland. There's no question—Emilie and I are official beach bums! We'll no doubt come back to Prince Edward Island to enjoy its many beaches once again!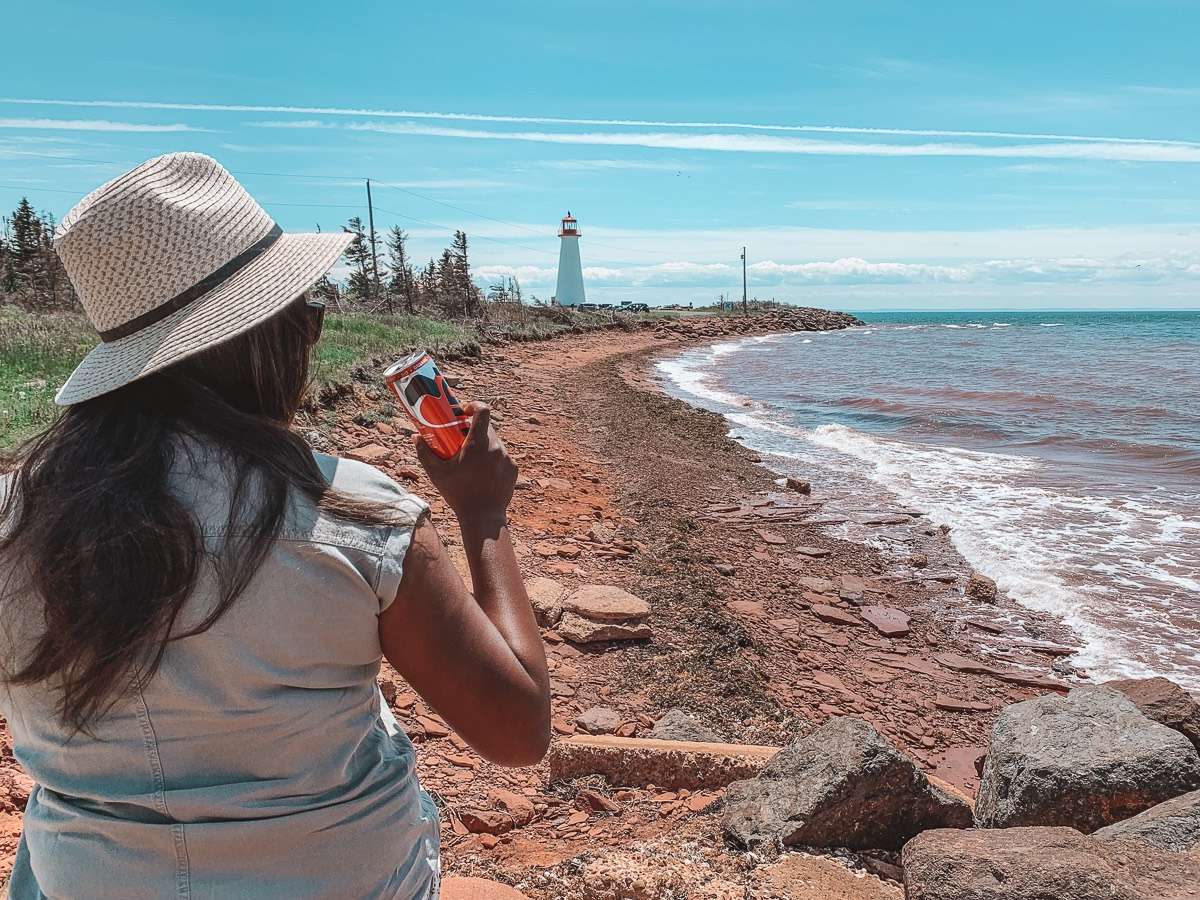 We've only explored a small part of PEI and there's still so much to discover. What should we add to this itinerary?
Check out our other destinations across Canada