Does the thought of 300 days of sunshine and a surfer's paradise giving you wanderlust? Maybe it's time to move to Portugal! Here you can live the life of your dreams working and travelling, much like Weam, who left Toronto to do a Working Holiday Visa in Portugal (called a Youth Mobility Visa overseas). His life did a complete 180, and he couldn't be happier.
"I hadn't gone on an adventure until November 2019. Two weeks in San Francisco was a life-changing experience that pushed me to seek discomfort and learn more about myself. I couldn't really get that in a city like Toronto. Then the pandemic hit, and nothing made sense. Toronto is so expensive. You need to work at least two jobs to maintain a good lifestyle. It was getting to a point where I wondered how long I could sustain it. I wanted to reinvent myself, try something new and push myself beyond the boundaries."
"I'm a very pragmatic person, so I researched and made a Venn diagram to ensure I didn't leave any boxes unchecked. I was looking for places in Europe that were predominantly English-speaking, relatively cheap, and always sunny. When I combined all three aspects, four cities came to mind: Porto, Lisbon, Madrid, and Barcelona.
I asked my travel friends which city would suit me best, and three out of four friends said Lisbon. It was less party-central, quieter, and calmer. Lisbon resembles San Francisco a lot with the hills and the iconic red bridges, like sister cities. It was meant to be."
How did your family and friends react when you told them?
"Everyone was surprised and asked why I would want to move. I'd been living in Toronto for over ten years, originally from Lebanon. They thought I was irrational in wanting to become a digital nomad, especially during COVID. Many were not supportive of this shift, except for my very close friends, who knew where I was coming from."
"Portugal has like, seven different types of visas. I didn't know which one to get. I joined a Facebook group called 'Canadians in Portugal' and realized that a lot of people have the same questions. That led me to the Portuguese embassy website, where I discovered the Youth Mobility Visa.
I filled in all the paperwork, sent an email, and went to the embassy in person to submit my application. It only took four months from the day I decided this was happening to the day I finally flew."
How did you justify going from a full-time job in Canada to a part-time job in Portugal?
"You would assume that by quitting my engineering job and moving to a part-time job in Portugal I would be making less money. But that wasn't the case due to Canadian income tax brackets. When I switched from marketing to engineering consulting after graduation, my salary moved backward because I was paying more in taxes, with a lot more stress. I had to ask myself, was it worth working that much for not much more money?
I might be decreasing my gross income by dropping to a part-time job, but I would take home a lot more money living abroad. I was paying close to $1500 for rent in Toronto, which is actually pretty cheap. But in downtown Lisbon, I could pay $500 a month for rent, including utilities and internet.
In Portugal, I was working 10 hours a week and able to sustain myself and live much more lavishly than when I was working 40 hours a week with a side job in Toronto."
"I was already working part-time online based out of Toronto, but I thought maybe I could transition to something full-time in Portugal.
When I landed, I started looking for jobs and realized there were not a lot of opportunities listed on the Indeed website. Then, I searched for 'jobs for English speakers in Portugal' on Google, and lots of websites came up tailored to people like me. I ended up getting a few interviews. I was offered a job, and they asked for my NIF paperwork, which is similar to the SIN in Canada.
To get your NIF, you need a physical address, bank account, and phone number. I used my Airbnb address. I opened a bank account with Revolut, a virtual bank. And I got a local number. Plans changed, so I never ended up getting the NIF."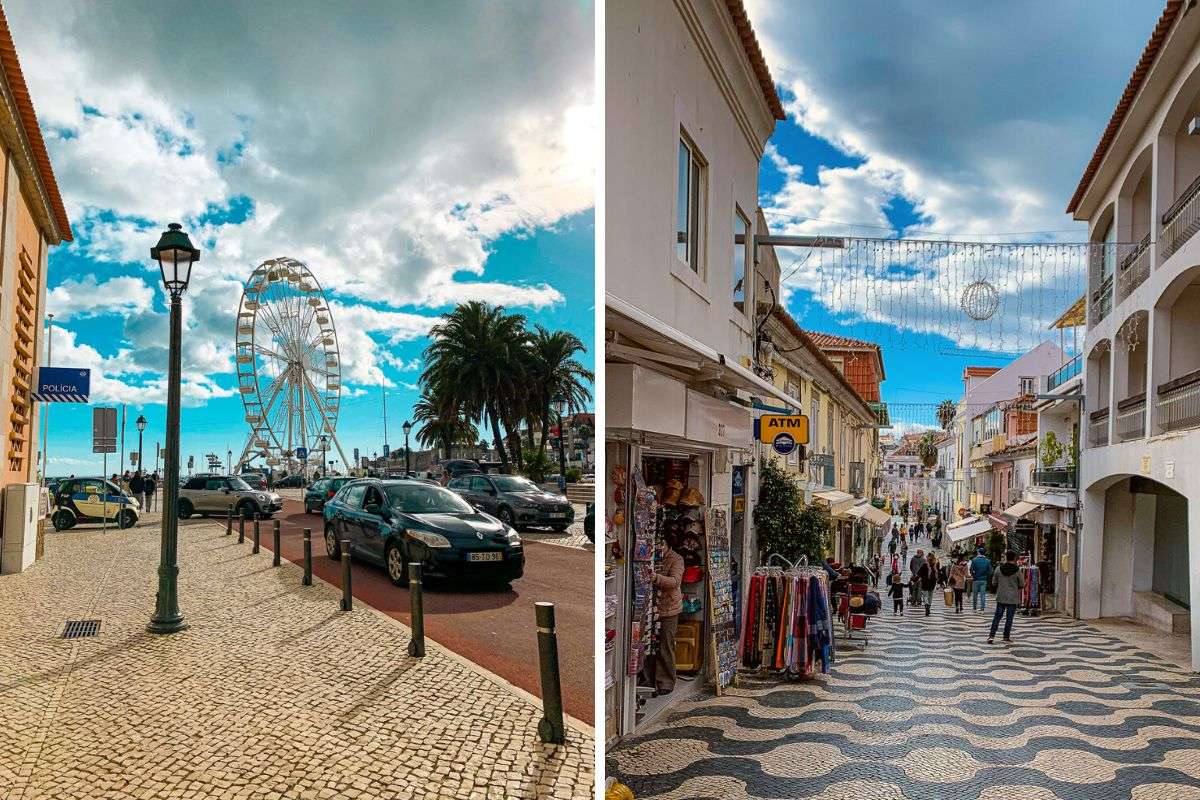 How did you get the job that you have now?
"Luckily, I had network connections within not-for-profits in Toronto. I was already working with marginalized groups. I initiated a platform to help deal with mental health called Meditate For Change. I also managed a group called Beyond Toronto Life, uniting urban hikers every week. After COVID hit and we couldn't go out and walk together, I wanted to offer support. That's when I remembered my secret weapon: meditation.
I started doing online guided meditations and teaching people how to meditate. Then I felt called to do workshops with minority groups, like refugees, the homeless, and the LGTBQ community. I got a part-time job as a facilitator and recruiter for a not-for-profit, and now I'm in a whole new career as a digital nomad. I do diversity, equity, and inclusion (DEI) workshops and consulting.
I'm so satisfied with my work because I can see the impact it has."
How did you find accommodation in Portugal?
"I booked an Airbnb before arriving, but the people I was staying with got COVID, so I had to stay with a different host. I liked using Airbnb because I stayed with a family and was not alone. Plus, I could learn the language, although everyone in Lisbon expects that you don't speak Portuguese. I looked at other accommodations and rentals, but they seemed to require a year-long lease. Start with something you can get out of easily, and then transition if you need to."
How did you make friends on your Working Holiday Visa?
"Portugal is a melting pot of so many cultures. It was very easy for me to meet other expats, a lot of Americans, Canadians, British, German, and French people. I made friends on Facebook groups and through Meetup groups, specifically for English speakers, expats, and digital nomads. One day, I saw a group of French people having fun and drinking on the beach, and I spoke a little French to them. They invited me over to their house for a party. They were so friendly. That would never happen in Toronto."
What are the main differences between living in Canada and living in Portugal? Did you have to adjust or adapt?
"The weather and the culture. It doesn't go below 15 degrees Celsius in Lisbon, and it's sunny every day. I literally swam in January. And it's just so slow-paced, like being at a retreat. All the restaurants close between 3 and 7 p.m. I learned a lot about the culture in Portugal by going out a lot all the time, something I couldn't do in Toronto. It's a different lifestyle.
I found myself living and exploring solo more, going to a beach, or sitting by myself at a park because I didn't consider those things scary anymore. In Portugal, lots of people sit in the park and drink coffee or fresh juices, enjoying the Wi-Fi.
I missed the orderliness of Toronto, knowing exactly what time the bus comes, what to do when you're in trouble, and how to order food. But with any place, you get used to it."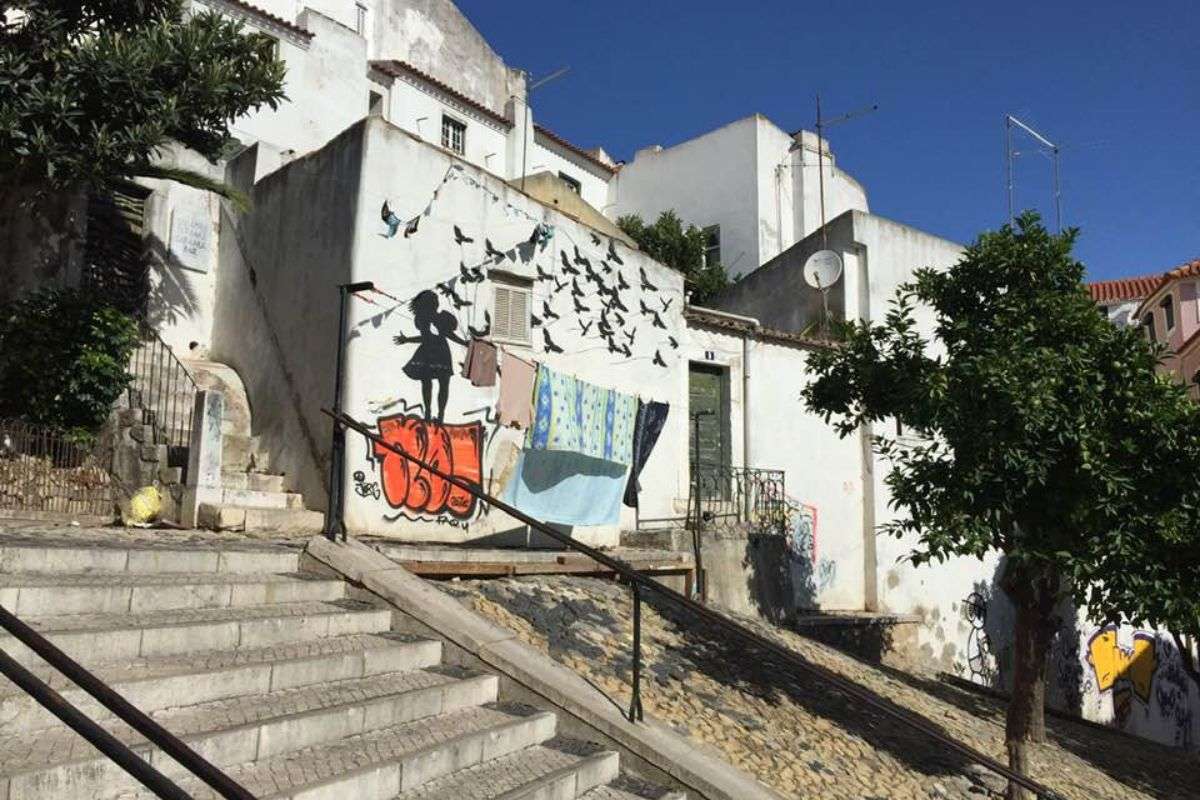 Was the money you made in your part-time job with the Youth Mobility Visa enough to cover the cost of living in Portugal?
"Yeah. I saved up enough to feel secure for a year in case I didn't get a job. But I didn't use any of my savings because my living expenses decreased. It was really shocking when I crunched the numbers and found out it was much cheaper to live abroad than in Toronto."
What are some of your favourite spots in and around Lisbon?
"Lisbon is made up of seven different hills, and every hill has its own ambience. Some are touristy, and some are more for locals. Getting to know each one was a lot of fun.
Caparica beach was my favourite. That's where all the French people live.
I liked going to restaurants to explore new types of food. They eat a lot of seafood in Portugal, fresh, not frozen, and very flavourful, which is good for me because I'm a pescetarian. There's also a lot of variety from Spanish to Venezuelan to Brazilian cuisines.
Overall, Libson was very magical. Lots of romantic vibes."
What other places did you travel to during your Youth Mobility Visa?
"My first trip was to Paris, France, because all my French friends were generous, loving, and supportive. But expectation versus reality is always tricky. My experience wasn't the best. It's a beautiful city, but it was a bit painful to experience racism and underlying problems.
Then I went to Berlin and fell in love. It's a multicultural, diverse, easy-to-get-around city with lots of public transportation. Now that I figured out the beauty of discovering new places, I felt that this was a lifestyle I would like to continue with."
You might also like: Beer, Castles and a Eurotrip: Why You Should Move to Germany for a Year
What are your next steps?
"Portugal was the catalyst for my digital nomad lifestyle. I realized now is the time to focus on my business and myself. I wasn't homesick per se, but I couldn't last more than five months (with the Youth Mobility Visa). I found myself having to make new connections very often and not keeping them long-term, and I really value deep connections. So, I decided to reconnect with my roots.
I moved back to Lebanon, which is something I never thought I would do, to be closer to my family. I started life coaching, and I'm still working through all the details of working remotely. Soon I'll have enough projects to propel me to the next step, and then I'll be able to travel to a new country every two or three months. It'll be more sustainable for me that way, building centres to come back to.
My whole life has shifted, and it's a lot more fun, instead of being focused on work."
What advice would you give to someone who's thinking about applying for a Youth Mobility Visa in Portugal?
"Just enjoy the process. Start by doing your research, find out what cities suit you best, and figure out why you're there and what you want to achieve.
Don't plan to bring your beliefs or lifestyle into the new country because you're there to learn. "When in Rome, do as the Romans do." You have to be willing to navigate newfound paths. Enjoy your time, enjoy the weather, and the food and just connect.
Worst-case scenario, you're going to learn something. Even IF you come back after a year, you won't lose anything. but you lose a lot if you don't try."
We think it's cool that Weam went through a rational decision-making process to get to where he is today.
You can follow his mental health initiative Meditate for Change.
Apply for a Working Holiday Visa in Portugal here!
House Rentals
Websites to find short- and long-term rentals:
Key information about house rentals in Portugal:
Utilities are often not included, (except for Airbnb or equivalent) and seem to average anywhere from €80-200/month

Some of the websites will clarify this (like Spotahome) and others will rarely include information about it (like Idealista)

Pay attention to the efficiency rating of your appliances (score A+ to G, with G being the most inefficient) as it will impact your utility bills

Expats generally recommend finding places with split AC/heating units, as the summers are hot but the winters get colder than most anticipate

Most Portuguese buildings are not designed with air-wicking ventilation, so the moisture from winter tends to linger indoors, sometimes making indoors even cooler than outside
Learning Portuguese
Personal recommendations from Weam:
Research the top 500-1000 words and build flashcards (paper or digital)

Start with an app to learn the basics, and then switch into podcasts

Use Youtube for quick (but helpful) specifics

After you've established a basic knowledge, try journaling 3-5 sentences on a regular basis and then reading it out loud to yourself

Alternatively, imagine yourself in a regular situation (like checking out at the grocery store) and build a pretend dialogue

Use

Linguee

to help you translate specific words or phrases, but be careful to look for sources that end in .eu or .pt (Linguee pulls from Brazillian and European Portuguese)
Phone/desktop apps:
Websites (with courses, Youtube videos, podcasts, and more):
Networking and online resources
Facebook groups:
Websites and forums:
Youtube channels:
Opening a bank account
Key information:
You will need a NIF

Check customer service reviews (through your search engine or Facebook groups) as banks can be subject to slower Portuguese bureaucracy

Personal recommendation – use WorldRemit to transfer money between your Canadian and Portuguese bank account
To open a bank account remotely:
If located in Toronto, can visit Caixa in Toronto in person

Use bordr.io ($350USD)

You can apply for Millennium BCP remotely as long as you have your documents authenticated by the appropriate actors.
Some bank options in Portugal once you have a NIF:
BPI

Santander (website only in Portuguese)

Millennium BCP

ActivoBank – online banking targeting youth, part of Millennium (no fees)

Novo Banco

Banco Best (no fees)
Shipping your belongings to Portugal
The Luggage Certificate for container shipping will prevent you from having to pay customs on your shipped belongings.
Shipping company recommendations (from Facebook group):
UPakWeShip

From a Facebook group comment: "They were great because they ship to a EU port of entry that's not Portugal (Portuguese customs is a nightmare) and then deliver to Portugal"
Getting a Portuguese Drivers Licence
Once you are in Portugal, you have 90 days to exchange your Canadian license for a Portuguese license if you are actively using it.
However, if you are not using your license, you have 2 years from the day of your arrival to exchange your license before needing to do a Portuguese driving test
If you wish to keep your Canadian driver's license but still want to drive in Portugal, you have two options:
Take a driver's test in Portugal

Get an International Driving Permit through CAA (cost: $25CAD), which is good for 12 months and is renewable online while located in Portugal:
Note: most cars in Portugal (and Europe in general) are manual
Steps to exchanging your Canadian license for a Portuguese one:
Get your certified driving record from

Service Ontario

/your province's service: you must get the "long" version (full history)

It is possible that the driving record will need to be authenticated and/or translated, so it's recommended to ask the Consulate for this information. Your license in Canada may allow you to do things that would require "specific endorsements" in Portugal (ie. pulling a small trailer) – you should check in with the Consulate about keeping these conditions/getting a translation

Visit the

IMT website

. You will need:

NIF

Proof of residency

Scan of unexpired driver's license

Authenticated driving record from Canada

Electronic medical certificate from any doctor
Registering for Health Care in Portugal
Once your residency is approved, you can sign up for public health care in Portugal. To do this, visit your local health centre where you are located with the Portuguese equivalent to your social security number (received with SEF).
Some opt for private health insurance to complement their public health care coverage
Options include travel insurance companies (we recommend soNomad), your local bank, or local insurance brokers to receive insurance packages, etc.
Helpful links:
Things to do once you arrive in Portugal
You must book/ensure you have an appointment with SEF, which should take place within ~3-4 months of your arrival in Portugal
Note that SEF is being changed to SEA, and due to changes and Covid, appointments are sometimes being delayed; this will not impact your ability to be in Portugal on the Entry Visa while you wait for your appointment
2. If you have not gotten a NIF prior to your arrival, that will be your first step
3. If you have not opened a bank account, that is step #2
4. If you have not acquired permanent accommodations (year lease or purchased property), that should be a priority as well
*There has been some debate as to whether a year-long Airbnb rental will suffice at your first SEF meeting. I highly recommend checking in with your local Consulate, and ensuring that you have a confirmed response in writing should they say that is allowed. As of June 28, I have yet to know anyone who has successfully gotten their Residency while using an Airbnb reservation without a formal lease.
5. For your SEF meeting, you are required to have:
Proof of your six-month emergency medical insurance

Your passport

2 colour passport photos

Proof of accommodation (long-term: year lease or purchased property)

Documentation of financial means (same as for your Entry Visa)
If you are a Canadian between the ages of 18 and 35 and want to learn more about the Working Holiday Visa, be sure to visit the International Experience Canada website for more details.
️ For even more inspiration, listen to our #NomadTALKS series on YouTube, where we talk with other Canadians who have travelled and worked abroad.
The original interview was conducted by Safia Dodard and compiled by Britney Claveau. The interview has been edited for length and clarity.