This is it! The mythical province of Newfoundland is the last stop on our trip across Canada from west to east.
This road trip started in Tofino, British Columbia, we crossed nine provinces and covered more than 10,000 km from coast to coast to get here… the other side of the country!
Besides making you feel like you're at the end of the world with its rugged coastline and charming fishing villages, the foremost thing that characterizes Newfoundland is its people's kindness.
Everyone seems to know one another and takes a real interest in others. This welcoming vibe is very much appreciated when coming from a major city like Montreal, where you sometimes don't even know the name of your own neighbour.
Put Newfoundland at the top of your bucket list if the following activities seem like the most magical adventures ever: chasing icebergs, driving down the Viking Trail, hiking to the top of a fjord, going whale watching and meeting puffins.
This remote province will leave an everlasting impression beyond your first visit. You will dream of the days when you can return to this magnetic island.
Here's an itinerary on how to spend one week in Newfoundland.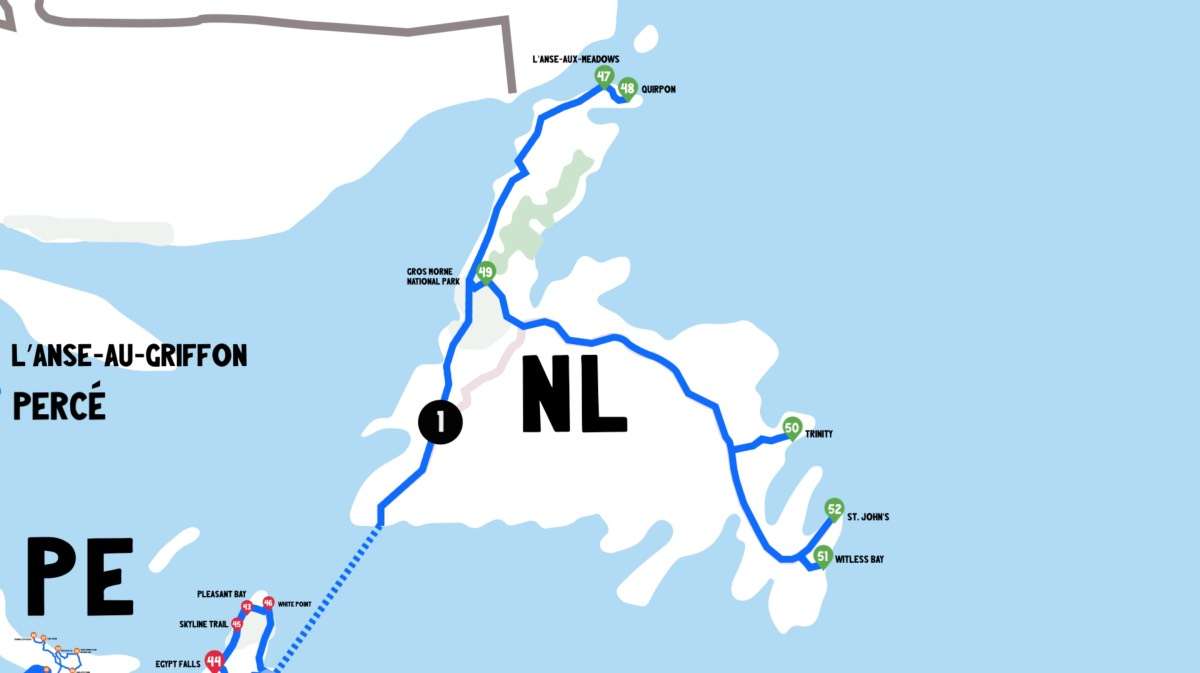 How to get to Newfoundland?
You'll definitely need a car to explore the province, but if you're driving across the country, you'll most likely already have one and will be arriving by ferry from Nova Scotia. There are two routes to choose from.
If you wish to explore Newfoundland from west to east (to end your trip in St. John's and catch a plane home), it's suggested to hop on board the ferry taking you to Port-aux-Basques on the west coast.
If you fly into Newfoundland, be aware that in high season it can be challenging to score a rental car. Make sure to book one ahead of time.
Travel tip: Download the maps.me app and preload the maps of the area for navigation around Newfoundland since in some remote locations cell phone coverage is spotty or non-existent.
Western Region, Newfoundland
Coming off of the ferry in Port-aux-Basques, take the Viking Trail to explore the west coast of the island.
L'Anse-aux-Meadows
Drive all the way to the tip of the Northern Peninsula to visit L'Anse-aux-Meadows National Historic Site.
This is the only authentic Viking settlement in North America.
It's insane to think that nearly a hundred Norsemen from Greenland once settled there centuries ago, but that the site was only discovered in the 1960s.
Visit the reconstituted village and the forge and watch the blacksmith make a nail from bog iron using bellows and traditional tools.
Don't leave without testing your survival skills in the Test of Tykir—an escape room in the centre of the recreated Viking encampment.
Chasing Icebergs
Late spring, between May and June, is the best time of the year to spot icebergs in Newfoundland. There's even a festival dedicated to icebergs!
Meanwhile, use the website IcebergFinder to pinpoint these ice giants, some of which date back to more than 10,000 years.
There are boat tours to take you up close, but icebergs can also be observed from the shore.
Don't be shy to ask locals if they have spotted any icebergs in the area as they will often gladly point you to the best viewpoints.
That's how we found ourselves in Quirpon, where there was a massive iceberg drifting close to shore. You'll be sure to feast your eyes upon dramatic landscapes even if no icebergs are in view.
Follow the trek at the end of Southern Tickle Road in Quirpon, making sure to carefully follow the markers on the trail to protect the fragile ecosystem.
Gros Morne National Park
Another must-see on the west coast of Newfoundland is Gros Morne National Park.
This UNESCO World Heritage Site is dotted with glacial fjords and snow-covered peaks that you would only expect to see in a place like Norway or Iceland.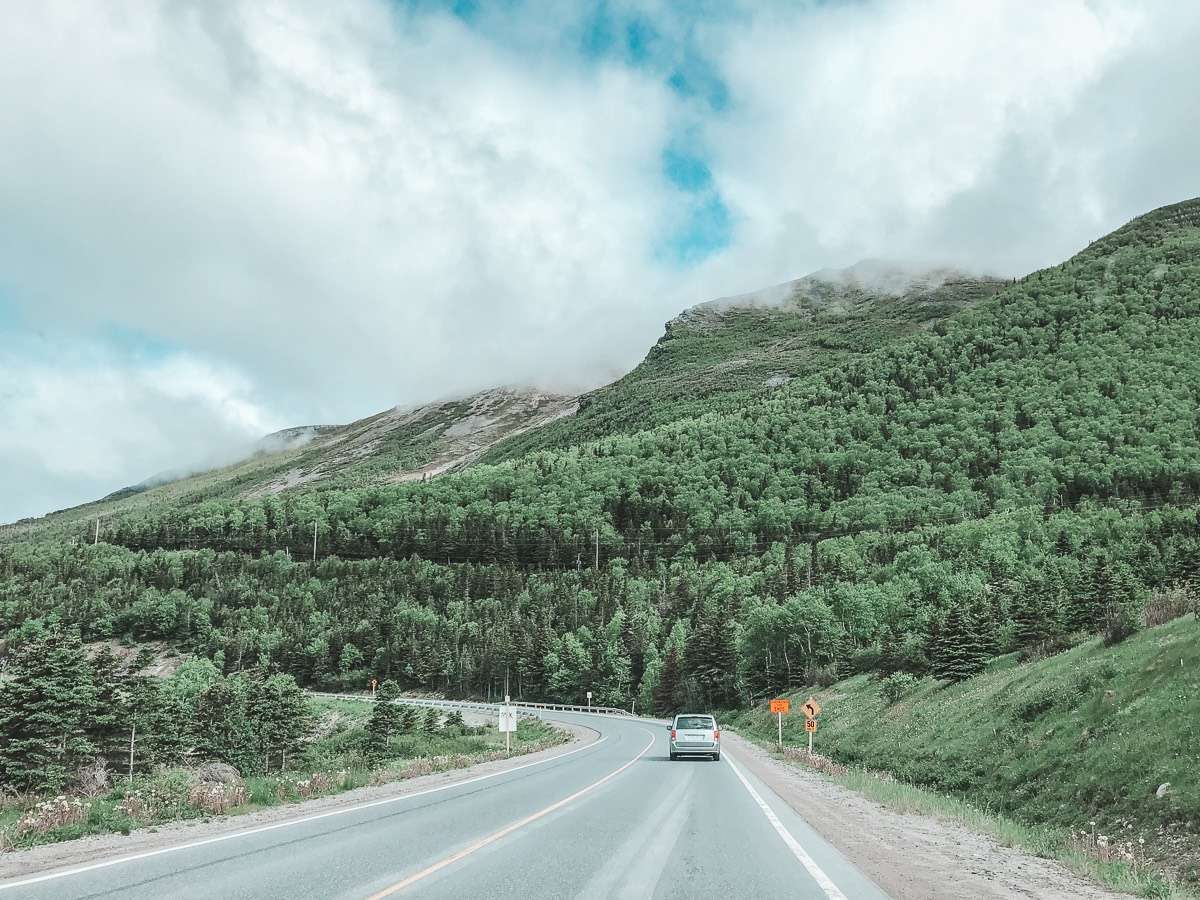 There are tons of hiking trails around the park, but the most famous sight is Western Brook Pond.
Take a cruise to admire the fjord surrounded by cliffs soaring 2,000 ft above you and waterfalls that seem to be falling from the sky.
You'll stand amazed in front of this natural creation, which is more than millions of years old.
For a full-day adventure, hike to the top of Western Brook Pond Gorge; the view will leave you speechless.
Trinity East, Newfoundland
Make your way across the island from west to east and follow the Discovery Trail to visit the Bonavista Peninsula. This is rural Newfoundland at its best with small fishing villages throughout.
For outdoor adventures, you won't want to miss the Skerwink Trail, a 5.3 km loop considered one of the most beautiful hikes in the world.
From the highest viewpoint, you'll have a panoramic vista of the Fort Point Lighthouse and the villages of Trinity and Trinity East. Keep your eyes peeled on the horizon, as this is a common spot for whale sighting.
Travel tip: Stay at HI Trinity, Skerwink Hostel. It's a wonderfully charming hostel that sits right at the starting point the Skerwink Trail.
Martha & Gavin are highly knowledgeable about the region and will give you the best tips on what to do and see in the area.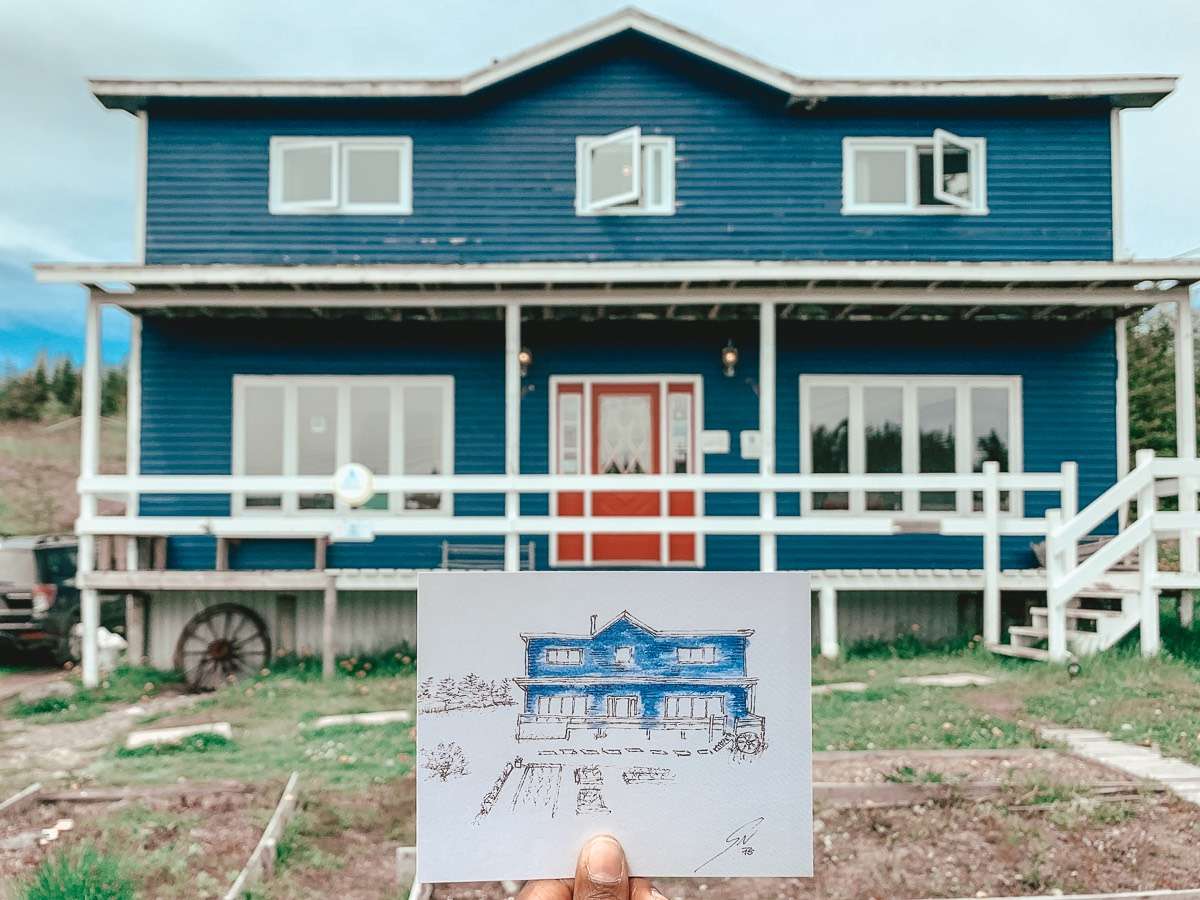 This little slice of heaven is one of the best hostels in Canada and the only place you'll want to be to disconnect from the outside world.
To end the day, head to Port Rexton Brewing, a microbrewery with hipster appeal for delicious local craft beers!
Sit outside and enjoy a tasty grilled cheese from the Oh My Cheeses food truck or pop inside for their Thursday night trivia.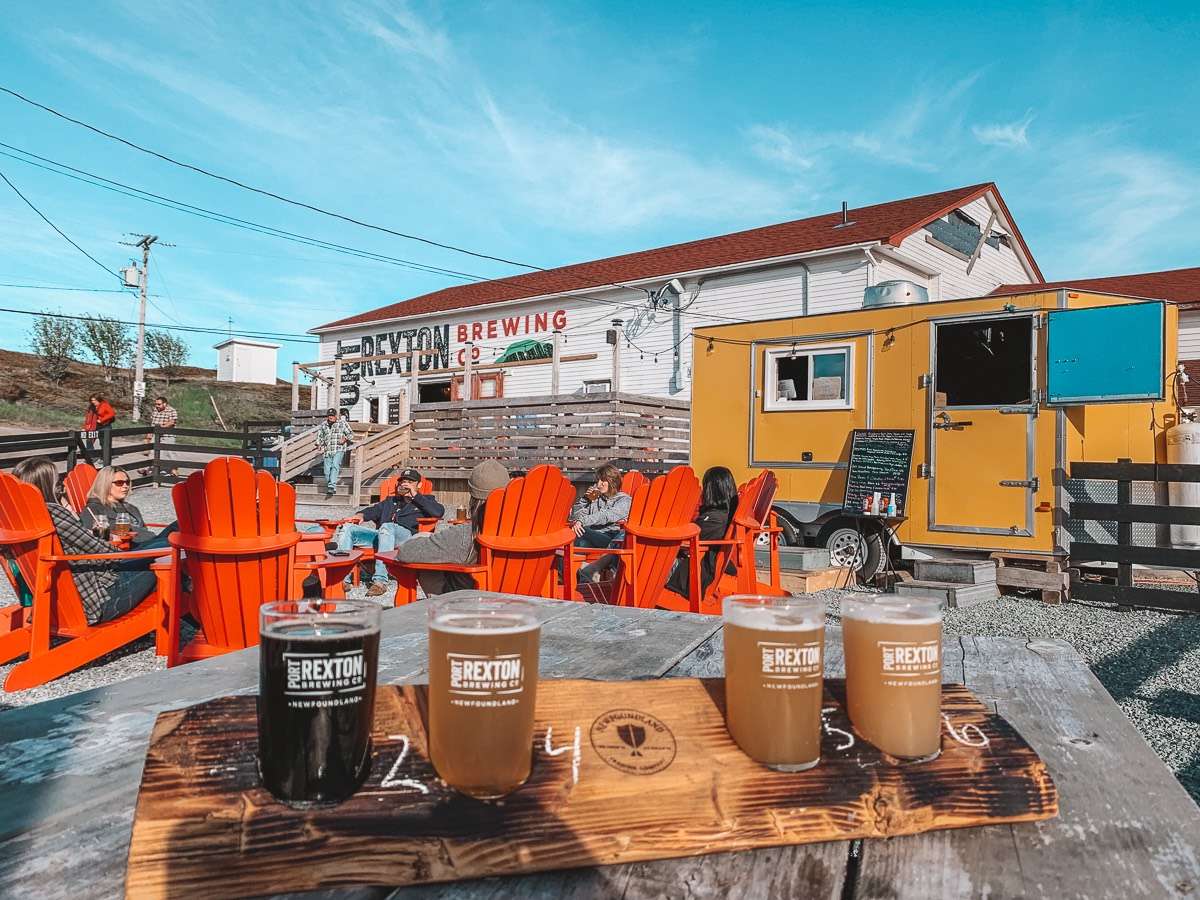 Witless Bay, Newfoundland
As you make your way to St. John's, stop in Witless Bay for a boat ride with Molly Bawn Whale & Puffin Tours.
Hopefully, you will see a whale or two! Sadly, in our case, no whales were spotted…
The good news is that you'll be welcomed by a huge colony of more than 600,000 puffins in Witless Bay Ecological Reserve.
This is the largest puffin colony in North America. Seriously, what could be cuter than a puffin emerging from the water and unable to fly away because it has eaten too much?
The only thing sweeter is a whale-spotting dog in training! Jeannine, our guide and marine biologist, always takes along her adorable pup to help her spot whales during the tour!
St. John's, Newfoundland
What better way to end an epic coast to coast trip than in Canada's party capital? Bye-bye countryside, hello St. John's!
You'll fall under the spell of this small port town (which is also the province's capital) with its colourful houses and lively downtown.
Where to stay in St. John's?
Set down your bags at HI St. John's, located in the heart of Jelly Bean Row, a lovely area of colourful houses that define St. John's landscape.
What to do in St. John's?
Quidi Vidi
Pay a visit to the small historical fishing village of Quidi Vidi. It's so picturesque that you'd mistake it for a postcard. Honestly, this place was made for Instagram!
End the day in style with some fish & chips and a beer at the Quidi Vidi Brewing Company.
Do yourself a flavour and try out their famous iceberg beer, it's the coolest beer you'll ever have!
George Street
You can't visit Newfoundland without being screeched in. Christian's Pub, on the famous George Street, is the ultimate place to take part in this one-of-a-kind experience.
The initiation is quite simple: first, you must eat a piece of "baloney," then kiss a fish and take a shot of Screech (a local rum). That's it!
You're henceforth an honorary Newfoundland citizen!
Finish off the night at one of the many pubs along George Street for one or more live music performance.
Signal Hill
Head to the top of Signal Hill, a national historic site, for one last sweeping view of St. John's Harbour.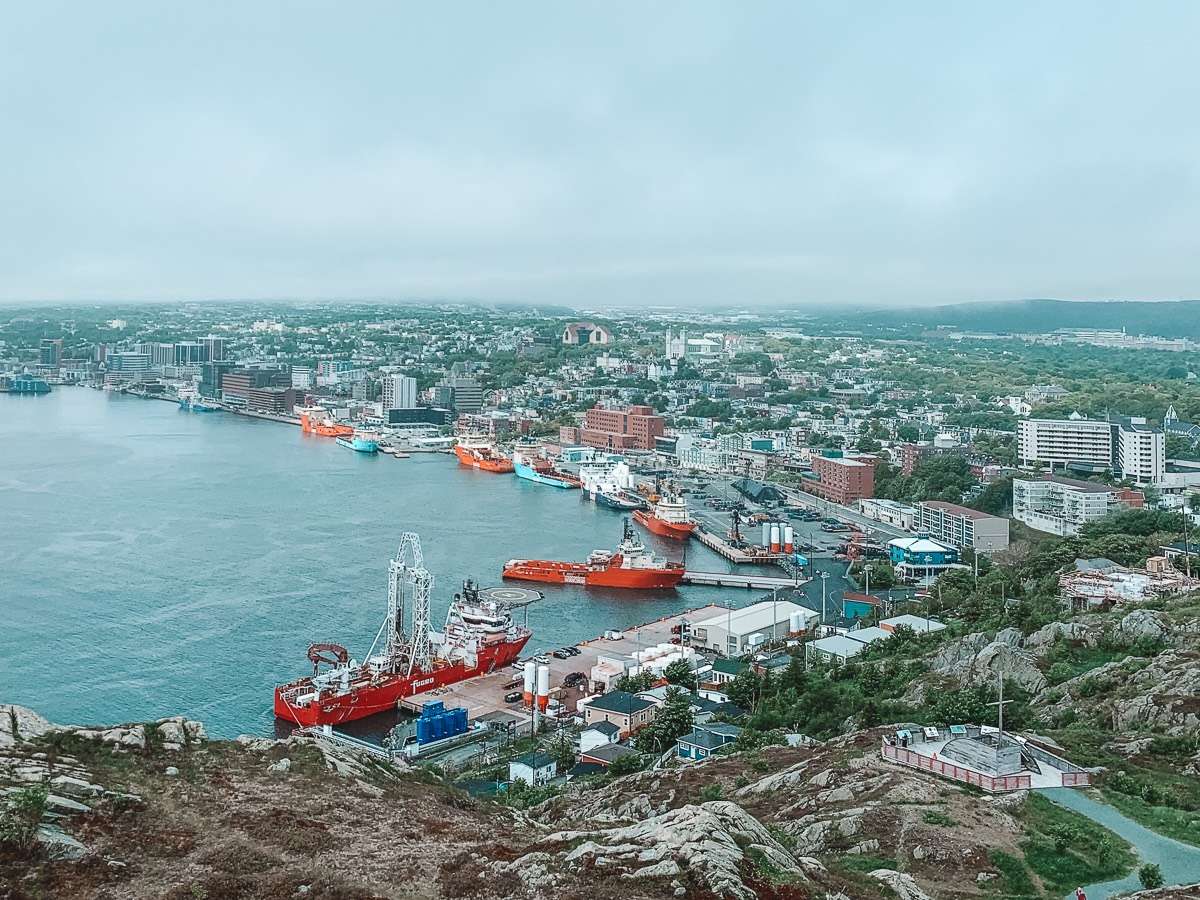 Crossing Canada from Coast to Coast
From the Pacific to the Atlantic, we've logged a whopping total of 12,000 km. For 60 days, we've been crossing this beautiful country in its entirety to discover 10 provinces, each one every bit as spectacular as the one before.
In the end, this trip wasn't enough for our travel-happy hearts and has only left us hungry for more.
However, the experience proved to us that we don't have to leave our continent to chase our nomadic dreams. A
long the way, we've uncovered landscapes reminding us of our adventures around the world—but that have also revived our passion for our country.
Canada is undoubtedly worth exploring from one ocean to the other.
So, when are you going to explore Canada?
Check out our other destinations across Canada ?