During your trip across the country, don't make the mistake of quickly driving through Manitoba thinking it's just boring old flatlands. Right smack dab in the centre of Canada lies Manitoba, a province that has much more to offer than most visitors would like to believe. If you take the time to find out why Manitoba was listed as one of the top regions in the world to visit by Lonely Planet, you'll see that farming isn't the only thing the defines this province.
There are so many hidden gems to be discovered in Manitoba. Seek and you shall find abundant wildlife (hello polar bear capital of the world!), gorgeous lakes (I dare you to find another place with over 100,000 bodies of water), a vibrant multicultural capital city, and the friendliest people around. Did I mention that Manitobans hold the reputation for being the friendliest people in Canada; the slogan on their licence plate is "Friendly Manitoba"!
If you're planning a road trip across Canada, here are a few highlights to make you appreciate and see Manitoba as an off-the-beaten-path adventure destination ready for you to explore.
1. Inglis, Manitoba
Whether you're making your way east or heading west towards Saskatchewan, at this point you know that agriculture is what defines the Prairies. There are golden fields on each side of the road that stretch out as far as the eye can see. The best way to learn more about agricultural practices is to visit the Inglis Grain Elevators National Historic site. These icons from the "Golden Age of Grain" were built between the 1920s and the 1940s and some of the last ones still standing today.
During our visit, a friendly and informative former grain elevator employee reminded us of the symbolic importance of these imposing structures and shared anecdotes from the times when he was working in those same grain elevators. Stories like these will give you a better appreciation of the whole journey of food as it goes from farm to fork.
Travel tip: Grab a bite to eat at TinHouse in Russell, just a 20-minute drive from Inglis. Locals swear it has the best sandwiches and coffee in town, and the terrace view doesn't hurt either.
2. Riding Mountain National Park, Manitoba
Get into the wild and reconnect with nature in Riding Mountain National Park. You'll find spectacular landscapes and diverse biodiversity. It's no surprise it has been listed as a top 10 experiences to have in Manitoba by National Geographic!
What to do in Riding Mountain National Park?
Horseback Riding
You can explore the national park by any means whether it's hiking, biking, or in our case: horseback riding. With 30 horses roaming the 3,000 m2 property of HI Rossburn, 9 Finger Ranch, how could you not? The hostel offers guided horseback riding expeditions in Riding Mountain National Park.
There are many adventuresome options to choose from, but the most popular activity is the full day ride where you travel off-road to see some of the best viewpoints in the area. After riding through a tiny section of parkland (the national park is huge), you'll get to experience a bush BBQ, deep in the backcountry of Manitoba. The whole experience feels like you're straight out of a western movie.
Lake Audy Bison Safari
The bison is the official animal of Manitoba and for good reason. During a driving safari with Desmond Mentuck, a Parks Canada Anishinaabe interpreter, we learn that the bison represented a pivotal source of food, clothing and tools for natives that lived in the region. If you'd like to learn more you should make your way to Lake Audy for a guided Prairie Safari. It's fascinating how much Anishinaabe culture and the history of Riding Mountain National are intertwined.
There was a time when hundreds of thousands of bison were roaming the plains of the province. Not long ago they were nearly extinct from the province of Manitoba and nowadays it's extremely rare to spot them in the wild. They were reintroduced in the 1940s in a 500-hectare enclosure at Lake Audy. As you drive around, you'll find about 30 bison that can be observed in their natural habitat. It's the only way to get up close and personal with this huge animal.
Where to sleep?
There's no better way to unleash your inner cowgirl/cowboy than spending a few days in an authentic Manitobian ranch. HI Rossburn 9 Finger Ranch in Rossburn is the best place for travellers on a budget who would like to experience the countryside lifestyle without breaking the bank. It is conveniently located close to Riding Mountain National Park.
Should you need to chill after a day of adventures in nature, let the sunset steal the show while you relax in their jacuzzi, by the fire or across the road by the lake! HI Rossburn 9 Finger Ranch is without a doubt one of the best-kept secrets of Manitoba.
3. Winnipeg, Manitoba
Let yourself be charmed by the most surprising city in Canada. Winnipeg reminds us of Montreal because of its vibrant cultural scene and diverse culinary offerings. It's also a hotspot for design and emerging music. It's no wonder Winnipeg has been named the creative capital of Canada! Who knew this overlooked city (hidden right between the coasts), could be so exciting!
What to do in Winnipeg?
Discover the Forks Market
If you're foodies like us, you must explore the food scene of Winnipeg. Head to The Forks Market, where you'll find local artisan products as well as a microbrewery and many restaurants to please everyone. Since Winnipeg is so multicultural, you'll have a plethora of international cuisine to suit your taste buds ranging from Japanese, Italian, Caribbean, and so much more! Fun fact: The market is called The Forks because it's where the Red and Assiniboine rivers meet.
Visit the Canadian Museum for Human Rights
Visit the Canadian Museum for Human Rights, the first national museum built outside of Ottawa, for an educational tour through history. With its unique architecture (designed by 1 of 100 architects that applied from 21 different countries) and culturally-significant galleries, it has understandably become the icon of the province. In fact, you can spot it on the new Canadian $10 bill. It's an essential visit to understand the treatment against indigenous communities better, but also to raise awareness about all the other movements that have impacted human rights throughout history.
Explore the Different Neighbourhoods
Take a stroll through the Exchange District and the Design Quarter. In this part of town, you'll find the largest collection of heritage buildings in North America. Check out the many art galleries, impressive street art, and cute boutiques selling local products as well as trendy cafés and restaurants.
Travel tip: Try out Clementine, it's the new hip eatery in town, especially for brunch.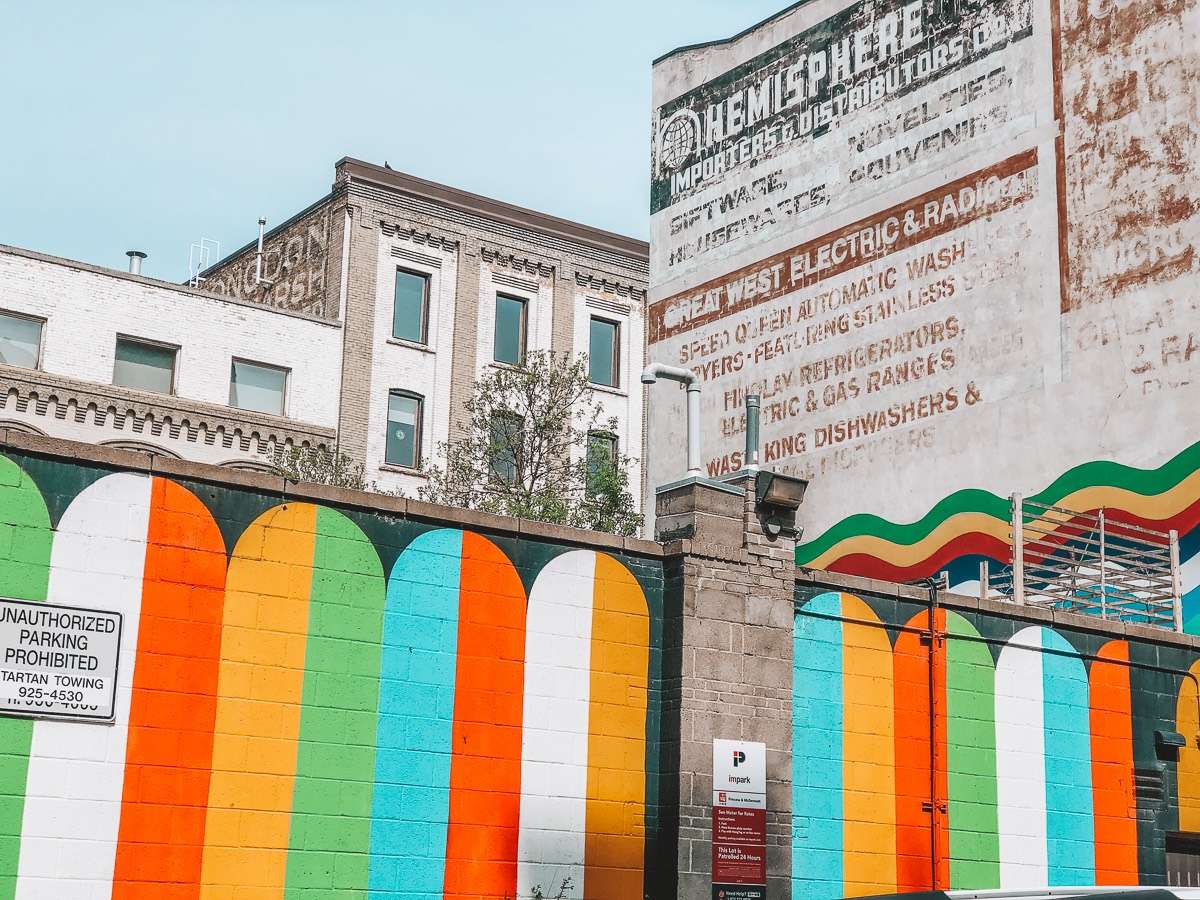 Canada's oldest French Quarter outside of Québec is the neighbourhood of Saint-Boniface. Franco-Manitobans are very proud of their heritage and to learn more about why, join the guided walking tour of Old Saint-Boniface. You'll better understand Louis Riel and the role he played in shaping the history of Manitoba, but also of Canada.
As a matter of fact, the highlight of the tour is hearing the explanation behind the abstract Louis Riel statue. And your jaw is sure to drop in front of the façade of the old St. Boniface Cathedral: it's still standing after a fire destroyed the whole building. The new cathedral has a lot to offer with a collection of painted glass adorning its structure.
Pamper Yourself at Thermëa Spa
If you're feeling like some R&R make your way to Thermëa Spa! Just a short distance from the city, it's the place to be to realign your chakras and find your zen. During your visit, don't miss out on the Aufguss Ritual at the Finlandia Sauna: an all-senses hourly event where essential oil-infused snowballs are placed on heated stones to create a healing steam. As the music starts, the Sauna Meister performs a dance while waving towels to distribute the heat around the sauna through a choreographed routine. It's one of the only places in Canada where you can enjoy this calming European ritual. After the ceremony, try the salt scrubs to gently exfoliate your skin before resuming with the thermal cycle experience. Instant relaxation!
Manitoba is not only at the heart of Canada according to geography textbooks: it's also a much-loved province where many cultures meet and thrive. It's an underestimated province that quickly rose to the top of our recommendation list. Trust us, you'll be happy that you didn't skip the Prairies during your trip from coast to coast!
There's still so much to see and do in Manitoba! What should we add to our list?
Check out our other destinations across Canada