If you are a Canadian and you love to travel, you know how expensive it is to fly to opposite coasts of the country. We love that Canada is big and beautiful, but this also means our favourite people and places are spread out and pricier to reach.
How crazy is it that it often costs less to go to Europe, North Africa or the Caribbean than to fly from Toronto to Vancouver?
Thanks to the pandemic (finally, something positive!), domestic travel has exploded. As a result, airlines are offering more direct flights. I have lived in Kelowna since the start of the pandemic, and I'm thankful that Air Canada has finally launched direct flights to Montreal. This is great news; however, a ticket costs anywhere between $320 to $840 for only one way! Ayaya! 
Luckily, the Ultra Low-Cost Carrier Flair Airlines is expanding its reach across Canada. Hopefully, this will encourage the Air Canadas, Air Transats and West Jets of the world to lower their prices. One can dream.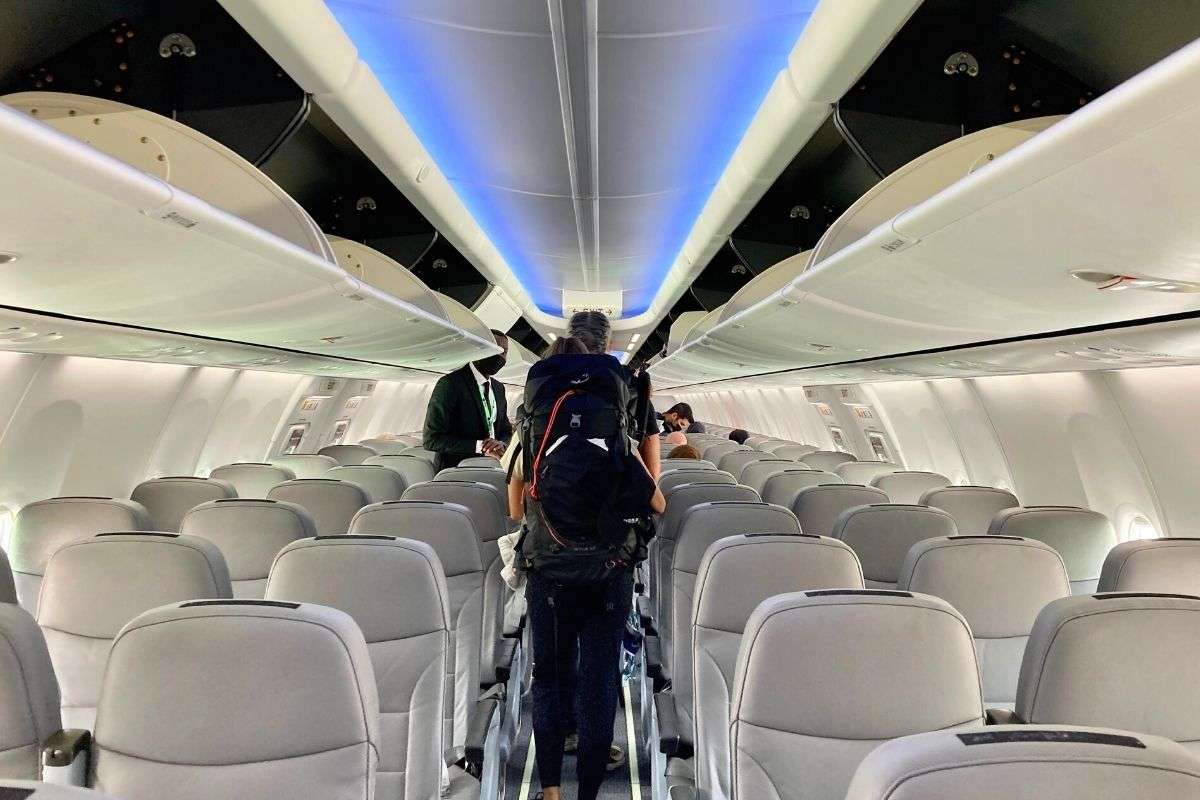 I've seen so many posts on Facebook travel groups asking about Flair Airlines. People want to know if it's a "legit" company because their prices are so low. Keep in mind this post is NOT sponsored. I share my honest opinion and that way you can decide if it's right for your travel style.
Is Flair a "legit" airline?
I understand that for many people, this new budget airline seems too good to be true. I was skeptical too, but that didn't stop me from booking my Toronto to Kelowna ticket at $74 instead of $400. You have more to gain than to lose. I never worried about the newness of the company.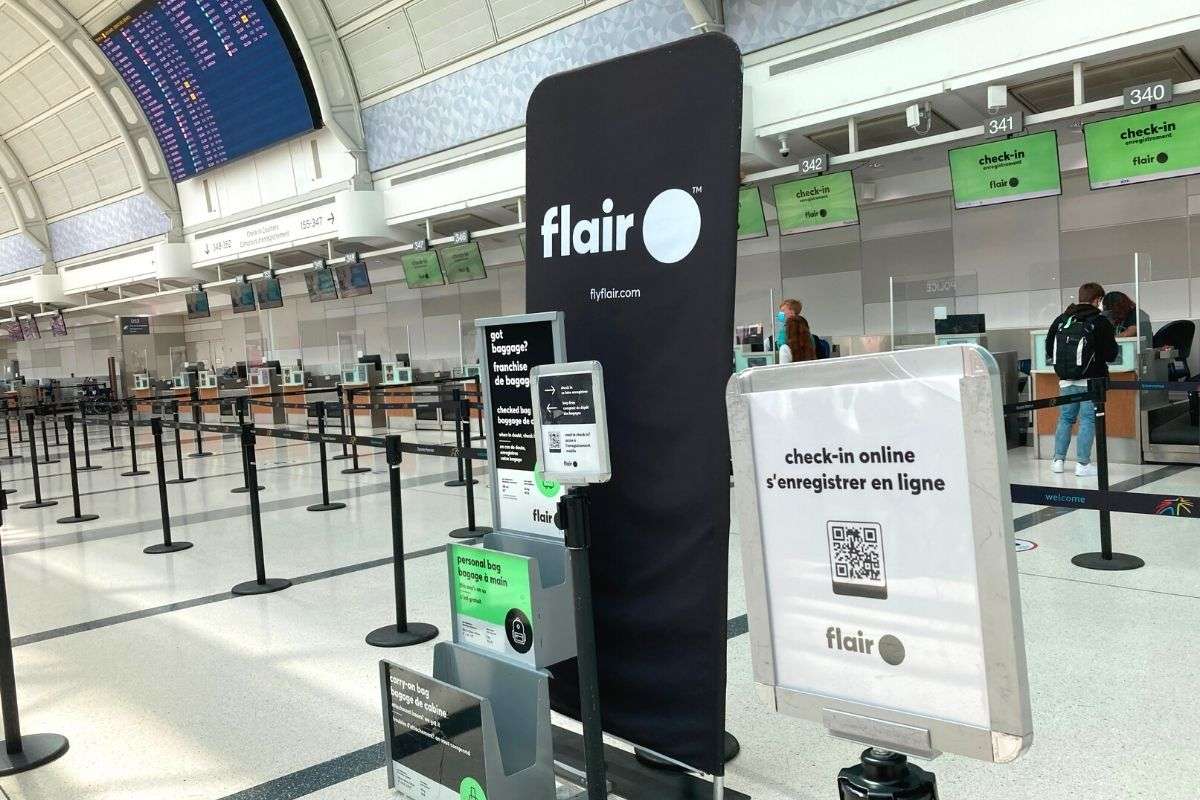 Flair Airlines launched in 2017 and is headquartered in Edmonton, Alberta. Since December 2020, they have flown approximately 2.3 million passengers on 18,000 flights. According to their website, Flair is the only independent low-cost carrier in Canada, and the company serves 19 Canadian destinations.
Canadian Destinations
⬤ Abbotsford (YXX)
⬤ Calgary (YYC)
⬤ Charlottetown (YYG)
⬤ Edmonton (YEG)
⬤ Fort McMurray (YMM)
⬤ Grande Prairie (YQU)
⬤ Halifax (YHZ)
⬤ Kelowna (YLW)
⬤ Kitchener-Waterloo (YKF)
⬤ Montréal (YUL)
⬤ Ottawa (YOW)
⬤ Prince George (YXS)
⬤ Regina (YQR)
⬤ Saint John (YSJ)
⬤ Saskatoon (YXE)
⬤ Thunder Bay (YQT)
⬤ Toronto (YYZ)
⬤ Vancouver (YVR)
⬤ Victoria (YYJ)
⬤ Winnipeg (YWG)
American Destinations 
⬤ Fort Lauderdale (FLL)
⬤ Las Vegas (LAS)
⬤ Orlando Sanford (SFB)
⬤ Palm Springs (PSP)
⬤ Phoenix-Mesa (AZA)
What's the catch?
No catch! You'll have to compromise, but not on comfort. Flair planes are brand new, shiny, and sparkling clean! Get ready for the no-frills version of flying. Fewer amenities, but for a lower price.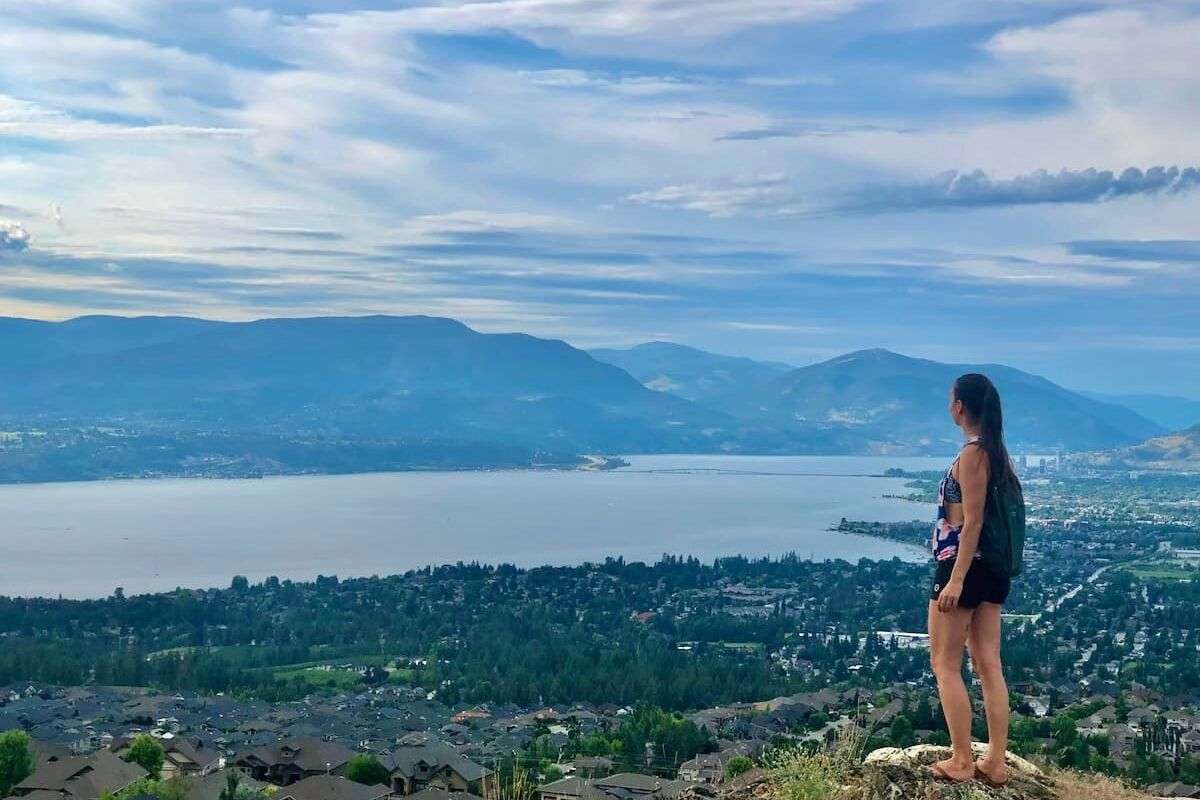 I PAID $74 FOR MY FLIGHT FROM TORONTO TO KELOWNA!
What you should know:
You won't be offered any food or drinks, which is becoming the norm on major airline flights anyways. Bring your own lunch and snacks!
No screens are available. Therefore, be sure to download your favourite Netflix series before boarding.
Carry-on is extra. To get around this inconvenience, use the free personal item you are entitled to, which measures 15cm x 33cm x 45cm. You'll have to pay for any checked baggage, but this is now the case with other airlines.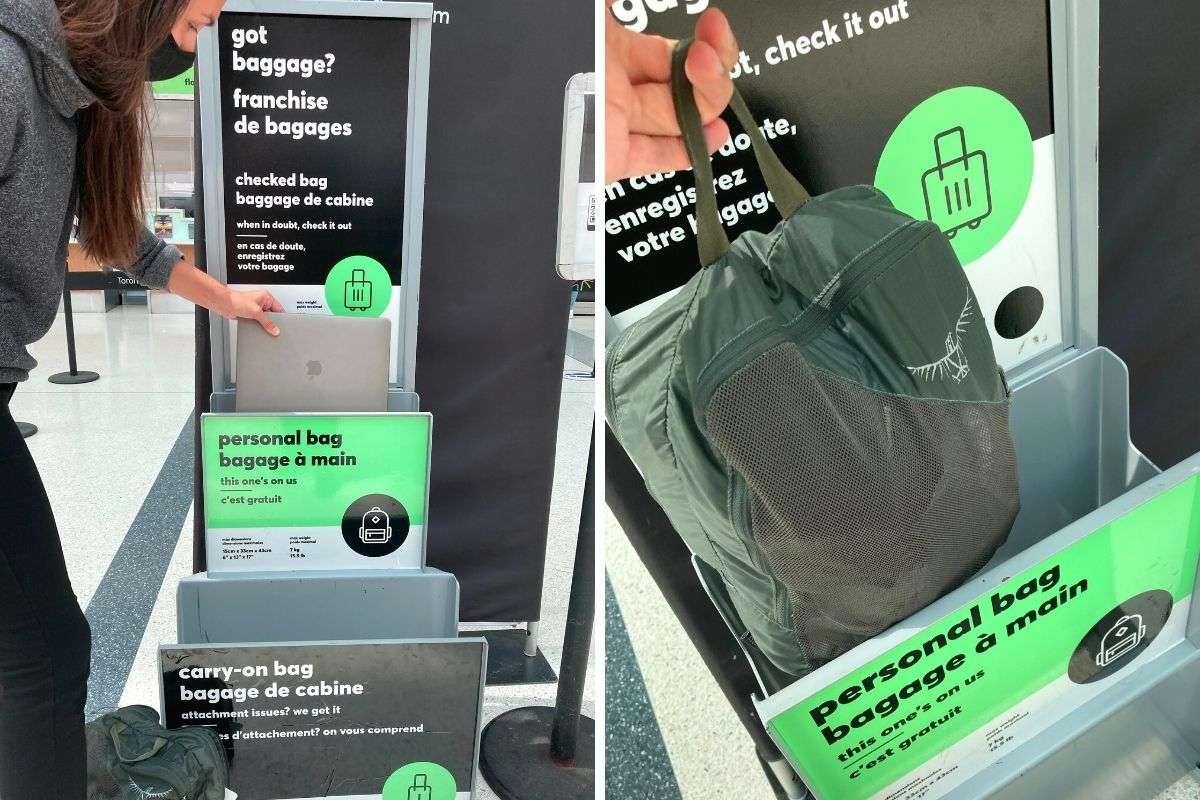 Nomadic tip: You don't need a carry-on! Pay to check your backpack and bring a bag the size of your laptop for free with you on the plane. You'll have enough room for your socks, snacks and other essentials!
Flair flights are really ideal for:
Backpackers! If you're used to low-cost Air Asia flights in Southeast Asia or Ryanair flights in Europe, it's exactly the same principle! You save on your plane ticket, saving more of your budget for memorable experiences!
One-way flights. We know that sometimes we pay almost the same amount for a return flight as one leg of the trip. With Flair, it doesn't cost you much for one way.
Canadian Explorers. I have already crossed Canada from coast to coast in 60 days by car, and I think it's so great that so many destinations are now accessible and affordable to reach by plane. It's finally possible to spend a weekend in Halifax!
Those who like to book their trips in advance. You save even more if you book your flights weeks or even months in advance. And at this price, it's not the end of the world if you miss your flight for $39 versus $1000.
YOU DON'T HAVE A USB CHARGER AND YOUR SEAT DOESN'T RECLINE, BUT YOU SAVE BETWEEN $200 AND $500 PER FLIGHT.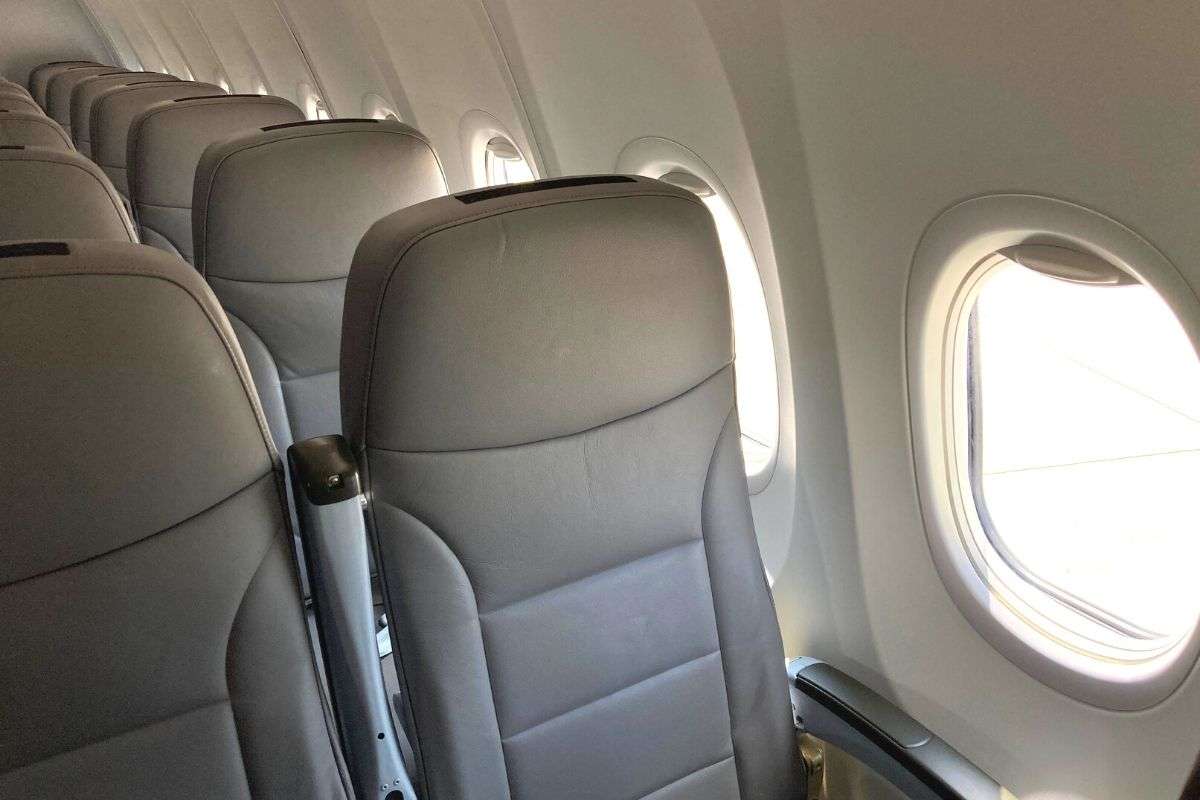 What we love about Flair Airlines
The reasonable ticket prices
With flights starting at $39 one way, it's hard not to get excited when you book your flight.
The shiny new planes
They have that irresistible "new car" smell! Their entire fleet of Boeing 737 aircraft is brand new!
The comfortable airplane seats
The seats don't recline; however, I found the angle comfortable. I loved the private jet look with the faux leather and sleek hardware.
The alternative destinations
The rest of Canada has never been so accessible by plane! You can get to your final destination faster with Flair. For example, you can take a flight to Abbotsford in the suburbs of Vancouver and then take a shuttle to downtown.
Their COVID coverage and cancellation policy
It states on the Flair website: Due to the ever-changing safety measures in provinces Canada-wide, Flair has included complimentary COVID coverage on all of our flights during the period while restrictions are in place from public health authorities. The coverage provides customers the ability to rebook on any future Flair flight, or if they are not sure of their desired travel date, redeem a future travel credit.
*This information is up to date as of August 19, 2021. Be sure to check the website for policy details before you book.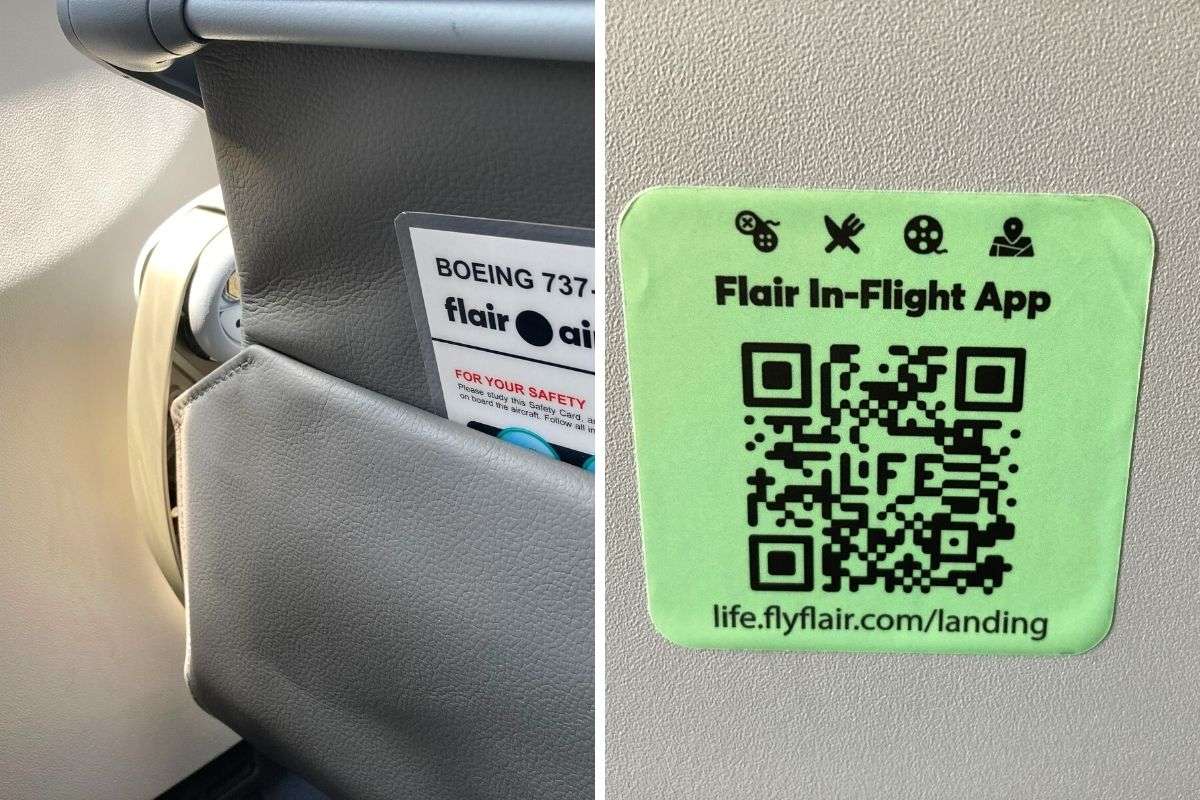 What could be improved on Flair Airlines?
I'll say it again; this article IS NOT SPONSORED by Flair. This is based on my personal experience. The goal is not to embellish reality. Like any airline, Flair will have the occasional late flight and a sliding scale of flight attendant friendliness.
My one suggestion is that Flair could offer to fill their passengers' water bottles. You can refill your bottle at the airport; however, it would be nice to have a top-up while on board.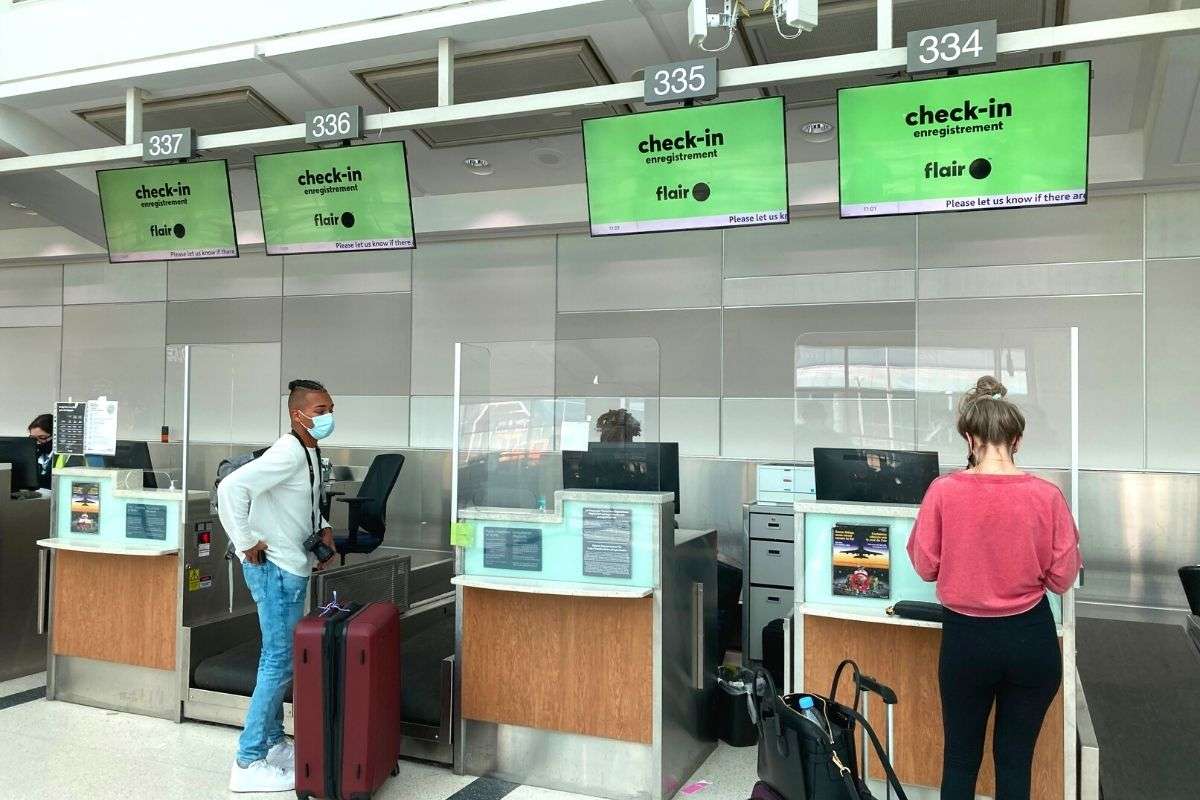 Flair is the perfect solution for backpackers who want to explore Canada on a budget.
In conclusion, seasoned first-class flyers might not love the basic vibe. Alternatively, Flair Airlines is a great fit for backpackers looking for a deal. Your bank account will thank you for choosing low-cost flights!
Are you ready to test a low-cost flight in Canada?
This article was originally published in French and adapted in English by Britney Claveau.