Wild camping remains one of the most beautiful ways to enjoy nature. When you're off the beaten path, it's easy to take in your surroundings and express gratitude for where you are. Whether you're a lover of the earth or travelling on a budget, pitching your tent in the middle of nowhere will give you a Western Canada experience you'll never forget. And sometimes you can even camp for free!
iOverlander: A Valuable Tool
If you plan on wild camping, download iOverlander as a first step because you will need it. You can find a free campsite (or one at a small price) no matter where you are via the app. If you are travelling by car, you can also find places to park overnight. Since these campsites can be quite popular, make sure to have a Plan B if you don't want to end up sleeping under the stars. It has happened to me several times where I've driven several kilometres through the woods to realize that someone had been faster than me. It's all part of the game. Campendium and Boondocking are two other apps that offer similar services.
Wild Camping in British Columbia
If you are looking for campsites in British Columbia, you can visit the Recreation Sites & Trails BC page. It provides rustic campsites in many different regions. Each campsite is unique: Some are located deep in the woods, accessible only after driving a few kilometres down a logging road. For this, you will need a reliable 4×4 vehicle. Others are a little more accessible. The price for a night is between $0 and $15. Reminder: Make sure you have some cash on you.
You might also like: 10-day British Columbia backpacking itinerary
Where To Go in the West
Here are some free campsites I had the chance to sleep at. If you're travelling West this summer and have plenty of time, it's possible to add them all to your itinerary. If you're passing through, I suggest you try at least one of the spots.
Abraham Lake in Alberta
You can take the famous Icefields Parkway (Highway 93), Alberta's most scenic route, to reach the lake. Eventually, you will merge with the AB-11, where you will come across several scenic spots along your way. Each site has several completely free campsites.
It's hard to find the words to express how much I loved my stay at Abraham Lake. Not only were we located by the stunning turquoise lake, we felt immersed in nature. We were eating our fondue at supper when hundreds upon hundreds of dragonflies began to fly above our heads. Then the full moon rose over the water. The only problem was that the water level of the lake had risen during the night. (This makes sense as it's a reservoir.) It rose to such a point that we were stuck there with our cars, and it would have been impossible for us to leave. So, be careful if you go there at the end of the season, as we did!
Do not forget that it is a privilege to camp at these places. We must respect mother nature and the animals that live there. Learn more about bears before you go.
Revelstoke in British Columbia
This charming little village in the Kootenays is one of the most beautiful ski destinations in Canada. Take a tour during the summer season: you will appreciate the local vibe (which is less touristy than in the winter.)  You can get there via the Trans-Canada Highway.
To secure your free camping spot, you then take Route 23. While driving on this road, you will come across the Revelstoke Dam. As you continue for several kilometres on Highway 23, you might start to see cars parked by the side of the road. This tells you that the location is probably occupied. If this is your first time in the area, don't be discouraged. It's trial and error, and you don't know where the pitches are. Take heart: This is wild camping; nothing can be planned or guaranteed. There might be other spots available further down the road.
Sun Rock at Naramata in the Okanagan Valley
The Okanagan Valley is definitely my go-to destination in British Columbia. Its microclimate makes it feel like you're in California. You might want to tour a few vineyards while you're there. You can choose from more than 40 in the Naramata region.
If you're coming from Revelstoke, you'll take the Trans-Canada Highway. Then you get onto the 97A exit, which will turn into Highway 97. You'll be amazed by the rapid change of landscapes in just a few hours.
Sun Rock is located by a lookout along Naramata Road with a view of Lake Okanagan. It's named after a rock painted with a sun, which also makes it easy to spot. If you can find a spot here, be mindful of heatstroke! It can get sweltering with the sun is beating down, and unfortunately, you won't have direct access to the lake. But the view is incredible! Again, it's good to have a Plan B: the campsite is popular and only has one pitch.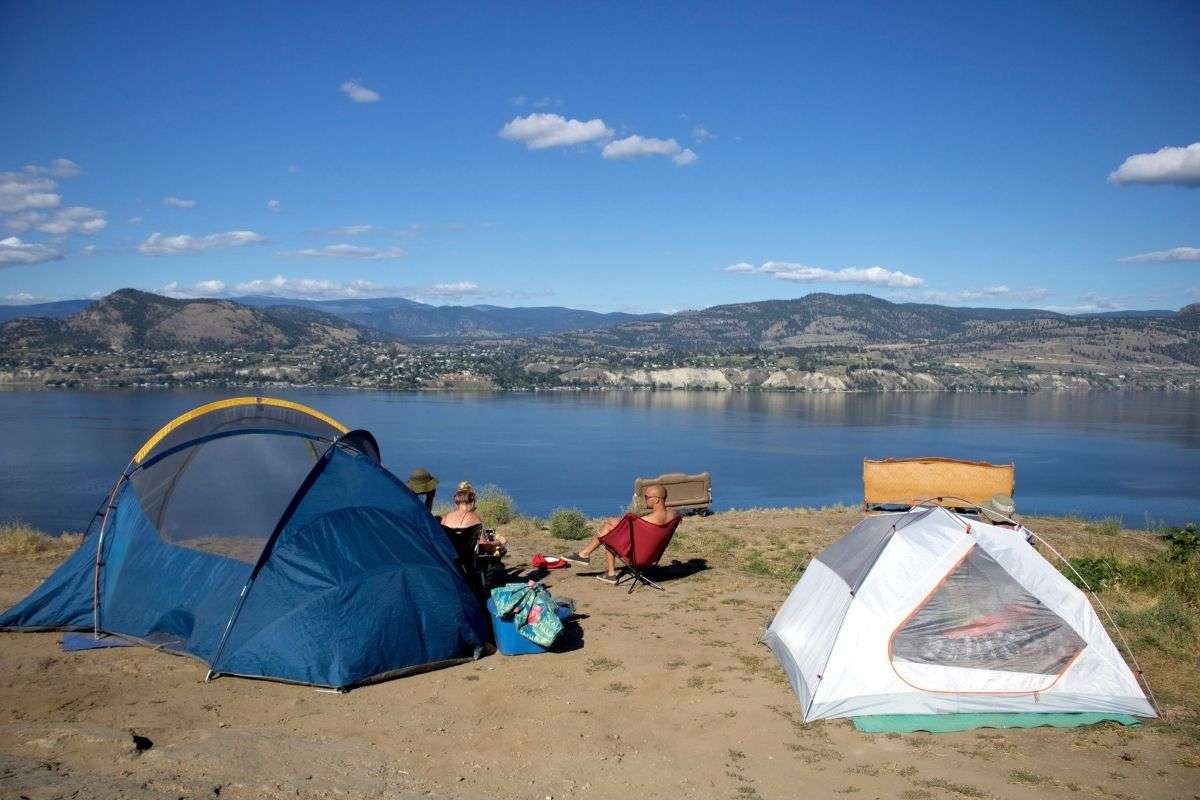 If you have some wiggle room in your budget, don't miss staying at the Spray Lakes Reservoir campsite for a few extra nights. I strongly suggest you add it to your Alberta itinerary.
Camping while travelling brings you incomparable freedom. In my opinion, you have to experience Western Canada like this at least once in your lifetime. Pack up your car and start your adventure today!
Do you camp for free? What are some of your favourite free campsites?
This article was originally published in French and adapted in English by Britney Claveau.