Do you feel a rush when you think about driving fast cars? Maybe you've dreamed of driving limitless speeds on the autobahn. You can take your thrills to the next level: rent yourself a sports car in Germany and discover its hidden sights in style. Who knows? You might even max out your speedometer (legally!) at the world's biggest public racetrack!
If this sounds like the type of Euro-trip adventure you want for your memory bank, read on for more details about my honeymoon road trip through Deutschland (Germany).
I first went to Germany for a 75th birthday party when I was 12. I remember lots of strange food (rabbit stuffed with tiny octopi), upbeat accordion music, and a little bit of homesickness. Ever since then, I've wanted to return and explore the country on my own terms. My dream finally came true when we booked a road trip through Germany and Switzerland for our honeymoon!
When choosing our honeymoon destination, we reflected on all the trips we'd gone on together and apart. We decided we liked the fly-by-the-seat-of-our-pants vacations best. My husband loves driving, and I'm a self-proclaimed great passenger/navigator, so a road trip made the most sense. South America was out (this was during the height of the Zika virus), and our late September departure date called for a magical European adventure.
Nomadic Tip: Fall is one of the best times to visit Europe because it is less busy with schools back in session. Plus, the cooler temperatures make it more pleasant to be outside and active.
We planned to spend 5 days driving through Germany and Switzerland and then 7 nights on a Mediterranean cruise for our honeymoon. We ended up visiting 7 countries in two weeks!
For the first leg of the trip, we'd be driving almost 2100 km through big cities and the countryside. It worked out to approximately 5 hours on the road each day. Keep in mind you can cover a lot of ground when the speed limits are higher. 
Munich, Germany
Unbeknownst to us, we arrived in Germany's capital on September 18th, the very first day of Oktoberfest. This was a funny thing to overlook for a couple that planned out every possible detail via spreadsheet. I was upset that I didn't have a traditional Bavarian outfit to fit in with the crowd. We couldn't look more like jet-lagged tourists if we tried. I kept telling my husband, "These are my people, these are my people!" (My dad's side is from Germany.) But, unfortunately, no one welcomed me with open arms. Perhaps a more festive outfit would have helped.
We picked up our rental car at the Munich airport (a BMW convertible because if you're going fast, you might as well look fancy, right?) Another travel tip is to pick up and drop off your rental car at the same location. We saved A TON of money doing this. Generally speaking, the bigger the city, the better the rate.
Note: Look into applying for an International Driving Permit (IDP) before you go. You don't need one for Germany, but it's a good idea to have it, just in case you decide to drive through other European countries as we did.
Beers for the Kitchen Staff
We were exhausted from our layover flight from Canada, so we opted for a low-key evening of dinner and drinks. We took the subway to the restaurant district, just shy of the downtown party scene, and walked up and down the main street until we found a restaurant that sounded the most like my Oma's living room. When we reached Bachmaier Hofbräu, we were lured in by the polka music and the friendly clink of beer steins.
We ordered an array of sausages with red cabbage and sauerkraut. I asked for something "strong and fruity" to drink, and the bartender made me this out-of-this-world concoction of champagne, rice beer, limoncello, ice, muddled mint, and lime. I had two, which made me a little bit tipsy, but not as tipsy as our waiter. Apparently, it's customary to order beers for the kitchen staff. Five euros to buy six small beers for the people in the back!
That night we stayed at the Innside by Meliá München hotel. At first, we thought there was a mix-up because we were given a room with two separate beds. The front desk staff apologized (saying they mixed us up with football players) and upgraded us to another room. We couldn't stop laughing when we walked into the second room—it was the same except that the beds were pushed together. We learned early on that there is no such thing as king-size beds, just two singles pushed together, with their own sheets. This was the theme for most of our trip. So romantic for your honeymoon.
Driving the Autobahn in Germany
After a much-needed sleep and a continental breakfast consisting of muesli and meat and cheese and yogurt and lattes, we hit the road, excited to try out the autobahn. Spoiler alert: We got our car up to 240km/h! Before you report us to the police, know that it's LEGAL to go this fast on some sections of the autobahn. There is a designated lane for high-speed travellers. You need to really pay attention to the road signs because the rules can change quickly depending on where you are. It's not a free-for-all like I once believed; you can only drive fast in de-restricted zones.
Fun (or not so fun) fact: When a highway lane closes for construction in Germany, the flow of traffic isn't interrupted; workers simply paint more lines on the road. So a 3-lane highway becomes a 4-lane highway. Now there are only a few centimetres between you and the nearest transport truck, which can be very nerve-wracking, even for the experienced driver.
We were happy to find that most drivers on the autobahn use cruise control, only pass on the left, and seemed unphased by traffic jams. Overall, we found that the drivers were more assertive and aggressive in Germany than on a regular highway drive in Canada.
Nürburg, Germany
Our loop of Germany and Switzerland was inspired by a desire to drive one of the most famous public racetracks in the world. If you haven't heard of the Nürburgring, it's a 20-kilometre-long track with 170 corners and no speed limits. The track is known as "The Green Hell," and it attracts professional drivers and tourists from all over the globe. For my husband, it was an opportunity to practice his budding car tracking skills, and for me, it was a nice adrenaline rush on a Sunday morning. There's also the hilltop Nürburg Castle nearby, dating back to the 1100s.
Driving on a World-Class Racetrack
It was pretty funny to see the different vehicles on the track, ranging from half a million-dollar Lamborghinis to beat-up vintage cube vans. We even saw a tour bus! Unfortunately, we only got to go around the track once because of a crash. (Thankfully, no injuries!) This was probably for the best, as we were in a rental car. We found out later that you're not allowed to take rental cars around the Nürburgring, and we were lucky that a photographer didn't report us. Or worse. Definitely, definitely, definitely hire a car from one of the companies that specialize in track rentals. There are so many in the area. And they come with insurance specifically to cover accidents on the track.
After checking out the shoppes and brand new Bentleys, we had dinner and drinks at the Pistenklause Pizzeria. What we thought was a hole-in-the-wall place turned out to be a famous meeting spot for car gurus from all over the world. We loved the food and the atmosphere. Ordering meals in Germany was a piece of cake; most places had an English menu, and we made sure to use German greetings and phrases with the staff. Bitte! Danke! Bitte links abbiegen! (Which we learned means "please turn left," thanks to our friendly GPS. After dinner, we checked into the Lindner Congress and Motorsport Hotel, minutes away from the track.
Taking the Backroads
We woke up early the next morning with no set plans other than reaching Versoix, Switzerland, by nightfall. After a couple of lattes, we packed up the car and left Nürburg before the revving engines, and squealing tires came to life. While en route, we marvelled at the fog-filled valleys and smelled the crisp cool air and the trees. Our souls were happy the whole trip, but something about this moment, driving through nature, not really knowing what sights we would encounter along the way, felt magical. We wanted to soak in as much of the German countryside that we could. Seeing a castle up close was a must!
Heidelburg Castle
I toured Heidelburg Castle when I was 12, and I thought it would be a shame not to stop in and relive my childhood wonder. It was just as I remembered it, crumbling yet majestic despite being hit by lightning, twice! Constructed in 1214, Schloss Heidelburg stands the test of time, left untouched by the WWII bombings. During this visit, I learned that the University of Heidelburg is the oldest in Germany and has spawned many of history's greatest minds. You can see it in the valley below.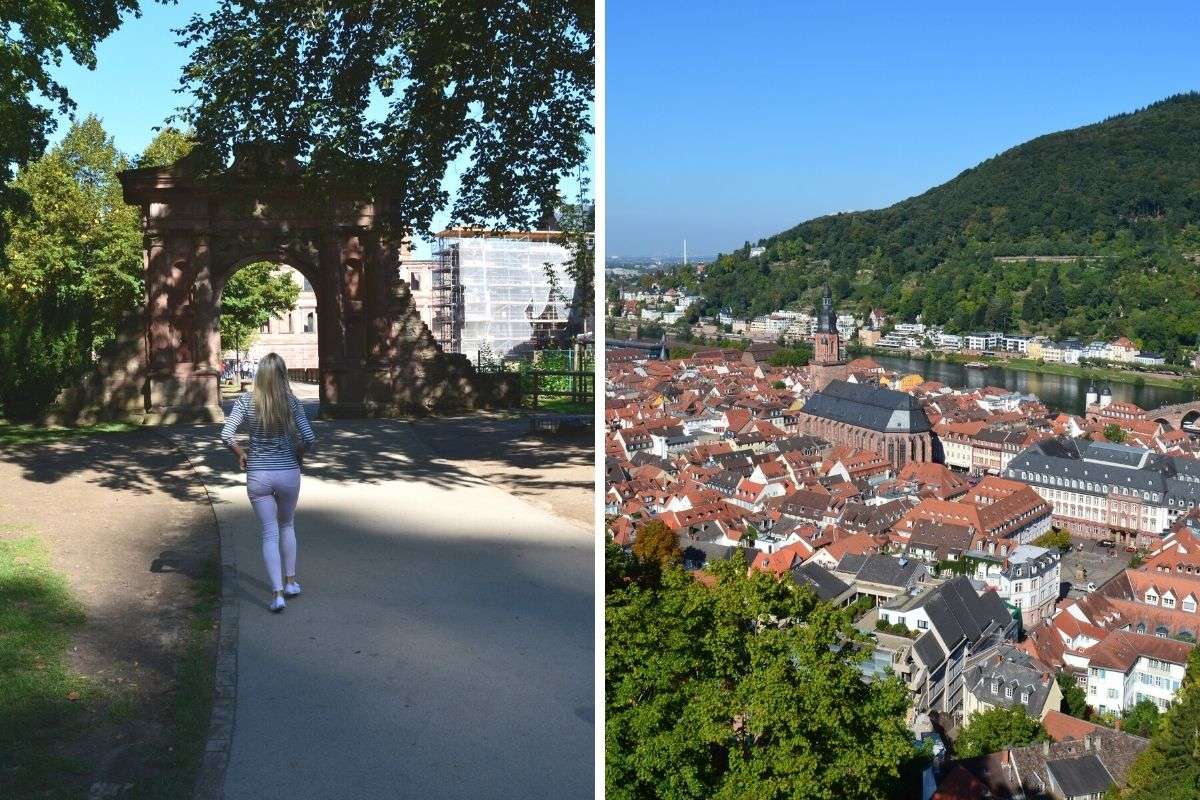 The sun finally came out after we toured the castle grounds, and we drove convertible-style all the way back from the hillside. Next stop: Bern, the capital of Switzerland!
Looping Back into Germany
For writing purposes, I'm going to save our tour of Switzerland for a separate post and skip right into our return to Munich.
We didn't mind the extra kilometres because it meant we got to drive the autobahn once again and see more castles. Is there a Disney movie about princesses who like to race cars?
Fast forward to a rainy and early morning two days later, leaving Lucerne, Switzerland. We took a shortcut across Austria to get into Germany. It's amazing how much time this saved us! (Mind you, this was a few years back, so there might be stricter border restrictions now.) Don't forget to buy your vignette toll sticker in advance! You'll need it for crossing the Austrian border, no matter how short of a visit. We were in Austria for 45 minutes, and the only evidence that we crossed country lines was a little Austrian flag waving from a small bridge.
Neuschwanstein Castle
Neuschwanstein Castle is the prior home of King Ludwig II of Bavaria, an anti-social king who commissioned the build of the impressive fortress where he could live out a solitary life. He grew up in the nearby Hohenschwangau Castle, which was built by his father, King Ludwig. After losing his army and his sovereign status, King Ludwig II converted all the servant rooms and social spaces into rooms for himself. From 1869 to 1880, he oversaw the creation of a sad fantasy world for himself where he could be a "real king." And then he died, alone, in 1886.
Fun fact: The Disney World Castle that we know and love is modelled in part after Neuschwanstein Castle. This is why the castle in Germany is such a popular tourist attraction.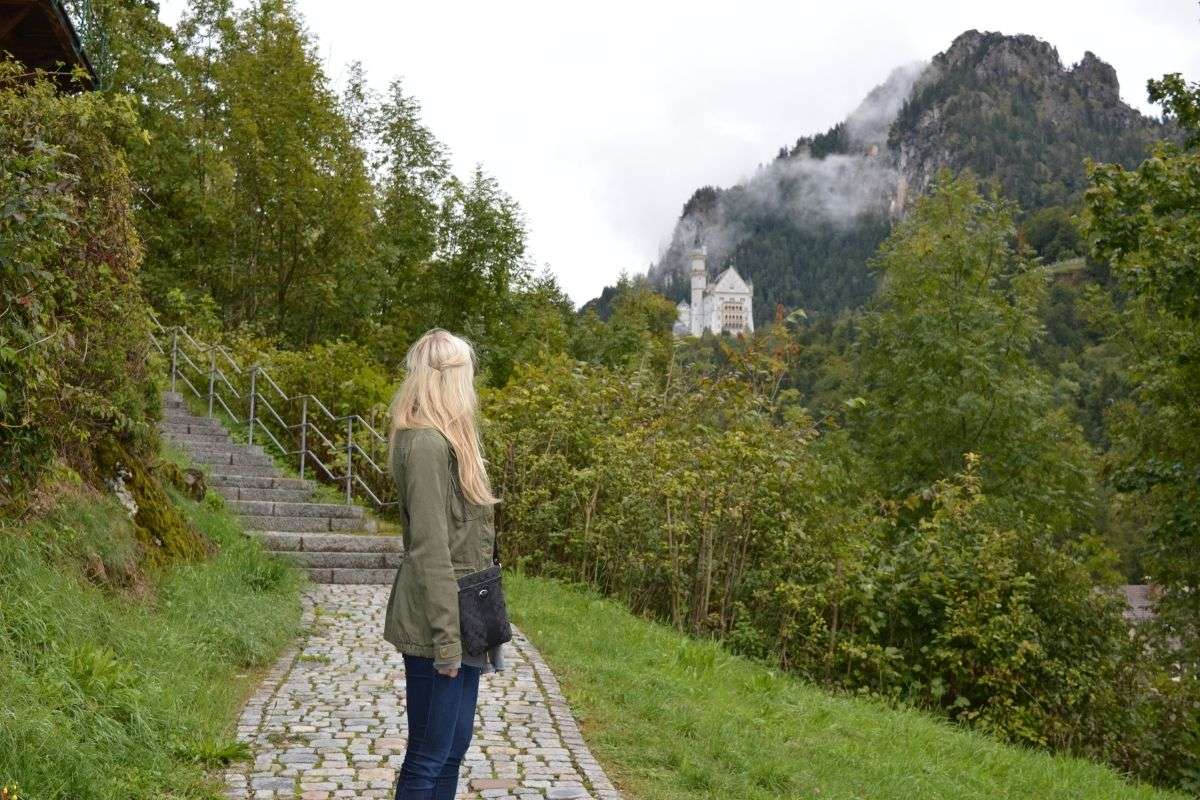 To be honest, I was a little disappointed in myself for getting caught up in the magic. I much preferred to visit Heidelburg Castle because it was older and more historically significant. Yes, Neuschwanstein Castle and its surrounding landscape may be breathtakingly beautiful; however, I found myself craving older, more dilapidated castles with real stories to tell. I did find it lovely to inhale some fresh mountain air and gaze at the picturesque green pastures below. And I got to experience the scariest bus ride of my life. I had white knuckles gripping the handles as we drove up and down the curvaceous hillside with an enthusiastic singing bus driver.
Moosinning, Germany
For our last night in Germany, we booked an Airbnb in Moosinning, about 15 minutes from the Munich airport. The place was straight out of a Pinterest inspiration board and had a gated entrance, fields of apple trees in the backyard, an onsite yoga studio and the sweetest polydactyl cat you've ever met.
Dinner that night was schnitzel and fried potatoes at a quaint local eatery down the road. I now have an addiction to eating mayonnaise on French fries, thanks to this restaurant. Germany has squeezable Heinz mayo on the tables for this purpose—something you don't really see in Canada.
I would have loved to do a morning yoga session after tea on the veranda; however, we had to be up at 5:30 am for our flight to Rome, Italy, to catch a cruise ship. It's a hard life when you're on vacation.
Our German road trip consisted of A LOT of driving, but it suited our travel style perfectly. We didn't mind the constant stop and go. And we planned extra time to follow interesting attractions along the way. As a bonus, the rest stops in Germany were super clean, and they even served full home-cooked meals!
I find that you can have the best conversations while on the road with nothing but hot teas or coffees between you and the world before you. You'll develop essential teamwork skills as you navigate the unknown (especially when your GPS is stuck in a foreign language.) You'll make so many memories as you plan, problem solve and compromise together. And overall, I believe a successful road trip can pave the way for a lifetime of happiness (if you travel with a partner.) And if it doesn't, you can always hit the road solo!
If you love to drive (or you're a fun passenger), consider going on a long road trip to somewhere new!
You may also like: Beer, Castles and a Eurotrip: Why You Should Move to Germany for a Year
What's the longest road trip you've taken?