Do you have what it takes to survive for 5 days in Patagonia with only your backpack? With no experience besides multiple-day guided hikes and small solo hikes, I told myself that I could go for a trek in complete autonomy. My big debut was in Torres Del Paine, a magnificent national park located in Patagonia all the way to the south of Chile. Why not go to the very end of the continent to start hiking? Because Canada is not big enough, perhaps?
There are two typical trails in this park. The first is the O, which allows you to do the big loop that takes an average of seven to nine days, unless, like the Germans I met the day before my departure, you climb Everest and K2 every day. In short, don't listen to the zealous overachievers; fewer kilometres per day is better when you're planning to walk a long time, especially in Patagonia.
You might also like: Do it by yourself: climbing the highest mountain in North Africa
Alternatively, there is the W circuit (the most popular and busiest trail), which is like the O, but without the top part. You avoid the biggest climb (and the biggest descent). I didn't do that climb, but others say it offers the best view of the whole trek. My pride was a little hurt.
I did do something like the W circuit with a little extra length. The left leg of the W allows you to see the glacier, but only from a distance. For me, that wasn't enough. I was told: "If you don't have time to do everything, at least go to the next camp, and from there, you are above the glacier."
SCOOP: IT'S WORTH IT, AND NOT BY JUST A LITTLE! The Gray Glacier was in my top two spots for the best landscapes of the trek, along with the Torres. Yes, the highlight of the Torres des Paine show is the Torres (SURPRISE!), and that is the other leg of the W.
You might also like: Machu Picchu: the secrets of an adventure under $99
Five days in Patagonia = a lot of preparation!
Five days might seem like nothing, but there's a lot to think about! We had to provide food, water, coats, boots, clothes, tent, sleeping bag, ground mattress, bowl, burner, propane and headlamps. And all of that had to fit in my 40L backpack. Why such a small bag? Because when hiking, you carry everything you put in your bag on your back, hour after hour. So imagine if you go with a 60L backpack. The chances are that your descents look more like rolls.
Despite preparing, reading blogs and revising the contents of my shopping cart multiple times, I still made some rookie mistakes. Not the same as those of the girl in the movie Wild (for those who don't know, it's the story of a girl who chooses to leave her chaotic life to hike 4200 km of the Pacific Crest Trail). But frankly, if I had to do it again, I would reassess some things.
You may also like: Top 20 places to explore before you die
Nomadic tips
Plan more time for yourself!
If you want to do only part of a long trail, the chances are strong that you'll want to do it all once your get there. Plan to do the long route, so you don't have to go crazy distances to see more things than you originally planned to finally end up with your feet covered in wounds (been there, done that).
Your hiking boots can be your best friend or your worst enemy
If you're not sure they're the right ones, or if you think they can't support the weight of your person and your bag, BUY THE BOOTS THAT WORK! Do what you want, but think about it first, because you're going to wear them all the time.
Trust me, finishing your trek with ten blisters on your feet and two purple toenails is anything but cute or fun. You can imagine that if I say that, it's because my boots were my WORST enemy.
Do you know what I did with them? At the end of the path and not a step more or less (I had to finish, I have a lot of pride, you must understand by now), I dumped them straight into the trash. I didn't look too hot on my short walk back to my hostel in beach sandals, but it was such a liberating moment. Hallejula!
You might also like: The Hiker's Guide to Choosing the Right Trekking Boots
On the less funny side, here are some of the things I recommend:
You might also like: 8 tips for living or travelling cheaply in Queenstown (New Zealand)
Hiking musts
Dehydrated meals are your best friend
Dehydrated meals are light, compact and nutritious. Forget about ramen soups! You have to eat well while hiking if you want to have the energy to make your engine purr. If you think the place you're going to might not have what you need, bring some from home! Otherwise, think healthy snacks, like nuts or dried fruit. I even prepared homemade granola, and I dragged it to Chile. Yes, no half measures!
Compact, lightweight and waterproof hiking gear
It's expensive, but it's worth it in the end if you don't have to pick yourself up like a lousy shoemaker.
The minimum amount of clothing, with layers that overlap!
If you're the type of hiker that wears pants with zippers, go for it. I opted for a pair of sports leggings, but just ONE pair of pants for the day and a few shirts for the evening. I packed a few layering tops (tank tops, short sleeves, long sleeves in merino wool, a coat, a raincoat, underwear). Know that you won't be super clean all the time, but guess what? Everyone is in the same boat! Besides, the woods are not exactly the best place to pick up a date.
You might also like: How to explore the world for less than $1000 a month
A slight preparation headache followed by a BIG WOW!
Despite the assault on my feet, I can't stop recommending the experience. Go ahead! Blisters heal and make you stronger! It was so worth it to see the landscapes of glaciers, mountains and surprisingly clear lakes. I loved the freshness of the air and the taste of pure water that we drank directly from the streams. These are the things I'm going to remember all my life!
How can we not forget the breathtaking views of mountains topped by glaciers, the snow-capped peaks where torrential rivers flow, the valleys with almost surreal shades of green, and the immense glacier called Gray of a thousand and one furrows? Then there's the Torres, an impressive rock at the very top of this infernal ascent, at the foot of an azure lake! Ah, Torres del Paine, I'm going to go back there one day, and I'm going to do the O and the big climb, and I'm going to pay to walk on the glacier!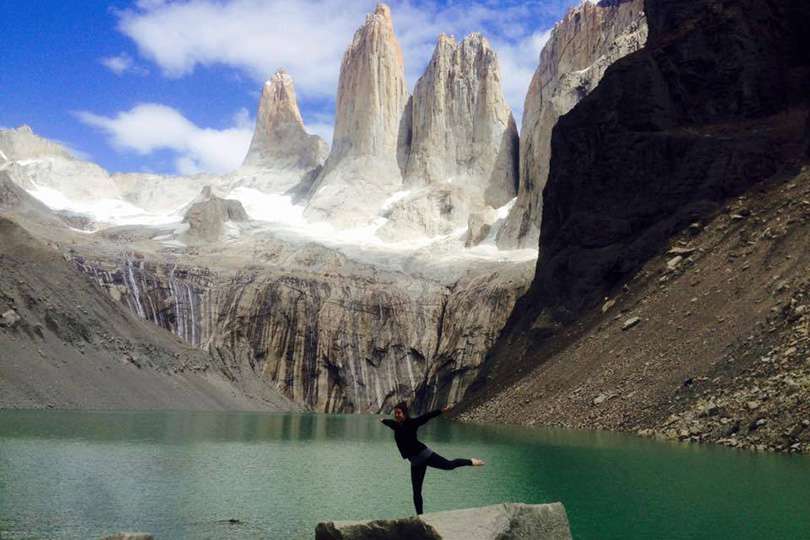 You might also like: Review of 2 years around the world: 10 things I would never have thought of
Funny anecdote: I fell in love with Patagonia so much that I went to the airport in Punta Arenas (like two hours from where I left for the trek) to try to change my return flight. It was really expensive, so I resigned from the idea. Once back in Santiago, I planned to go north in a rental car and guess what? I decided instead to go south. I didn't make it as far as my starting point (from two weeks ago), but I still made it to the northern end of Patagonia.
In short, going to Patagonia is like falling in love and never coming back. My body came back, but my soul didn't.
Do you also dream of Patagonia? Or are you planning a trek elsewhere in the world? Tell us about it in the comments!
You would also like: Travelling to escape life (or so that life does not escape you?)