Dreaming of crossing Canada? Don't wait until you've travelled all around the world to finally uncover the countless hidden gems spread from coast to coast. It's a bit embarrassing to admit, but Safia and I, the founders of Nomad Junkies, have been travelling to over 65 countries in the past five years and had yet to explore our own. You can imagine how hyped we were to set foot on the West Coast! We've always been under the impression that travelling in Canada was complicated and expensive… So, we've set out on a mission: to demonstrate how to travel on a budget across Canada.
Accommodation and Transport for a Cross-Canada Road Trip
To cut down on costs, we've rented a car in Vancouver (+/- $50/day including vehicle relocation), which we're going to drop in St. John's (Newfoundland). We've split the rental fees 4-way, so $12.50 per person. For gas, we've spent roughly $1,000 from Vancouver to Montreal (about 8,000 km) for an average of $7.50/person.
We've decided to stay in hostels to reduce costs, to each have our own bed, have access to a kitchen, meet new people and choose from a bunch of budget-friendly activities. HI Canada is the only extensive network of hostels in Canada, so the choice for accommodation was pretty straightforward. Check this out, if you become a HI Canada member, you'll earn savings at all 61 hostels across the country, but also with their many partners. As a reference, a night at a hostel costs roughly $30/person.
Transport: $12.50 (car rental) + $7.50 (gas) = about $20/day
Accommodation: $30 for a dorm bed in a hostel = about $30/day
You can budget about $50/day for transport and accommodation to travel across Canada, not including food and activities.
British Columbia: A 10-day Itinerary
1. Tofino, Vancouver Island (3 nights)
For a true coast-to-coast trip, start at the westernmost part of the country: Tofino in British Columbia. You'll find out for yourself, just about everybody that started out there describes it dreamy-eyed. Canada's official surfing capital, Tofino, is located on Vancouver Island; a three-hour drive and two-hour ferry ride from Vancouver. Yup, you read that right, the city of Vancouver isn't on the island of Vancouver!
If New Zealand and California had a love child, it would no doubt be Tofino. The people there are very laid-back and spend all their free time in nature. The scenery is lush, the weather temperate (no snow in the winter), and the waves attract surfers from all over the world. Here you can admire sunsets, whales and even storms.
Where to Sleep in Tofino?
Stay at HI Tofino, a hostel right by the water where you can chill by the fireplace with a million-dollar view of the Pacific. Everything in town is a walking distance from the hostel. With a HI Canada member card, you can get deals on many activities and restaurants.
Stopover at Cathedral Grove
After spending a few days in Tofino, head over to Nanaimo, on the other side of Vancouver Island. On the way, make sure to stop at Cathedral Grove in MacMillan Provincial Park. It's the most accessible spot on the island of Vancouver to see protected giant trees. A true wonder of nature, Giant Douglas Fir trees can reach the impressive height of 50 metres with a 9-metre diameter. If these trees could talk, they would have quite the stories to tell as some of them are over 800 years old. This free activity is a must-do in British Columbia.
Stopover in Nanaimo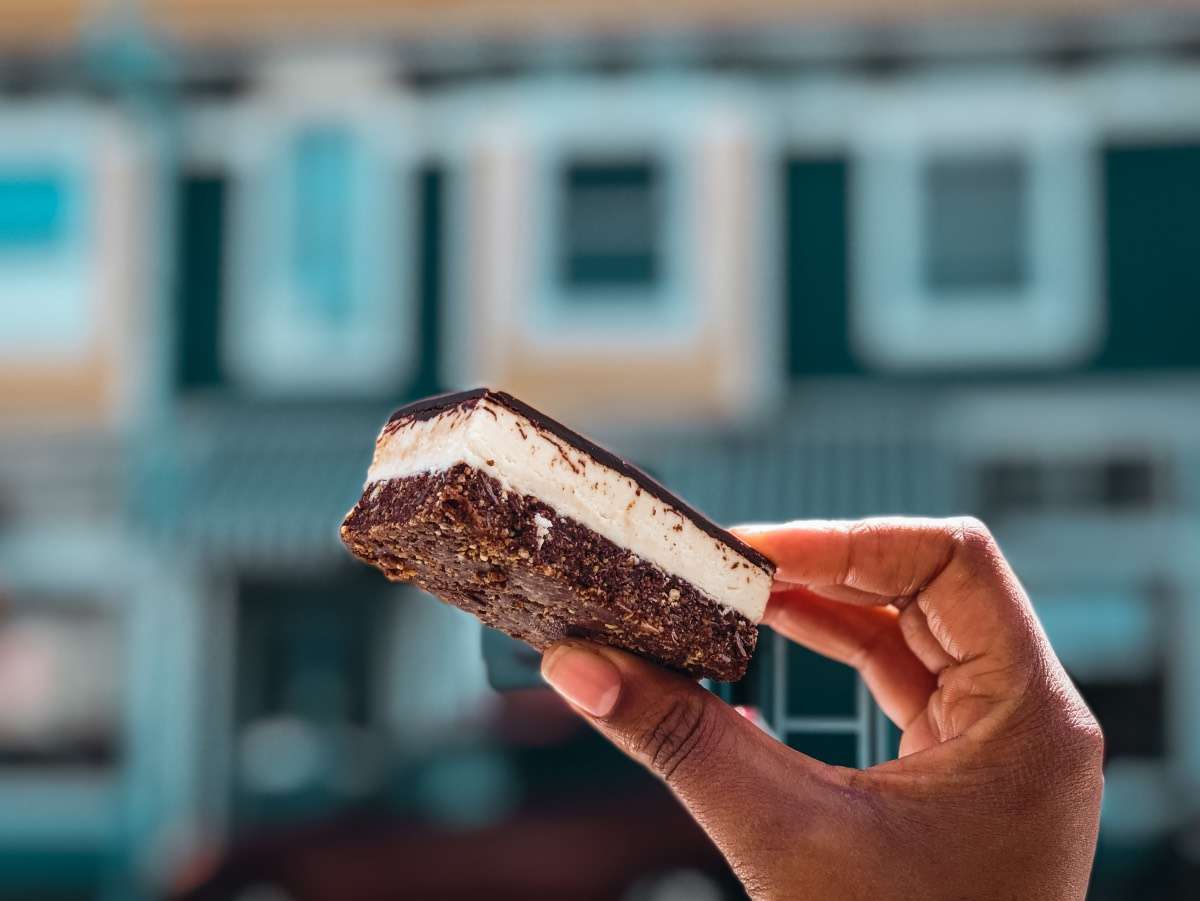 Two ferries can take you back to the mainland from Vancouver Island: one in Victoria and the other in Nanaimo. Before catching the ferry, we drove through Nanaimo and couldn't resist eating a Nanaimo bar. In the Old City Quarter, we stopped at a cute little local shop called A Wee Cupcakery to try out a "real Nanaimo bar" ($3.50 for a piece, but oh so worth it!).
2. City of Vancouver, British Columbia (3 nights)

From the ferry, you'll arrive in Vancouver, aka Vancity, which attracts its fair share of ex-pats and tourists. It's no wonder this West Coast Canadian city was named on numerous occasions as the most livable city in the world. As a backpacker, it can also be an expensive place to visit…
The best way to enjoy Vancouver without going broke is to find free activities such as exploring the area of Kitsilano and "Kits" beach. If Kitsilano today is synonym with yoga and beach volleyball, back in the '60s, it was the cradle of the hippie movement. This neighbourhood has always been a hub for creativity and freedom and is now famous for being the home of Lululemon's headquarters.
Honestly, you could spend all your time in cute cafés and artsy shops. Don't miss out on Stanley Park for a dose of fresh air and nature in this huge park right in the heart of Vancouver. Fun fact, Stanley Park is actually bigger than Central Park in NYC. There are many free hikes to choose from, such as the very popular 8K Seawall walk. Sunset lovers, will want to check out Kitsilano Sunset Beach, Lighthouse Park, Whytecliff Park and Sunset Beach in English Bay.
Surprise: Palm Trees in Canada! You might find it hard to believe, but in British Columbia, you can take a stroll with palm trees lining up the street. I guess that's proof enough that the weather is much warmer on the West Coast than on the East Coast.
Where to Sleep in Vancouver?
Go to HI Vancouver Jericho Beach, a summer hostel (opened from May to September) located in one of Vancouver's nicest neighbourhoods. It's only a short walk from the beach and about 20 minutes from downtown Vancouver.
3. Whistler, British Columbia (2-3 days)
Once you've got your share of urban exploring, jump on the panoramic Highway 99, which will take you from sea (Vancouver) to sky (Whistler). Enjoy the views for the next hundred kilometres as the "Sea to Sky Highway" follows the shores of Howe Bay until Squamish. From there on, the coastal scenery gives way to the Coast Mountains, a mountain range often mistaken for the Rockies.
What to Do in Whistler?
Skiing, Snowboarding and Mountain Biking
Whistler is a resort village with two huge mountains and home to Whistler Blackcomb Resort. Known as one of the largest ski resorts in North America, Whistler offers skiing conditions superior to those of the Alps. In the wintertime, the mountain breathes for skiing and snowboarding, whereas mountain biking dominates in the summertime. Make sure to budget accordingly and plan at least $100 for a ski lift ticket and $38 for the mountain bike ride. It's the price to pay for a world-class extreme sports destination!
Extreme Ziplining
If you're craving an adrenaline rush, check out SuperFly ziplines at Cougar Mountain. You'll start off this adventure on an extreme 4×4 ride taking you to the top of the circuit. As you're zipping down the mountain at speeds of up to 100 km/h and dangling from 500 feet, you'll feel as free as a bird during the three separate descents.
Money-saving tip: Book your ziplining experience between 4 pm and 7 pm. You'll be able to take advantage of the twilight rate of $129 instead of $159.
Train Wreck and Suspension Bridge Trek
One of the most popular (and free!) activities is the Train Wreck & Suspension Bridge Trek, which starts right next to HI Whistler. Ask at the hostel's reception to find out exactly where the train-wreck trek begins. You'll be able to admire the Cheakamus River from the suspension bridge. You'll then discover the colourful wagons strewn across the forest since 1945. The trek can be completed in 45 minutes round trip if you're in a hurry.
Where to Grab a Beer in Whistler?
At Coast Mountain Brewing, you can quench your thirst on the patio of this new craft brewery operation in the Function Junction industrial district near the youth hostel.
Where to Sleep in Whistler?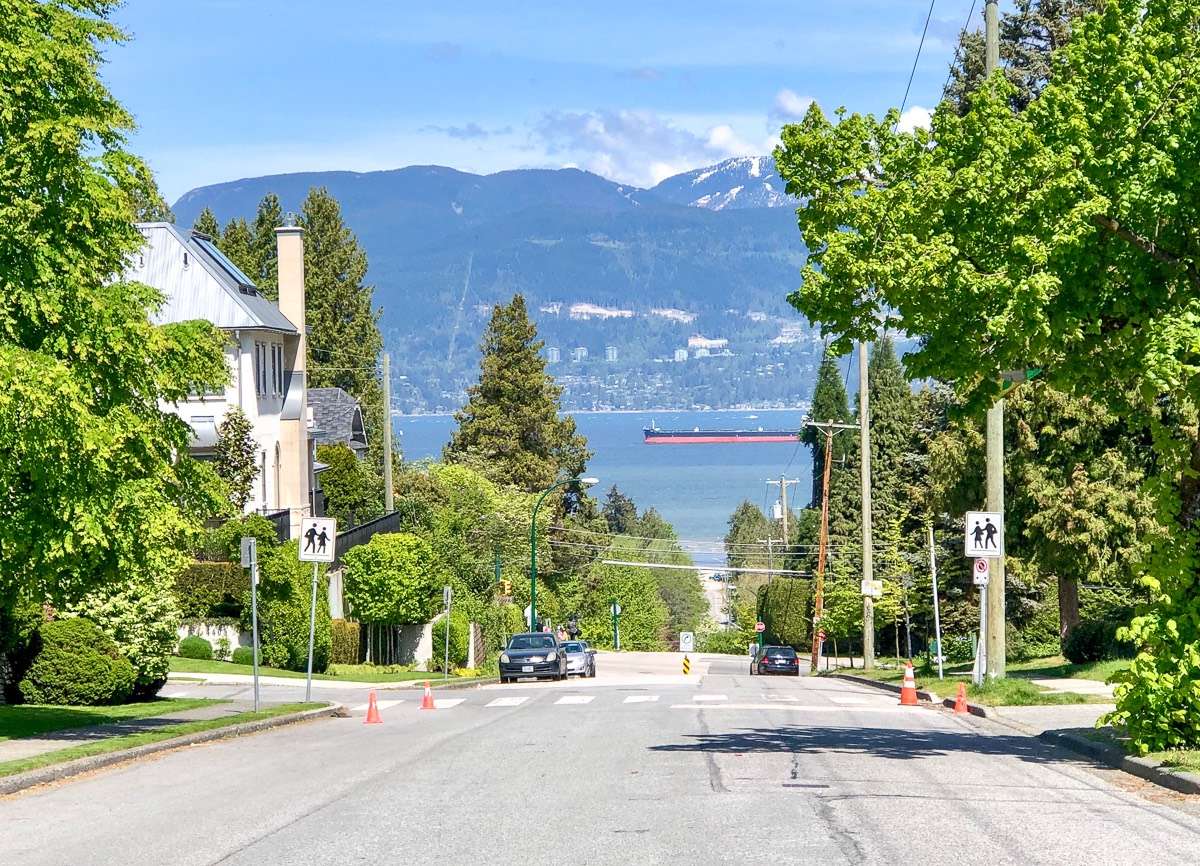 At HI Whistler in the Olympic Village! This hostel is huge and modern, and you will find everything you need and more! Find another hostel with a café offering healthy food, several lounges, a large kitchen, a pool table, a terrace with an insane view of the mountains and a BBQ! This hostel rocks!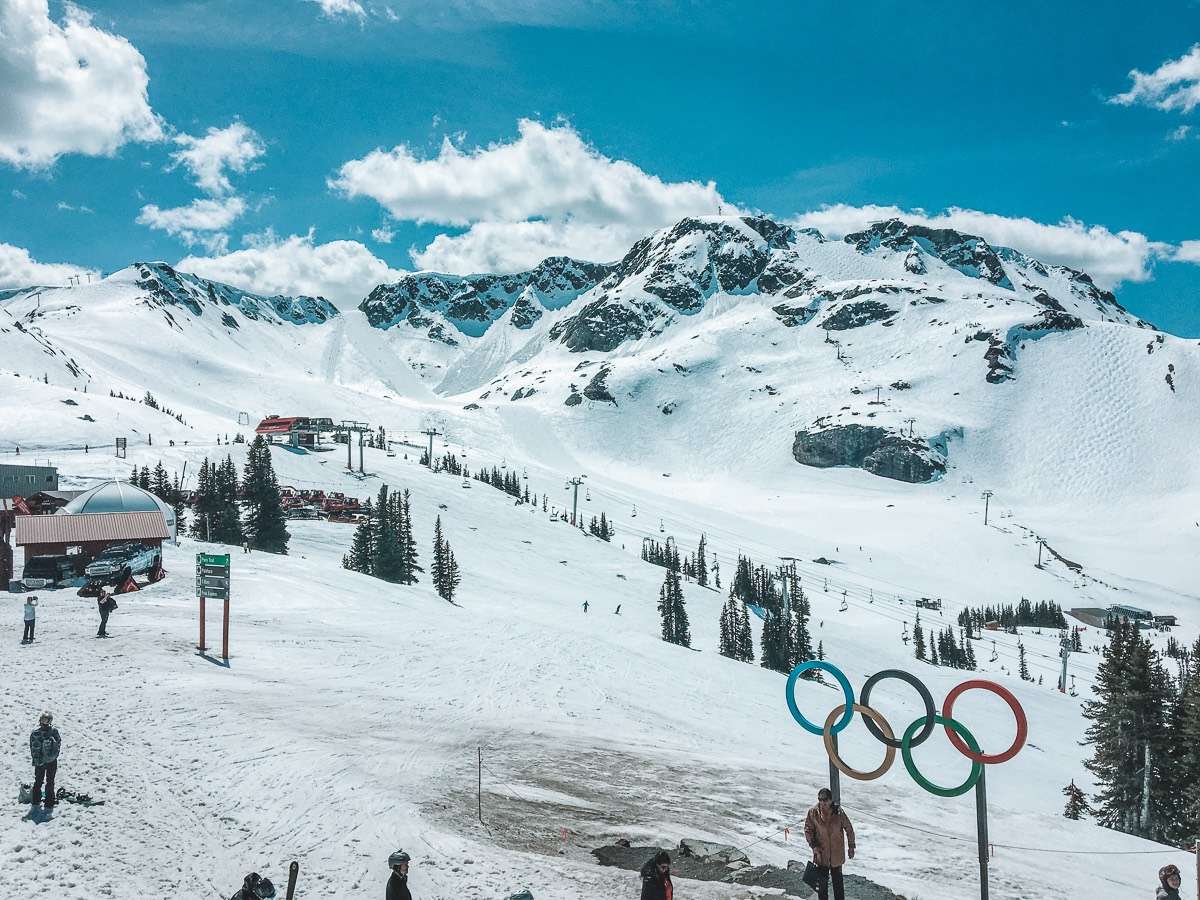 4. Okanagan Valley, British Columbia (3 nights)
After surfing and snowboarding, we head towards a semi-desert landscape in a region known for its fruit orchards and vineyards. This is the California of Canada or Okanagan Valley! With 2,000 hours of sunshine per year, we're welcomed in early May with a pleasant 30° C! One look at Kelowna's beaches and you'll see why this region teems with tourists throughout the summer. You'll instantly feel like you're on vacation. What's more, the vineyard route offers multiple and varied wine tastings.
Where to Taste Wine in the Okanagan Valley?
Liquidity Winery Bistro & Gallery: for a breathtaking view of the valley and an unbeatable value for money, head for Okanagan Falls and stop by the Liquidity Estate. You'll not only be impressed by the works of art and the picture-perfect view but also you'll have the chance to taste five wines for just $5. The equivalent would run you $60 US in Napa Valley, California! Sharing the charcuterie plate is well worth it!
Where to Eat in the Okanagan Valley?
KJ Coffee Bar at Okanagan Falls: You just have to stop in this little café run by a Québécois couple with a passion for food and great coffee. It's delicious food at a reasonable price, and people stop in from all over the place! Our favourite was the breakfast croissant (the best in the world, no joke).
Where to Sleep in the Okanagan Valley?
At HI Penticton in the heart of the Okanagan Valley. Nestled between Little Skala Lake and Okanagan Lake, it's ideally located to explore the region by car easily.
BC is undoubtedly a magical place to start or end a journey across Canada from coast to coast.
What are your favourite spots in British Columbia?
Share in the comments a place that you think we might've forgotten in British Columbia. What should we definitely add to this itinerary?
Check out our other destinations across Canada?