Looking for an affordable backpacking adventure? You won't have to look much further than Guatemala to find an incredible place where you can enjoy a ton of amazing activities and exceptional treks near active volcanos.
Hostels in Guatemala are so cute and stylish, and there are tons of backpackers everywhere. Shuttles are so easy to book! Seriously, you'll be blown away by how easy it is to travel in this country.
It may even remind you of Thailand as it's a perfect place for a first solo trip or maybe even as a place to work remotely for several months. Plus, it's so affordable! You simply can't go wrong!
Find out all the information you need to plan your own 15-day (or longer) backpacking trip to Guatemala – including a detailed itinerary with a budget.
So what are you waiting for? Get your backpack ready and go!
Here's a backpacker's guide to a 15-day adventure in Guatemala for $650!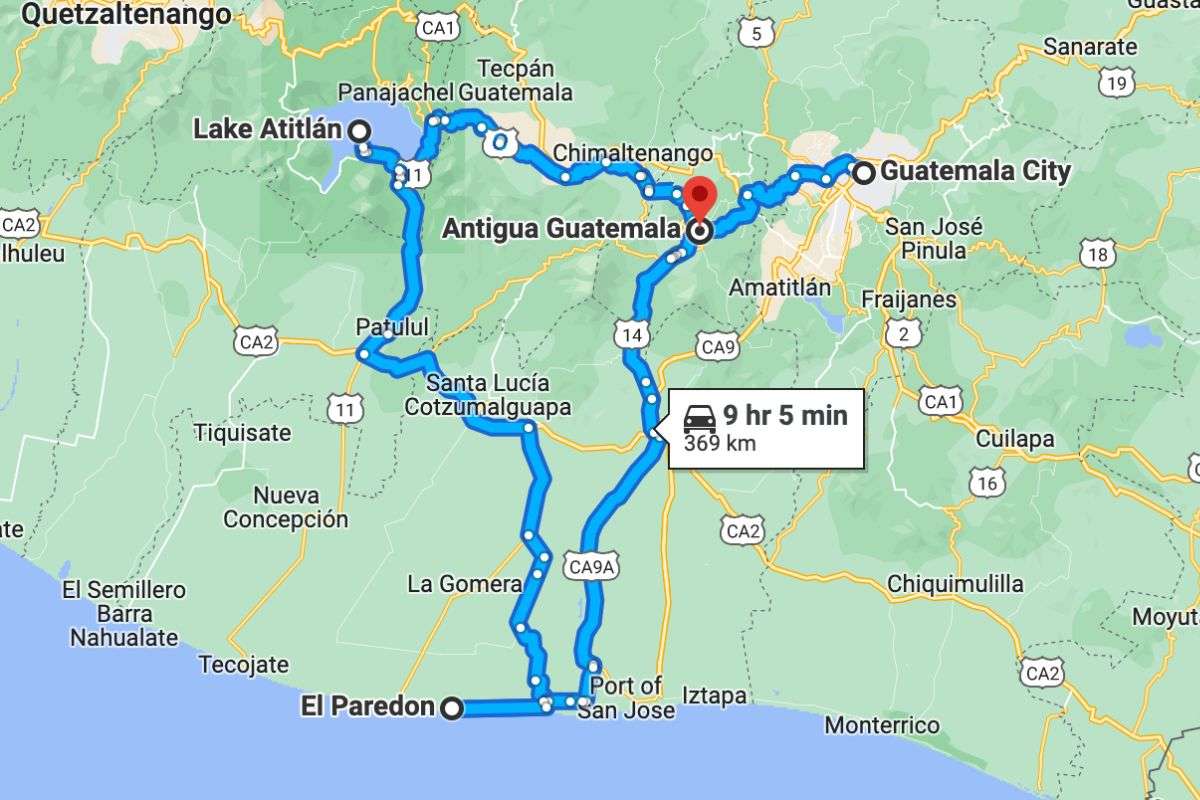 If you stay longer, it might even cost you less.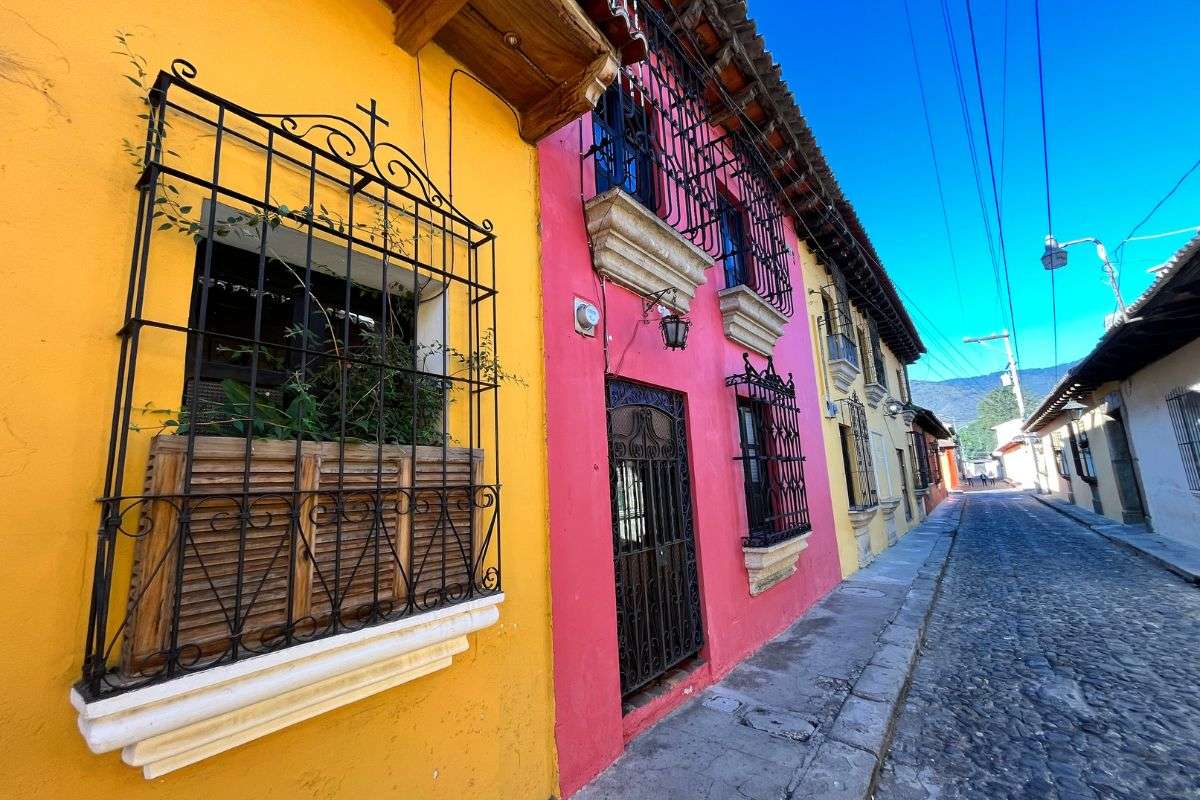 Flight to Guatemala City
For cheap flights from Quebec, search for flights from Montreal to Orlando, Florida (about a 3-hour flight).
You can find deals for about $200 round trip on Google Flights. You'll also need to book another flight from Orlando to Guatemala City!
Spirit Airlines usually offers direct flights from Orlando to Guatemala City for about $120 round trip (2.5 hours flight time). It's probably a good idea to pay a little extra for carry-ons and checked bags.
If you're flexible with your dates, you can get away with a total of about $320 to $450 for airfare.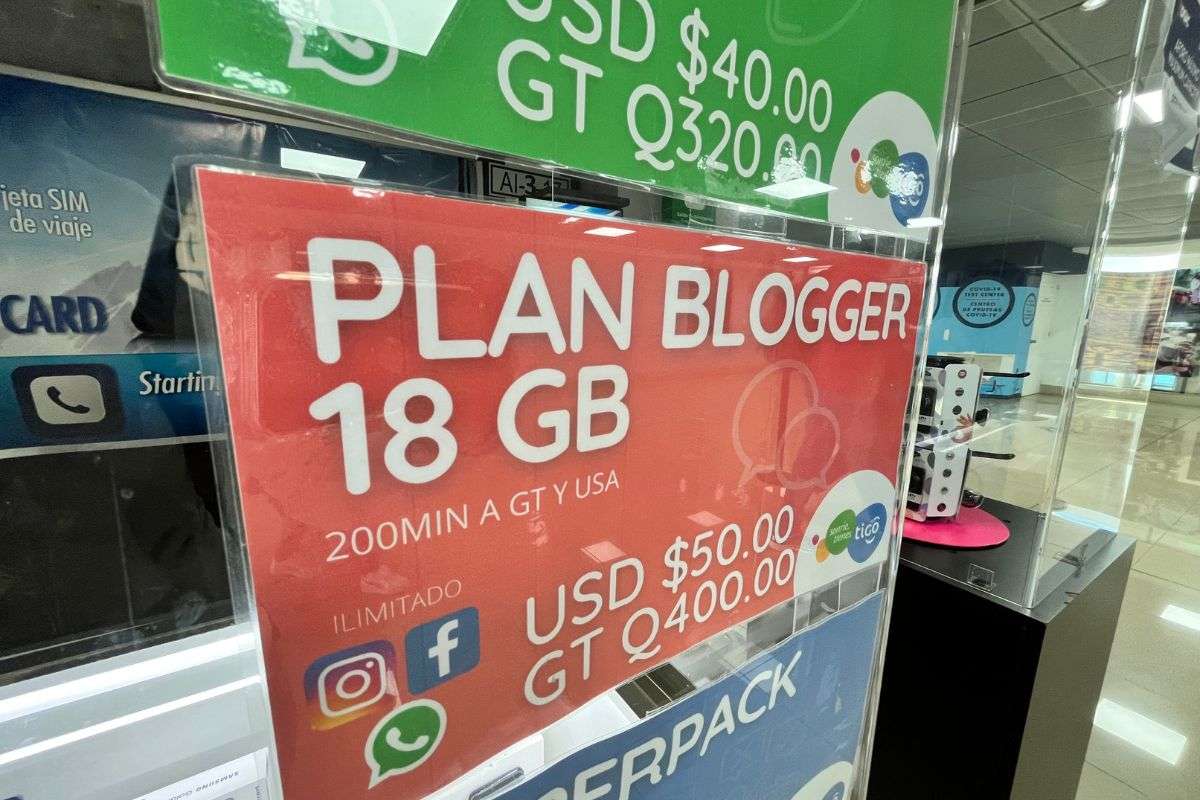 Get a SIM card from Tigo (the best network) at the Guatemala City Airport.
It's a great option if you work remotely since you get 18 GB for only $50 USD.
Otherwise, there are also cheaper packages available. Make it easy for yourself and let the employee install and activate your SIM card.
Once you've picked up your SIM card at the airport, you can either arrange a shuttle with your hostel to get to Antigua (about $15 CAD) or order a Uber (about $35 CAD).
Antigua (3 days / 2 nights – $96 CAD)
Why plan a backpacking trip to Antigua, you might ask? Well, this colonial city is a UNESCO World Heritage Site and is home to magnificent Spanish Baroque architecture and some of the best-preserved ruins in Central America.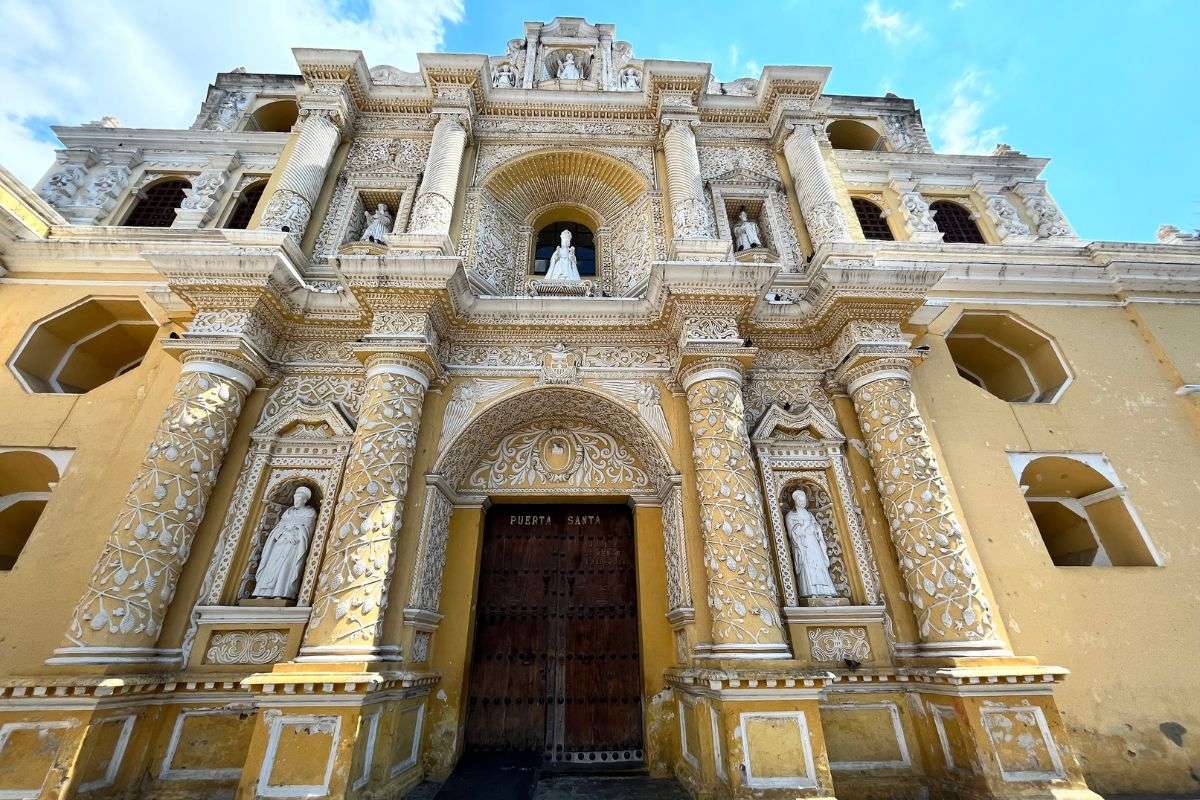 Walking around Antigua is a great way to see the many churches and monuments.
There's also a half-day trip to Pacaya volcano (a good practice run for the Acatenango trek).
Dorm in a hostel with breakfast included: $15per night (total $30)
Meals and coffee: $9 on average ($36)
Visit of the old town, Pacaya volcano excursion and nightlife: $30
The best restaurants and cafes you should definitely try in Antigua are Fernando's café (best cappuccino in the world), Once Once (new vegan pop), Samsara (vegetarian). Make sure to visit Caoba Farm's restaurant. There are tons of other delicious options as well, so it's definitely a destination worth visiting and indulging in.
Favourite hostels in Antigua that are all in prime locations:
Maya Papaya: Clean and charming hostel with a very modern design. The dorms have curtains, and the included breakfast is fantastic! It has a relaxed atmosphere with fun activities in the evening!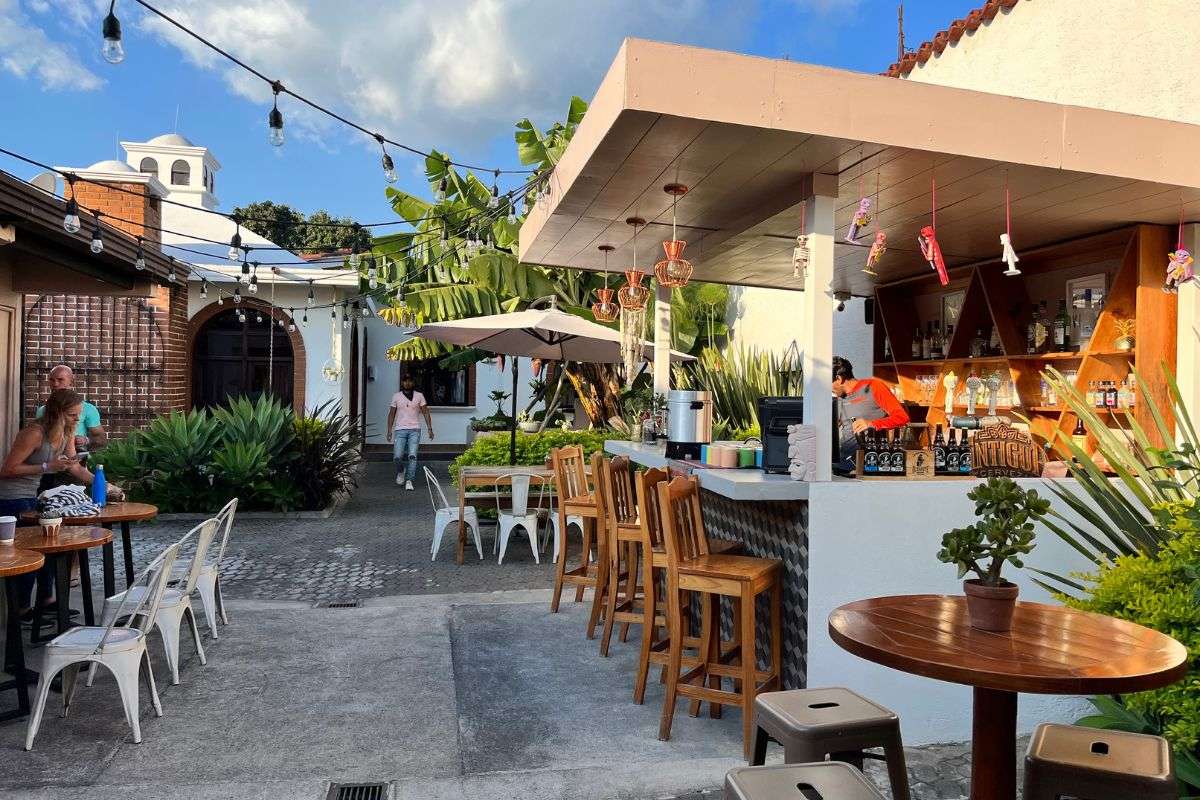 Selina Antigua: a great hostel with nice coworking space and great internet. Several types of accommodation and access to a lot of activities for really cheap.
Ojala Hostel: It belongs to the same owner as Maya Papaya and is very cute and comfortable. The dorms are luxurious, and the sheets are the softest in Guatemala. They have a coffee shop on-site with a nice selection of coffee.
There are so many great hostels in Antigua. Book ahead to get the best deals versus being last minute and having fewer options!
Acatenango Volcano (2 days / 1 night – $85)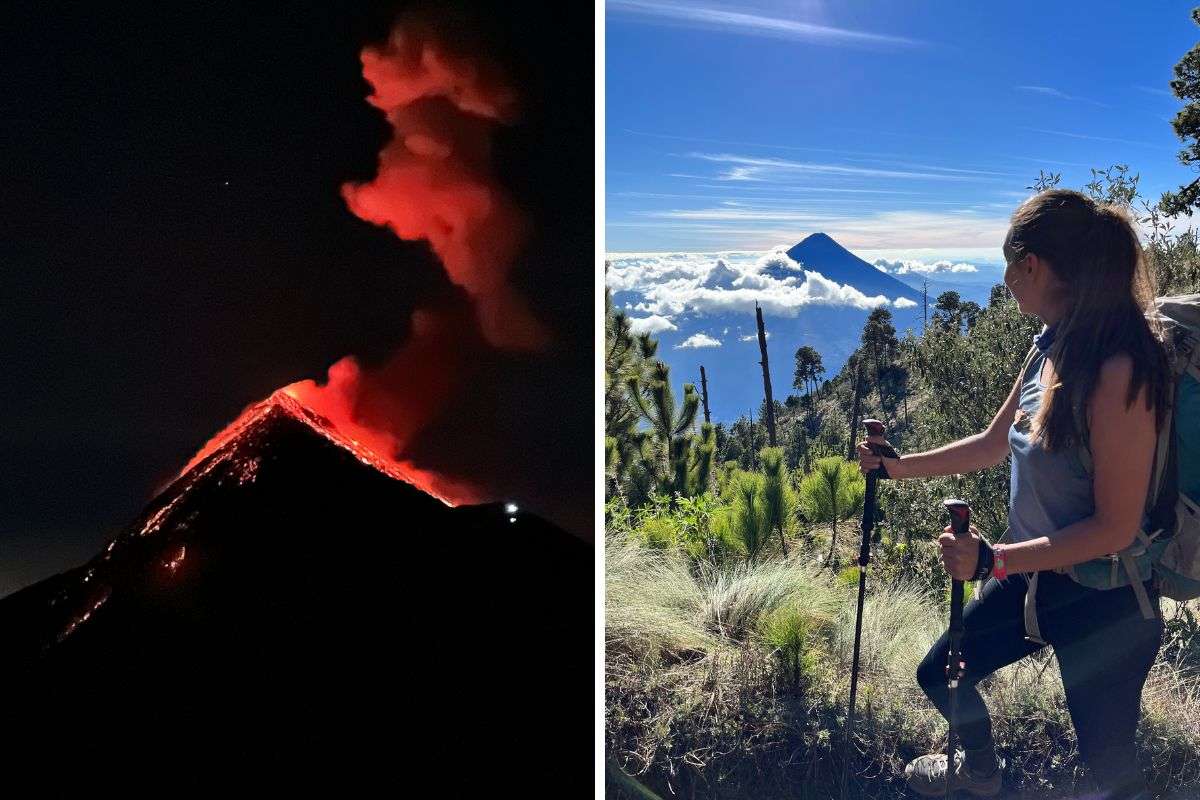 You should plan to do the Acatenango volcano tour when you visit Antigua.
It's a two-day, one-night hike that takes you near the top of one of Guatemala's most impressive volcanoes.
There's no denying that it's physically demanding, but just about anyone can do it!
It's one of the most affordable activity to do in the world considering how memorable of an experience you get out of it.
The hike takes you through different climate zones, and you can watch the lava flow from the nearby Fuego volcano at night.
Transport, guide, accommodation on the mountain, all meals for two days, and equipment: $85
It's hard to find a good tour company that has cabins and gives you enough food, so we suggest that you go with Wicho & Charlie's.
While there are likely cheaper tours out there, I've heard from fellow backpackers that they didn't get enough to eat on theirs.
Shuttle Antigua – Lake Atitlan: $20
The journey from Antigua to Lake Atitlan takes about three hours by shuttle bus. The route passes through volcanic highlands and coffee plantations, which are some of Guatemala's most picturesque landscapes.
There is no better place to unwind than at Lake Atitlan.
Lake Atitlan (4 days / 3 nights – $155)
On a Guatemala itinerary, Lake Atitlan is the ideal spot for backpackers to relax and recharge.
The lake is known for its Mayan villages and magical waters, so it's no surprise it's one of the most beautiful lakes in the world.
The first thing you'll have to do is decide which village you want to stay at once you get to Lake Atitlan (Panajachel, San Marcos, San Pedro…)
It really depends on what you are looking for and what your budget is:
Looking to party? Go to San Pedro.
Looking to experience traditional Mayan culture? Go to San Juan La Laguna.
Looking for a hippie village? Go to San Marcos.
Just looking to relax without the fuss? Panajachel is the place to be.
You should try two restaurants in Panajachel: Deli Jasmin (fresh pasta, everything is homemade) and Loco Café (a dessert with espresso and ice cream).
Dorm in a hostel with breakfast included: $20per night (total $60)
Meals: $10on average ($60)
Water taxi to other villages: $20
Yoga classes, bar and nightlife: $15
The Selina Atitlan in Panajachel is the hostel we recommend for its selection of activities and friendly locals!
Shuttle Lake Atitlan – El Paredon: $20
The journey between Lake Atitlan and El Paredon is about 3 or 4 hours by shuttle, but beware… it's a bumpy ride.
El Paredon (3 days / 2 nights – $160)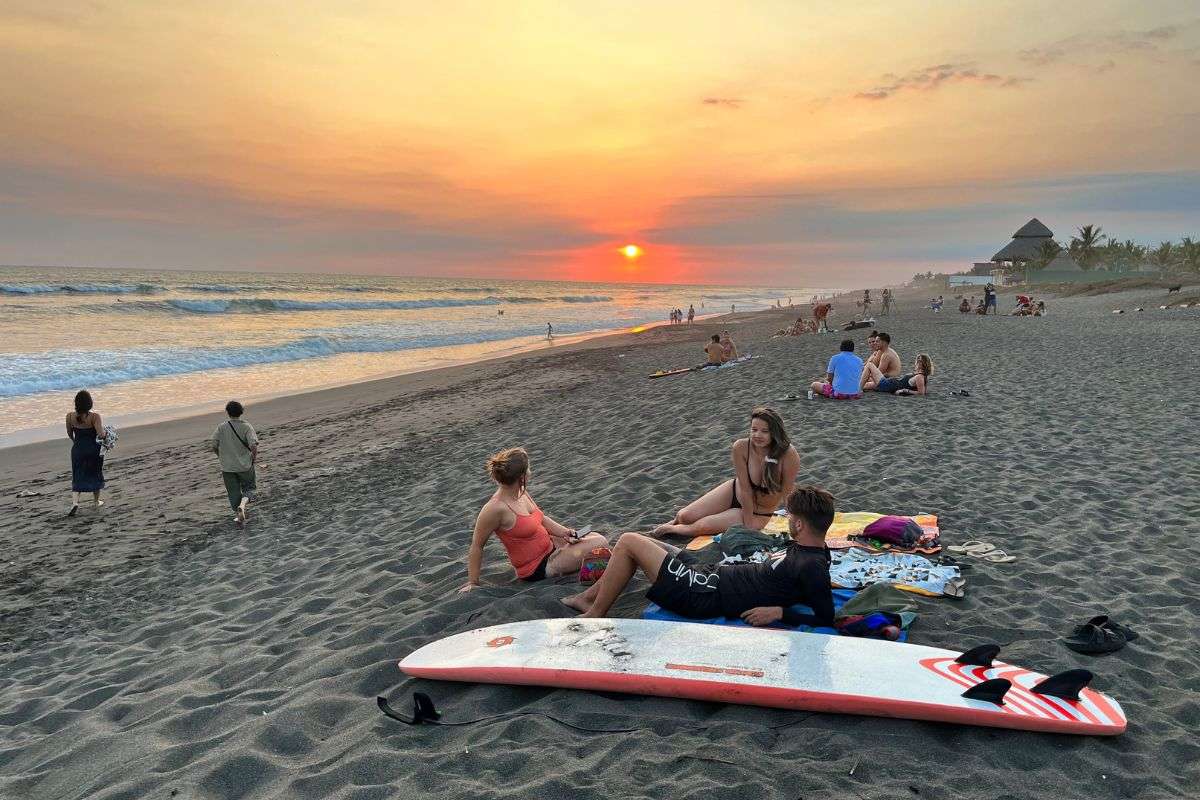 If you're looking for a surf town where you can relax and catch some waves, El Paredon is the place to be.
You don't want to miss out on this opportunity! Now's the time to go; it's getting popular, but if you head there this winter, you'll be there before the crowds!
The small village is located on the Pacific coast of Guatemala and is known for its perfect surfing conditions. Surfers of all levels can enjoy the waves here.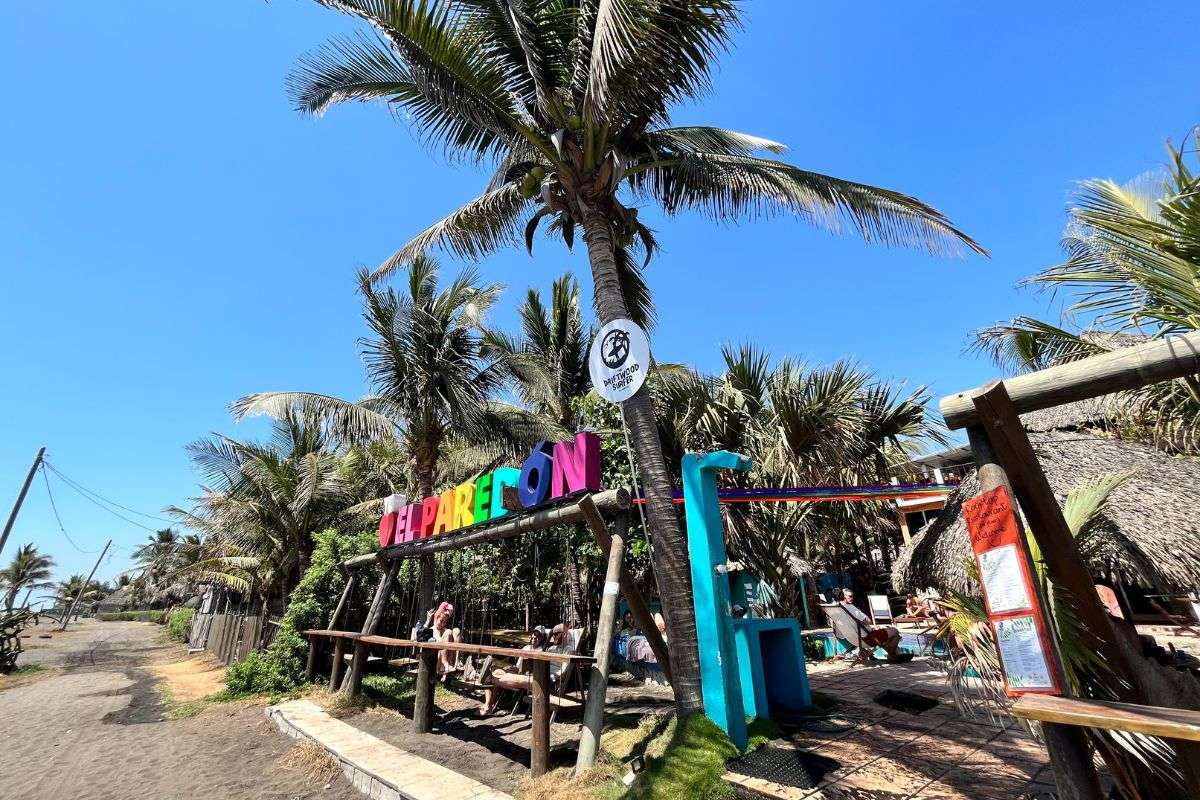 Several hostels in El Paredon offer lessons and rentals, so you can get started no matter your level of experience.
It gets very hot on the beach, especially at lunchtime! The beach has black sand, which can get scorching hot, so be careful not to burn your feet!
Even if you don't surf, you'll have a great time in this village as the entire place turns into a massive party at night (no exaggeration)!
If you're looking to get the party started, stop by Cocori Lodge El Paredon or Driftwood Surfer, and you'll most likely end up at Mi Casa!
Dorm in a hostel with breakfast included: $25per night (total $50)
Meals: $15on average ($60)
Surf rental or nightlife: $30
We recommend you book a place at the Mellow Hostel, the hostel that is so stylish and well-designed! There is also a great pool there!
You can also just relax because the village is safe and you can walk everywhere!
El Paredon – Antigua shuttle: $20
Another 2-hour drive in your Guatemala itinerary, and you'll be back at your base camp, the beautiful colonial town of Antigua
Antigua (3 days / 2 nights – $90)
Your Guatemala itinerary should not be complete without a picture at the Santa Catalina Arch.
Climb the hill at Cerro De La Cruz for a view of the surrounding area (30 minutes walk). It's definitely worth the climb!
You can also enjoy a nice, cold beer from a large selection of microbrewery beers on the rooftop terrasse of the Antigua Brewig Company.
Dorm in a hostel with breakfast included: $15per night (total $30)
Meals: $9 on average ($36)
Activities: $20 Pacaya trek ($14 at Selina)
Bar and nightlife: $10
If you're looking to party, go to Reilly's Irish Tavern and then La Sala, a local spot right next door.
Antigua to Guatemala City Airport
To get to the airport, either book a shuttle with the Selina or your hostel (about 15$) or order an Uber.
Because the shuttle runs at fixed times, it depends on your schedule.
The trip will cost you about $650 for 15 days, and you'll have done some amazing things!
Best time for a backpacking trip to Guatemala?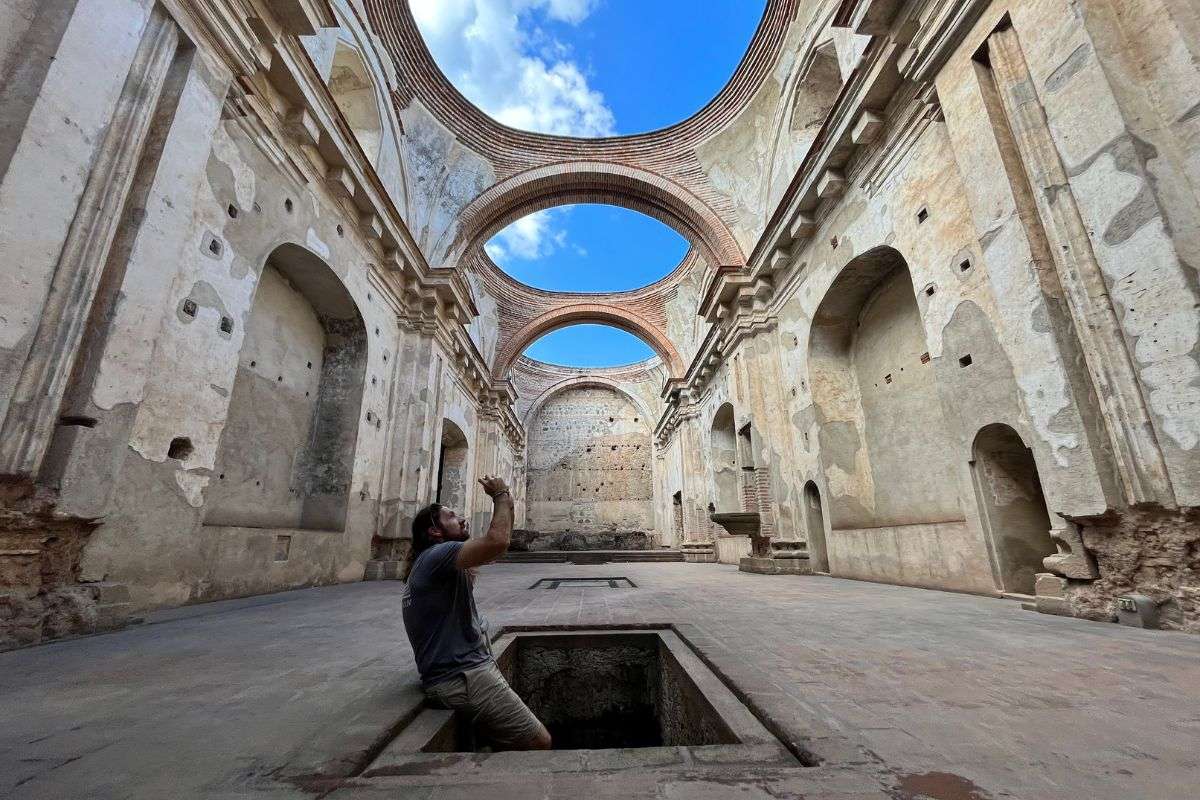 You can go to Guatemala anytime, but the best time to visit is the dry season, from November to April.
The rainy season is from May to October, and some activities may be limited due to bad weather conditions.
What to bring in your backpack for a trip to Guatemala?
Here is a list of things to pack for your backpacking trip to Guatemala:
Sunscreen (the sun is very strong in Guatemala)
Mosquito spray (there are a lot of mosquitoes, especially near water)
Warm clothes (it's freezing at high altitudes and the clothes lent by the tour operators are not always of good quality)
Hiking shoes or trekking boots
A rain jacket (which will serve as a windbreaker)
Comfortable clothes
Beach clothes
Backpackers looking for a change of scenery will love this Central American country with beautiful landscapes, rich culture, and tons of activities!
Go for it! You're going to love it!