Portugal is THE trendy destination of the moment! Did you know that the Algarve region in the south of the country is also a paradise for digital nomads? That's right! Known for its mild climate, stunning beaches and vibrant culture, it's no wonder that remote working has become so popular in the Algarve.
Why do digital nomads love the Algarve in Portugal?
If your primary motivation for working remotely is to escape winter, you're in for a treat in the Algarve! With 300 days of sunshine a year, the weather here is hard to beat. This makes it the perfect place to work outdoors, whether you're relaxing by the pool or sitting at a cafe overlooking the ocean. The Algarve also boasts an amazing landscape, with its spectacular cliffs and incredible beaches, that makes this place truly unique.
Let's not forget that being a digital nomad means you'll need the Internet! Thanks to the Algarve's excellent internet connectivity, you can stay connected and productive no matter where you go. Wi-fi is usually free everywhere, even at the grocery store! Alternatively, you can get a MEO SIM card for 10€, giving you 5GB of data + unlimited calls and texts in Portugal.
If you're in need of a break from your screen, the Algarve has no shortage of activities for you to enjoy. From hiking to paddle boarding to surfing, there is something for everyone, no matter what you're into. As Portugal is a relatively affordable country, you can enjoy all this without breaking the bank.
The Algarve also has a large community of digital nomads and expats, so you'll always find someone you can socialize and collaborate with.
Where to stay as a digital nomad in the Algarve, Portugal?
From Lagos to Faro, here are some of the best places to live as a digital nomad in the Algarve:
Lagos
Among the most picturesque cities in the region, Lagos is a favourite among digital nomads (and with reason!). The city makes a great base camp for solo travellers since it offers everything one may need: old town history, fantastic restaurants and bars for all budgets, and spectacular beaches within easy reach. Even in the low season, the city is lively, so you'll never get bored.
Sagres
If your choice of destination is influenced by the next swell (IYKYK), the small surfing village of Sagres is the perfect little escape to get away from city life. A trip to the area will reward you with breathtaking views and endless pristine beaches perfect for surfing or long walks along cliffsides. There's also Coworksurf, a coworking space where surfing and work coexist in beautiful harmony. Talk about a worker's paradise!
Portimão
Perfect for couples or families, Portimão is a top destination where you can be close to everything without necessarily being in the middle of the action. The best is to rent an Airbnb near the beach, where you'll be able to enjoy the peace and quiet of the area while still having access to all the amenities of the city, like supermarkets, pharmacies, and restaurants.
The path along the top of the cliffs from Praia dos Três Castelos to Praia de Alvor provides a great opportunity to spend time in nature. Plus, your Instagram feed will thank you!
Albufeira
Like Portimao, Albufeira is a destination with all the commodities necessary to satisfy a digital nomad couple or a group of friends who work remotely. In the evening, the Baixa de Albufeira district (the old town) comes alive with bars, restaurants, shops, and clubs.
Albufeira is renowned for its party vibes, but if you're looking for a bit more peace and quiet, you might want to explore the area along the coast between Praia dos Arrives and the town of Carvoeiro. Many beaches and trails are waiting to be discovered, including the Seven Hanging Valley Trail!
Faro
While the Algarve's largest city may have the most infrastructure (it is well connected to other parts of Portugal or Europe), its beaches and vibe aren't as great. If you're going to be a digital nomad in a big city, you're better off settling down in Lisbon or Porto. After all, the whole point of being in the Algarve is to be able to enjoy the sun or the beach, right?
How to find accommodation in the Algarve in Portugal?
Airbnb seems to be the most popular accommodation option for digital nomads in the Algarve, according to an Algarve digital nomads' Facebook group.
Nomad tip: It's worth negotiating the rate by messaging the Airbnb host to see if they are willing to offer a special price for extended stays (more than 2 weeks).
You might be interested in the idea of coliving if you're a solo traveller who thrives in communities of like-minded individuals. Accommodation of this type offers more than just a place to stay; it's also an environment where people can work together and collaborate. If you're looking for a coliving in the Algarve, Coworksurf in Sagres is a fantastic choice.
Another interesting option is to stay in hostels. Not only is it cheaper, but you will also get to meet people from all over the world. You can find the best deals for hostels in the Algarve on HostelWorld.
How to get around the Algarve in Portugal?
Depending on your travel style and budget, there are several ways to get around the Algarve.
Renting a car is the best option if you are looking for the most flexibility. It will allow you to enjoy the more remote beaches along the west coast of Portugal. The only thing to keep in mind is that rental cars with an automatic transmission are more expensive (that's when they're available!), so make sure that you are comfortable driving a manual transmission car.
When it comes to saving money, public transportation is the best choice. It is easy to get from one place to another without spending a lot of money since the bus and train network covers almost the entire region. Algarvebus.info has all the information you need about public transport in the Algarve, but it can be a bit tricky if you don't speak Portuguese.
Nomad tip: If you are looking for a convenient way to get around, download the Bolt app (much like Uber, but local and cheaper). It is an affordable way to get from point A to point B without worrying about timetables or language barriers.
How much does it cost to live as a digital nomad in the Algarve, Portugal?
The Algarve's cost of living is relatively low compared to other European destinations, but budgeting is still essential.
Examples of costs in the Algarve:
A pint of beer in Portimao for sunset: €1.50 (CAD$1.95)
A private room in a hostel in Lagos: from 25€/night ($32.50 CAD)
A taxi ride (Bolt) to the beach: 5-10€ (6.50-13$ CA)
Dinner at a restaurant in Albufeira: 12-15€ ($15.50-20 CAD)
Groceries for a week at Pingo Doce or Lidl: about 30€ ($39 CAD)
Nomadlist suggests budgeting €1,604/month (CAD$2,090) for living in the Algarve as a digital nomad if you stay in a studio in the centre and eat out 3x/day.
Which visa allows you to be a digital nomad in Portugal?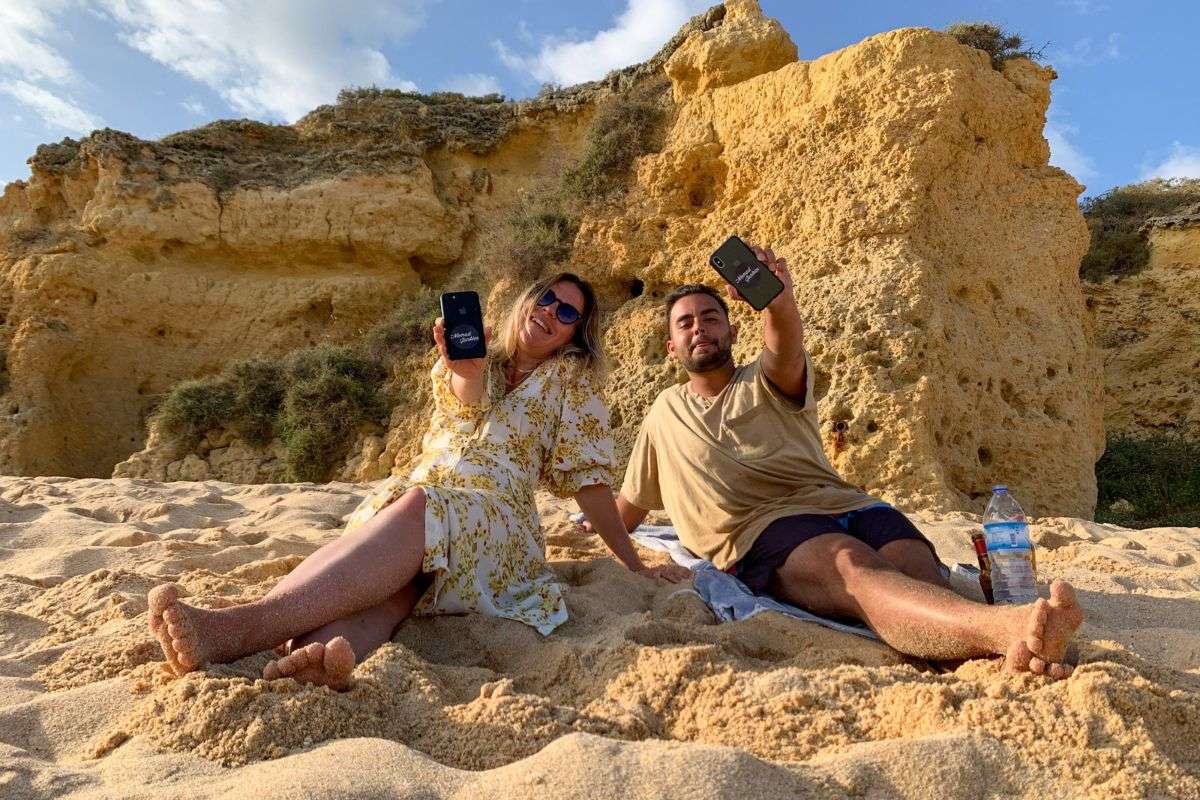 There are several options available depending on your age and the length of your stay:
If you're a Canadian between 18-35 years old: the Working Holiday Visa, also called Youth Mobility Visa, allows you to travel and work in Portugal for one year (12 months).
If you're over 35 and want to live and work remotely in Portugal for less than a year: the digital nomad visa (Temporary Stay Visa)
If you're over 35 years old and want to live and work remotely in Portugal for more than a year: Residence Visa D7 (you must show that you earn at least €8,460/year and you have to stay in the country for at least 16 months in the first two years)
For a stay of less than three months, regardless of your age: no visa required.
Important to note: if you stay for more than 183 days in a 12-month period, you must provide a certificate of tax residence which proves that you pay taxes in your main country of residence.
Resources for digital nomads in the Algarve, Portugal
If you have any questions, Facebook groups can be a treasure trove of information. Joining Facebook groups is definitely a great way to get in touch with other digital nomads living in the area. Plus, it's common for group members to schedule meetups as well, so you'll already have a network of people you can connect with when you arrive. Below are the groups specific to the Algarve that are dedicated to digital nomads:
The Algarve region is worth considering if you're looking for an affordable place to settle down as a digital nomad (or just escape the Canadian winter). You'll feel like a king or queen along the stunning Portuguese coastline as you explore the charming little villages and feast on seafood at the beach!
The Algarve region of Portugal is a great spot for digital nomads, but remember to buy travel insurance before leaving! It's what any great digital nomad would do, after all!
Discuss travel insurance options for Portugal with soNomad
If you have questions, let us know! We'll refer you to the right person!
Nomad Junkies' founders are proud to be ambassadors for soNomad and on a mission to reduce travel insurance costs for all!