Are you feeling the call to go to New Zealand for a few months? If you're dreaming of glacier hikes, nature trips and friendly coworkers, you will love all New Zealand has to offer. We had the chance to speak with Sandrine from Quebec, who did a Working Holiday Visa in New Zealand after watching one of our previous NomadTALKS. Just like our experience inspired her to go, we hope to light a fire in you to explore this beautiful island country, and not just for a one-week vacation!
What made you want to apply for a Working Holiday Visa in New Zealand?
"Quite simply, my adventure started after watching a NomadTALKS about your WHV experience in New Zealand. I needed that kind of spark in my life! Immediately, it clicked for me.
It really was possible to work, travel and do whatever I wanted. I went downstairs to the living room at my parents' house and said to my dad, 'I'm going to New Zealand.'"
You may also like: Working & Travelling in New Zealand: Stories from a Canadian on a Working Holiday Visa (WHV)
How did your family and friends react to your decision to do a Working Holiday Visa in New Zealand?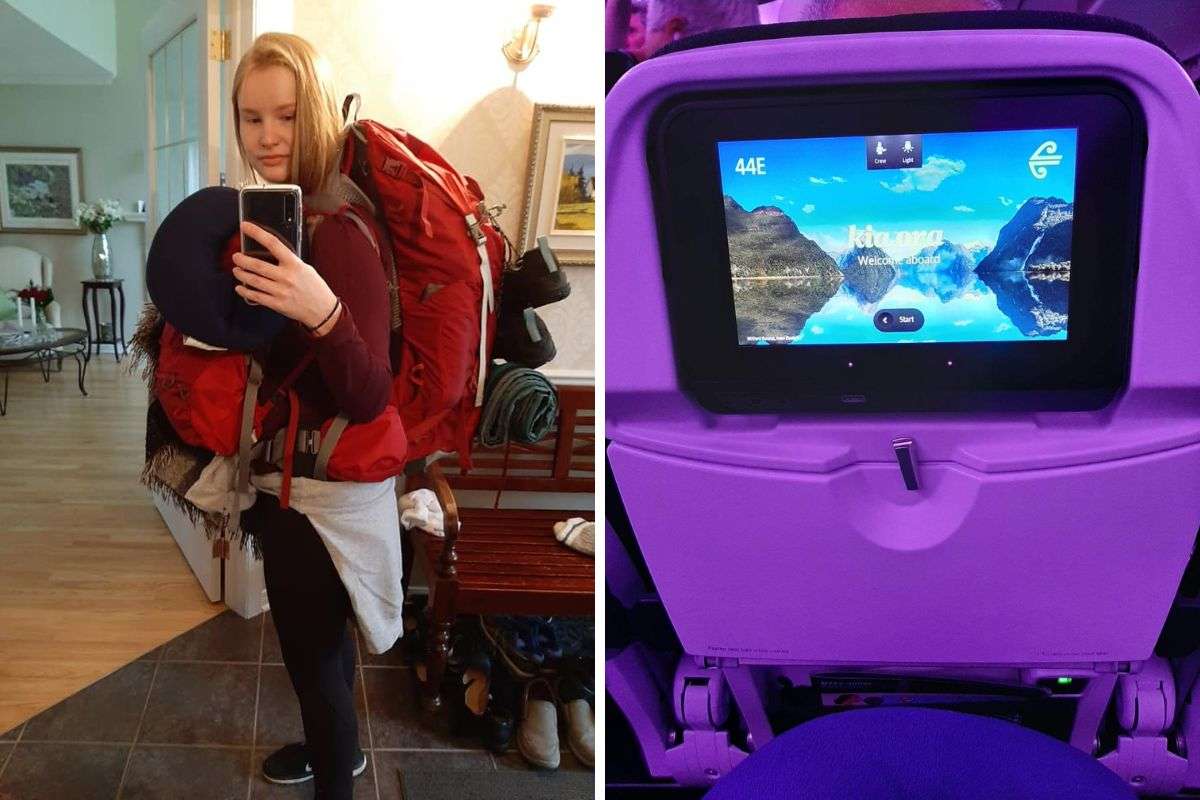 "They were surprised. I had never talked about going to New Zealand. Sure, I had been on two to three-week trips. But I had never done anything long-term like this.
My father was supportive, telling me to fly like a little bird, spread my wings and all that, but my mother was the opposite. She said, 'Are you sure you want to go alone for so many months? Wouldn't you rather study at a school there and surround yourself with friends?' She was like a mother hen, wanting to keep me close.
But for me, it was all about being free. I wanted to listen to myself and make my own choices. To go out and live my adventurous side."
What was the process like applying for a Working Holiday Visa in New Zealand?
"It was incredible. It is very easy to get a WHV in New Zealand. I applied online and it took about two days to get approved.
After that, I set up my to-do list. My strategy was to do all the technical things first and then enjoy. I went to a travel agency to book my plane tickets: three flights to get there and my return trip home. (That way, it was easier to get into the country.) Once in New Zealand, I would set up a bank account and pick up a cell phone."
What was your first impression when you arrived in New Zealand for your Working Holiday Visa?
"My first reaction was, 'What am I doing here?!'
I was standing in the middle of a park with my suitcases, listening to the birds. It was 6:30 a.m. and my hostel wasn't open yet. I was exhausted after my three flights. If I wanted adventure, why didn't I just stay in Quebec and go an hour and a half up north?
But then you meet the people at your hostel… and they get you into the travel spirit."
What accommodations do you recommend for people with a Working Holiday Visa in New Zealand?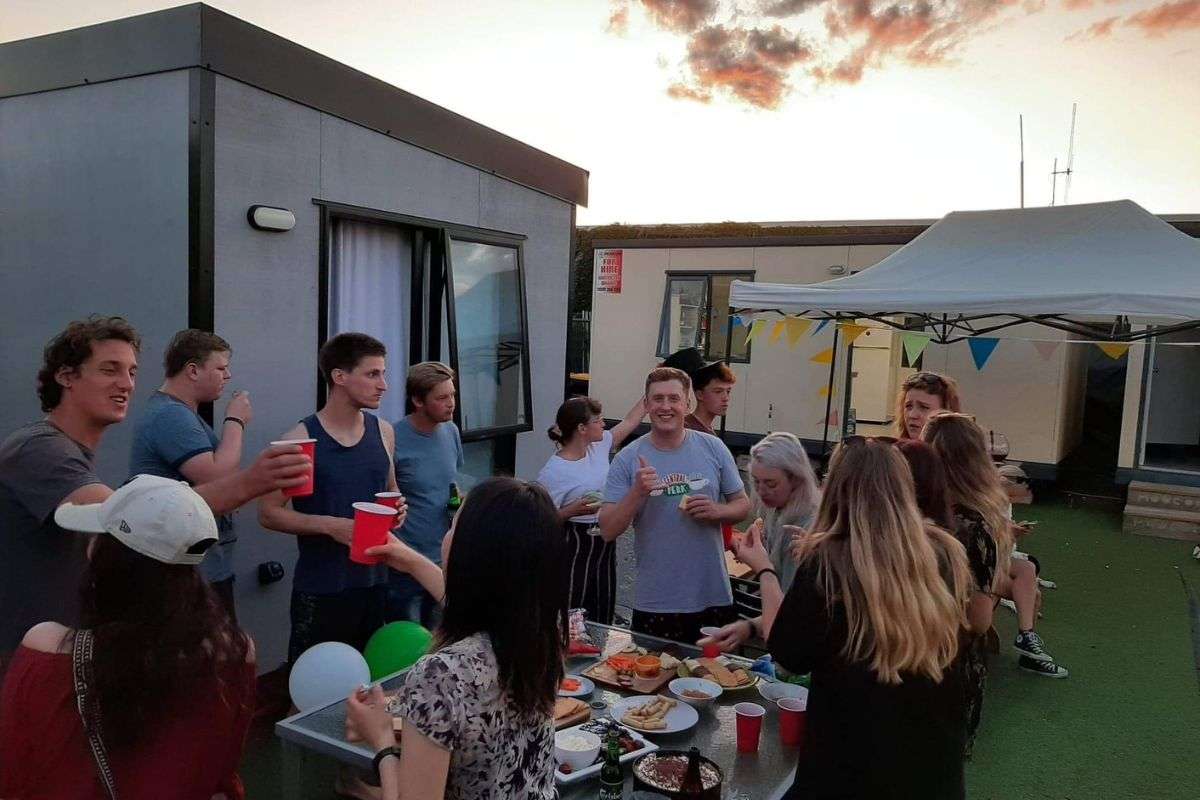 "Book at least two nights at a youth hostel before you arrive. YHA hostels are a chain of quality youth hostels that are clean and safe and offer discounts for activities. For example, I signed up for a YHA subscription that gave me a discount on a helicopter ride, which was cool.
If you have the Hostelworld app on your cell phone, you can easily search for these kinds of hostels."
How did you get your first job with a Working Holiday Visa in New Zealand?
"I was looking for a job that would bring me joy. I had my travel book with me (Lonely Planet New Zealand) and I had written down all the places I wanted to see. I really wanted to see Hobbiton.
For those that don't know, Hobbiton is the film set of The Lord of the Rings, more commonly known as "The Shire". It's the place where the hobbits live, and it is very tiny. I wanted to be a tour guide there so badly! I applied on the company website, and then I took a bus to Matamata, where I stayed at the only hostel in town.
In youth hostels, you meet a lot of people with job contacts. The backpacking community is super helpful that way. Through my new hostel friends, I was able to get a ride to deliver my resume in person. I didn't hear back at first, so I went again and got an interview as a parking attendant. Perfect, I could start there and move up the ladder.
Instead, a spot opened up to be a guide. Obviously, I jumped at the opportunity!"
What were your other job experiences during your Working Holiday Visa in New Zealand?
"After working for four months at Hobbiton, I became a waitress for the first time in my life. I was truly happy! I had worked in retail before, and I thought waitressing would be similar, but working in hospitality was pleasantly different.
My first restaurant experience was in Taupō, working at a popular café. I got the job by going door-to-door and asking if they needed help. Then I moved to Queenstown and served ice cream for six months. Oh, my wrists! It's super hard to serve ice cream, especially in New Zealand where they don't have soft serve.
Honestly, you realize it's the work environment that counts. Having cool colleagues makes all the difference.
It doesn't matter what type of work you do because you know you'll have fun doing it. And in terms of finding jobs, sometimes chance encounters lead to your best opportunities."
What are the main differences between living in New Zealand and living in Canada?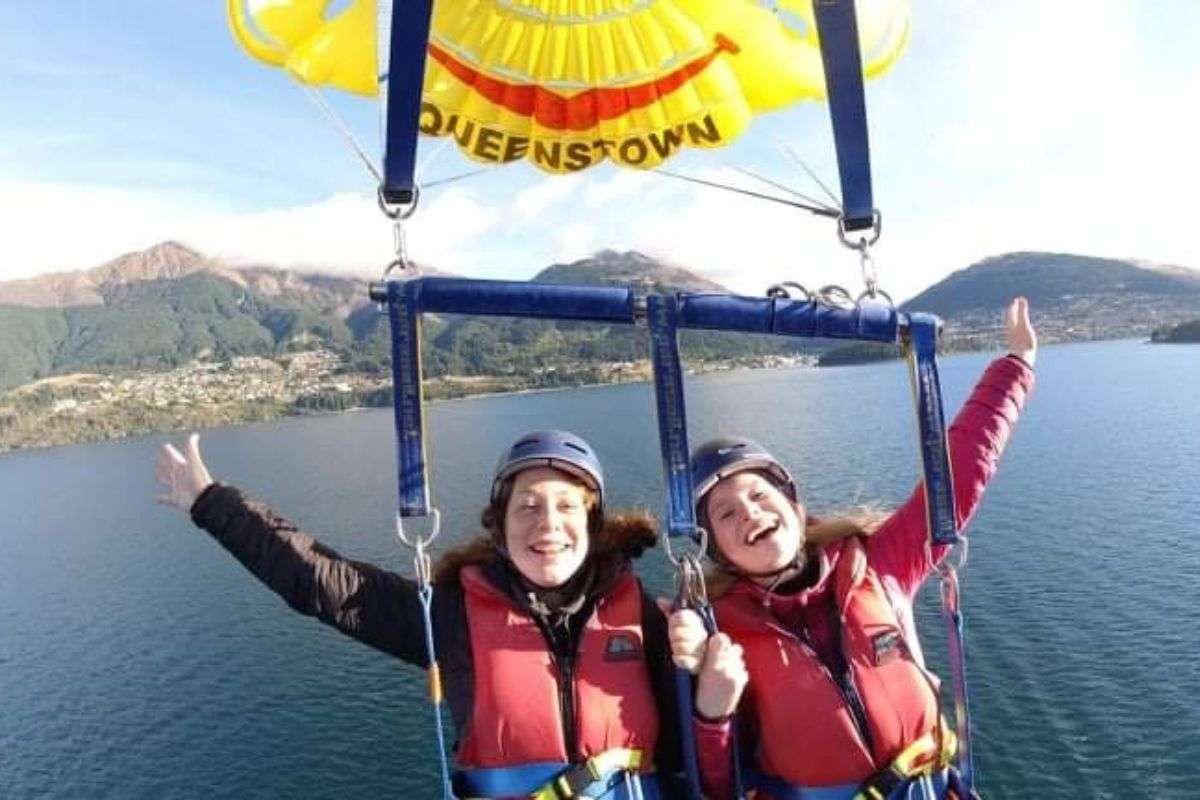 "The main thing is the language. Everyone speaks English in New Zealand, so, being from Quebec, it was hard to switch to 110% English. Thankfully, there are plenty of jobs where you don't have to be fluent right away. Don't worry about the language barrier. In the back of the kitchens, you'll meet people from all over the world with strong accents like yours. Over time, we realize that we're not all that bad. We manage, we get better and then everyone accepts us as we are.
I never felt out of place in New Zealand. I felt at home, but even more relaxed. I bet it's because there is so much nature everywhere. So many people go on nature trips. I believe it makes the whole population feel a little calmer."
Did the money that you earned during your Working Holiday Visa in New Zealand cover your cost of living?
"Yes, but the cost of living is more affordable in remote areas. In New Zealand, the base salary is NZ $21.50, which is equivalent to about CAD 16. Cities and touristy places cost more, but I preferred the low-key places anyways. My advice is to join Facebook travel groups where you can ask questions, like about the cost of rent in Queenstown, and search for tips."
"I had $5000 saved up from work, so not a lot because I had just finished school. A small cushion, so I could be flexible to travel without financial stress. My goal was to find a job that would pay for my trips. I wanted to work, travel, work, travel, work, travel. That's the beauty of the Working Holiday Visa. It allows you to replenish your bank account as you go along."
What are the best places to visit in New Zealand during a Working Holiday Visa?
"You need to do the hikes! There are so many, and you don't even need a tent. With huts and rangers, it is very safe.
I recommend going on all the "Great Walks" in New Zealand. You usually need to book them a year in advance, but because of the pandemic, I was able to do almost all of them. Remember to pack good hiking shoes, especially on the 3-day, 4-day and 5-day hikes up the mountain.
I did the Abel Tasman hike along the oceanfront, and it was incredible. Hooker Valley Track is a day hike and Tongariro Crossing is a once-in-a-lifetime hike that takes about 6-7 hours to do.
In terms of landscape, the North Island is amazing, but the South Island is incomparable.
The North Island has Hobbiton, which is super fun to see. Tourists come from all over the world. On the South Island, you'll find incredible wonders. I took a helicopter ride and went for a hike on the Fox Glacier.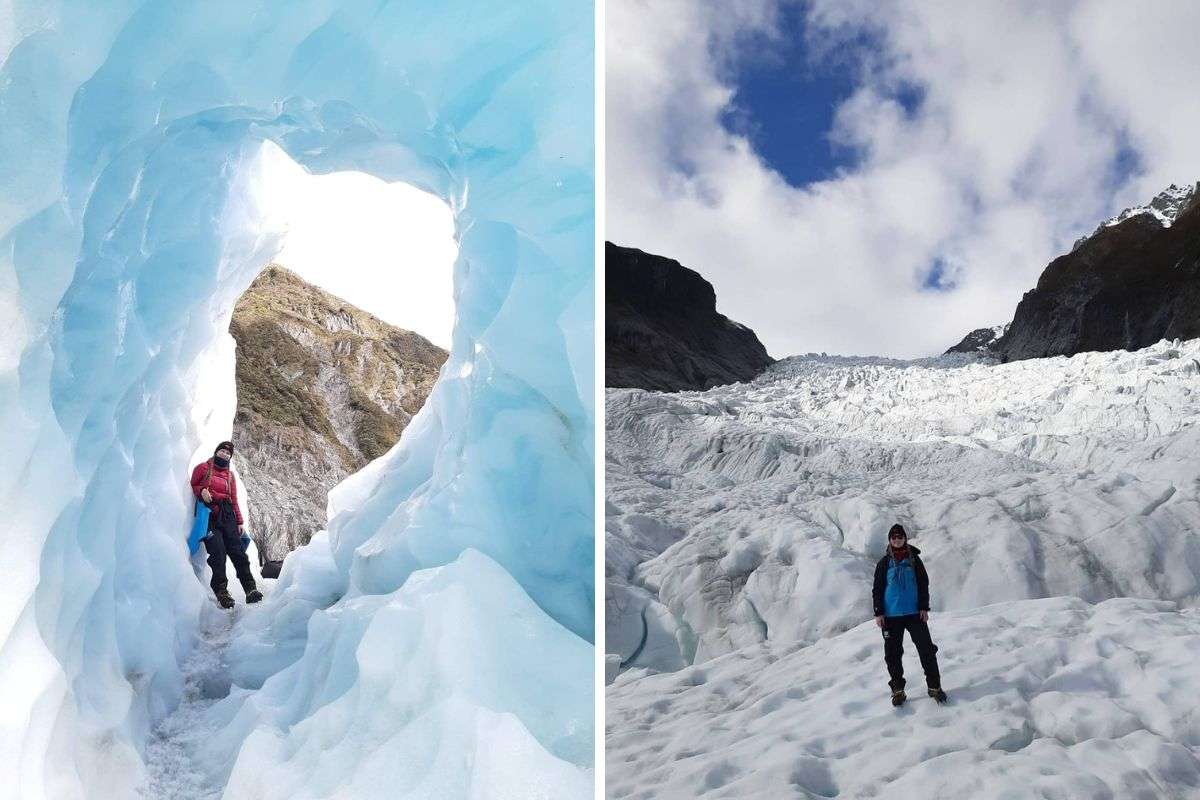 Other notable places on the South Island are Mount Cook, the highest mountain in New Zealand and Queenstown, a wonderful city, touristy and beautiful.
I also loved Stewart Island, where I saw my first kiwi bird. We went kiwi hunting two nights in a row, then finally saw one at one o'clock in the morning, outside the airport. You need a red flashlight otherwise you'll scare them away with the white light of a regular flashlight."
How did you manage transportation in New Zealand during your Working Holiday Visa?
"I recommend having a car in New Zealand because it gives you access to all the best places. If you buy a cheap one from somewhere like Facebook Marketplace, you can just sell it when you leave. Sometimes you make money and sometimes you lose money, but it's worth it for the convenience."
One thing to get used to is driving on the left side of the road!
"As Nike says, just do it. You'll be way too excited to think about your fears. You might not know anyone or know exactly where you're going, but it's going to be magical there. The feeling of freedom is wonderful. Of course, there will be moments that challenge you, but in the end, they will be minimal.
It seems cliché to say travelling changes you as a person, but it does. You see yourself in a new light and it brings perspective to your life."
We're so happy Sandrine came across our New Zealand video and spread her wings. Now, you can take that leap as well! Canadians ages 18 to 35 years old can apply for a Working Holiday Visa for a period of 12 to 24 months. With this visa, you'll be able to make money with the choice of travelling to over 30 countries, not just New Zealand. You can find all the details on how to apply for every country on the International Experience Canada website.
Apply for a Working Holiday Visa in New Zealand here!
The NomadTALKS are proudly presented by International Experience Canada (a Government of Canada program).
▶ ️ For even more inspiration, listen to our #NomadTALKS series on YouTube, where we talk with other Canadians who have travelled and worked abroad.
The original interview was conducted by Emilie Robichaud and compiled by Britney Claveau. The interview has been edited for length and clarity.