Living in Singapore, one of the most expensive countries in the world, for over two months made me realize 2 things:
My wallet is definitely not happy
I have to find more budget-friendly destinations if I want to continue travelling long-term.
Backpackers always rave about being able to travel the world for less than $1000/month, but seriously, where are all of these places that these experienced nomads keep boasting about?
Here is a list of 13 countries where you can sleep, eat, drink and chill without breaking your budget!
1. Peru
It's hard to believe that Peru made the cut here, but it's true! Our very own Nomadic Emilie tried this one out and unlocked the secrets to hiking Machu Picchu on a budget. For less than $99, you'll be able to hike the Inca Trail to Machu Picchu without the thought of your wallet weighing you down!
Once you're there, make sure to visit the rest of what Peru has to offer such as the beautiful beaches of Mancora or the breathtaking oasis in the middle of the desert in Huacachina. Trust me, you won't regret it!
2. Morocco
Fall in love with the flavours of the West and the romance of the Thousand and One nights while you're in Morocco (even if you're on a budget). For $7 a night, you can sleep in a hostel located in an authentic family-run Moroccan riad where you will be charmed by the exotic décor and grateful for the free breakfast (which you will love, by the way!).
For adventures that won't break the bank, head to the snowy summits of the Atlas Mountains for a trek, reach the coast for amazing surfing beaches, explore deep gorges and valleys in a four-wheel drive vehicle or ride a camel into the sunset in the Sahara Desert. #yesplease
3. Portugal
Imagine a place where you can soak up the sun on the beach, indulge in fine wine while visiting vineyards and have your breath taken away by jaw-dropping cliffs, all whilst staying in best-in-class accommodation.
Lisbon has some of the best-rated hostels in Europe (and super cheap as well)! Don't forget the countless bars in Barrio Alto where you can party until you drop on a backpacker budget. Who says you can't have your cake and eat it, too?
4. South Korea
Sight-seeing, shopping, eating and partying like there's no tomorrow… South Korea is your one-stop destination where you can find it all (at a very affordable price, of course). Better yet, South Korea is one of the rare countries that actually gives tourists special rates instead of locals! Who knew that was even a thing? Sign me up!
Don't get me started on Korean food… You can get Korean BBQ, beer and Soju (Local liquor) for less than $10 per person. You'll feel like royalty! Moving around the country is also pretty affordable. You can easily find cheap domestic flights for Jeju Island for instance, for less than $100 return. Finally, your inner fashionista will love the shopping scene in Seoul in areas around the Women's University or the many underground malls.
5. Bosnia-Herzegovina
Are you looking to travel a little bit more off-the-beaten-path for your upcoming adventure? If so, Bosnia is the place to go! Over the years, it has become more accessible to tourists, but since the country is still developing/rebuilding, don't be surprised if you see buildings riddled with bullet holes. Kind of makes the adventure even better, don't you think?
Make sure to visit the enchanting Mostar and you'll feel like you've travelled back in time. If you want to learn more about the country's past and culture, find yourself a nice little place to enjoy a Turkish coffee and spark up a conversation with some of the locals. You'll have a story better than any story written in a book, that's for sure!
6. Burma/Myanmar
Travelling through Burma is just like time travel (and it's cheap!). For many years, the country was closed off to tourists, so you won't find all of the modern commodities. Instead of spending all your money on shopping and partying, you'll find yourself embracing the culture of this fascinating country. Discover Buddhist temples, climb to the Golden Rock, explore the Inle Lake and the Irrawaddy River.
Means of transportation around Myanmar date back from the 70's, so you might have to trade comfort and efficiency for affordability, but let's be honest here, that's all part of the adventure anyways!
7. Thailand
If you haven't visited Thailand yet, make sure to add it to your travel plans! With its great vibes and cheap lifestyle, it's no wonder that it's a classic Southeast Asian destination for backpackers!
What could be better than a beach bungalow with a daily schedule that looks like: tanning, rock climbing, scuba diving and a drinking from a bucket while watching a fire show for the price of two Big Mac combos? That's not even including the world-famous Full Moon Party! Thailand is definitely a key contender on any backpacker's bucket list of country to visit.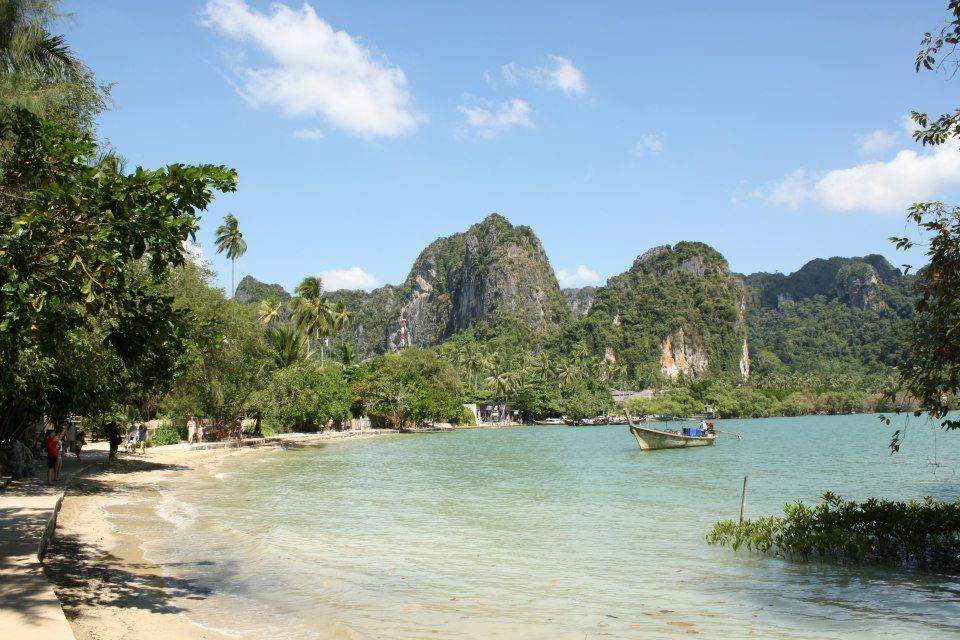 8. Slovenia
Are you looking for a destination that embraces everything that is art, culture and music, but that is still gentle on your wallet? If so, Slovenia is the place for you! I'm not going to lie, I didn't even know Slovenia existed before I stepped foot in the country. This destination is well worth discovering! It is by far one of the highlights from my Eurotrip and it's super budget-friendly.
The capital city of Ljubljana is a vibrant university town where you'll find tons of cafés and bars all along the Ljubljanica River. There's even an old prison that has been turned into a super cool hostel! I mean, if you dare to sleep there, that is! Just make sure that before you leave Slovenia, you visit the magical Lake Bled found in the Lush Slovenian Alps. Trust me, you'll be glad you did!
9. Ecuador
Are you looking for an affordable way to escape our cold winters this year? If so, Ecuador should be on your list! You have the choice when it comes to low-cost entertainment in Ecuador, from private surf lessons in Montañita to canyoning in waterfalls in Baños.
For a night in a hostel, you can easily get away with just $10 a night and food is also very inexpensive (be sure to try the Ecuadorian Churrasco Steak and Egg…yum!). Visit the country before it gets overrun by tourists and see for yourself just how welcoming the locals are.
10. Greece
The financial crisis hitting Europe in the last decade was particularly hard on Greece (but great for backpackers on a budget!). While it had an impact on tourism, it also means that now is the time to visit this country while helping to revitalize their economy.
Since prices have dropped significantly over the last few years, you can eat like a king while watching a sunset in a fairy-tale setting for less than $15. Take the time to spoil yourself and do a little island hopping or enjoy a donkey ride in a typical Greek village. Just make sure to do it before it's too late!
11. Fiji Islands
Fiji Islands scream "ultimate tropical paradise" and guess what? You can actually afford to visit these islands on a backpacker's budget (Crazy, I know, but it's true!). If you're thinking about flying to Australia or New Zealand, you can add a layover of a couple of days in Fiji at no extra costs.
Don't you worry, once you're there, you'll find more than luxury hotels! There are lots of hostels and guesthouses to fit every budget. It's by far one of my favorite places to snorkel right from the beach. Perhaps it will become yours, too!
12. Laos
Children smiling, mystical waterfalls, endless mountains, rice fields, elephants, Buddhist monks… Oh Laos, how you fill my heart with joy! Laos is perhaps considered one of the poorest countries in Southeast Asia, but it's guaranteed to sweep you off your feet.
Authentic culture is not the only thing that defines Laos as the gem of Asia. Backpackers are drawn to this beautiful destination because of its cheap accommodation, delicious food and epic parties. This is one country that you definitely don't want to miss out on!
13. Malaysia
Malaysia might not be the cheapest country in Southeast Asia, but it's still worth the detour, especially if you're looking to become a certified diver! You can dive, sleep and eat local food for a very low price. Travel up to the idyllic Perhentian Islands for a truly memorable experience. You'll even be safe during the typical monsoon season (May to October in the rest of Southeast Asia).
Here you can get your PADI Open Water certification for much cheaper than anywhere else in this region. Be careful though, once you arrive, you may find it hard to leave again!
Have you been to any of those destinations? Which countries that you can visit for less than $35/day would you add to our list?