Canadian summers are epic and the best way to enjoy them is to go on a few weekend escapes with friends in the great outdoors. As much as I love camping in nature, I'm still a city girl at heart who appreciates the little luxuries of home. Here are 12 camping accessories that you'll want to add to your packing list for instant DIY glamping.
1. Helinox Chair
10/10 mosquitoes like it best when campers are sitting down, preferably while breathing, having fun, and eating food. I don't really care what the mosquitoes have to say, but I certainly love to kick my feet up and relax around a campfire with friends and even more so in a comfortable chair. Unfortunately for me, the camping trips I go on are not La-Z-Boy recliner friendly – I need something lightweight and compact.
The Helinox Chair weighs less than 1 kg (some models fold up to the size of a water bottle!) and is one of the most comfortable camping chairs on the market. It has a strong aluminum frame and the seat is made of a rip-proof and UV resisting breathable fabric. It also comes with a handy carrying pouch.
Tip: Try placing Helinox Vibram ball feet on each leg to prevent it from sinking into the sand or dirt.
2. Scrubba Travel Wash Bag
When I'm travelling, I'm all for light packing, but I absolutely cannot deal with hand washing my clothing. First, I don't have the patience. Second, I always wait too long! I always end up with an enormous amount of clothes to wash, which inevitably leaves me with bloody knuckles. So, what are my options when I decide to go "Into the Wild"?
For an on-the-go laundry alternative, the Scrubba travel wash bag offers an easy to use and efficient method of keeping your clothes fresh and clean, all in about 3 minutes!
Tip: Do not wring your clothes to remove water. Instead, squeeze out the excess water by rolling up the Scrubba bag with your clothes still in it.
3. IceMule Cooler
Let's be honest, no one EVER wants to carry a bulky cooler on an outdoor adventure. That's why insulated soft coolers like the IceMule Cooler are all the rage lately. The portability factor alone makes it the perfect companion for day trips or weekends of fun. Since it shares some of the same features as a dry bag, you can easily sling it across your shoulder to take your party anywhere, if you know what I mean!
The IceMule Cooler will keep your food and drinks chilled for up to 24h while also being leak-proof for when the ice starts to melt. Oh, and it's waterproof, so bring on all the water activities! Take it on your SUP board to explore that small island in the middle of the lake or down rapids in your kayak. The IceMule is adventure-proof and it floats, even when it's full!
4. Portable Espresso Machine
Have you ever attempted to make a specialty coffee while camping? It's kind of like when you were a kid and you mashed up questionable berries, pine needles, and mud while playing restaurant in the forest – not the most appetizing. Fancy coffee lovers will rejoice that instant coffee is not the only option anymore.
You can now have your coffee and drink it too with a portable espresso machine. Portable machines, like the Nanopresso by Wacaco, set the standard for brewing by the bay. No barista necessary. They are also eco-friendly (no electricity needed), easy to clean, and super lightweight. Talk about the ultimate hipster gadget!
5. Mpowerd Solar Power Pack and Lantern 
Being in nature is the best way to disconnect from the outside world. Social media aside, our beloved smartphones are still useful in getting us around using offline maps or even to take pictures (and the unavoidable selfie).
With the Mpowerd lantern, you won't only be adding mood lighting to your camping setup with an inflatable, solar-powered, floatable and waterproof light source, you'll also benefit from a mobile charging feature through a USB port to top up your device. While it lasts up to 50 hours on a full charge, you can easily recharge it during the day by folding it flat and hooking it to the outside of your backpack or leave it anywhere with direct sunlight. It's the ultimate power pack you never knew you needed!
6. Trangia Cooking Stove
Just because you're out in nature doesn't mean you need to eat canned beans and toasted marshmallows. You can still indulge in the comforts of home thanks to a portable cooking stove. These may not be widely used in Canada (yet), but they are very popular in Europe and for a good reason.
The Trangia Cooking Stove, in particular, is an ideal appliance to take with you on your next trip. With a less than 1 kg lightweight aluminum frame, it is easy to assemble, sturdy to use, quiet, collapsible, and very reliable, using alcohol as its fuel source. The all-in-one design is foolproof and indestructible: it comes compact with a stove, two saucepans, and one frying pan. Some sets even have a kettle! A neat feature is that it uses natural airflow to speed up cooking times with a technology that will keep the wind from extinguishing the flame.
7. Exped Hammock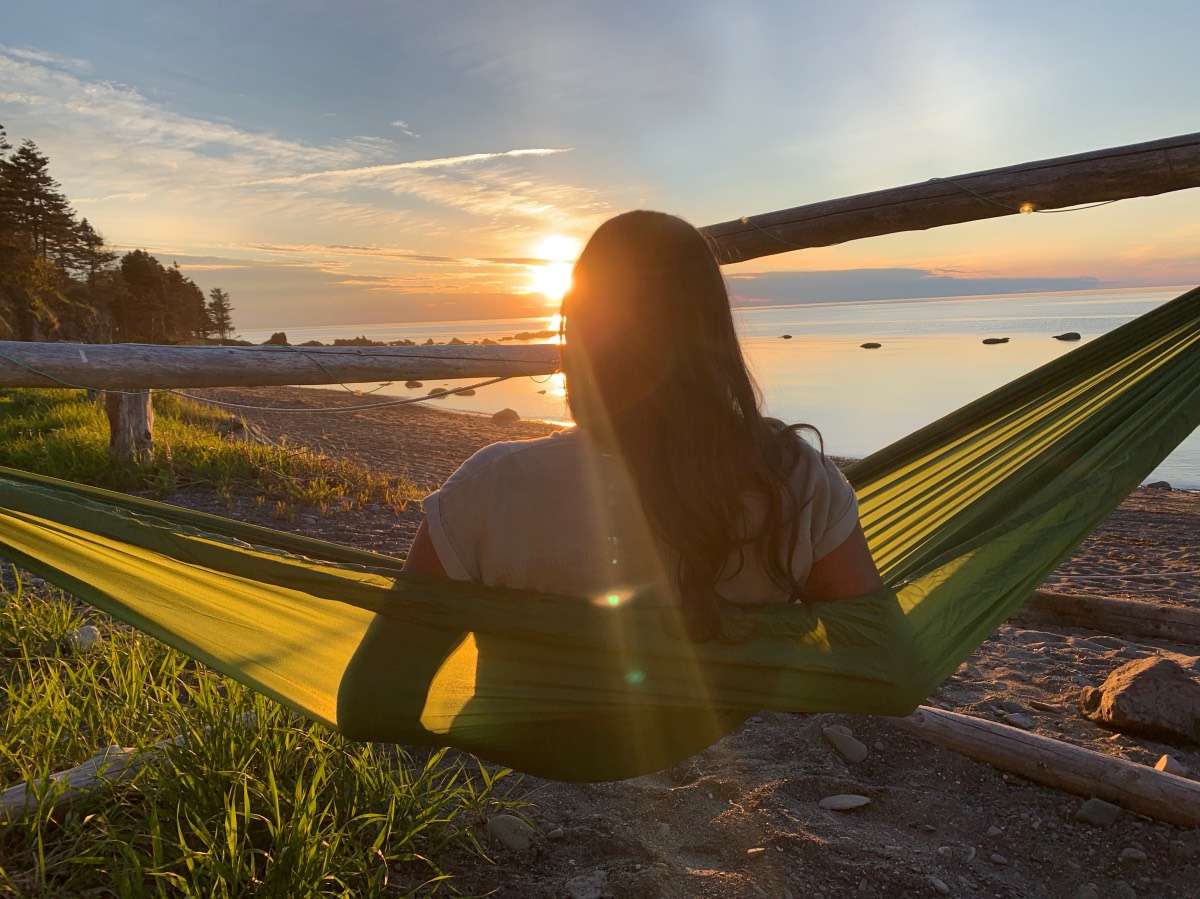 When you think of a hammock, you are instantly transported to a tranquil place where you're leisurely reading a book or perhaps taking a nap. It's the quintessential elevated relaxation pod, which makes it a perfect addition to your glamping trip.
Whether you're simply relaxing or trying to get a good nights' sleep, look to a newly designed hammock with amazing state-of-the-art features. Camping hammocks such as the Exped Scout hammock combi comes with a mat sleeve,  a mosquito netting and a tarp to protect you from the elements. They are also easy to install and very lightweight.
8. Sea to Summit Pocket Shower
A simple shower can feel like heaven after a long day's hike or bicycle ride in the full sun; however, it can be hard to stay fresh without access to running water. Thankfully, there are environmentally friendly ways to keep yourself smelling your best in the wilderness. Cue solar-powered showers! These are fantastic little contraptions that a glampy camper cannot leave home without.
The Sea to Summit Pocket Shower is a bag with an integrated showerhead that can hold 10L of water and provides an even flow of water for 7 minutes. When not in use, it zips into an easily storable 3'' x 6'' waterproof pouch, or you can use it as a dry bag for your clothes. It warms up decently when left out in the sun, but you can also add boiling water if you're in a rush.
9. GRAYL Water Bottle 
Whether you're trekking, biking, kayaking or on a camping trip, you will need water to keep hydrated. With a GRAYL water bottle, you can purify any water to get fresh drinking water wherever you are. The GRAYL integrated purification system is exceptionally easy to use; you just need to fill it, push the filter in and eight seconds later you've got safe drinking water.
The GRAYL purification system not only removes viruses, bacteria and protozoa from water, but it also filters particulates, chemicals and heavy metals. In an effort to give back to the community, 1% of every purchase is donated to 1% For the Planet, an organization dedicated to the preservation and restoration of the environment. Talk about a sustainable choice! 
10. Exped Mattress
You may be too excited to sleep thinking about your upcoming camping trip, but that doesn't mean you have to toss and turn all night when you're out sleeping under the stars. Avoid counting sheep and invest in a comfortable place to lay your head. If you'd like the Ferrari of camping mattresses, check out the Exped Mattress.
The Exped Mattress provides the comfort of a 5-star hotel in a teeny tiny take-along pack. With open-cell foam insulation, a self-inflating mechanism, and a soft jersey feel, it gives a whole new meaning to glamping. You'll have luxurious comfort anywhere you go. It's ideal for car camping or taking places where you don't necessarily need a tent or lots of equipment.
11. GooDee Mini Projector
Nature is pretty exciting as is, but don't feel bad if you crave a little entertainment when the sun goes down. Keep boredom at bay and impress all your friends by breaking out a mini projector for impromptu movie nights! Packing a travelling movie theatre might seem a wee bit glamorous for the great outdoors, but it's hard to fault something so fun and compact.
The GooDee Mini Projector packs a big punch despite its small size. It can fit in your hand and project up to 60 inches. All you need is a USB stick with your favourite photos, movies, and shows and you're good to go! It comes with a power cord, but you can also use it with a power bank for more portability.
12. Ultimate Ears (UE) Travel Speaker
You're already upping the entertainment ante with your awesome mini projector, so why not enhance your camping experience further with some killer surround sound? It's not just Swiss hills that can come alive with the sound of music; Canadian ones can too! Whether you feel like listening to smooth piano jazz by rushing waters or pairing EDM with your mountaintop BLT, you'll rock out best with the use of a travel speaker. You won't have to resort to putting your iPhone in a Solo cup for amplified sound anymore!
The Ultimate Ears (UE) Travel Speaker is a favourite amongst travellers as it is both waterproof and shockproof and has a long battery life. It's rugged and compact in appearance and has a balanced 360 sound, which is ideal for playing music in wide-open spaces.
As you're mentally packing for my next trip, this list should leave you 100% excited and 0% overwhelmed! Who knew you could pack all the glitz and glam of the city life in one big ole' backpack? All of these camping gadgets are fairly small, lightweight, and arguably quite practical for a fun weekend in the wild. With conveniences like these, I bet you cannot wait to spend another great summer in Canada!
What are your favourites camping accessories?